Living the Seasonal Life: Your Gateway to Adventure
For many, working in Yellowstone National Park for a season is a gateway to the seasonal lifestyle and all the adventures that come along with it! What starts out as a seasonal job soon turns into a way of life. When you work seasonally, you form lifelong friendships, work hard, live in places where others vacation, and explore some of the most beautiful places on earth. The best part about working in Yellowstone National Park is the majority of your needs are provided for. We provide low-cost housing, meals, and medical services. We also offer a free recreation program, free activities and tours, as well as discounts both in the park and in local gateway communities. Keep in mind though that if your goal is to travel the world in the offseason then you need to be ready to work hard and earn it.
Our staff lives by the phrase "work hard, play hard". Their strong work ethic carries them through a season serving millions of visitors. But when the season ends, a taste for more adventure often beckons many of Yellowstone's staff. Armed with big ideas and hopefully some money in their pockets, they set off to various corners of the planet during the "off-season". If you've got a strong work ethic, a desire for community, an adventurous nature, and a positive, contagious attitude then you are an ideal candidate to work in Yellowstone. Learn more about working here and read on to see how some of our employees embraced the offseason in Vietnam.
Ventures in Vietnam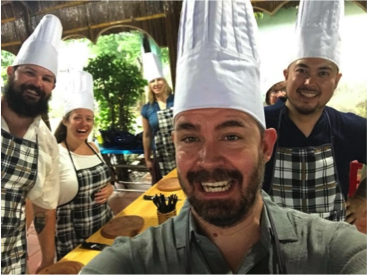 After the season came to an end, Ryan Watin (Human Resources) & Grant Miner (Food & Beverage) took off for Vietnam with Bonnie Stafford (Housekeeping) for a much-deserved vacation. The country and its people welcomed them with open arms, warm smiles, and heaps of cilantro. As the 15th most populated country in the world, Vietnam's slender proportions overflow with an energy that doesn't quit. Vietnam offers something for everyone and these three musketeers sought out to experience everything they could. They got pampered in resorts, trekked the Marble Mountains, explored the ruins of My Son, cooked with the locals, haggled at the markets, and even saw a performance at the Saigon Opera. The trio even met up with Michelle Ciotta (Food & Beverage), Brett Thielke (National Park Service), and Jeri Maxwell (Food & Beverage) along the way.
But be warned, Vietnam will test your heart, your courage, and your stomach at even the most mundane of tasks. Just five minutes in the War Remnants Museum will redefine everything you thought you knew about the Vietnam War – or as the Vietnamese call it – "The American War." Just a quick glance at a menu might offer such nauseating fare as sparrows, crickets, and dog meat. And as Ryan & Jeri can tell you, daring to ride a motorbike in the no-rules traffic of Vietnam can have near-death consequences. Thankfully everyone is safe and sound and back home in Yellowstone and though there were certainly a few obstacles, they wouldn't trade the experience for the world.
Want to experience Yellowstone in-depth? See what makes Yellowstone National Park a great place to work for a season or longer!
---