Mammoth Hotel Gets a Makeover
A new year means a new look for Mammoth Hot Springs Hotel. The historic hotel has been long overdue for a makeover and this winter it opened its doors to a fresh look. Last year, phase one of renovations began which included infrastructure and safety upgrades, a building extension, and a remodel to the main public spaces.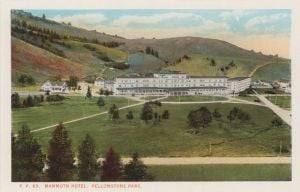 Yellowstone's first large hotel opened in Mammoth in 1883. The opulent National Hotel was over 400 feet long, had 150 rooms, electric lights, a large lobby, and "a long line of vermilion spittoons precisely arrayed down the hall." In 1906 architect Robert C. Reamer drew up plans for a larger replacement, but financial considerations resulted in merely a renovation (with a new wing) in 1913. By 1936 the structure was becoming unsound, and all but the 1913 wing were razed that fall. Mr. Reamer designed a new lobby for the front of the wing, a new restaurant building, recreation hall, and the cabin facility in the rear that would make up for the lost hotel rooms while serving the desires of the ever increasing numbers of automobile tourists. The Mammoth Hot Springs Hotel as we see it today opened in 1937, with the last renovations taking place in the 1960s.
Fast forward to 2017, the phase one renovations are complete, guests can now enjoy the new look and amenities. The gift shop was extended out to make room for additional products and the Mammoth Ski Shop in the winter. The old second floor offices were converted to public meeting areas. The Map Room has been updated to function as more of a lounge area. A small bar was built in the room to serve coffee and alcoholic beverages. The large wooden wall map designed by architect Robert Reamer in the 1930s, which was recently sent to the NPS Conservation Laboratory in Arizona to be restored, is back in place and looking better than ever.   The Hotel will be closed again next winter to accommodate the final phase of the remodel. In fact, the 30-plus rooms without bathrooms will be eliminated, and all hotel rooms will now have private bathrooms.
Take a look at some of the photos of the recent renovations below or better yet book a room this winter to check them out in person.
For more travel experiences to Beautiful Places on Earth™ available from Xanterra Travel Collection and its affiliated properties, visit xanterra.com/explore.

Want to experience Yellowstone in-depth? See what makes Yellowstone National Park a great place to work for a season or longer!
---