Secrets of Winter Wildlife Watching [Infographic]
yellowstone winter wildlife
In winter, Yellowstone National Park morphs into a picturesque wonderland, complete with snowy woods, ice pellets of geyser rain, frozen waterfalls, and abundant animals. Although the bears hibernate; bison, elk, mule deer, moose, wolves, and coyotes roam the park. In summer the creatures spread out to graze grassy mountainsides, munch leaves in the woods, or hunt for prey in the hills. But in winter the animals mass in the lower elevations.
"Most of the wildlife cannot deal with the harshness of high-altitude winter conditions," says Joshua Theurer, a resident instructor for Yellowstone Forever, the educational, non-profit arm of Yellowstone formerly known as the Yellowstone Association. "The animals have adapted by moving away from the harsh high country and into the valley bottom." The snow also makes it easy to spot animal tracks as well as the animals themselves.
Northern Yellowstone:
In winter in the northern one-third of the park, especially Lamar Valley, the cold, wind, and snow drives the wolves, bison, mule deer, and coyotes down from the high ridges and mountains to forage and hunt for food in the open meadows near the road, creating optimum viewing for Yellowstone safari-goers.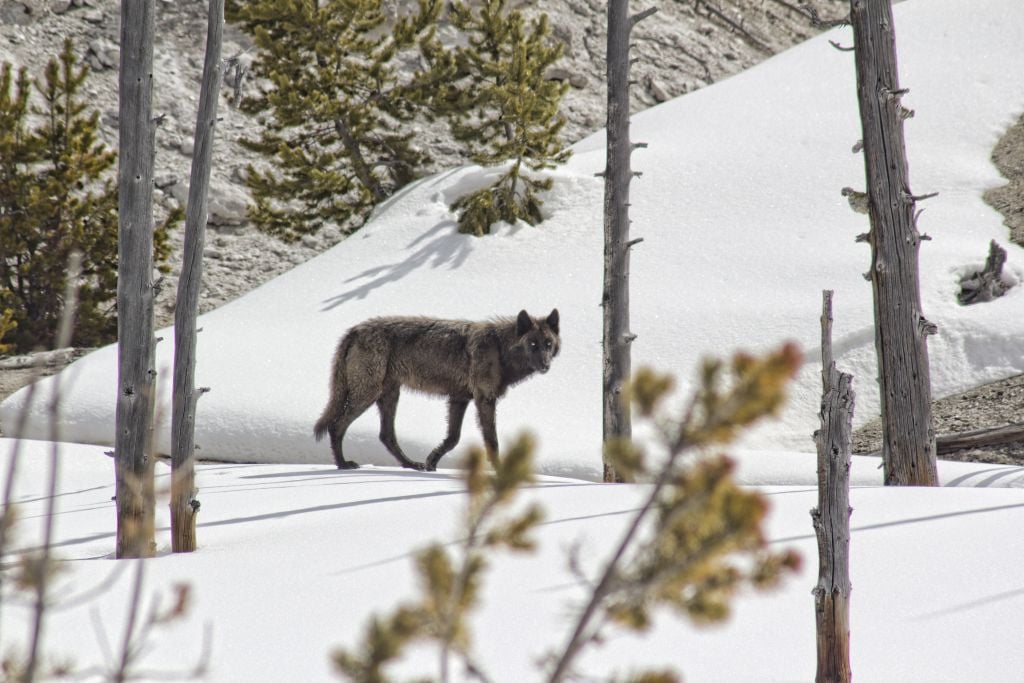 Yellowstone, with at least 99 wolves living in 10 packs, rates as one of the best places in the world to see these animals. Although wolves roam throughout Yellowstone, Lamar Valley and the Northern Range's open vistas provide good viewing. The contrast between the wolves' thick gray or black coats and the snow-covered meadows and hillsides make spotting the wolves easier than in summer.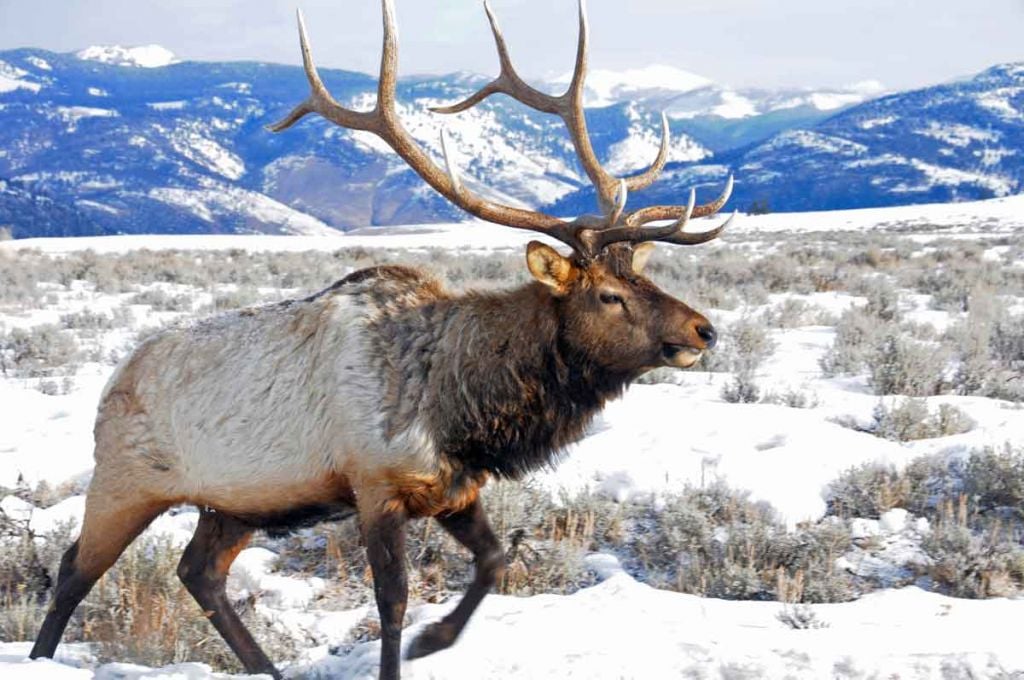 Bison and elk, as well as trumpeter swans and maybe even bobcats, can be spotted along the Yellowstone River. Also, look for some of the park's dozen species of owls in the northern range's woods. In winter the owls swoop into lower elevations to search for rodents.
Southern Yellowstone:
Bison, icicles dangling from their thick coats, huddle near Old Faithful, obtaining warmth from the geysers, mud pots, and steam vents. Trumpeter swans stay near the Firehole River as long as the surface remains open — not iced over — so they can feed on the aquatic vegetation. Bison and birds may also be seen near Madison Junction and the Madison River.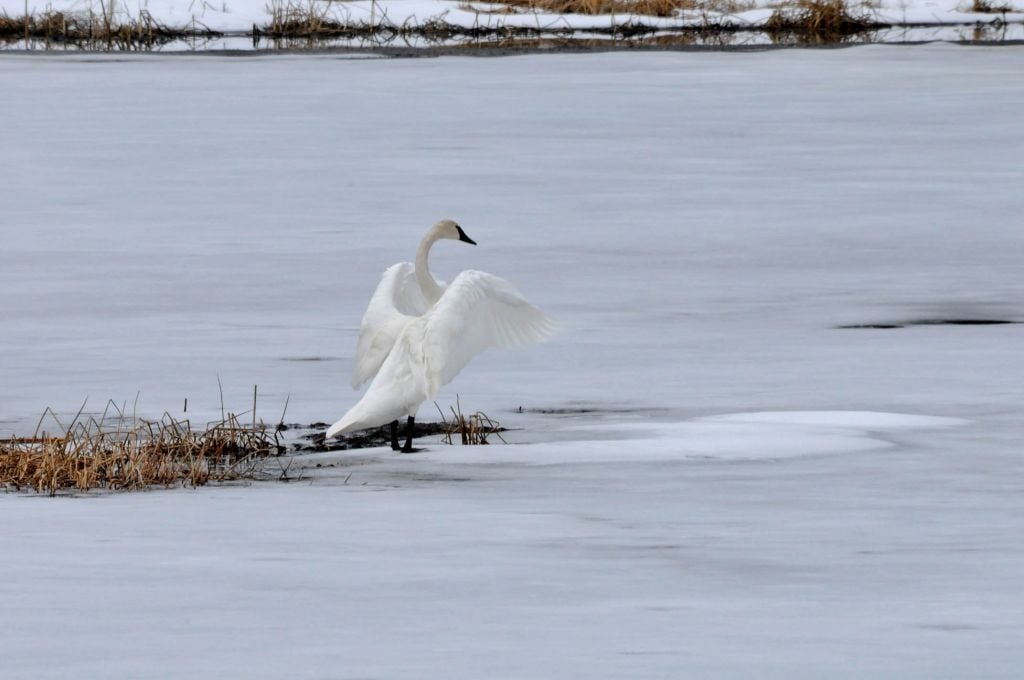 How To See Yellowstone Animals in Winter
In winter only the road between the North Entrance at Gardiner, Montana, to the park's northeast entrance near Silver Gate and into Cooke City, Montana, remains open to visitors' vehicles. Remember that "open" doesn't mean "easy driving." Conditions change quickly, snow drifts, and roads ice over. Even if you've tricked out your four-wheel-drive Jeep for blizzards, snow-packed roads can be challenging for even experienced drivers. It's safer and more fun to take a snowcoach tour on park roads that are groomed for oversnow vehicles. They are limited to certain routes but allow you to look and learn while the staff drives. You can also take advantage of Yellowstone's snow to explore the park as the early visitors did — by skis and snowshoes.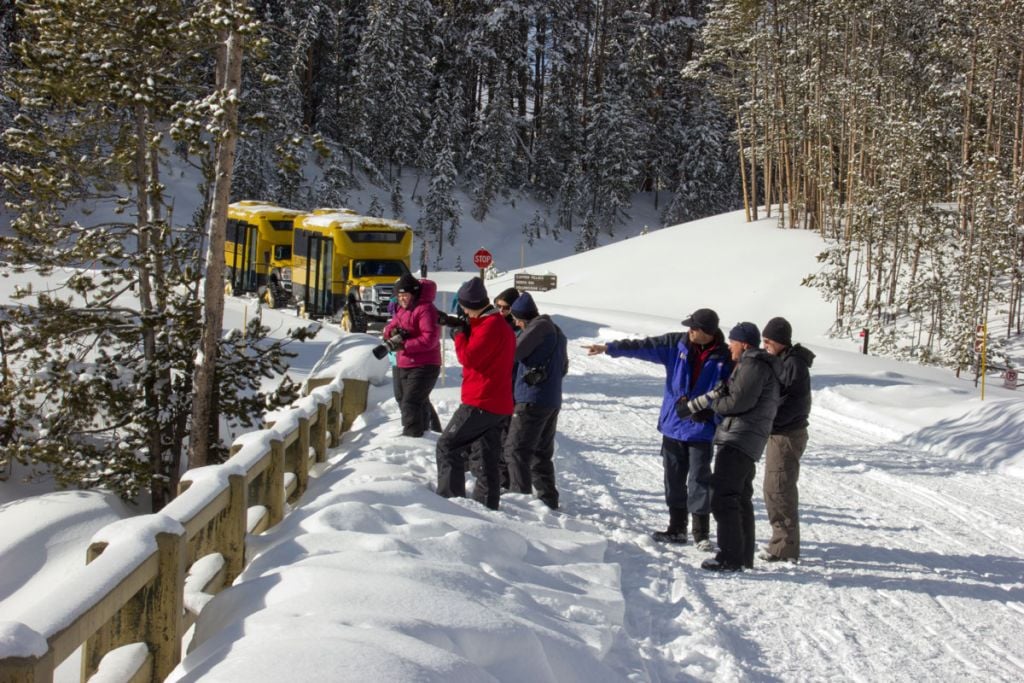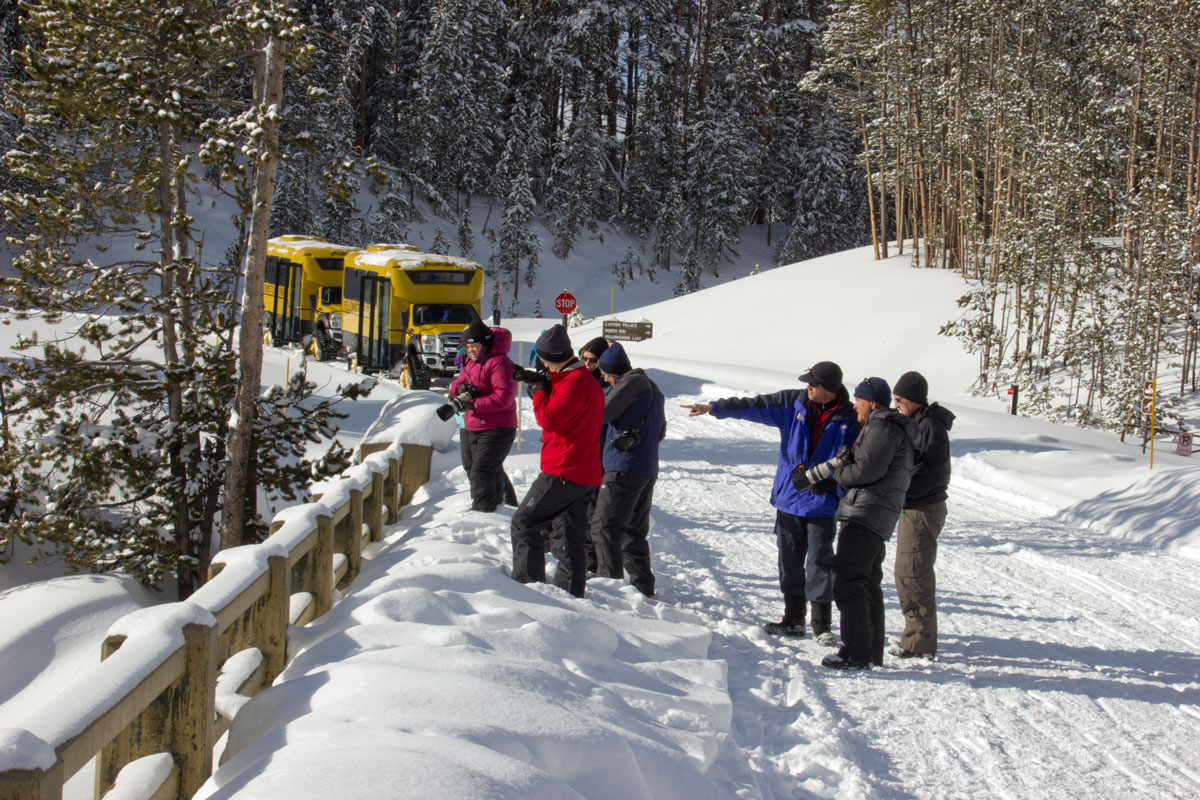 Need some help planning your winter adventure in Yellowstone National Park? Check out the winter in Yellowstone page for some inspiration.
---
Check out the infographic below for everything you need to know to see Yellowstone wildlife in winter.

Everything you need to know to see wildlife in Yellowstone National Park
Bears may hibernate through winter, but Yellowstone is teeming with wildlife when the park is covered in snow Bison, coyotes, foxes, and more trudging and pouncing through the snow. Here's how to turn your Yellowstone visit into a winter wildlife adventure.
After you've finished exploring, come and get cozy at Mammoth Hot Springs & Cabins or Old Faithful Snow Lodge & Cabins
Lamar Valley
Wolves are the star of the show here, but winter also drives bison, mule deer, and coyotes down from mountains to the meadows below to forage and hunt for food.
Lamar Valley Wildlife Tour: Take the guesswork out at it and let our guides find the wildlife for you,
The Northern Range
You'll find dozens of species of owls as well as elk, bison, fox, and moose in the woods
Wake up to Winter Wildlife: Join us on a winter wildlife safari in Yellowstone's Northern Range from Mammoth Hot Springs to Lamar Valley
Old Faithful
Bison are known to huddle near the park's most famous geyser and you might be treated to bald eagle sightings.
Old Faithful Area Snowshoe Tour: Interpretive tour into the backcountry of Yellowstone.
Firehole River & Madison River
Look for birds, bison, elk, maybe even bobcats, as well as trumpeter swans who find their way to rivers with open water.
Firehole Basin Winter Adventure: Cozy snowcoach tour along the beautiful Firehole River.
Madison Wildlife Excursion: Warm snowcoach tour.
Winter Photo Safari: Let your guide take you to some great spots along the Firehole and Madison River corridors.
Yellowstone Lake
Watch for otters sliding in and out of openings in the frozen water. You might also see pronghorn antelope, bighorn sheep, and coyotes.
Across the Great Divide: Cross the Continental Divide to Yellowstone Lake and trek around the West Thumb Geyser Basin
Long-time family travel guru Candyce H. Stapen writes for many publications and outlets. She has written 30 travel guidebooks, including two for National Geographic, and her blogs and articles appear in many outlets. For more information, see gfvac.com and follow her @familyitrips.
For more travel experiences to Beautiful Places on Earth™ available from Xanterra Travel Collection® and its affiliated properties, visit xanterra.com/explore.

Want to experience Yellowstone in-depth? See what makes Yellowstone National Park a great place to work for a season or longer!
---