Yellowstone: A Skier's Paradise
Yellowstone Skiing
Yellowstone boasts dozens of excellent groomed and skier-tracked trails in a winter paradise that is still relatively undiscovered. Imagine gliding along on a pillow of white beneath a towering forest of lodgepole pines. On the horizon, steam billows from a distant thermal feature and the sharp smell of hot springs is in the air. Your only companions are silence, the tracks of pine marten and snowshoe hare, and the folks you've brought with you.
Sound like a dream? This is every-day skiing in Yellowstone.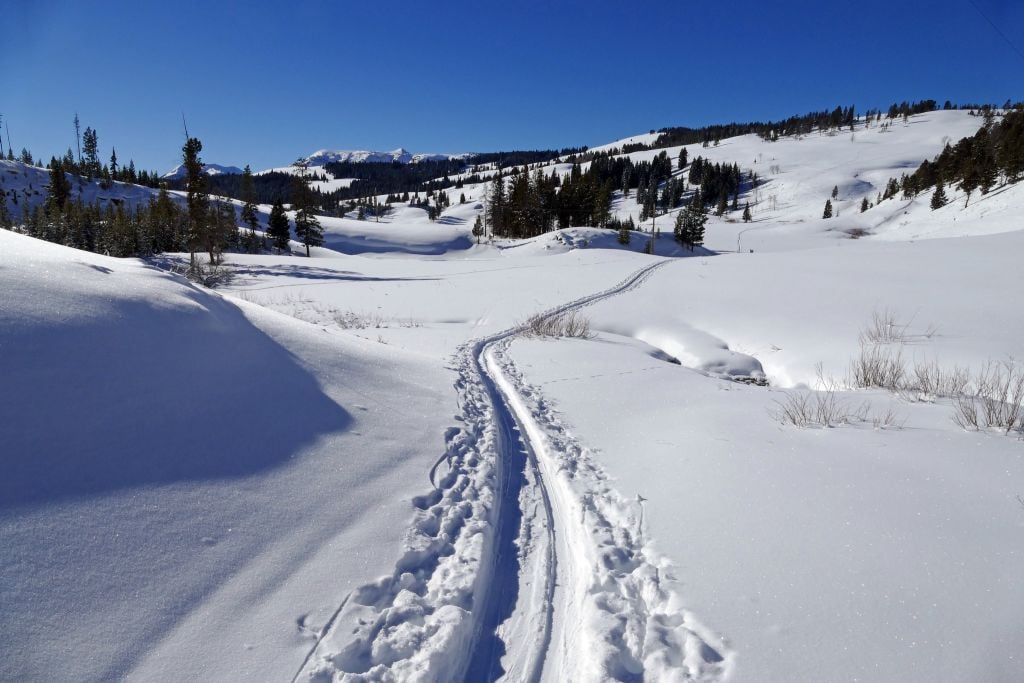 Yellowstone boasts dozens of amazing groomed and skier-tracked trails in a winter paradise that is still relatively undiscovered. That's fine with those in the know, who enjoy solitude, quiet, and beauty unparalleled. Nowhere else on earth can you ski amid such diversity of wildlife—it's not uncommon to share the trail with the tracks of coyote, wolf, bison, and elk— before a steamy backdrop of hot springs, geysers, and fumaroles.
Skiing in Yellowstone is more accessible than most people think. Whether you prefer skate skiing to classic, or enjoy easy rolling trails over lung burning uphills and brisk descents, Yellowstone has something for every level of cross-country skier—from beginner to advanced.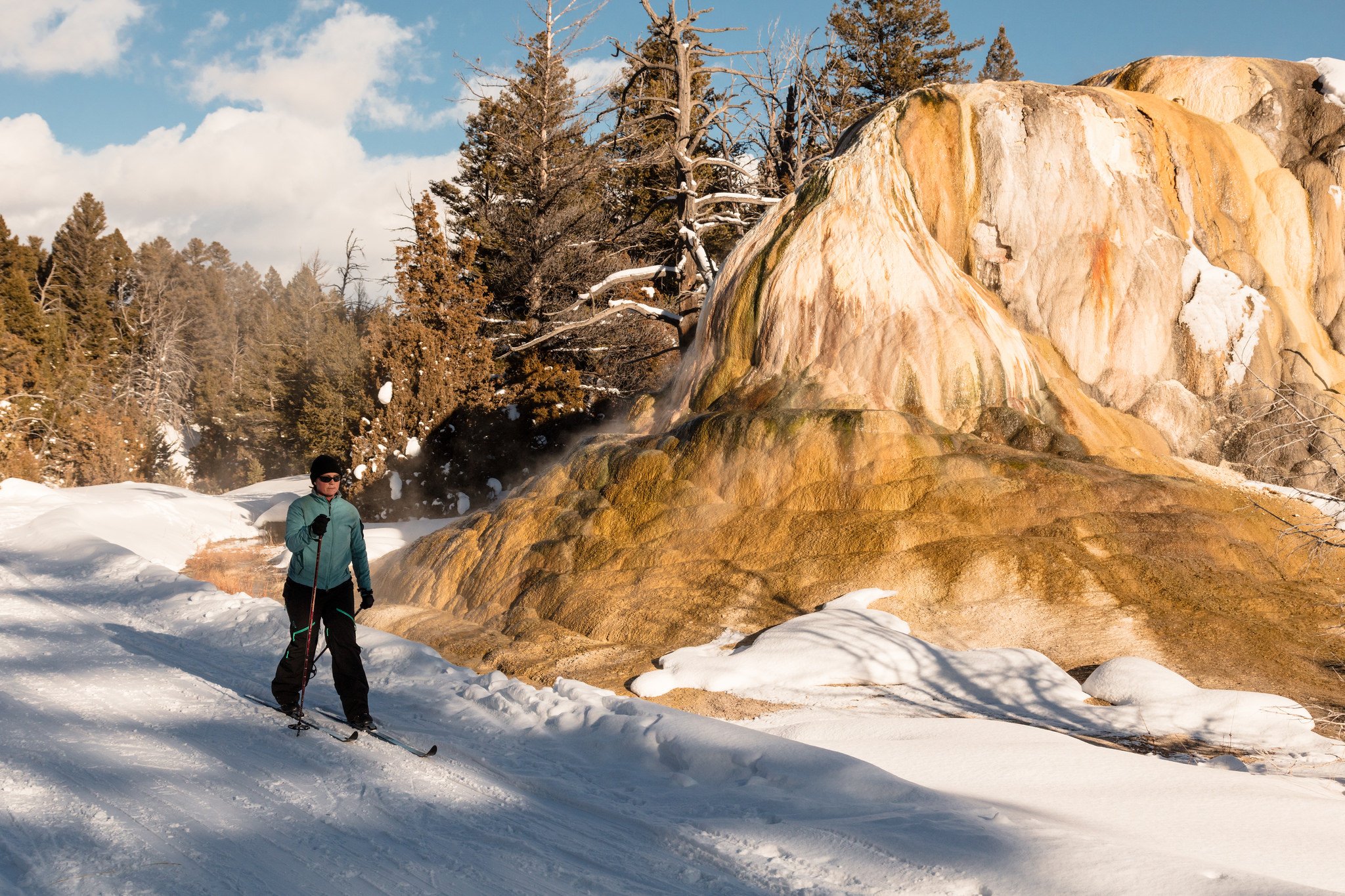 Northern Range
One of the easiest places to start is Yellowstone's Northern Range. The road between Mammoth Hot Springs and Cooke City is open to wheeled vehicles year-round, and boasts many of the park's classic ski trails. Ski through rich winter wildlife habitat on the Blacktail Plateau Ski Trail, or climb gently to an icy waterfall on the Tower Fall Trail, both of which are groomed regularly for both classic and skate skiing. If you'd like a longer ski and a more challenging descent, extend your ski past Tower Fall on the Chittenden Loop Ski Trail. If single track trail is more your cup of tea, try the easy Barronette Trail through the deep forests beneath Barronette Peak or weave through the mixed forest and meadows of the more challenging Lost Lake Trail.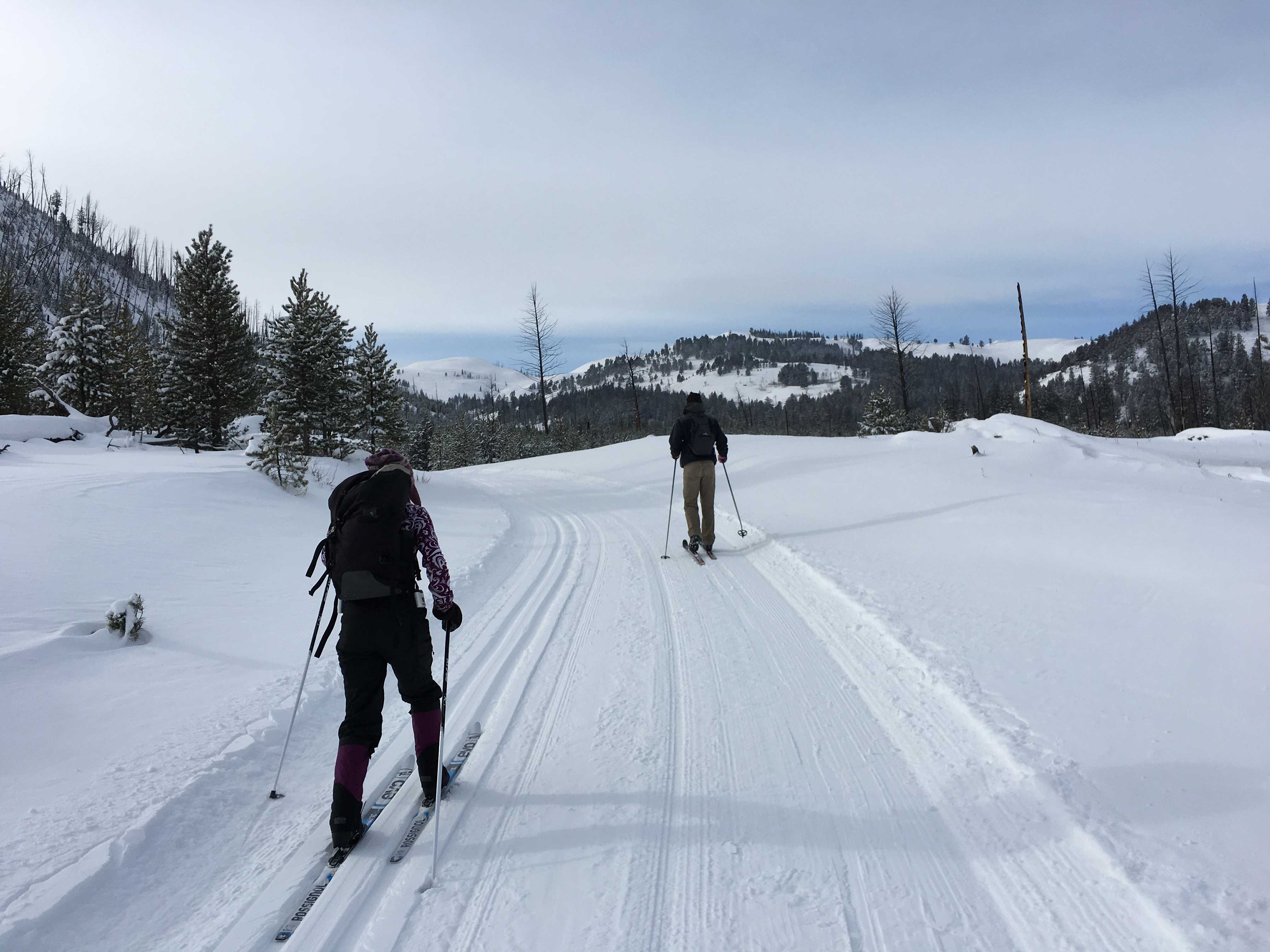 Interior
When you're ready to explore the deep snow of the park's interior for a day, take a ski shuttle from Mammoth Hot Springs to Indian Creek, where groomed and skier-tracked trails of varying difficulty levels await. Here, trails wind through lodgepole pine forest and open meadows and feature stunning views of the peaks of the Gallatin Range. You can also take a guided ski tour to the Grand Canyon of the Yellowstone, where you'll glide along trails near the canyon rim, and view the breathtaking upper and lower falls.
For the ultimate ski adventure, book a couple of nights at the Old Faithful Snow Lodge, where you'll experience truly epic snow, steamy thermal features, and seemingly endless trails. Some of the best skate skiing in the park is right outside your front door, and convenient ski drops transport you to numerous explorations through deep Yellowstone backcountry. You can take an easy ski to a backcountry geyser on the Lone Star Geyser Ski Trail, or test your turning and stopping skills on a more difficult jaunt through the forests and canyons of the Spring Creek Ski Trail. Or, ski to a backcountry waterfall on the Fairy Falls Ski Trail.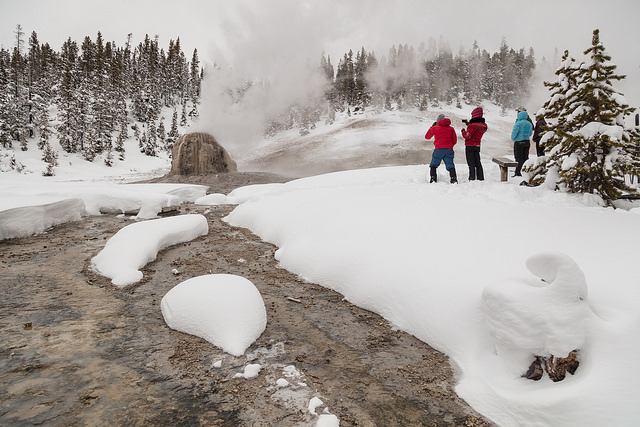 These are just a sampling of the ski trails you'll find in Yellowstone. For more information, including how to travel safely in winter, the National Park Service has a great online guide to skiing and snowshoeing in the park.
Lodging
The lodges at Mammoth Hot Springs and Old Faithful are the perfect base for ski adventures. If you need to rent equipment or brush up on your ski skills, the Bear Den Ski Shops at each location have friendly staff who can help set you up with gear and a ski lesson, as well as tell you about recent trail conditions. And of course, it's always a special treat to relax and warm up after a ski with a hot drink from the Firehole Lounge or the Map Room Bar.
See you out there on the trails!
Jenny Golding is the founding editor of A Yellowstone Life and writes from her home at the north entrance to Yellowstone in Gardiner, Montana.
For more travel experiences to Beautiful Places on Earth™ available from Xanterra Travel Collection® and its affiliated properties, visit xanterra.com/explore.

Want to experience Yellowstone in-depth? See what makes Yellowstone National Park a great place to work for a season or longer!
Explore Skiing in Yellowstone
---