Staff Gift Picks
Staff Picks
Whether you're looking for the perfect gift or trying to find a personal souvenir to commemorate your trip to Yellowstone, you'll be sure to find what you're looking for in one of our retail shops (either in-store or online). And if you don't know what you're looking for, our staff is here to help! There are 125 friendly, enthusiastic, and passionate employees whose primary goal is to provide unforgettable guest service to our visitors.  We don't sell souvenirs; we sell MEMORIES! Just how many memories? Over 500,000 retail transactions in one of our 12 in-park stores or 18,000 mail orders in a single year! Local, regional, charitable, and cause-related products make up 65% of those transactions. And over half of the products we sell are Made in the USA.
This bustling department is based out of our Gardiner, Montana Distribution Center. When it comes to shopping advice, who knows better than our retail staff? In fact, on average, the staff in this article have worked nearly 30 years in Yellowstone! Get to know a little bit more about them, the things they love about the park, and their favorite items in the gift shop.
---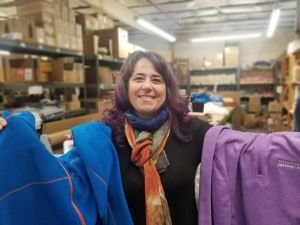 Nichelle, Visual Merchandising Coordinator, is originally from Escondido, CA. As a kid, she took family road trips between California and North Dakota where she fell in love with the Montana landscape. She applied for a job 24 years ago and never looked back. Her favorite item in the gift shop is the new fleece jacket and pullover from Landway. "I love the vibrant colors and how warm and soft they are."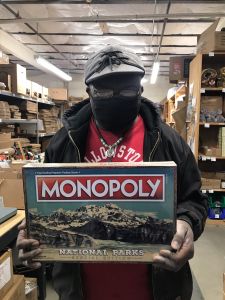 Larry is one of the Retail Distribution Center associates.  He has been with the company for 38 years. Originally from Tennessee, he came out to the park for a job but stayed because of the views and the atmosphere. His favorite place in the park is the Old Faithful Area. He loves the board game Monopoly. And a National Park Monopoly edition is even better!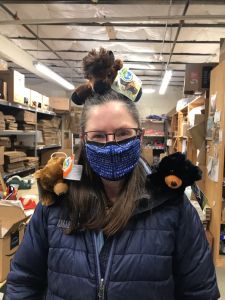 Debby is our Mail Order Specialist. She has been with the company for 31 years! She grew up in the Midwest and fell in love with the park after visiting with her family in 1973. "It was where I had always wanted to be…the mountains called to me." She loves all of our cute and cuddly plush animals.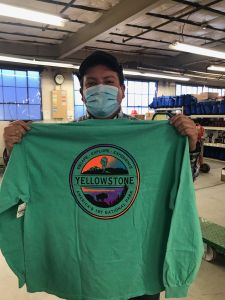 Joe is our Retail Operations Manager and he hails from Yuma, AZ. Hiking and fishing on the weekends are what attracted him to working in the park. Now he is on his 18th year here. For outdoor adventures, Joe recommends the Geo Seal Long Sleeve Shirt.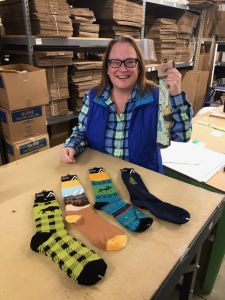 Kate, Administrative Assistant for the Retail and Purchasing department, has been with the company for 36 years. Her first job in the park was a seasonal stint in the Reservations department. One of her favorite items sold in the Retail department is socks. "You can never go wrong with socks-kids or adults! I have the lime green ones."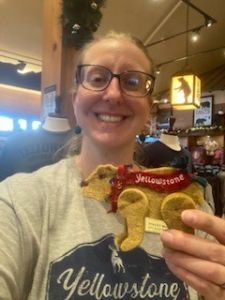 A college internship first brought Stacey from Buffalo, NY out west. Her favorite place in Yellowstone is the Bechler region in the southwest corner of the park. An ornament is one of her favorite keepsake items. "My husband and I collect them on our travels and we love to look through them each year."
Kendon from Idaho and Holly from Colorado both highly recommend water bottles. Not only do they "keep your drink the intended temp for hours on end" according to Kendon, but they also "are super handy and you can decorate them with stickers" as Holly says.
---
Retail is just one of the many departments that we hire for. Regardless of what you do in the park, a job in Yellowstone is a great way to make memories-for a season or for a lifetime. Interesting in learning more about working here? Visit our website to find out all the details.
---