Taps for the Bombardiers
Yellowstone Bombardiers
Yellowstone is, and has always been, a place of history. History comes along whenever the world changes from a reality of how it has been to a new reality, with no going back. Many of us enjoy considering Yellowstone's roads of more than a century ago, when Park visitors rode hundreds of stagecoaches on 5-day tours to take in the sights. While it would have meant a lot of horse poop, enjoying Yellowstone at a 6-mile-per-hour pace must have been lovely, and charming.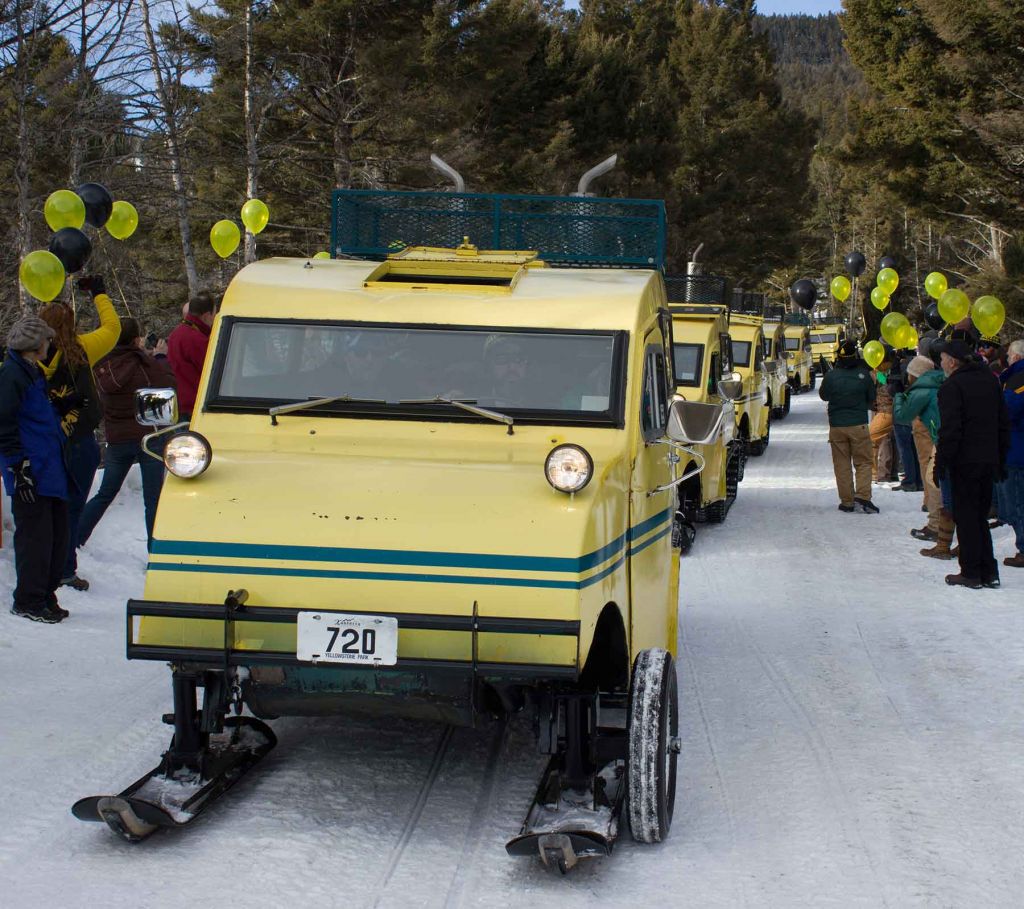 Oh, to have danced in the lounge of Canyon Hotel as an orchestra thrilled the patrons each evening in the largest structure to ever stand in the Park. To have sat in a deck chair of the steamship E. C. Waters , the largest vessel ever to float on Yellowstone Lake, as it crossed from West Thumb to Lake Village in its one season of service, summer 1907. To sit on the veranda of Fountain Hotel watching Fountain Geyser play of an evening, or to watch the U. S. Army soldiers drill on the Parade Ground from the front porch of Mammoth Hotel.
We can but imagine these vignettes, for they are gone and shall never return. An appreciation of history is often bittersweet, but trying to make sure we notice its passage can fulfill our lives – if for no other reason than getting to brag to those who missed it while it was happening.
History witnessed such a passage in 2016, when the end of our winter season saw the retirement of Xanterra's fleet of Bombardier snowcoaches. Our 21-coach fleet was purchased chiefly by our predecessor, the Yellowstone Park Company, across the period 1965-78. They have been the backbone of winter touring in Yellowstone since that time. They owe their appearance, a bit that of a stretched Volkswagen Beetle, to their inventor, Canadian Joseph-Armand Bombardier, who patented their design in 1937. In the years that followed, while their mechanical design improved through time, their basic look never did. In the years before Canada began plowing roads on a regular basis, Bombardier sold thousands for use as anything – a doctor's personal car, delivery truck, school bus, whatever was needed.
And we needed them here in Yellowstone. Winter touring for the general public began in 1949 with little buggies called snowplanes, but these only carried one passenger. Two Bombardiers (model R-12, the same as all of ours) began touring in from West Yellowstone in 1955, and these and others still operate for Yellowstone Alpen Guides today, and will continue into the future.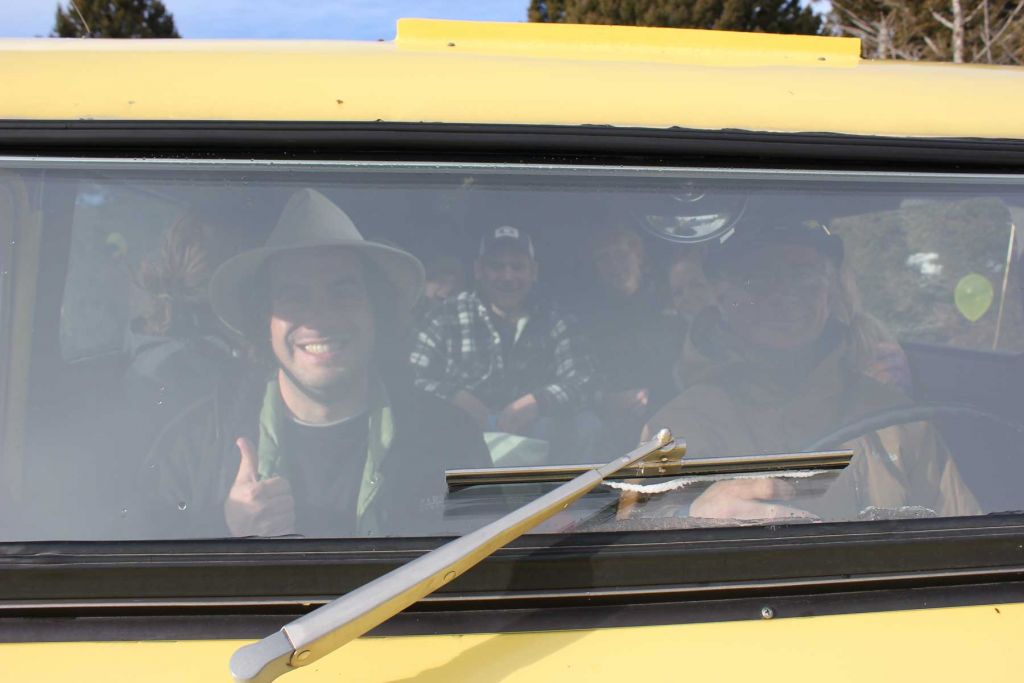 There is no way to relate in words the thrill of driving an R-12 Bombardier. You steer with their skis, which merely glide over the snow, so any making of turns must be done with planning ahead of time. But they glide superbly, with a soft, easy ride even over a poor, mogulled surface. In the early days, they could easily make 50, and occasionally 60, miles per hour, but such speeds caused damage to their engines, so for many years now their drivers were well satisfied with vehicles governed at 30 mph. But a road heavily drifted after a night of snow and wind was not a difficulty to be managed but fun to be had, as a "Bomb" will blast a drift and send a snowbank into the air and up and over the vehicle.
Built for the snow, thrilling at speed, capable of handling blizzard conditions – there has never been a snow vehicle more fun than an R-12 Bombardier. But, in fairness, they are LOUD! Drivers must wear hearing protection, and we recommend it to all of our passengers as well. The two front seats are comfortable, but many of our passengers have not found the rear seating area so, with complaints that the U-shaped seating area is uncomfortable and unsupportive. And, technology has passed them by: after this season they won't be able to meet the stringent "Best Available Technology" requirements, and to expensively upgrade them to do so will not address their other shortcomings.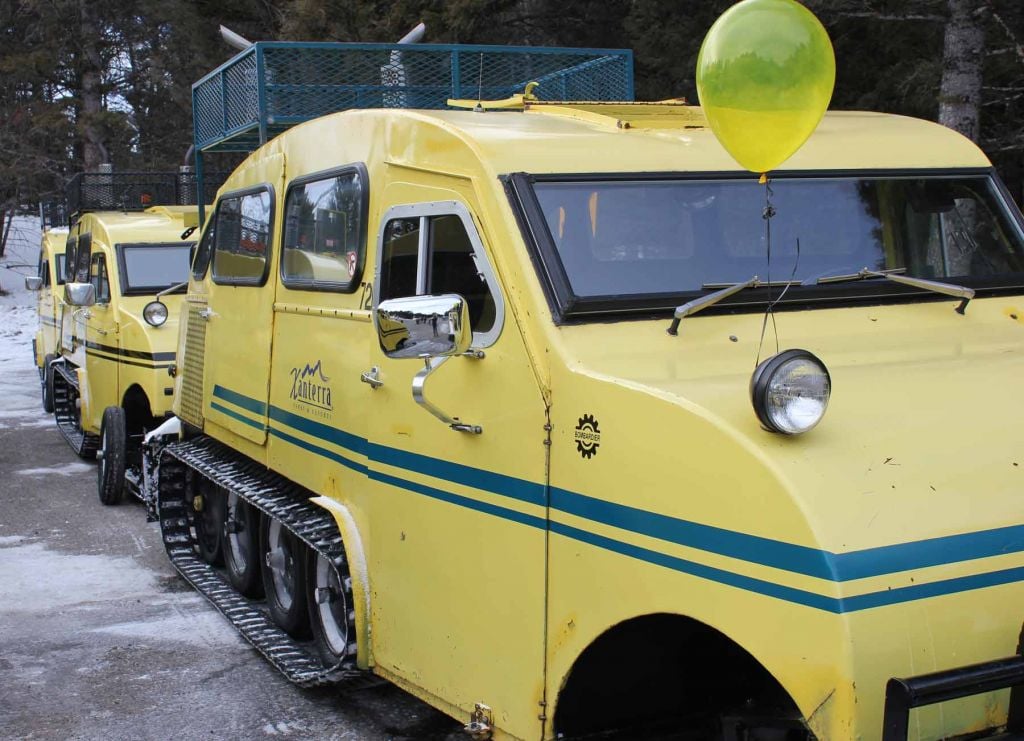 Those of us who have been fortunate enough to drive one know how lucky we are. Many winters, we would be assigned a coach of our very own, which were usually taken care of as assiduously as with any beloved pet. Each coach has had many nicknames, as assigned drivers were always naming their beloved coaches, so from the roadside you might see the likes of Bumblebee, Little Miss Sunshine, Baby, the Boop Coupe, or the Millennium Falcon cruise by. And as they did, you'd also see a driver with a big smile on their face, at one with the snow and their snowcoach. Our newer coaches are quieter and more comfortable all the way around, but do not and will never engender the love that the Bombardiers have.
As they drove off the snow on March 1st 2016, coincidentally Yellowstone's 144th birthday, they drove into history. Lucky bidders have already acquired most of them via the GSA vehicle auction site on the internet. The era of the Park's yellow Bombardiers has come to an end.
Leslie Quinn is the Assistant Manager of Transportation and Interpretation for Yellowstone National Park Lodges/Xanterra. Trainer of Yellowstone's interpretive guides, he may still be found rarely conducting a tour himself. A 35-year Yellowstone veteran, Leslie has toured the visiting public in summers in busses large and small and, for many winters, in Bombardier #718, the Yankee Clipper.
Yellowstone Bombardiers crossing Swan Lake Flats

Here is a follow up video to the earlier post today – the last run for Xanterra Parks & Resorts fleet of Bombardier snowcoaches.

For more travel experiences to Beautiful Places on Earth™ available from Xanterra Travel Collection® and its affiliated properties, visit xanterra.com/explore.

Want to experience Yellowstone in depth? See what makes Yellowstone National Park a great place to work for a season or longer!
---