Ways to Play on a Rainy Park Day
yellowstone in the rain
Your time in the world's first national park is finally here, and you can't wait to get out and explore; to see all the park's natural geothermal wonders and waterfalls and wildlife…but the forecast calls for some rain.
It's not uncommon for the weather to change frequently in Yellowstone, especially in the summer. Surprise rain showers can pop up at any given time, but fear not; your trip is far from ruined. There are still plenty of opportunities for fun things to do and see while those afternoon summer storms pass over. Here are a few ideas for your rainy day adventures in Yellowstone.
Experience the National Park Service Visitor Centers
With eight visitor education centers and/or museums, Yellowstone offers its visitors the chance to gain deeper understanding of the park in different ways. At Grant Village Visitor Center, learn about the important role forest fires play, or discover just how the thermal features work over at the Old Faithful Visitor Education Center.  Every visitor center presents different stories and themes, so take the time to explore and learn from each and every one.
For more information about the visitor centers and museums in the park, please visit the NPS website.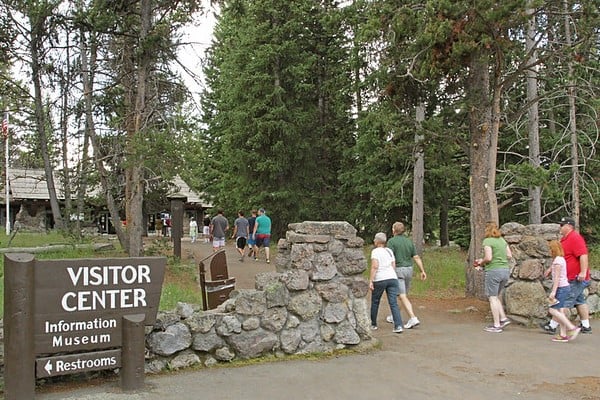 Tour the Hotels
Did you know that the Lake Yellowstone Hotel is over 126 years old? Or that the Old Faithful Inn is considered the largest log structure in the world? The rich history of these two iconic Yellowstone hotels can be discovered for free on daily tours! Walk through these National Historic Landmarks as a guide shares the ins and outs – and interesting stories – of the park lodges.
Scheduled times for touring the Old Faithful Inn are 9:30 a.m., 11 a.m., 2:00 p.m., and 3:30 p.m. Lake Yellowstone Hotel offers three daily tours at 4:15 p.m, 4:45 p.m and 5:45 p.m.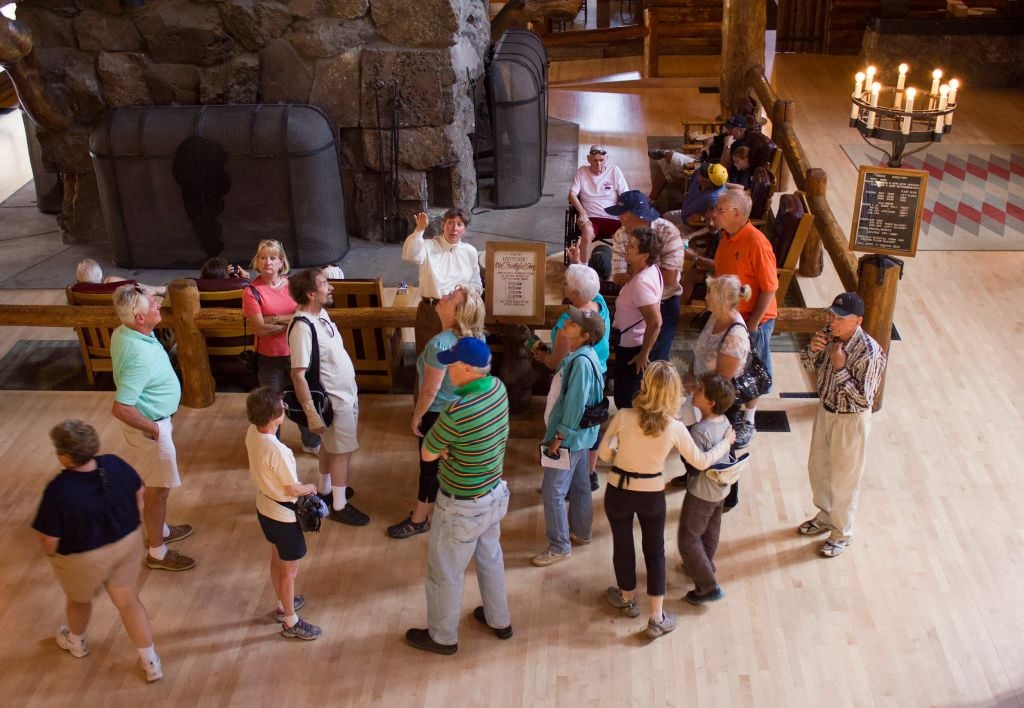 Watch Incredible Wildlife
If you came to Yellowstone hoping to see the wildlife, but are worried the rain will chase them away, don't worry! Gear up with rain gear and get out searching for critters. The wildlife won't mind the rain, and you shouldn't either. Prime viewing areas like Hayden Valley and Lamar Valley are always open; choose a designated pull out to park in and get spotting.
Please remember that the National Park Service asks that you stay 25 yards away from most wildlife including elk and bison, and 100 yards away from bears and wolves.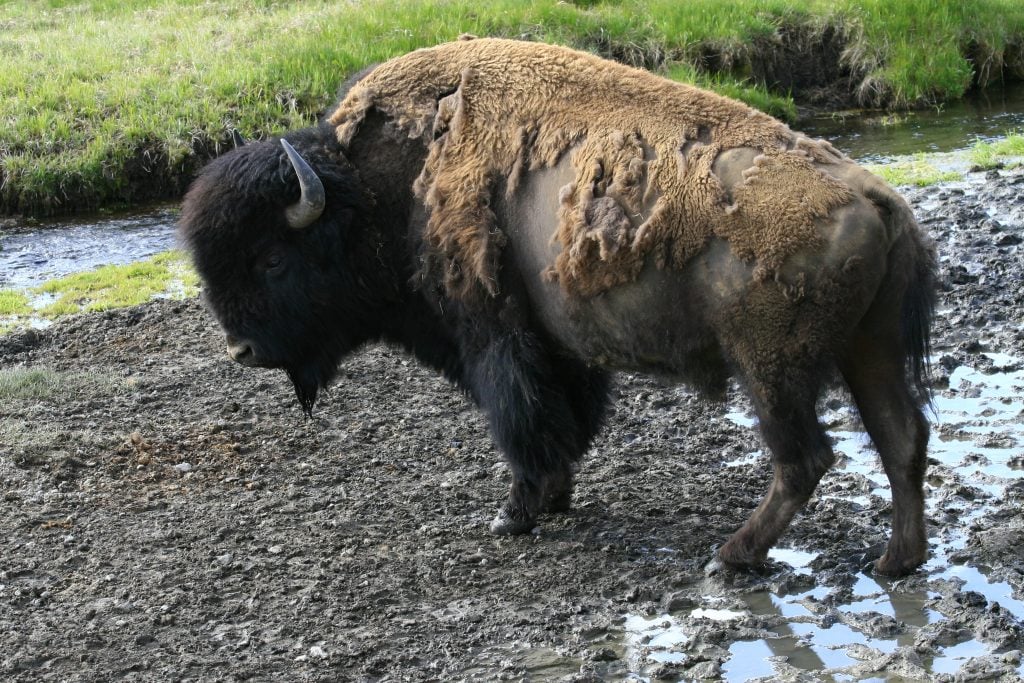 Walk the Geyser Basins
Just like the animals in the park, the geyser basins won't stop with the weather. Geyser basins are a never-ending wonder, even in the rain; Old Faithful will still spectacularly erupt and hot springs will still be vibrant despite weather conditions. Tread the boardwalks and take in all that the thermal features have to offer.
Remember to walk slowly and cautiously as boardwalks can become slippery in the rain. And stay on the boardwalks and/or designated trails at all times for your safety and the safety of the irreplaceable geothermal features.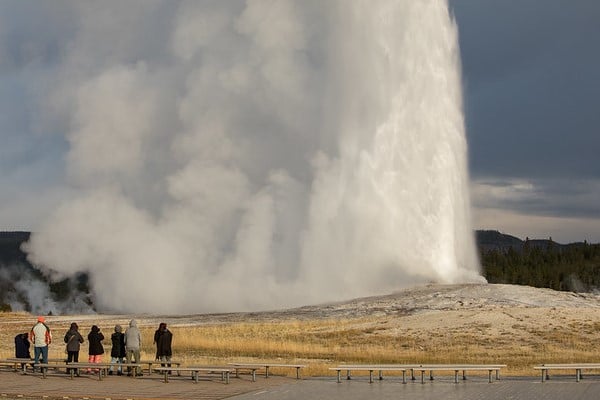 In short, don't let the rain keep you from enjoying your time in the park. Summer storms are a common occurrence here in the world's first national park, and they often pass as quickly as they appear. There's plenty to do and see, so gear up and get out there!
Karley Nugent graduated from the University of Louisiana at Lafayette with a major in journalism and a minor in English. During the summer of 2015, she worked as a Senior Guest Service Agent (GSA) at Lake Lodge in Yellowstone National Park. Nugent is a photographer, avid hiker and lover of all things Yellowstone, especially the Grand Canyon of the Yellowstone (look for her at Artist Point).
For more travel experiences to Beautiful Places on Earth™ available from Xanterra Travel Collection® and its affiliated properties, visit xanterra.com/explore.

Want to experience Yellowstone in depth? See what makes Yellowstone National Park a great place to work for a season or longer!
---