The Grand Old Lady of the Lake: Lake Yellowstone Hotel
Lake Yellowstone Hotel
After seeing its deep canyons, misty waterfalls, and furious geysers, is it possible that anyone could improve on the natural beauty of Yellowstone?
Robert Reamer did. Twice.
In addition to creating the iconic Old Faithful Inn in the rustic style that came to be known as "parkitecture," he also made his mark on the Lake Yellowstone Hotel, which celebrated its 125th anniversary in 2016.
Creating a Classic
During his career, Reamer, known for his ability to design in a variety of styles, demonstrated his talent in projects such as Seattle's 5th Avenue Theatre and Hotel Deca, Olympic National Forest's Lake Quinault Lodge, and the Fox Theater in Spokane.
When it came to his 1903 redesign of the circa-1891 Lake Yellowstone Hotel, the resort's genteel appearance, Colonial Revival style, and towering colonnades were no accident. At the time, seaside and lakeside resorts in the Berkshires of Massachusetts, the Poconos of Pennsylvania, Maine's Bar Harbor, and New York's Long Island were attractive destinations. Harry W. Child, president of the Yellowstone Park Company, envisioned Reamer expanding the lodge into a large summer resort reminiscent of the grand hotels of the Northeast – perhaps one that offered a golf course, tennis court, and swimming pool (though those amenities never came about).
Ultimately, the most important feature Reamer worked into his design was a single element: peace.
Sunrise, Sunset
"Like every visitor, Reamer recognized Yellowstone Lake as the focal point of the hotel," explains Ruth Quinn, an interpretive guide and author of Weaver of Dreams: The Life and Architecture of Robert C. Reamer. "So he added the sunroom, also known as the Reamer Lounge, as a place where guests could surround themselves in the ambiance of this spectacular high altitude lake. To this day it's where guests come to watch the weather progress across the lake and enjoy the lake's changing moods."
When you realize the hotel is also a sanctuary, it's wise to adjust your pace to fully appreciate the serenity and romance of your surroundings.
"If I were visiting for just one weekend," Quinn shares, "I would enjoy an elegant dinner, listen to the music of the Lake String Quartet, rent a boat and savor the beauty of the lake, and soak in every sunrise and sunset."
Getting to Know You
From a treasured childhood souvenir to a luxurious new car, it's human nature to attach a personality to inanimate objects. The Lake Yellowstone Hotel is no exception.
"She is the Grand Old Lady of the Lake," writes interpretive specialist Leslie Quinn, husband of Ruth Quinn. "The hotel that has stood in a national park longer than any other, anywhere. She's a grand and glorious old dowager, her silks faded but quite intact, thank you, ready to awaken from a long winter's sleep and welcome those who desire to experience the greatest wilderness the lower 48 states has to offer in high style!"
To be fair, the dowager received a two-year, $28 million facelift in which the 153 guest rooms, public spaces, dining room, and much of the interior were renovated. Room choices range from standard one- and two-double bed units in the adjacent 37-room Sandpiper Lodge, to the Lake Hotel's Superior and Deluxe rooms with one king or two queen beds that along with the Suites and the Presidential Suite vary slightly in size (from one to three rooms). While there is wired Internet service in the rooms (for a fee), no room in this seasonal hotel has a radio, television, or air conditioning.
An upscale experience, meals in the Lake Hotel Dining Room include bison tenderloin, Montana natural lamb, and wild Alaska salmon.
Sustainability
Since 1891, the stately Lake Yellowstone Hotel has welcomed visitors to the shores of Yellowstone Lake for deep connections with nature. Despite her advanced age—127 years in 2018—the "Grand Lady Of The Lake" hosts over 90,000 visitors each year, while also setting the example for sustainable lodging.
In November 2017, Lake Hotel received the Green Seal Gold level certification for environmental sustainability. Green Seal is an internationally recognized organization which promotes the manufacture, purchase, and use of environmentally responsible products and services. Their highest level certification – gold – ensures that lodging properties meet rigorous sustainability criteria.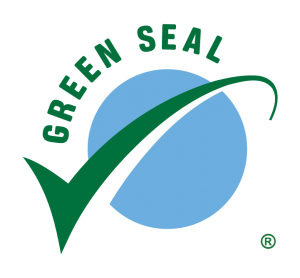 Although all Yellowstone lodges are run in a sustainable manner, and several facilities (including all five new lodges at Canyon Village) are LEED (Leadership in Energy and Environmental Design) certified by the US Green Building Council, Lake Hotel is the first park hotel to reach the Green Seal Gold distinction. Achieving this certification—especially in a historic building— is a significant accomplishment.
"The Lake Yellowstone Hotel is over 125 years old. The fact that we're able to strengthen our environmental programs in a historic landmark shows you don't need to have a fancy new building with all the bells and whistles to soften your footprint," says Cameron Walker, Sustainability Manager.
Visitors to Lake Hotel will find evidence of sustainability everywhere, including compostable bioplastic containers for to-go food items, sustainable food and retail options, Rainforest Alliance coffee in hotel rooms, water bottle refill stations, and the Our Softer Footprint Green Housekeeping program; which offers guests staying multiple nights a $5/night discount by foregoing housekeeping which helps to conserve energy and water.
But the certification—and the sustainable approach—goes far beyond what is readily visible to guests. Everything, from the office materials and cleaning supplies used by staff, to the furniture in the hotel rooms and the paint on the walls, is evaluated by a third-party inspector to ensure that the hotel meets the highest standards for waste minimization, energy conservation, management of fresh water resources and waste water, pollution prevention, and environmentally sensitive purchasing.
Travel has a big enough footprint. The Green Seal Gold certification adds the peace of mind of knowing your stay at Lake Hotel is as light on the land as possible. For Yellowstone National Park Lodges, it's just one of many comprehensive environmental initiatives throughout their operation, and part of an enduring commitment to provide excellent visitor service while helping to protect the park we love.
Lake Adventures
While it may be hard to pull yourself away from the Grand Old Lady, knowing she'll be waiting for you when you return makes it worthwhile investing time to explore your surroundings.
"A private tour of Yellowstone Lake is hard to beat, so charter a captained boat," advises Rick Hoeninghausen, Yellowstone's Director of Marketing. "Follow lakefront trails and enjoy the views of the surrounding Absaroka Mountains. On clear moonlit nights step out on the wooden platform above the shoreline in front of the hotel and you'll see the lake shimmering, and when the sky is dark the stars are spectacular."
Guests can also sign up for bus tours, rent rowboats and small outboards, embark on a chartered fishing trip, and motor out to Stevenson Island to see the wreck of the E.C. Waters, the largest vessel to ever ply the lake.
Not only does it hold a place in history, it has welcomed a fair share of historic figures. Joining guests who return year after year (and would move in permanently if the summers-only resort were open year-round) have been Presidents Coolidge and Carter, Bill Gates, Warren Buffett, Ted Turner, and members of the Rockefeller family who were in the neighborhood while helping create nearby Grand Teton National Park.
When you follow in their footsteps, take the advice of those who know this hotel best. Take a seat in the Reamer Lounge, put down your phone, and pick up a glass of wine. As daylight leaves Yellowstone Lake, make a silent toast to the beauty of nature.
And to the history and heritage of the Lake Yellowstone Hotel.
Contributors to this article include Gary McKechnie and Jenny Golding.
For more travel experiences to Beautiful Places on Earth™ available from Xanterra Travel Collection® and its affiliated properties, visit xanterra.com/explore.

Want to experience Yellowstone in depth? See what makes Yellowstone National Park a great place to work for a season or longer!
---