Is Hospitality Work Right for You?
National Park Hospitality
The hospitality industry has a long and storied history, nearly as old as humanity. Facilities offering overnight accommodations can be traced back to ancient Greece and Rome where lodgings sprang up next to thermal baths designed for rest and recuperation. Eventually, accommodations appeared along Middle Eastern travel routes to provide resting places for caravans. And during the Middle Ages, monasteries and abbeys started providing refuge to travelers and pilgrims. The hotel industry as we know it today began in France and England in the early 15th century when inns were regulated for the first time. From there, the industry took off in cities and resort areas around the world.
With the opening of the world's first national park, Yellowstone, in 1872 came the need to develop overnight accommodations for visitors. So the park's oldest operating lodging, Lake Yellowstone Hotel, was opened in 1891. Today, Yellowstone boasts some of the most iconic and historic park lodges in the U.S., such as the Old Faithful Inn, dating to 1904.
Working in a national park lodge can be a uniquely rewarding experience, unlike anywhere else. But when most people think of employment in a national park, they don't immediately consider hospitality positions such as housekeeping, food and beverage, and guest services. Yet they offer a fulfilling — and often life-changing — way to serve visitors in the most beautiful places on earth, whether for a summer or for a career.
So if you're interested in becoming part of the venerable hospitality tradition, here are three employees of Yellowstone National Park Lodges who share their insights and experiences of working in national park lodging — and why they love what they do. Thanks to Bill Thomas, Director of Human Resources, Sonya Agnello, Food & Beverage Manager, Lake Lodge Cabins, and Joyce Jessa, Assistant Front Office Manager, Mammoth Hot Springs Hotel.
Why did you choose a career in hospitality?
Bill Thomas: It was the excitement of it that drew me to it. Hotels and resorts are small towns in themselves with all the services they provide. After growing up in a small town in Michigan, I studied hospitality and have worked in the industry for 38 years [the past 1.5 years at Yellowstone]. On the lodging side of things, my first job was as a guest service agent at Grant Village in Yellowstone when I was in college. I fell in love with it and with the West and the mountains. It reinforced my degree in hotel management.
Sonya Agnello: It kind of chose me. When I was younger, I got experience as a deli host and during college at a fast-casual restaurant, even though my degree has nothing to do with it. I studied to become a park ranger with a minor in global environmental sustainability. My background helps me connect with guests on a different level than others can.
In college, I also worked in an office that had no window and I didn't know about nature. Then I visited Rocky Mountain National Park in Colorado and my brain exploded. I had never seen anything like it before. My goal was always to work in a national park, although not necessarily in hospitality.
Joyce Jessa: My background is in education. To put myself through school, I worked in restaurants. Once I retired from education (after 25 years), I decided to work in Yellowstone. It never occurred to me to work here until I heard about it from a woman in my sewing class. I thought it would be just for one season and then season after season went by. I realized I would be coming back every season. I'm now in my 7th season.
What do you like about working in hospitality?
BT: It comes down to finding and hiring the right people and putting them in positions where they show their passion. Where that happens, it exceeds the expectations of guests.
SA: It's definitely the people. A lot of our employees are so hard-working and they're funny people who make the days fly by. People who work in Yellowstone are a special type of person. You have to move away from everything you know. There's no internet, no stores. We all have that kind of weirdness to us. We're grateful for what we have here and it makes us work harder. It's a special kind of person who is inspired by working here.
JJ: Everybody who works at the front desk likes to share knowledge about the park and likes to be around people and help them make their vacation great. That's the common core. We get people from all walks of life at the front desk. I'm an educator so l like to share knowledge. Every day is different.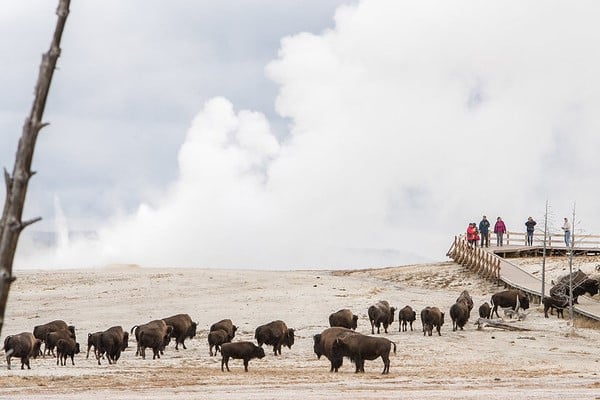 What do you especially like about working at Yellowstone?
BT: The variety: You can go horseback riding, take tours of the park, have all the food and beverage services and all the different types of lodges and cabins. Then there's the scenery and the animals. Where else can you have that?
SA: It's the front window to my restaurant. Even when it's crazy with people, I can take a breath and look out the window. I've never had that kind of view before: bison, lake, mountains, thermal feature all in one picture. It's moments like that — the serenity of nature right in front of us.
I just love being a part of serving guests, in particular in Yellowstone [where she's worked for nearly a year-and-a-half]. My job is 50/50 split between being with the public and doing office work. I love being part of people's experience that they'll remember forever. They're not just going to the restaurant around the block. It's a once-in-a-lifetime experience, part of the bigger dream that they have.
JJ: For one thing, it's so vast. It has everything: the terrain, the hikes, the beauty, the animals, the geysers. For me personally, it's the social interaction. I live in the Terrace dorm, which is a mostly over-50 all-female dorm. The people I met there my first season are my friends for life. If you feel like talking, you leave your door open. We have a library, play cards, do puzzles. We become a family there. (I value) the camaraderie and the friendships I've made. Being retired and at my age, I didn't expect to meet people who would be lifelong friends. You make friends of all ages and backgrounds, but with a kindred spirit. My friendships are what brings me back. I also hike a lot. I'm an outdoors person. Your backyard is the national park. You can't get better than that.
What makes a good hospitality worker?
BT: No. 1 is adaptability. In our industry things are constantly changing, such as occupancy levels, when folks are arriving, cancellations. There are so many things that change throughout day that we have to be very adaptable. No. 2 is having a positive attitude about those changes, having a glass half-full attitude. No. 3 is serving others. We're in the service business, so we have to put the need to serve others ahead of yourself. The same goes for serving other employees as well as guests. And No. 4 is professionalism.
What are the biggest challenges of your job?
BT: The search for talent, finding the right individuals. Plus, people have to move across country to our location. In general, it's the war for talent. We're all looking for the best employees.
SA: You can't please everyone. I would love it if I could make everyone happy. It's understanding that I will never be able to do that. Even though I try, I don't have the ability to make everyone happy with every decision I make. I want the guests to come in and feel like we love them, we cared about the food they got, and that we cared about them. I want my employees to feel that too.
It's having acceptance. In one week I might have four employees leave. We already work long hours. Last week I worked 64 hours. The continual acceptance that whatever comes I signed up for that and I don't have control over other people. I have to make sure that my employees are taken care of and feel supported if they need me.
JJ: Sometimes you can't please someone even if you try your best. Sometimes it just doesn't work. We train our employees to please people, to try to fix whatever needs to be fixed. We had a situation last week, where the road closed south of the park. There wasn't anything we could do about that. It was out of our control.
What are the biggest rewards of your job?
BT: To me, the rewards are when you hire the right individual, they do well on the job, they get promoted, and you can see their growth progression and the impact on them. Also, when I am out and about, I'm very cognizant of our guests. For example, I saw a couple who had a map out and I stopped and introduced myself and offered to help. I could share my knowledge of the park, and since I had hiked the hike (they were interested in), I could make their experience even better.
SA: No. 1: When a guest tells me we have the best food in the park. No. 2: When an employee tells me that they love working here or they love me. When they share their excitement and happiness, that keeps me going.
JJ: It's when you really make a difference for guests. I was down at Canyon Lodge with an elderly couple. They would come in and ask what they should do. They came every day and I gave them maps and instructions. At the end, they gave me a bottle of wine in thanks. It's about making a difference in someone's vacation.
What advice would you give someone wanting to get into the hospitality industry?
BT: No. 1: Find your niche. The hospitality industry is pretty general. There are different levels of hotels from economy to luxury, and there are hotels, resorts, golf resorts, ski resorts, city properties, and in our case, lodges in the national parks. That's what attracted me to Yellowstone. I love the national parks. No. 2: Find a company that shares your values. That will make you that much happier and more successful. (You'll be in) conflict if it doesn't match. No. 3: Always remember we're here to serve others, both employees and guests.
SA: It's long hours, lots of personalities, and it can be mentally and physically exhausting. But if you focus on the people, what we add to their experience, guests and employees alike, and the success of your establishment, there is nothing that feels better. Be ready to get addicted.
We started doing the "wall of awesomeness" as a place to shout out a co-worker, someone who has been super nice to you or who you want to say something nice about. It's a feel-good thing. It's the door to my office and it's covered in post-it notes. Every day I read them and I think, 'I love them so much.' I can give them gifts (of appreciation). But hearing from your co-workers is way more than any gift someone can give you. If you can make your employees happy, they are the ones giving your guests good service, so you have to keep them happy.
JJ: Choose something like a national park because you're in an industry where people want to have a good time and it's a slower pace. It's a vacation atmosphere and an exciting place to work. Find an area that suits you. If you don't like people, you need a different industry. That's a given. On top of that, find an environment where the hotel is located where you are having a good time.
---
Yellowstone has nine lodges, five campgrounds, and 20 different food and dining options. Each summer season the park hires 3,500 seasonal employees from across the U.S. and around the world. For more information on job openings at Yellowstone National Park, visit our website.
Award-winning travel editor and writer Veronica Stoddart is the former travel editor of USA TODAY. She has written for dozens of publications and websites.
Join Our Team
---