Why Working in Yellowstone is Great for Retirees
yellowstone jobs for retirees
Gail Davidson admits she was a little nervous when she arrived in Yellowstone for her first season working for Yellowstone National Park (YNP) Lodges. At 70 years old, she was worried about learning a new job, and living and working in close quarters with people she didn't know.
Her fears soon vanished as a new adventure unfolded. "I love meeting the people here," says Davidson, who is now in her second season. "I love the wildlife, I love the hiking, I love the conversations around the table with other employees. You know, there isn't much I don't love about it!"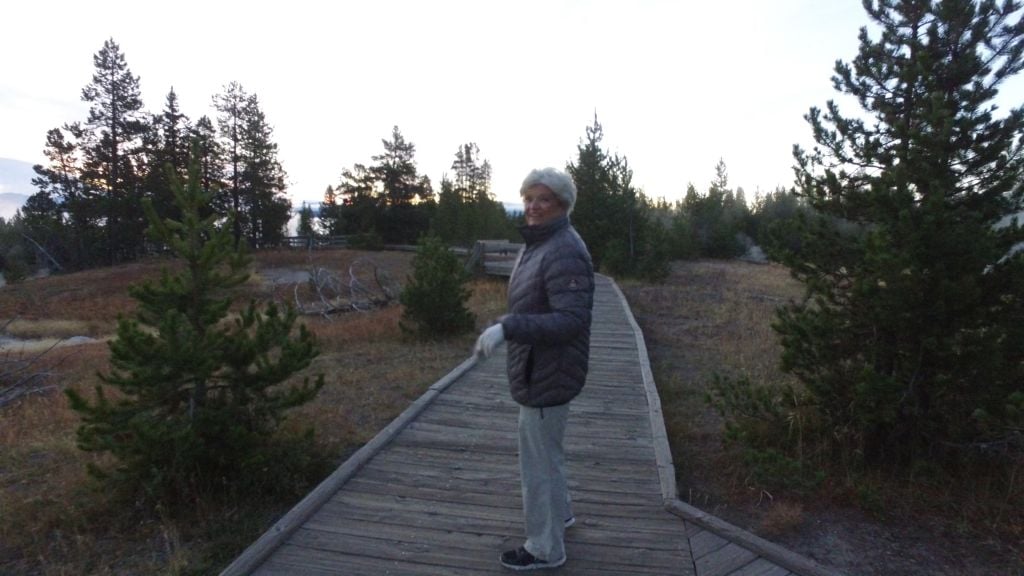 Davidson first came to Yellowstone a few years after her husband passed away. On a trip to Cody, Wyoming with a group of girlfriends, Davidson visited Yellowstone where she talked with seasonal employees who had great things to say about their experience. She arrived to work at Grant Village the following season, as a cook in the Employee Dining Room.
Kelly Burns, Recruitment Marketing Specialist with YNP Lodges says that working in Yellowstone can be a great option for seniors who aren't quite ready for retired life. For those who still crave adventure, working in Yellowstone allows them to meet people of all ages who have similar interests.
Davidson particularly enjoys interacting with the international 'kids'—young adults working in the park for the summer. "They push me to get out and see even more things," says Davidson, fondly recounting boating adventures on Yellowstone Lake, and a particularly interesting hiking adventure with one of her young friends. They got turned around in a thunderstorm, and didn't make it off the trail until almost dark, singing together to keep their spirits up. "We said well, we did make it out, and we survived it all, and it was just a very memorable experience," she says.
Burns says that many retirees enjoy living, working, and exploring alongside their younger coworkers, where they can learn from each other's varied viewpoints and life experiences. One young employee said that the retirees he worked with were some of the most inspiring and adventurous people he has ever met. Not only are retirees able to connect with a younger generation, but they are also able to meet other seniors who have similar interests like hiking, playing cards, and wildlife watching.
Most employees live in dorms, although there are some RV spaces available. Davidson enjoys the dorm life. "I've always had good roommates, and I love the fact that I don't have to cook…it's nice to go to the dining hall and get something to eat and go about your day. I don't have to worry about doing the dishes, it's just ideal," she says.
For retirees considering a seasonal job in Yellowstone, Davidson has some advice. "At our age sometimes it's a one-time opportunity. Go ahead and take it!" If you come with an open mind for new experiences and adventures, she says, you'll have a great time. "The experience is what you make of it. I've met wonderful people, seen wonderful things, and have no regrets whatsoever."
Jenny Golding is the founding editor of A Yellowstone Life and writes from her home at the north entrance to Yellowstone in Gardiner, Montana.
Join Our Team
---