Laundry Operation Making a Big Splash in Yellowstone
YELLOWSTONE LAUNDRY
Bison, wolves, and geysers are what bring people to Yellowstone. But to serve the million-plus overnight guests takes a lot of behind-the-scenes efforts. With more than 2,300 rooms and 5,000 beds, ensuring clean linens, bedspreads and towels is no small load (pun intended.) Our laundry operation is not only handling the load, but handled a new record volume when the last sheet was pressed and folded for the 2017 season.
The Big Load
The previous record for volume of laundry was 3 million pounds. But as Yellowstone works to keep up with lodging industry standards, triple sheeting and extra pillows have become the in-park norm. That's one more sheet and two more pillowcases per bed, multiplied by about 5,000 beds. Also factor in longer operational seasons and more available rooms than ever before. Then there are the bath towels, hand towels, and washcloths. All of the nine lodging locations have restaurants, and many use tablecloths and cloth napkins. No need to do the math…it averages about 30,000 pounds per day, and adds up to a 50% increase in volume (over 2016) that set the new record at 4.5 million pounds in 2017.
Far more than Bubble Queens
The closest commercial laundry outside the park is in Bozeman, MT, about 75 miles away. So it makes more sense for us to do it in-house. And what a house it takes. Xanterra's laundry is located just inside the park's northern boundary at Gardiner, Montana. And to keep this house running, it takes 55 seasonal workers, four seasonal supervisors, five maintenance staff, and two seamstresses (to keep the thousands of uniforms sized properly.) At the head of the house: one year-round manager.
And the staff is more than people who wash, dry, fold, count, mend, and sort the laundry. The product has to get and from to the nine lodging operations in the park, with the furthest lodge located 80 miles (through park traffic) from the laundry itself. So four big-rig drivers are needed as well, to haul the full trailers of clean laundry to the hotels, and after it's all delivered, bring the dirty product back to Gardiner every day. Yellowstone has come a long way since the old days of the laundry workers known as "Bubble Queens."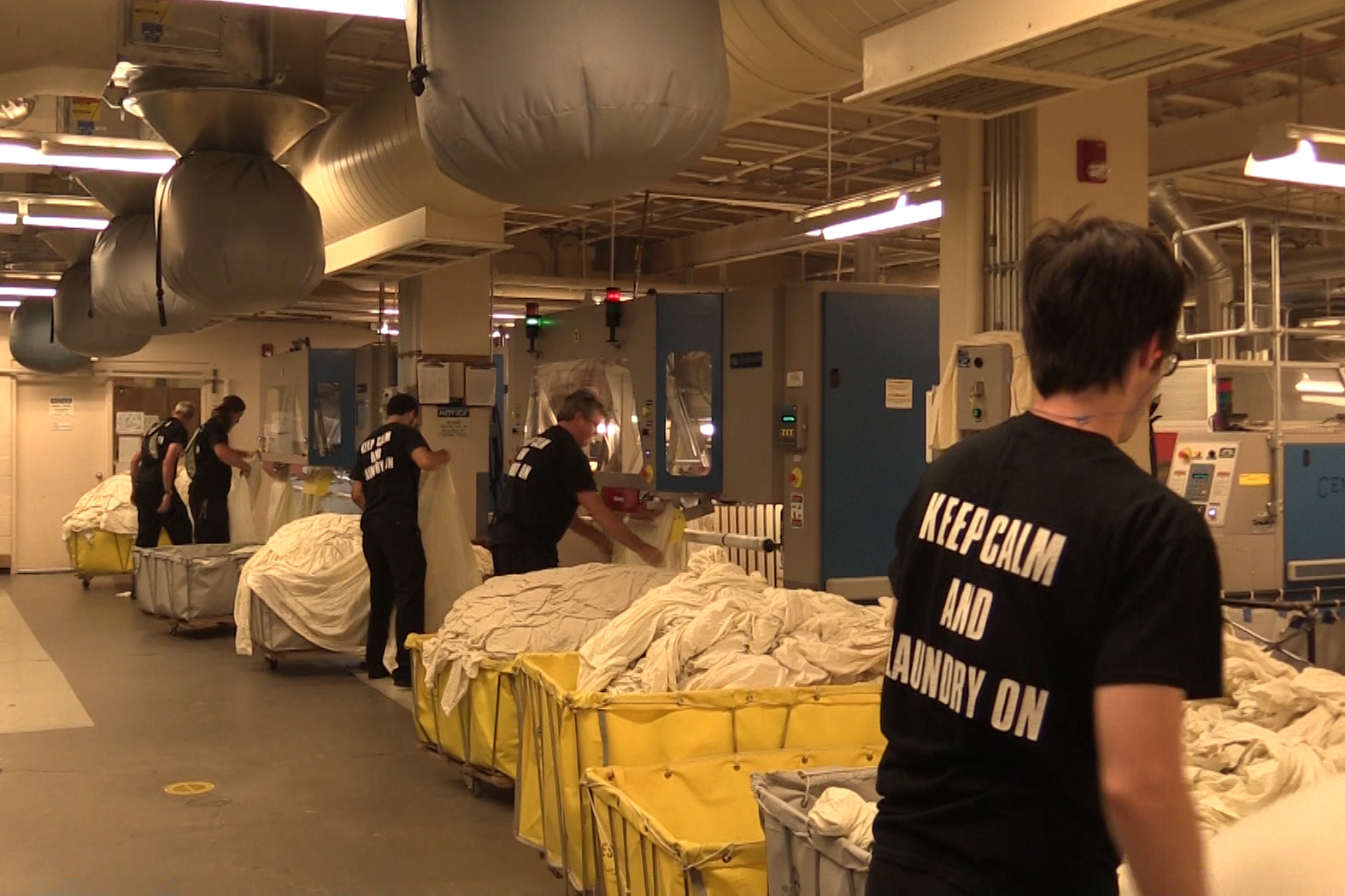 Clean and Green
While all that dirty laundry could create a huge environmental impact for the park, Xanterra employs a variety of sustainable practices and equipment that minimize the use of critical resources. Obviously, doing laundry takes a lot of water, but our sustainability initiatives have significantly reduced this impact. Traditional tunnel washers might use 3 gallons of water per pound of laundry. In Yellowstone, the tunnel washer has been designed to use only one-third gallon per pound. That's water savings of about 12 million gallons annually, or enough water to fill more than 20 Olympic-sized swimming pools.
Other sustainable initiatives include:
Propane powers the heating elements of the washers and dryers, eliminating petroleum-based heating oil.
Retired linens and textiles are recycled…almost 25,000 pounds in 2016.
Used textiles are also repurposed….old terry become rags, pillowcases become uniform bags, sheets become service bags.
Dryer time and energy are reduced by pressing water out of laundry into "cakes", and adjusting dryer times based on ambient temperature and humidity.
Donations of used/worn textiles include mattress pads donated to the local animal shelter;
pillows and blankets donated to Mammoth Hot Springs and Gardiner ambulance services; pillows, blankets, and comforters donated to the local Hutterite community; and old uniforms donated to the local thrift store.
As the last bins of laundry were weighed and washed in 2017, the hard-working laundry staff certainly felt a great sense of pride at their record-setting accomplishment. As Jake Gillen, a first-year dryer monitor/ tunnel operator, shared about his team, "People down here are amazing to work with… a lot of fun. You get to have a close bonding experience with everybody." And why is this behind-the-scenes operation so important to Yellowstone? Jake further noted, "The reason people are coming…you're making their stay much better."
Want to experience Yellowstone in-depth? See what makes Yellowstone National Park a great place to work for a season or longer!
---