Living the Seasonal Life: Your Gateway to Adventure
Seasonal Life
For many, working in Yellowstone National Park for a season is a gateway to the seasonal lifestyle and all the adventures that come along with it! What starts out as a seasonal job soon turns into a way of life. When you work seasonally, you form lifelong friendships, work hard, live in places where others vacation, and explore some of the most beautiful places on earth. The best part about working in Yellowstone National Park is the majority of your needs are provided for. We provide low-cost housing, meals, and medical services. We also offer a free recreation program, free activities and tours, as well as discounts both in the park and in local gateway communities. Keep in mind though that if your goal is to travel the world in the offseason, then you need to be ready to work hard and earn it.
Our staff lives by the phrase "work hard, play hard". Their strong work ethic carries them through a season serving millions of visitors. But when the season ends, a taste for more adventure often beckons many of Yellowstone's staff. Armed with big ideas and hopefully some money in their pockets, they set off to various corners of the planet during the "off-season". Below we've highlighted just a few of these escapades that go from Africa to Iceland and onto SE Asia. Some of these folks are beloved alumni and some are current staff we are grateful for!
Ventures in Vietnam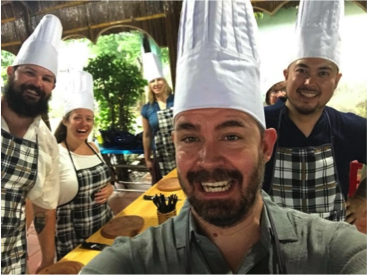 After the season came to an end, Ryan Watin (Human Resources) & Grant Miner (Food & Beverage) took off for Vietnam with Bonnie Stafford (Housekeeping) for a much-deserved vacation. The country and its people welcomed them with open arms, warm smiles, and heaps of cilantro. As the 15th most populated country in the world, Vietnam's slender proportions overflow with an energy that doesn't quit. Vietnam offers something for everyone and these three musketeers sought out to experience everything they could. They got pampered in resorts, trekked the Marble Mountains, explored the ruins of My Son, cooked with the locals, haggled at the markets, and even saw a performance at the Saigon Opera. The trio even met up with Michelle Ciotta (Food & Beverage), Brett Thielke (National Park Service), and Jeri Maxwell (Food & Beverage) along the way.
But be warned, Vietnam will test your heart, your courage, and your stomach at even the most mundane of tasks. Just five minutes in the War Remnants Museum will redefine everything you thought you knew about the Vietnam War – or as the Vietnamese call it – "The American War." Just a quick glance at a menu might offer such nauseating fare as sparrows, crickets, and dog meat. And as Ryan & Jeri can tell you, daring to ride a motorbike in the no-rules traffic of Vietnam can have near-death consequences. Thankfully everyone is safe and sound and back home in Yellowstone and though there were certainly a few obstacles, they wouldn't trade the experience for the world.
Travels in Thailand
Cache Perdue (Lodging) and Luke Maples (HR) traveled to the land of many Buddha's, fast-moving Tuck-Tuck's and the best cuisine one could imagine for two weeks – Thailand! On November 18th, almost one month after season's end, Cache and Luke found themselves standing in LAX boarding a plane to a foreign country, leaving the US for the first time ever. The realization that they were seven thousand miles from home was one of the best feelings ever and they were ready to take on anything that came their way!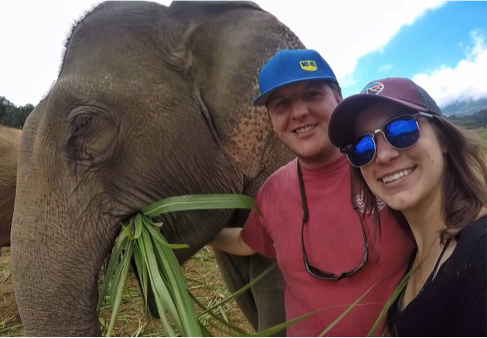 Their trip began in Bangkok exploring the outskirts of downtown. They hit a local floating market that led to a Wat also known as a Buddhist monastery or temple where they learned the history of Buddha with hardly any tourists around. A sleeper train, a definite highlight, whisked them off to Chaing Mia in Northern Thailand. The train car was full of travelers from all over the world. While in Chaing Mia they set off on foot getting lost in the streets indulging in the various offerings of street food – pad Thai, crickets, scorpions, pork sausage along with many other Thai traditional foods. During the nights they traveled by Tuk-Tuk or truck taxi to the night markets. A day passed and they found themselves at an elephant sanctuary feeding and bathing elephants, something they hadn't ever dreamed of.
They soon found themselves hopping on a domestic flight to Hat Yai, Thailand which is near the Malaysian border. From shuttle bus to speed boat they made it to the island of Koh Lipe, one of the best playgrounds for diving and enjoying the beach. The island just received power less than 10 years ago – and we thought things were primitive in YNP! After four nights toodling around Koh Lipe Cache and Luke made their way back to Bangkok for two nights to relax and learn more about the culture of Thailand.
Cache and Luke both felt that the people of Thailand are some of the most genuine kind-hearted souls they have ever met; no one seemed to be in a hurry and anywhere you went people would say hello and make you feel at home. Delicious food is everywhere in Thailand and is a must try but be prepared to eat something spicy! Luke also shared that visiting Thailand and leaving the USA for the first time really made a profound and lasting impression. He credits his employment in Yellowstone for opening this door for him and expanding his horizons in the form of world travel.
The Other Land of Fire and Ice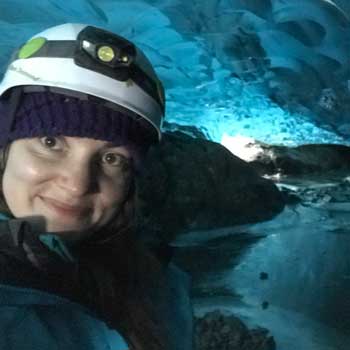 In an attempt to explore another geyser filled land, Sarah Bierschwale from our marketing department frolicked around Iceland. Tickets to the land of fire and ice are dirt cheap in the winter season-as low as $250 roundtrip from the east coast! Although days were short and weather was a bit temperamental (Yellowstone's wait 5 minutes weather mantra definitely applies to Iceland), the alpine glow lasted for hours and the northern lights made a couple appearances. This Nordic island is jam-packed with natural wonders – glaciers, black sand beaches, waterfalls, geysers, canyons and more. If you haven't had a chance to visit an ice cave – put it on your bucket list. Probably one of the grandest sculptures of nature around.
But while most sights in Iceland were out of this world beautiful, there was one thing it couldn't compete with in comparison to Yellowstone: the thermal features. The few geysers and hot springs were definitely underwhelming compared to our thousands. In the words of MC Hammer "Can't touch this"….literally and figuratively (that hot water will burn you).
Cameron Walker's Sustainabit from Iceland: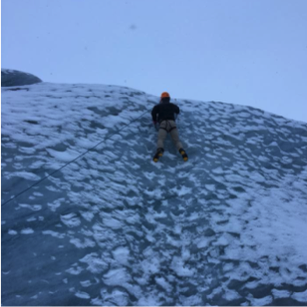 700 years ago, snow fell on a dormant volcano in Iceland. Over the centuries, pressure from subsequent snowfall squeezed out the air and compressed the snowflakes into sapphire blue glacier ice. On a sunny November day, we hike and ice climb Sólheimajökull glacier, passing ice caves and moulins carved by meltwater. As dense as the ice is, it's amazing how well an ice axe pierces and holds with only a light swing. Kick, kick. Crampons holding. Swing, swing. Ice axes holding. Repeat. Black and grey ribbons weave through the ice – ash from volcanic eruptions. We're grateful to experience this fleeting beauty. Like most glaciers in the world, this one is retreating rapidly. By next year, the area we climbed will be gone. -Cameron Walker, Sustainability Department
Out of Africa
Bethanie Maclean (HR and ski shop) along with Carrie Holder (Human Resources) traveled across the globe to Tanzania, Africa to attempt Kilimanjaro, the world's highest free-standing mountain at 19, 341 feet AND to take in the abundant wildlife and scenery Africa has to offer.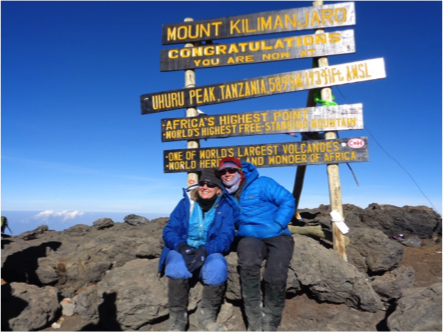 Their trip was booked through G Adventures, a company that gives back to the communities they travel to. While the trip was mostly spent roughing it in a tent, one night was spent at a lodge, The Stella Maris, where profits from the lodge support a local school.
After one night of creature comforts, they hit the ground running and were beginning their 7-day trek to the summit within 24 hours. There are numerous routes to the top; Lemosho Route, their chosen path, started in a rainforest where large deciduous trees grow lushly in the warm and humid climate. Carrie and Bethanie passed by monkeys, various insects, and tropical birds as they made their way up through the beautiful rainforest.
With travelers in the group from all over the world (just like YNP!), they gradually gained elevation. After heart rates and oxygen levels were checked, the final ascent under the moon and stars began at midnight to gain the last 3,000 feet of elevation in 3.2 miles. A string of headlamps in the distance with guides singing African songs kept the group moving forward. Frost glistened on the jackets of the climbers adding to the beauty of their surreal experience. A sunrise greeted them at the peak around 7:30 am with a string of magical memories having marked their journey.
After coming down from Kilimanjaro – literally and figuratively, they visited a Maasai village and intermingled with the villagers who were given clean cookstoves to help mitigate the health issues they suffer due to lack of ventilation. Then they were off to three different wildlife preserves to observe lions, elephants, zebras, water buffalo, antelope, hippos, and much more.
For Carrie and Bethanie this trip was truly an experience of a lifetime. Carrie encourages everyone to travel to this part of the globe – the scenery and general exposure to a new culture opened her eyes even wider to the differences, yet similarities of our world.
If you've got a strong work ethic, a desire for community, an adventurous nature, and a positive, contagious attitude then you are an ideal candidate to work in Yellowstone. Learn more about working here and get ready to start your own adventure.
Explore Yellowstone Jobs
Contributors to this article include Lori Todd and Kelly Burns.
Want to experience Yellowstone in-depth? See what makes Yellowstone National Park a great place to work for a season or longer!
---