The "Bear-muda" Triangle of Yellowstone
Bearmuda Triangle
Located around Tower Junction, the "Bear-muda" Triangle of Yellowstone is an area known for bear activity (grizzly bears and, more commonly, black bears). This is one of the few areas in the United States where black bears coexist with grizzly bears. If you work in Yellowstone, it also could be one of the areas on your work commute!

One day, some of our employees were driving from Mammoth to Tower Junction for work. They came upon a stretch of road with many cars pulled off to the side and Rangers directing traffic (Rangers will often arrive in crowded areas to make sure everyone is abiding by park policies). After parking safely in a pullout, they grabbed their cameras to photograph and observe a family of black bears. A momma bear and three cubs were in a valley only a few hundred yards off the road.
First, the family ambled through the woods and stopped to scratch on a tree. It was exciting to see how the cubs imitated their mother.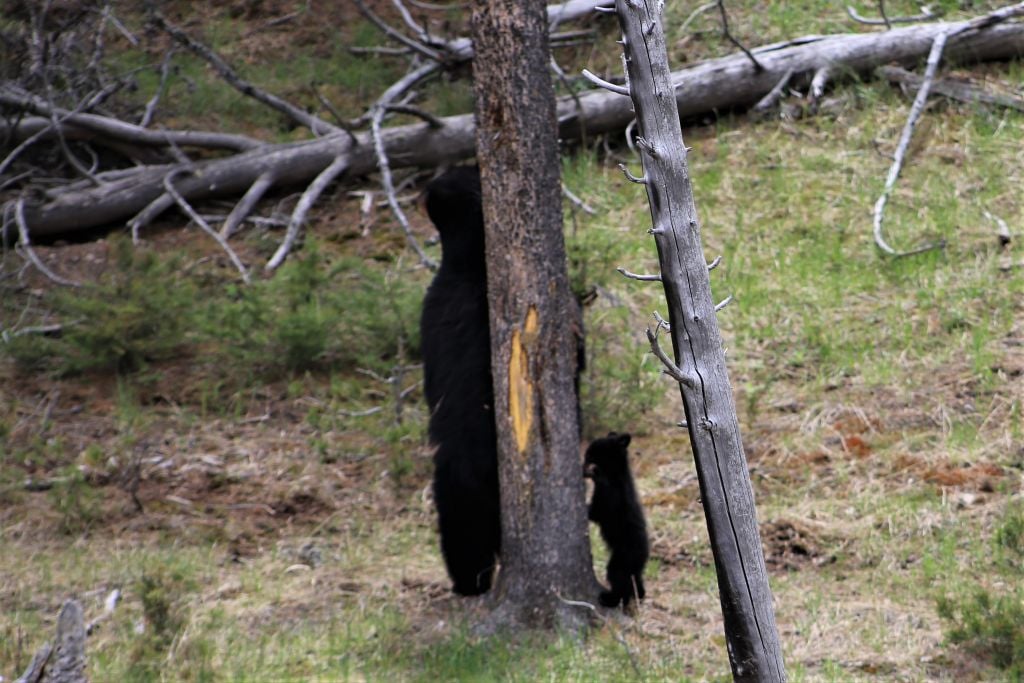 The momma bear then climbed into the water and took her time giving herself a bath.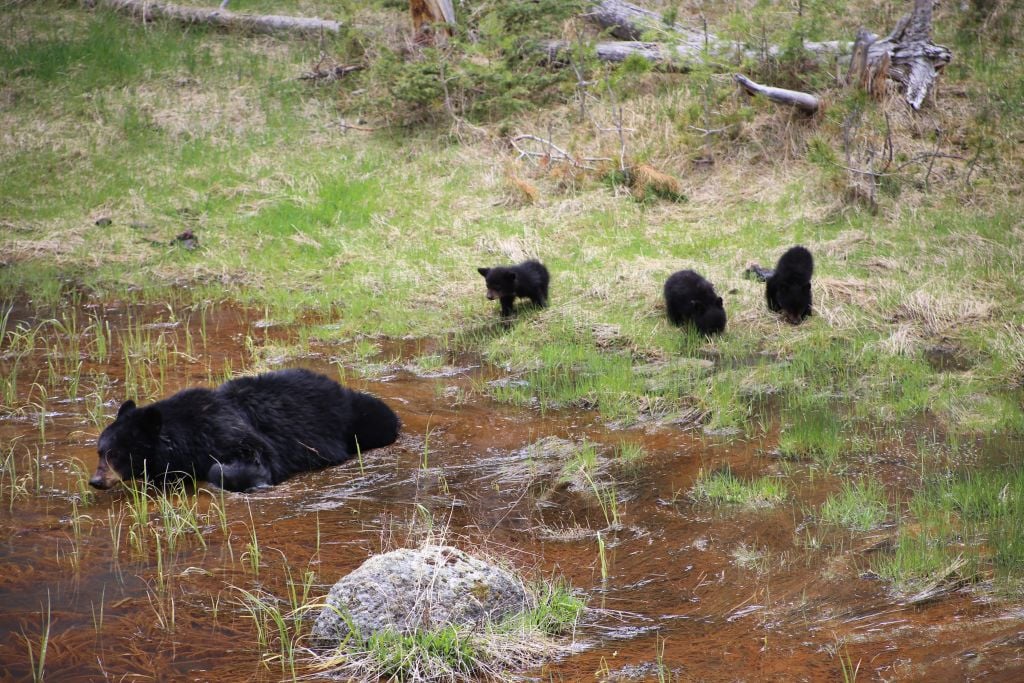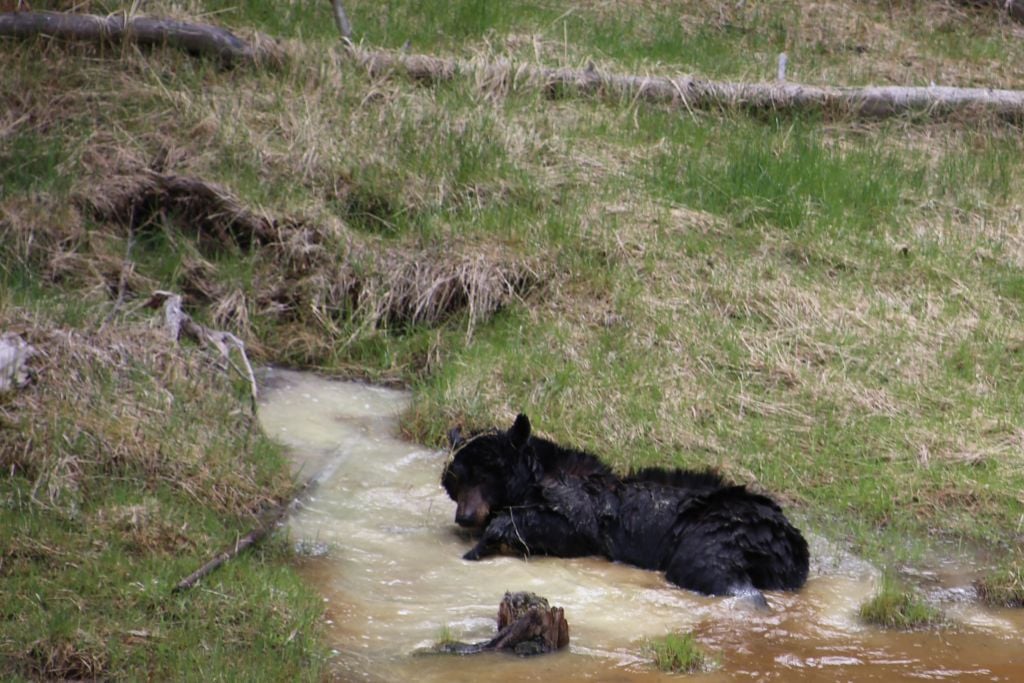 The cubs were more interested in seeing how high up in the tree they could climb.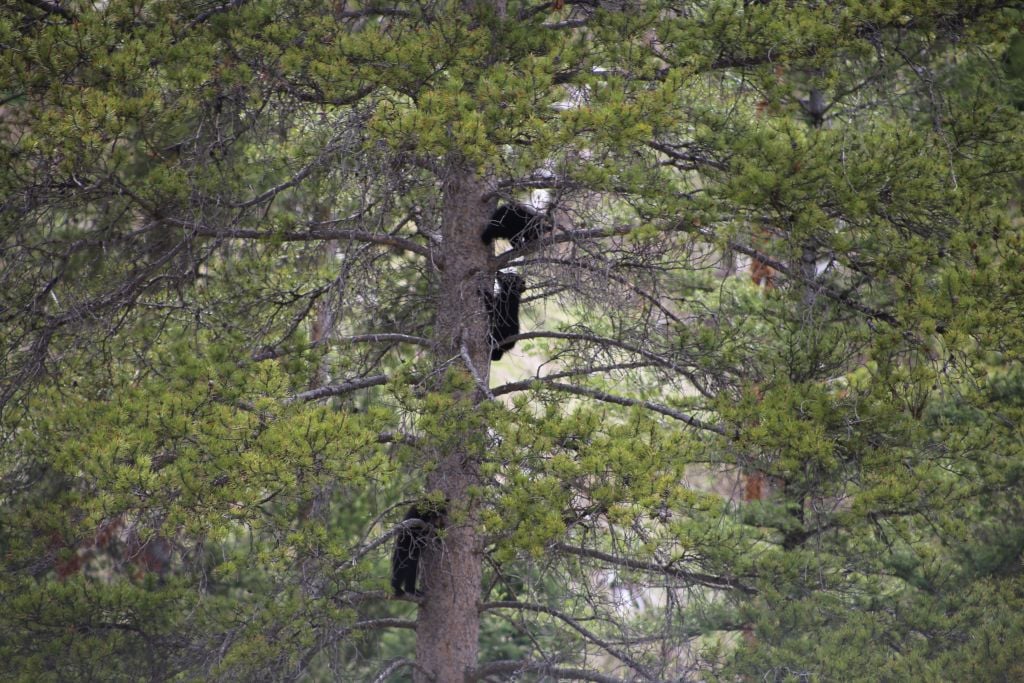 For 20 minutes, the employees were able to observe the mother bear and her cubs in their natural environment. All just part of a day in the life working and living in Yellowstone National Park!
One of the thrills of working in Yellowstone is your workplace is 2.2 million acres. Commuting for work takes on a whole new meaning here. Instead of traffic jams, you are experiencing "bison jams". Your morning DJ becomes the howling of a coyote or the chirping of a bird. Instead of avoiding traffic cones, you're avoiding elk. Whether you're driving through the park or walking from your dorm to the dining room, you're always bound to experience something special. Keeping with the "Bear-muda" Triangle theme, here are a few other unique areas to look out for during your commute:
"Elk Ellipse": In the fall, the soundtrack of Yellowstone is the bugling of elk. No matter where you are in the park, you are sure to hear this hauntingly beautiful sound.
"Bison Box": In the spring, no matter where you look, you will see "red dogs" or baby bison. Watching these adorable little guys test out their legs on the way to work is sure to put a smile on your face.
"Wolf Wedge": For those employees early to rise or late to bed, catching a glimpse of wolves in the park is a strong possibility. While not as easy to see,  they are most commonly spotted in Lamar Valley and Hayden Valley.
"Thermal Trapezoid": If you work in Old Faithful, your backyard is a wonderland filled with a number of active geysers and hot springs. It's not unusual to catch a glimpse of a geyser erupting on your daily walk to work.
"Serene Sector": If you work around Yellowstone Lake, your daily view often includes some pretty spectacular sunrises and sunsets on the water.
No matter where you work in the park, or how far your commute takes you, it is important to keep in mind the "rules of the road" for driving in Yellowstone:
Don't let the scenery distract you. Always drive cautiously and keep an eye out for animals.
Winding roads and traffic mean you should always anticipate a longer than expected drive time. Don't judge distances only based on mileage listed.
Always use a pullout if you need to stop for any reason. It is never ok to block traffic!
Finally, be sure to check out a few tips from the National Park Service for wildlife safety
Now, for an insider tip on driving in Yellowstone: always make an effort to stop and pull over when you see a cluster of cars! 9 times out of 10, they are observing wildlife. You may be tempted to just keep driving but just think what you could have missed out on! Observing wildlife in their natural environment is a unique aspect of Yellowstone National Park. Even more special, these observations are often made from where you are living and working.
Are you seeking an employment experience that is different than many other traditional companies? Yellowstone National Park may be the place for you (especially if you have an adventurous nature). After all, where else can your commute pass through The "Bear-muda" Triangle of Yellowstone?
Want to experience Yellowstone in-depth? See what makes Yellowstone National Park a great place to work for a season or longer!
---