Dine Casual, Enjoy the View
Closed for 2020 Summer
Grab a bite to go, while enjoying views of what was once the parade ground of the original Fort Yellowstone. It's also not uncommon to have front-row views of grazing elk and bison from the windows of the Mammoth Hotel Dining Room.
In winter, wolf watching is immensely popular. If you're heading out too early for a hot breakfast, we can set you up with a deli breakfast or deli lunch! You can also relive the day's adventures with your friends in the quaint lounge located immediately adjacent to the dining room host stand.
The First 4-Star Certified Green Restaurant in the National Parks
In August 2011, the Mammoth Hotel Dining Room became certified by the Green Restaurant Association. The GRA is a national non-profit organization that provides a cost-effective way for restaurants to demonstrate their commitment to environmental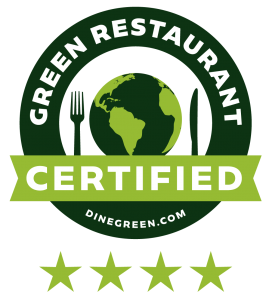 sustainability. The Mammoth Dining Room is Xanterra's first certified green restaurant, and with a 4-Star rating (out of a possible 4-Stars), is the FIRST 4-Star certified restaurant in Wyoming and our National Park System, and one of only 25 in the country. To achieve certification, restaurants must address critical areas that include: Energy, Food, Water, Waste, Disposables, Chemicals and Pollution Reduction, and Furnishings and Building Materials. To achieve its 4-Star certification, the Dining Room demonstrated sustainable operations through a major restroom remodel, installation of energy-saving LED lamps and water-saving fixtures, sourcing of local and organic cuisine, recycling and composting restaurant waste, and using environmentally-preferable cleaning products.
Dress Code
Dress code is casual.
Address
Mammoth Hotel Dining Room, 305A Albright Ave, Yellowstone National Park, WY 82190