The Music of Yellowstone
The otherworldly grandeur of Yellowstone has inspired a melodic earful from multiple composers and performers.
Paeans to the nation's first national park date to the 1800s and salute everything from its rivers to its winds to its fires. Behind the tributes are writers as diverse as Grammy-award winner John Denver ("Yellowstone, Coming Home" in 1997) and a Grand Rapids, Mich., high school music director ("We Love You Old Faithful" circa 1930). In 1989 the neoclassical New Age group, Mannheim Steamroller, released "Yellowstone: The Music of Nature," which pays homage to the park.
Each summer, the park's tuneful traditions begin anew. Guests at its major hostelries can relax to live music after a day of wilderness exploration. Pianists perform on summer evenings at Lake Yellowstone Hotel, the Old Faithful Inn, and in the Map Room at the historic Mammoth Hot Springs Hotel, where performer Randy Ingersoll fields audience requests. (The hotel is under renovation, but is expected to re-open in late summer 2017.) And in the stately Lake Yellowstone Hotel, a string quartet entertains in the recently renovated Sun Room. In-the-know visitors arrive early to get seats with a sunset view of the lake.
For those interested in dining al fresco, the park's Old West Dinner Cookout features hot-off-the-grill steaks served with a generous helping of homegrown entertainment from a singing cowboy.
Long before the digital era, 1920s diners at Old Faithful Inn were serenaded by live string musicians perched on the balcony overlooking the dining room. After dinner, the staff rolled up the rugs so guests could dance away the evening to live music.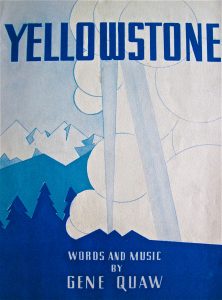 In the 1930s, the Gene Quaw Orchestra, nattily dressed in matching white, pressed trousers, double-breasted blazers and bowties, performed at the Canyon Hotel, ending many nights with the song "Yellowstone." The 1937 arrangement might not be in heavy rotation, but its chorus will resonate with visitors touched by Yellowstone's beauty.
Yellowstone, Yellowstone, best of any place that I have ever known.
Skies of blue, friends so true, call me back to summer days in Yellowstone.
In the 1960s, folk groups like the Villagers, gathered to sing the praises of the park with original songs like, "On My Twentieth Summer." In the 1970s, Yodelin' Slim Clark penned and performed "On the Banks of the Old Yellowstone."
More recently, local outfitter and composer Jett Hitt wrote an entire symphony, "Yellowstone for Violin and Orchestra," inspired by countless horseback rides through the park's vast backcountry. Released in 2002, it's the park's best-selling CD.
For a musical treat outside the park, the Buffalo Bill Center of the West in Cody, Wyo., 55 miles from the park's east entrance, features the toe tappin' Dan Miller's Cowboy Music Revue Monday through Saturday from June to early October.
Mammoth Hotel Lobby- Randy Ingersoll
Old Faithful Inn – Tom Swafford
Lake Yellowstone Hotel
Old Faithful Snow Lodge Winter- Martha Colby
Old West Dinner Cookout- Rick Steinke
For more information and reservations, visit yellowstonenationalparklodges.com or call 307-344-7311.
For a multi-day visit of Yellowstone, consider a tour with Austin Adventures, a leader in national park and active vacations for both families and adults. It has been recognized as one of Travel + Leisure's World's Best Tour Operators multiple times. For more information, visit austinadventures.com or call 800-575-1540.
For more travel experiences available from Xanterra Parks & Resorts and its affiliated properties, visit xanterra.com/explore.
———–
Washington, DC-based freelance writer Jayne Clark has been a travel reporter at USA TODAY and several other daily newspapers.
---