A Guide to Fishing in Yellowstone National Park
Yellowstone Fishing
Are you ready for the outdoor adventure of a lifetime? Whether you're an experienced angler, new to fishing, or enjoying a family outing, you'll find thrilling and fun fishing opportunities in Yellowstone National Park.
Yellowstone Lake is the largest body of water in Yellowstone National Park, as well as the largest lake above 7,000 feet in North America. The lake is home to native Cutthroat Trout and non-native Lake Trout. With its prime fishing conditions and beautiful scenery, Yellowstone Lake makes a fishing playground for all ages.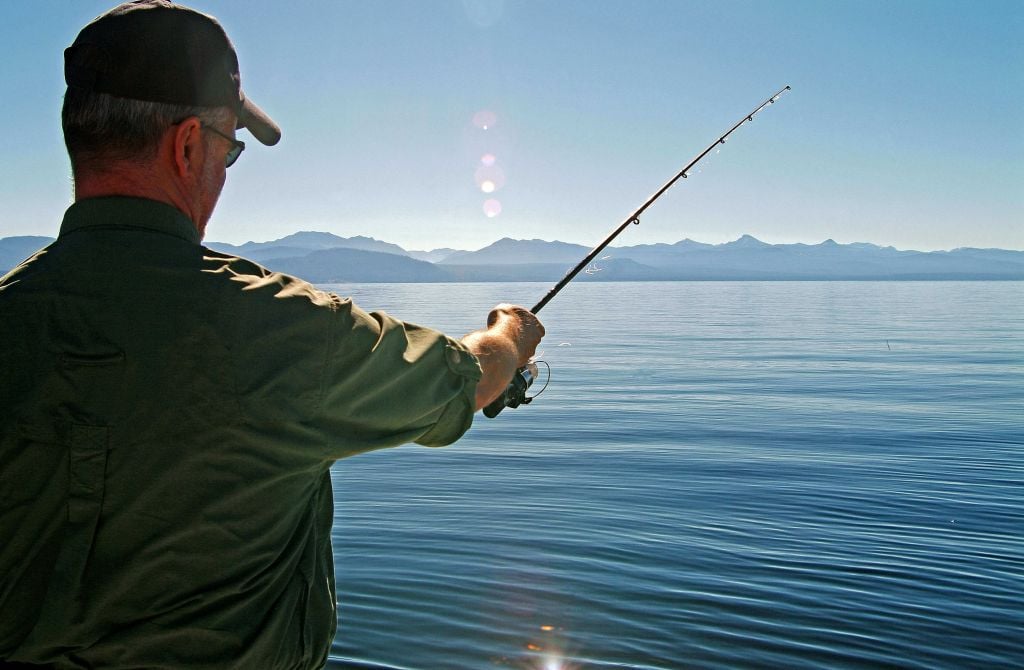 The Yellowstone fishing season officially kicks off the Saturday of Memorial Day weekend and runs until the first Sunday in November. There is no better time to start planning your unique fishing adventure to Yellowstone. The fish are biting, so what are you waiting for?
Explore our guide to fishing at Yellowstone National Park:
Fishing Licenses & Park Regulations
Yellowstone is a fishing playground with a unique aquatic ecosystem, so it's important that proper precautions are taken before heading out on your fishing excursion. We recommend you download Yellowstone National Park's official Fishing Regulations booklet, along with their Trip Planner.
Fishing licenses are required for anyone over 16 years old, whether fishing with one of our guides or privately on a lake or river. You have three permit options: a three-day permit for $40, a seven-day permit for $55, or a season permit for $75. Children 15 years and younger are allowed to fish without a park permit if they are fishing under the direct supervision of an adult who has a valid park fishing permit. Fishing permits are available at the Yellowstone General Stores located throughout the park or from the Bridge Bay Marina.
Bringing your own gear? Make sure you clean it and change drainages before visiting Yellowstone. This will help to prevent the spread of aquatic invasive species that harm the park's native trout.
Remember to thoroughly read your regulation booklet. Yellowstone has a fragile aquatic ecosystem that is protected with very specific rules: hooks must be barbless and lead weights and bait are not allowed. Your regulations booklet will also provide further details on restrictions, important dates, and closures, as well as areas that are catch-and-release or fly-fishing only. As of July 24, 2021, Yellowstone National Park's rivers and streams will close to fishing in the afternoon and evening due to high-water temperatures and unprecedented low stream flows.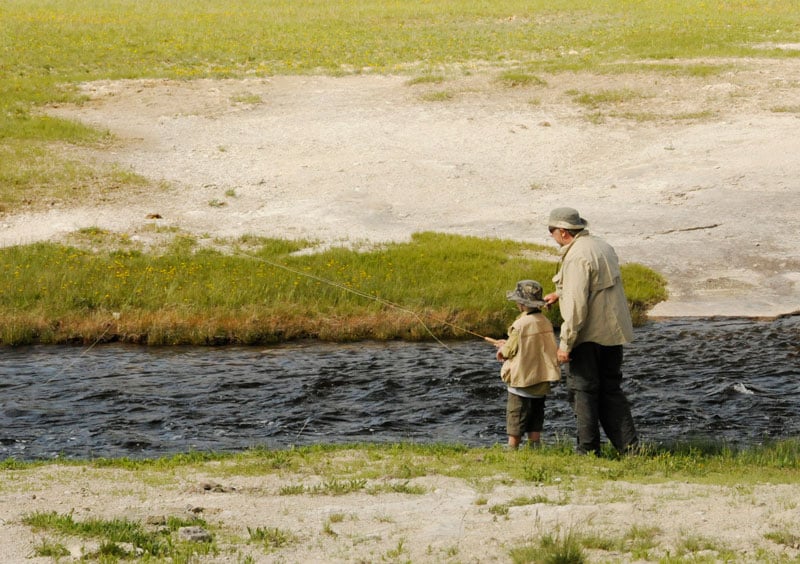 Fish Species
One of the main goals of managing a healthy fishery in Yellowstone is to protect the native Cutthroat Trout and its habitat. Always remember the saying, "if it has a red slash, put it back." This means if the jaw of the fish has a slash marking, you must release it back into the water unharmed.
There are two native subspecies of the Cutthroat Trout found in Yellowstone: Westslope Cutthroat Trout and the Yellowstone Cutthroat Trout. Both are protected, along with the Arctic Grayling and Mountain Whitefish, also native to Yellowstone.
Brown, Rainbow, Brook, and Lake Trout are fish that are non-native species found in the rivers, streams, and lakes of Yellowstone. Limits on the number of these non-native fish you can catch vary by area. On Yellowstone Lake, Lake Trout are an unwanted species and park regulations require anglers to keep or kill all of the Lake Trout they catch. Non-native fish, like the Lake Trout, are in direct competition with native Cutthroat and can have a negative impact on the native population. Good news for anglers fishing in Yellowstone Lake? The bounty of Lake Trout is limitless!
If you're fishing in Yellowstone Lake, an easy rule of thumb is to catch and release all native fish and keep all non-native fish. See your regulations booklet for details on how to identify the various fish species in Yellowstone!
Remember that if you plan to use a boat or a float tube in the park, you'll also need to obtain a boating permit.
Fly Fishing
Yellowstone has a long tradition of fly fishing. For years, anglers from all over the world have flocked to the park's bountiful waters during the fishing season. Nowhere else will an angler find so many public lakes, rivers and steams with such a wide variety of game fish in an area the size of Yellowstone.
Fly fishing in Yellowstone is a great place for experienced anglers, but also for beginners, families, or those who don't get out to fish as much as they'd like. With a wide variety of conditions and waterways and an abundance of fish that can be counted on to swim for the flies, Yellowstone is the ideal destination for anyone who has a passion or interest in fly fishing.
From May to October, it's possible to find prime fly fishing rivers and streams in Yellowstone.  The months of July and August can be a great time to head out on a fishing excursion in Yellowstone, especially in lakes and backcountry streams. Usually, by July the rivers have run clear of snowmelt and most of the park's waters are fishable. Insect hatches are also at their peak, making it a great time for dry-fly anglers. By August, all of the rivers will fish well and the biting flies will have thinned out around the backcountry lakes. And don't forget September and October which can be epic months in Yellowstone with some of the best terrestrial and streamer fishing for lake run brown trout during the fall spawn.
No matter when you head out on a Yellowstone fly fishing excursion, be sure to bring along bear spray, rain gear, sunglasses, sunblock, insect repellent, and a hat.
Learn more about fly fishing in Yellowstone with these helpful Yellowstone Fly Fishing Tips from nationally recognized fly fishing guide, Craig Mathews.
Guided Fishing Tours
Guided Fishing Tours are available from our Bridge Bay Marina starting the middle of June and running through until the start of September. Bridge Bay Marina is located only a few miles south of the Lake Yellowstone Hotel and Lake Lodge. Our Guided Fishing Tours can be reserved for a two-hour trip to longer fishing excursions up 12 hours long. Our knowledgeable guides will take you to a location where the fish are biting. Custom fishing tours are available to areas of Yellowstone Lake that few people ever get to experience.
If you're a more experienced angler and prefer to venture out on a backcountry exploration, we offer a shuttle service that will carry you and your gear to designated sites on the farther reaches of Yellowstone Lake. You can even take along your canoe or kayak to explore more of the lakeshore!
Rent a Boat or Bring Your Own
Boat rentals for fishing are available by the hour from Bay Bridge Marina. You can bring your own boat for fishing in Yellowstone, but make sure you obtain a permit from the National Park Service as well as an aquatic invasive species inspection before put your boat into the water.
Enjoying Your Catch
Reeled in a great catch while out fishing for the day? Many of our dining rooms will prepare your Lake Trout for you! We'll serve it to you as you like: pan-fried, blackened, for lunch or dinner—it's up to you!
So clean your fishing gear, learn the park regulations, and make your next fishing story a Yellowstone story!
And remember no barbs, no bait, no lead, and if it has a red slash put it back.
For more travel experiences to Beautiful Places on Earth™ available from Xanterra Travel Collection® and its affiliated properties, visit xanterra.com/explore.

Want to experience Yellowstone in-depth? See what makes Yellowstone National Park a great place to work for a season or longer!
---