Featured Farm: Amaltheia Organic Dairy
Amaltheia Organic Dairy Farm
Nestled at the base of the Bridger Mountains in Belgrade, Montana, lies the Amaltheia Organic Dairy Farm. The farm, run by Sue and Melvyn Brown, provides fresh, organic goat cheese for Yellowstone's restaurants and prides itself on being a sustainable operation. Amaltheia is a part of our sustainable efforts, and Sue Brown recently took some time to explain how their farm works, what they work to provide, and how important sustainability is to them.
How long have you been in business and why did you start?
"Since 2000, so 17 years, going on 18. Our kids had grown up on a farm and we'd always had goats. My husband was at a point where he didn't want to work cattle anymore and so he thought a goat dairy might be fun. Initially we were just milking goats and selling our milk to somebody else making cheese. And then after a year, we started making the cheese. Six months after that we developed the Amaltheia brand…"
What do you like about raising goats and making cheese?
"Goats are very friendly animals. They're entertaining, and with a business, it is what you make it. But you couldn't work with a friendlier animal. You know, cows just don't have personality whereas goats are crazy. They're pretty fun."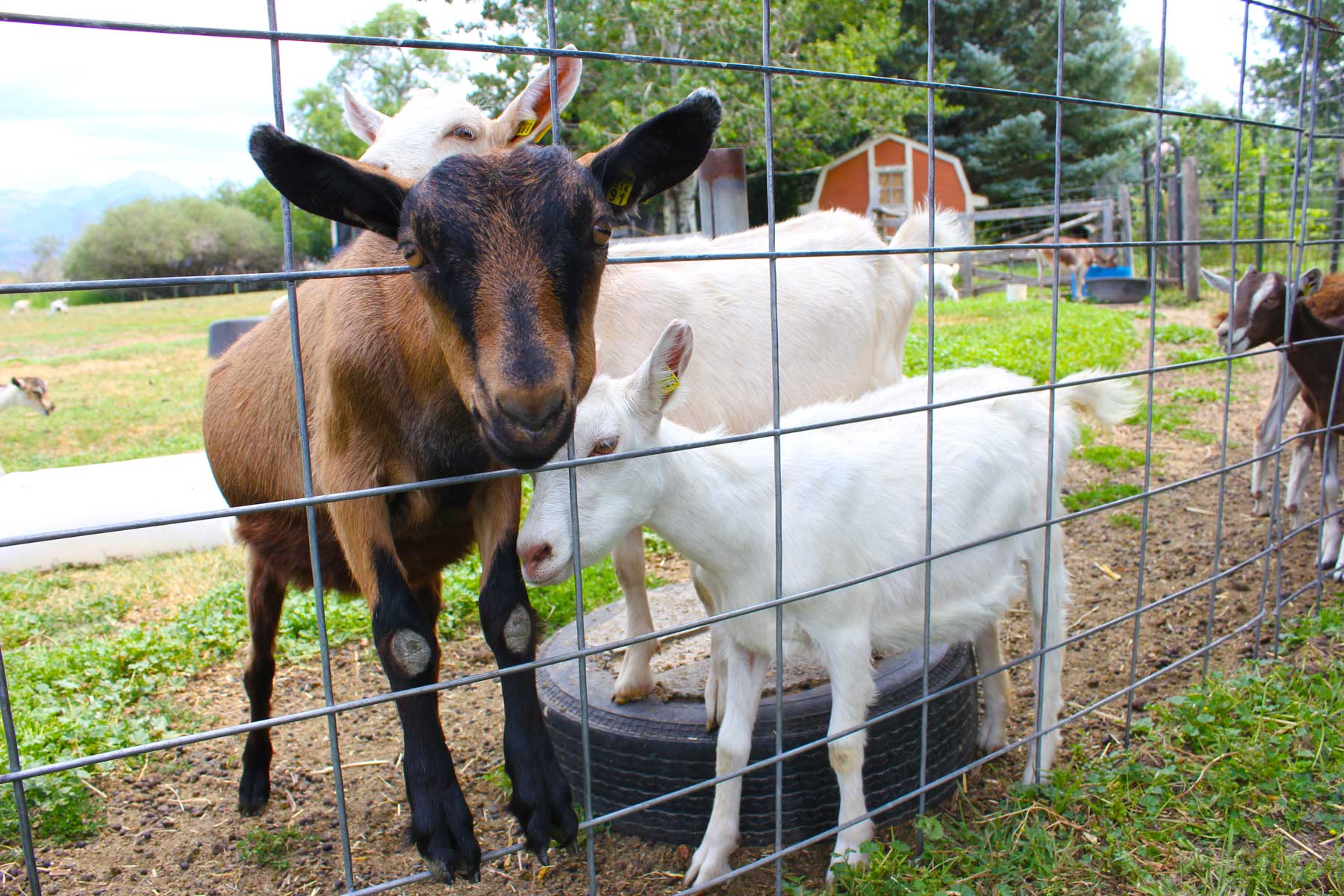 Where does your name come from?
"While I was teaching school, they were doing a unit on Greek mythology, and Amaltheia is the goat that fed Zeus in Greek Mythology. And Zeus grew up and defeated his father and became king of the gods, and he rewarded Amaltheia by making her horns the cornucopia. So when you think of the cornucopia, you think of abundance and good food and all of that good stuff; giving thanks, and I thought it was the perfect name. And then, Zeus took her image and put it in the sky as a Capricorn. According to the Greeks, Amaltheia is where cornucopia and Capricorn came from. We think of goat cheese as the perfect food and part of a cornucopia."
Has our partnership grown your business? How?
"Sure. We sell a lot of cheese to Yellowstone. In the summertime, our sales almost double what they do in the winter. It's a busy time of year for goat cheese; people eat a lot of goat cheese in the summer. Xanterra is great about featuring our cheese and talking about us on menus and that's been great for us. People call us up and say, 'hey, I had your cheese at Lake Hotel and it's wonderful; where can I get it?' That's a wonderful thing for us. Recently, some of our organic vegetables have made it down to Yellowstone as well. Lake Hotel is featuring some of our organic baby kale and they've purchased organic beets in the past. It's great that they can provide wonderful organic products to the people who come to the park.
How do you make cheese?
"For fresh goat cheese, we milk the goats, and then we have a truck with a stainless tank on it – just like the milk trucks you see on the roads – and it picks up the milk from the farm. The truck brings it to our cheese facility, which is right in Belgrade by the airport. There, we pasteurize the milk and we add our culture and our rennet and the next day, we bag it. The third day, we mix the salt in with it and box it. It's a pretty simple process. It's just a little finesse with timing and getting the right cultures and rennet (we use a vegetable rennet which people love)."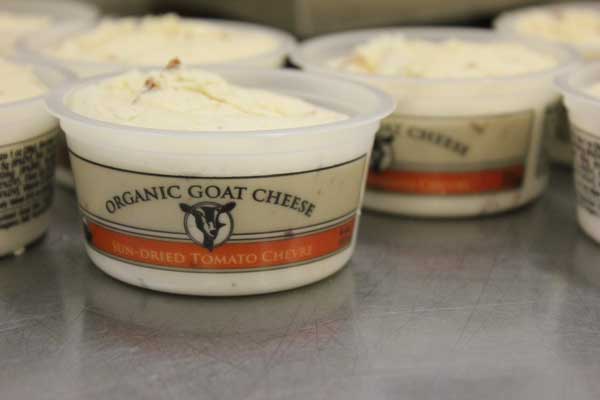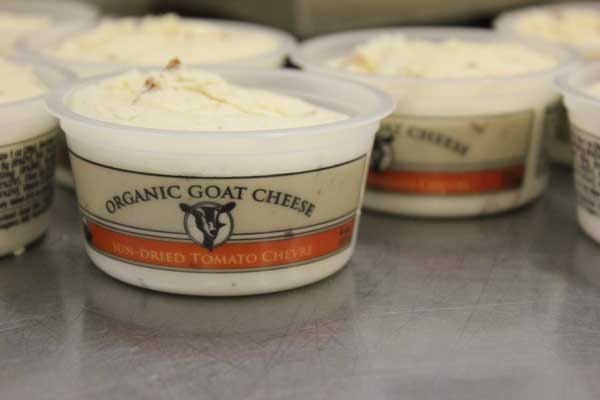 What makes a dairy "Organic"?
"Dairy either comes from cows or sheep or goats, and in order to be a certified organic dairy, first the ground has to be certified organic, which means it hasn't had any pesticides, herbicides, or anything on it for three years. Then, the goats have to have been feed organically for a year, which means they have to be on pastures for 120 days and you have nice fields where they can go out and eat alfalfa. And all the babies on the farm have to be grown up there. That's a big part of it, too.
We're lucky because in Montana, there are a lot of organic farms that grow grain and so our goats get organic barley, wheat, oats, lentils, peas; all kinds of things that are certified organic from Montana. So it's really nice to be able to say everything we feed them comes from Montana. And we mostly grow our own hay. We sell flavored cheeses, and all of the flavors you use in making an organic product have to be certified organic as well. There's a lot that goes into the whole, 'what makes it organic' thing. All the processes like pasteurization, your cultures, your rennet; all of that needs to be OK'd by the National Organic Program (NOP)."
Why does it matter to you to be sustainable?
"We only have one earth. I feel like people are what they eat, and I feel like a lot of the medical problems in our world come from processed foods and pesticides and herbicides and stuff that we shouldn't have in our food. It's easy to be sustainable if people pay attention. It's just a matter of paying attention and caring. We've been farmers for 40 years, and we've grown organic corn side-by-side with neighbors conventionally and have gotten better yields. And I know people will always tell you, 'oh yeah, you can't get a good yield if you use organic practices and don't spray,' and it's just not true. We really try to explain that to people. And we have a lot of tours; I see probably 500-1,000 kids every year, and I talk to them about why we're organic farm and the importance of eating good, wholesome food."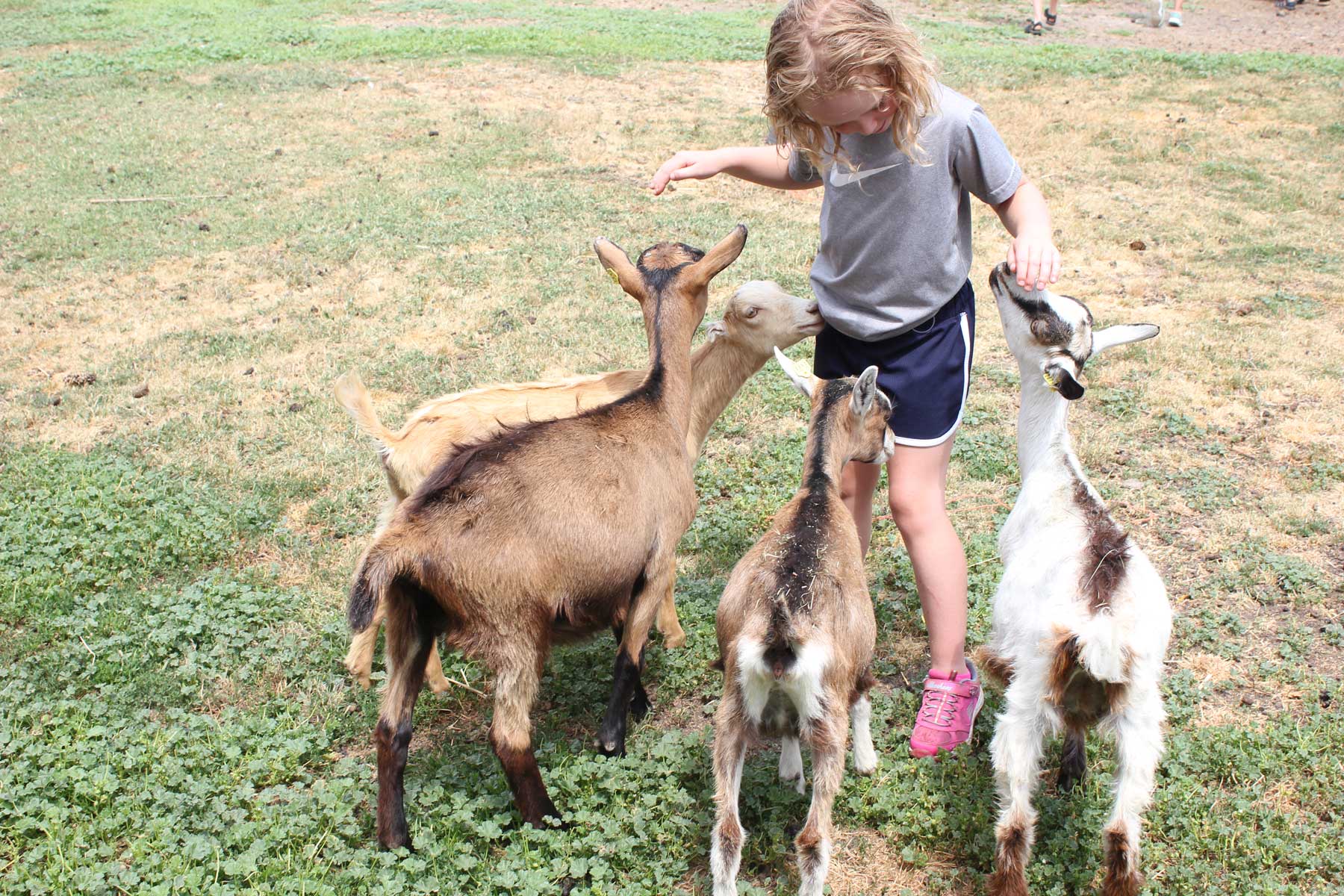 What makes goats happy?
"Goats are just happy animals. Good food and they love attention, so we always try to spend time with them and encourage kids to come out and play with them. Then they become really happy, friendly animals. It just makes them so much more fun when they come running up to you, and that is what the kids do. You walk into the field and they'll all surround you and want to play. Goats like to be able to run, they like to be able to be out in a field, they like to be able to communicate with you, they like good food. Goats are, inherently, really happy animals."
Yellowstone National Park Lodges is committed to sustainable practices in order to help us operate with a softer environmental footprint. Our efforts with Amaltheia help us reach that goal, as well as provide you with a fresh taste of local flavor by sourcing ingredients from nearby farms, ranches, fisheries and brewers.
To learn more about Amaltheia, please visit their website.
Karley Nugent graduated from the University of Louisiana at Lafayette with a major in journalism and a minor in English. During the summer of 2015, she worked as a Senior Guest Service Agent (GSA) at Lake Lodge in Yellowstone National Park. Nugent is a photographer, avid hiker and lover of all things Yellowstone, especially the Grand Canyon of the Yellowstone (look for her at Artist Point).
For more travel experiences to Beautiful Places on Earth™ available from Xanterra Travel Collection® and its affiliated properties, visit xanterra.com/explore.

Want to experience Yellowstone in-depth? See what makes Yellowstone National Park a great place to work for a season or longer!
---