Fido in Yellowstone: How to Travel with Dogs
Dogs in Yellowstone
So, the remarkable landscapes, extraordinary geothermal natural wonders, and abundant wildlife of Yellowstone are calling. But your pet is an important part of your family, so obviously you're going to want to head off on this adventure together. Your destination is a living ecosystem full of free-roaming wildlife and dangerous geological features, so to keep you, your pet, and the park's wildlife safe, there are some rules to follow and things you should know before hitting the road. With a little planning, it's possible to strike a balance between keeping everyone safe and seeing one of the most beautiful places in the world with your best pal. If you're wondering "are dogs allowed in national parks?", then let us tell you about what it means to be dog friendly in Yellowstone.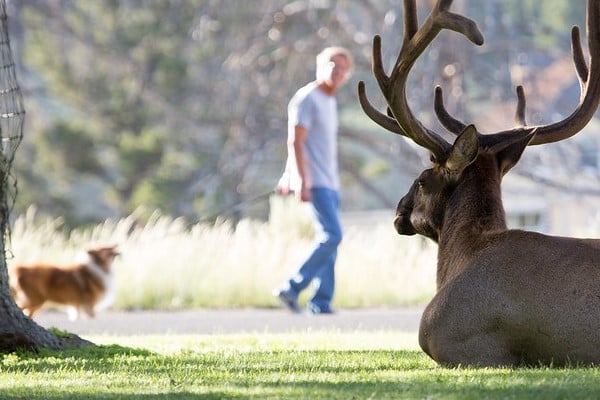 Sit
We'll start with the no-fun-police business first, so you know where you and Fido aren't allowed to go. Unfortunately, you can't take your pet on trails or into the backcountry. We all need to be respectful of Yellowstone's wild environment, but pets are particularly at risk of being injured by park wildlife. Yellowstone is full of bears and wolves, and bears and wolves do not like dogs. Wolves see domestic dogs as competition and bears have been known to follow dogs back to their owners. And while your dog might be able to outrun a bear, you probably couldn't!
Boardwalks and thermal areas are also off-limits to pets because of the huge risk these parts of the park pose to your animal friends. Dogs have a hard time distinguishing between cool water and hot water, and since a lot of the thermal water in the park is at or near the boiling point, many dogs have been injured or killed by jumping into these dangerous waters.

Lie Down
So where can you go with your precious pup? Of course, you're allowed to have your pet in your car, so why not take one of Yellowstone's many scenic routes? There will be plenty of opportunities to see plenty of wildlife and places to pull over to take photos. Pets are also allowed in developed areas, within 100 feet of roads, and in parking lots, so be sure to pull over a stretch your legs and run around.
While you're here, why not make an adventure of it? Pets are also allowed in campgrounds and in your tent. There are walking trails at some campgrounds for you and your pup to enjoy a good walk. When you're outside with your pet, they can have food and water–just be sure to pack it away afterward. And while pets aren't allowed in hotels in the park, you can bring quiet and housebroken dogs and cats with you to designated cabins at several locations around the park.
Stay
Pets are never to be left unattended outside (even tied up to a tree or other object) and even when you're with them, they must be physically restrained at all times, either with a leash or in a crate. And please, don't leave your pet in the car alone while you go check something out. Never leave your pet where food, water, shade, ventilation, and other basic needs are not sufficient. Park in a shady spot and have someone stay behind in the vehicle with them. The climate in Yellowstone may feel cooler than you're used to, but vehicles heat up quickly. Guests must clean up after their pets and dispose properly of waste.
Who's A Good Boy?
Here's some of the fine print. There is a small fee for each animal during your stay, with a maximum of two pets per cabin. Please declare your pet when registering with the Front Desk upon arrival and be prepared to provide a Health Certificate and records from a licensed veterinarian to show proof that all recommended vaccinations are up-to-date, in the event that Xanterra or the National Park Service requests this information. Why? Because diseases can be spread from domestic animals to Yellowstone's wild animals and vice-versa.
At Your Service
The exception to these rules? Qualified service animals assisting people with disabilities are allowed throughout the park and in all park facilities. However, to bring your service animal into the backcountry, you do need a permit and you should keep them on a tight leash at all times. And remember, having a service animal in the backcountry may put you at increased risk of encounters with wolves, bears, and other wildlife.
Leader of the Pack
There are a few things you should do before you go, so you and your loyal pal have a safe and comfortable adventure. Get your pet a vet check-up to make sure they're in good health. Pack and bring a doggie essentials kit: your dog's regular food, water, bowls, leash, pupper's favorite toys, a waste scoop, plastic bags, brush and shampoo, flea comb and tick remover, any required medication and first-aid kit, vaccination records, kennel or crate, and a dog bed and blankets. Always keep your pet secure in your car, in a crate or with a pet seat belt. It's safer for everyone in the vehicle.
With a little planning, preparation, and smart thinking, you and your pet will be ready to run, jump, play, and fetch your way around Yellowstone National Park.
---