Award-Winning Hard Cider Comes to Yellowstone
Farmstead Cider
Less than two hours from Yellowstone National Park, a cidery based in the Old West-style town of Jackson, Wyo., is producing award-winning, hand-pressed hard ciders that are helping keep bears out of trouble.
Farmstead Cider, which can harvest more than 150,000 pounds of sweet apples and high-tannin crabapples during a big season, actually picks its apples to help reduce wildlife and human conflict. "Bears were in people's yards eating their apples," says Ian McGregor, Farmstead's cofounder with Orion Bellorado. "Now we're harvesting those apples instead."
This summer, Farmstead Cider, which sold its first cider in 2017, will be sold in Yellowstone by concessioner, Yellowstone National Park Lodges for the first time. It will be available for purchase at the gift shops in Mammoth, Old Faithful Lodge, Canyon, and Madison. The Mountain Dry Cider is also on tap at the M66 Bar & Grill at Canyon Lodge, Mammoth Hot Springs dining doom and lounge, Lake Hotel dining room and lounge, and the Obsidian Dining Room and Firehole Lounge at the Old Faithful Snow Lodge.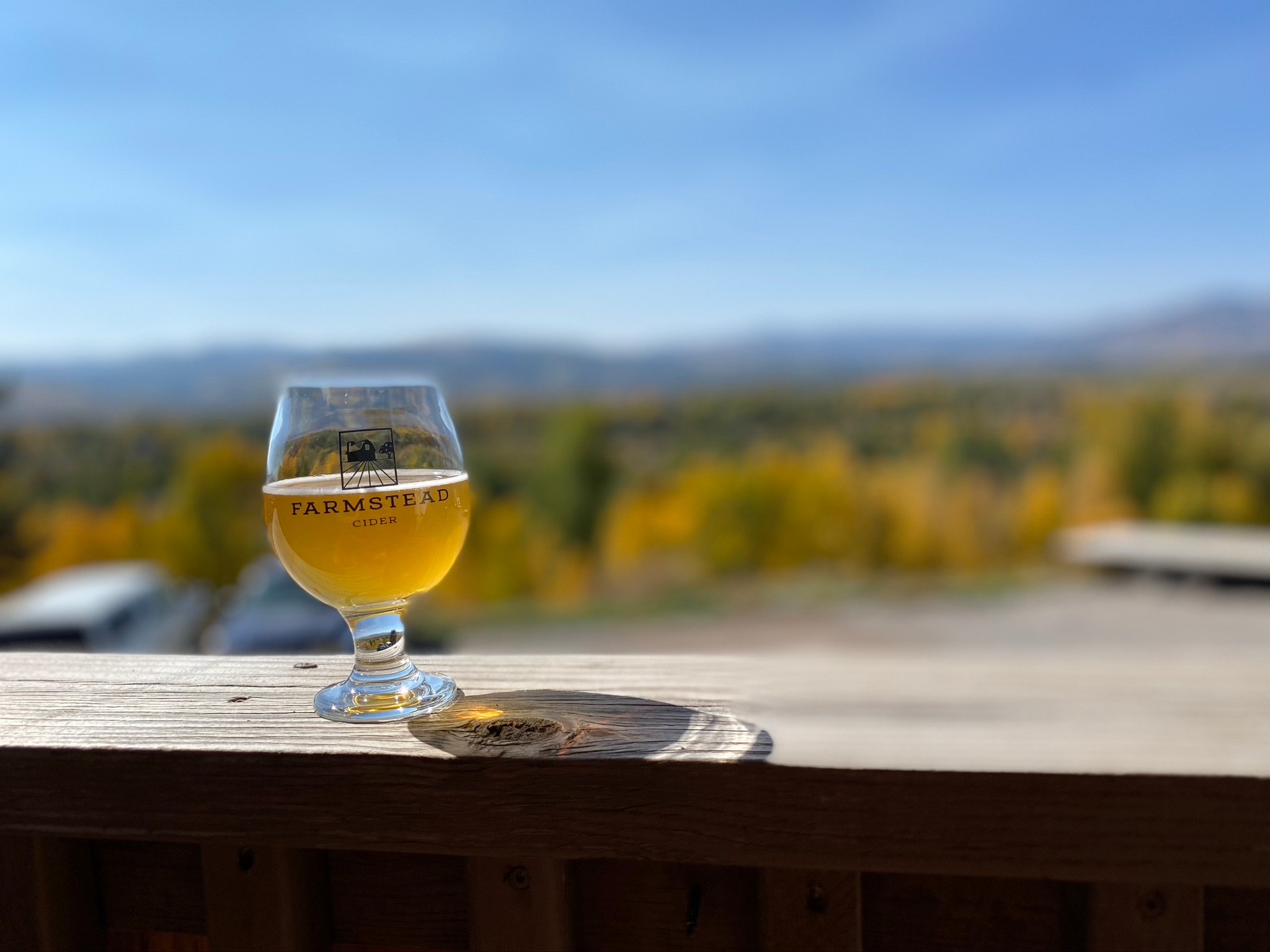 "Farmstead Cider has a great story and we're thrilled to welcome them into Yellowstone," says Karen Tryman, Director of Retail for the Xanterra Travel Collection®, which manages the concessions in the park. "From their humble beginnings in trying to reduce human-bear conflicts to their focus on local sourcing, they share a lot of our values. They're committed to sustainability and focused on having fun — all in the name of crafting tasty cider!"
The first commercial cidery to open in Wyoming since Prohibition, Farmstead has its roots in a dinner party in Jackson in 2016. That's where Bellorado first heard about bears getting into local residential neighborhoods and eating apples. "It was bringing wildlife, especially bears, into conflict with dogs, cars, and humans," says McGregor, who, like Bellorado, grew up in Jackson. Once bears become accustomed to humans, they are either sedated and relocated or, if there have been multiple incidents, killed.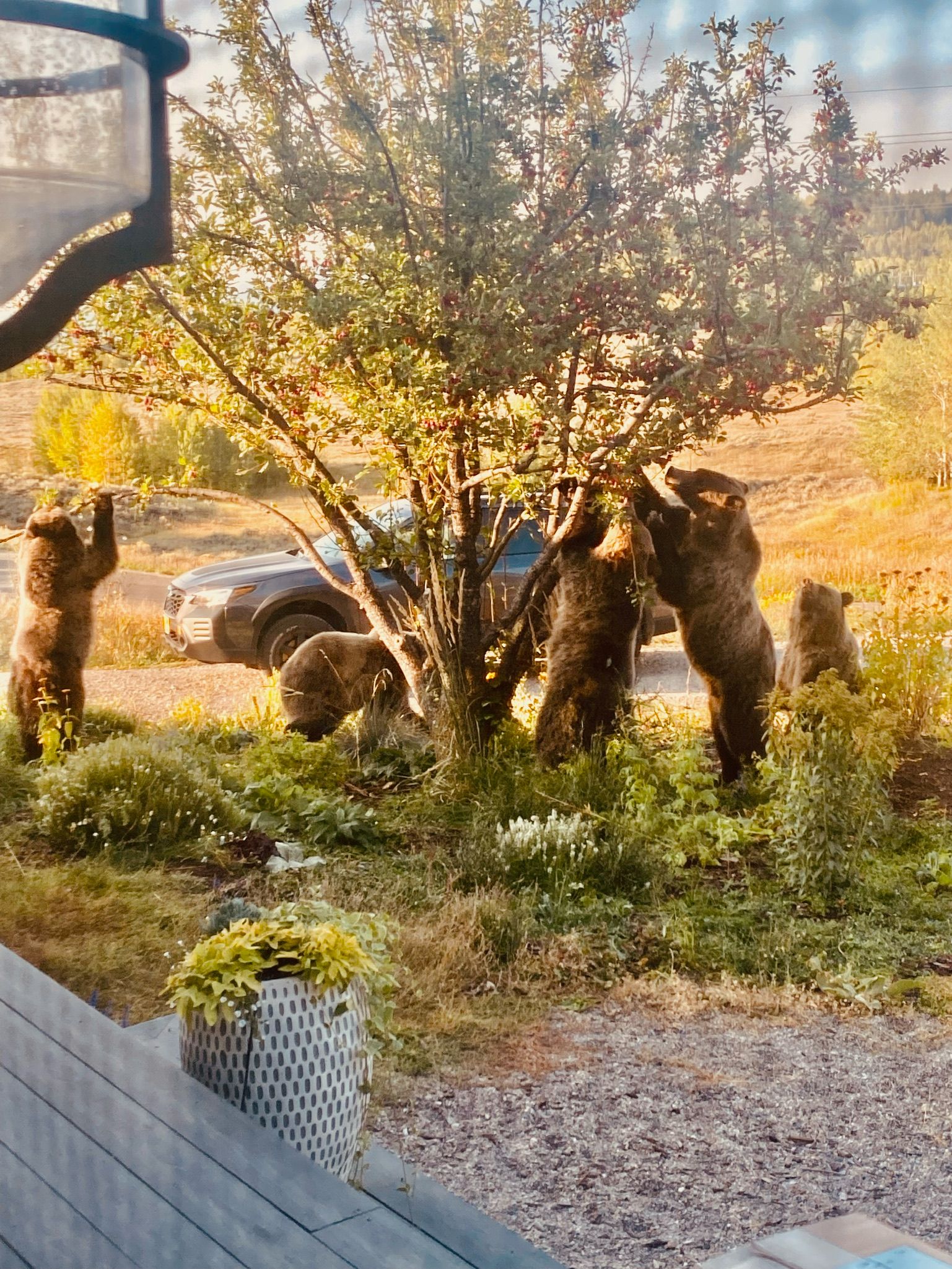 Bellorado, who owned a fruit press, mentioned the dinner party conversation to McGregor, who had spent several years working in vineyards, farms, and wineries in California. "I thought I was giving up my fermentation dreams when I moved back to Wyoming, but the abundance of crabapples and Orion's story about wildlife conflicts got me excited to try making cider from local apples," says McGregor.
He had previously tried his hand at cider, when he first moved to California in 2008. "It was so sweet, it felt like I was drinking soda, so I wrote it off for several years. My second batch, in 2011, showed me you could get it really dry if you wanted to," he says. "Hearing about the wildlife conflicts here showed us that there was an untapped resource that had the potential to be a very innovative business and help wildlife. It could be a win-win."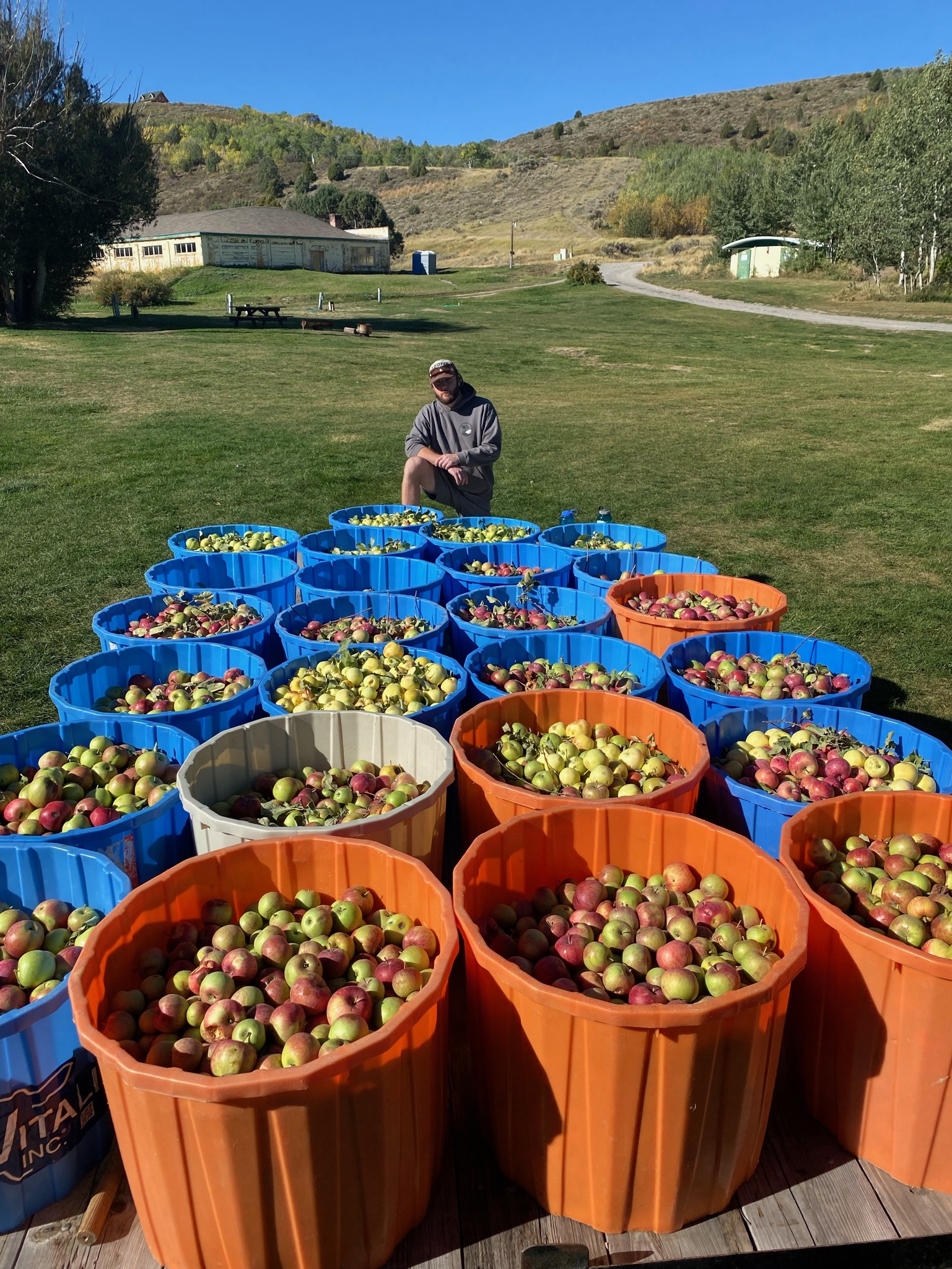 A Business Is Born
The pair presented their idea — to pick apples from private property around the valley to reduce wildlife and human conflict and turn them into cider — to the Teton County Conservation District. This local government agency gave Farmstead a grant that funded the cidery for three years, 2017–2019. "From the beginning, we knew that, if at the end of three years we couldn't survive on our own, we'd stop," McGregor says. "If we couldn't build a business that sold well enough to sustain itself on its own, we didn't want to do it."
When the grant ran out in 2020, Farmstead was doing so well that McGregor became its first full-time employee. (Bellorado is still a math teacher at Jackson Hole High School.) There are no stats about the number of bears Farmstead's apple harvesting might have saved, but anecdotally it has reduced the number of bear-human conflicts. "Our efforts have done a good job of keeping bears out of certain neighborhoods," McGregor says.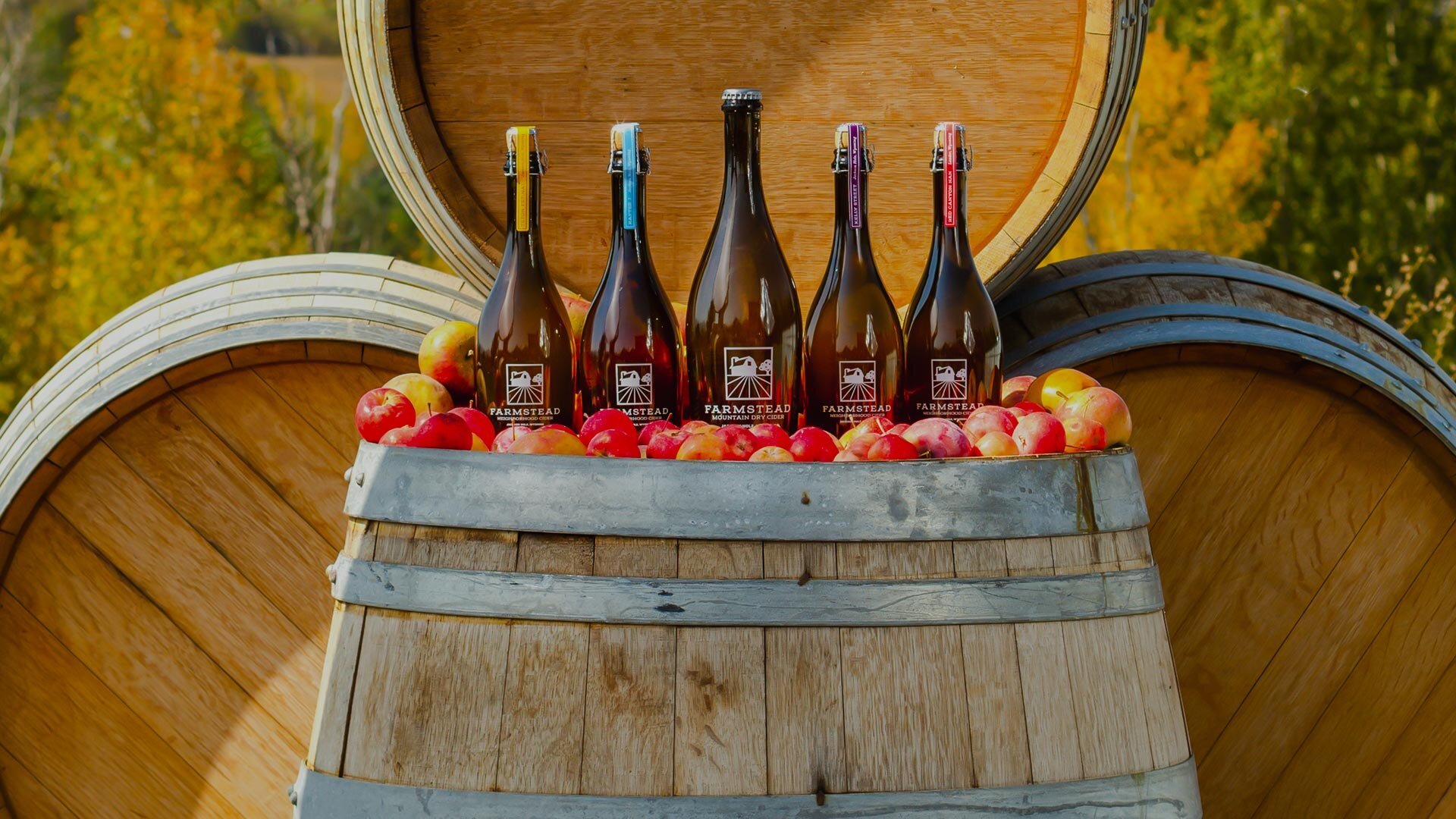 Award-Winning Ciders
Meanwhile, there is definitive proof that Farmstead's cider is good — really good. The cidery's Red Canyon Nan Cider won a 2022 Good Food Award in the annual competition that recognizes outstanding craft food producers and farmers nationwide. Farmstead's 2019 Kelly Street Cider, which is made entirely from apples harvested on Kelly St. in East Jackson, won a 2021 Good Food Award. Other Farmstead ciders have been Good Food Award finalists.
About 75 percent of the apples Farmstead uses come from Teton County. The other 25 percent come from eastern Idaho and Lander, Wyo. Turns out that the high altitude and cold winters of the area create powerful cider apples.
In Lander, Farmstead harvests apples from the historic Ed Young Orchard, which was planted in Red Canyon in the 1880s and abandoned during Prohibition. "It fed deer for 80 years," McGregor says. No longer. Today Farmstead harvests apples from the surviving trees, which include rare and unnamed apple varieties. "They produce some of the finest ciders we have ever tasted," McGregor says. Apples harvested from this orchard are used in the Good Food Award-winning Red Canyon Nan.
Another product, Rafter J Cider, uses apples from the eponymous neighborhood south of downtown Jackson. The description of this cider on Farmstead's website says: "Many of the crabapples in this subdivision are getting close to 40 years old and present a maturity that is hard to find in younger orchards."
Some of Farmstead's ciders have over 100 different varieties of apples and crabapples in one bottle. "Using crabapples is pretty unique in the cider world," McGregor says, "but people are becoming more and more interested in the flavors that crabapples can bring." It took McGregor some time to figure out how to get the best juice from them, though. "I had a suspicion that if we put the crabapple juice through a second malolactic fermentation, it would taste better." It did and crabapples are now fermented separately from sweet apples. All of the apples are aged in oak barrels, which mellows the high acidity and tannins of crab apples.
Per Farmstead's cider house rules, all their ciders are gluten-free and wild fermented. "We don't have to add yeast," McGregor says. "The natural wild yeast on the apples does the fermentation. We literally don't add anything."
Although commercial canned ciders are often offered as alternatives to beer, McGregor says Farmstead ciders should be drunk more like wine. "There are a lot of flavors going on, and the alcohol content is slightly higher than beer (about 7.5 percent), so you'll want a smaller portion." Farmstead Cider is available in corked 500 and 750 ml bottles.
If you're in the Jackson area, Farmstead does tastings at its intimate 1,250-square-foot production facility by appointment only (307-690-6039; info@farmsteadwyo.com).
Written by: Dina Mishev
Dina Mishev is a freelance writer based in Jackson Hole, Wyo. 
Please note that we will change our advance booking window beginning with Summer 2023 stays. Learn More.

For more travel experiences to Beautiful Places on Earth™ available from Xanterra Travel Collection® and its affiliated properties, visit xanterra.com/explore.

Want to experience Yellowstone in-depth? See what makes Yellowstone National Park a great place to work for a season or longer!
---