Get Outside: 4 Winter Sports and Adventures at Yellowstone
Fun, Fitness, and Fresh Air
Crisp air, clear days, a fresh blanket of snow on the ground – it's time to head outside and play. A visit to Yellowstone National Park during the winter months means there's no shortage of ways to have fun and stay active on vacation. Skiing, skating, snowshoeing, and walking adventures await, just steps from your cozy guestroom. Combining fun, fitness, and fresh air – what could be better?
Here are just a few of the ways you can stay active while discovering Yellowstone's stunning snowy landscape this winter.
Snowshoeing in Yellowstone
Snowshoeing is a family-friendly, low-impact activity that's also a fantastic workout! Sign up for the guided Old Faithful Snowshoe Tour, which takes up to three hours and introduces participants to Yellowstone's backcountry. Explore wooded trails looking for signs of wildlife, then snowshoe along the Firehole River for a peek at some of the park's thermal basins.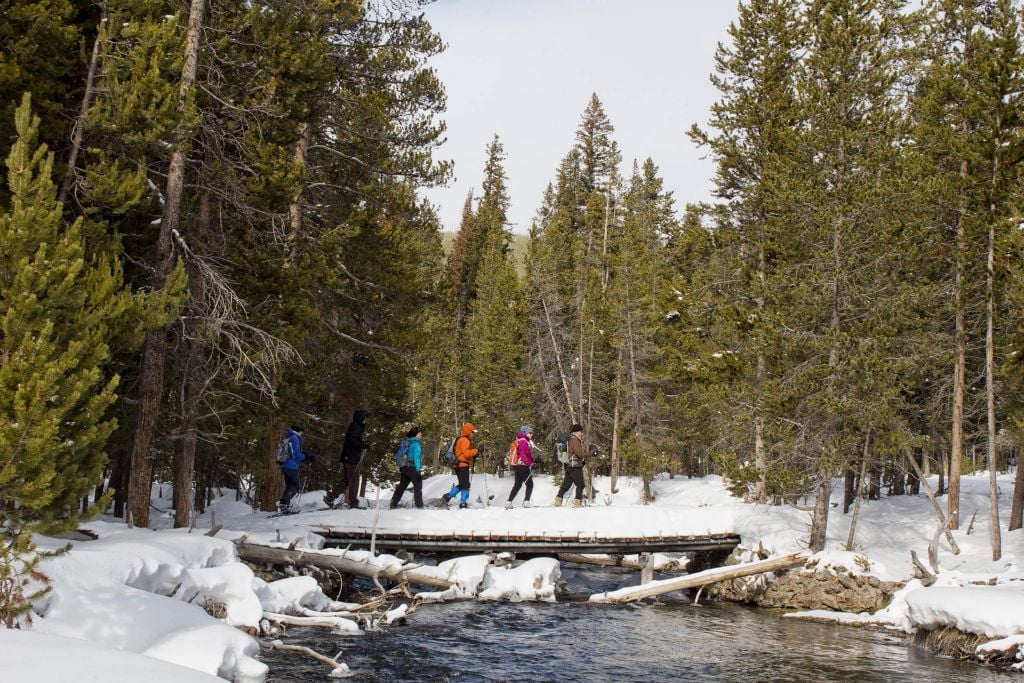 With a slow, leisurely pace, the tour is appropriate for both new and experienced snowshoers who want to enjoy time outside, snap some photos, and ask their guide questions about Yellowstone. The terrain is mostly flat, with a few slight hills, and experience is not required to participate. Snowshoes are available to rent at the Bear Den Ski Shop. Snowshoe tours are offered from December through early March. Book your guided Old Faithful snowshoe tour here.
For a full day of snowshoeing, head out on the Grand Canyon Snowshoe Tour. This tour departs from Snow Lodge and follows a route through prime wildlife-watching areas to the Grand Canyon, where participants can spend up to two hours and snowshoe up to three miles. The Grand Canyon Snowshoe Tour includes a bag deli lunch, but participants are encouraged to pack extra snacks, water, hats, and gloves. Due to the length of the excursion, it's best for experienced snowshoers. This tour is available from mid-December through early March. Book a Grand Canyon snowshoe tour here.
To head out on your own with snowshoes, check in with our ski shop for local trails and conditions.
Cross-Country Skiing in Yellowstone
Yellowstone National Park is criss-crossed with more than 100 miles of ski trails, offering endless opportunities to observe natural wonders, view wildlife, and get in a great workout at the same time. Whether you're new to cross-country skiing or an experienced skier, Yellowstone's pristine snowy scenery provides a stunning backdrop for a day on the trails.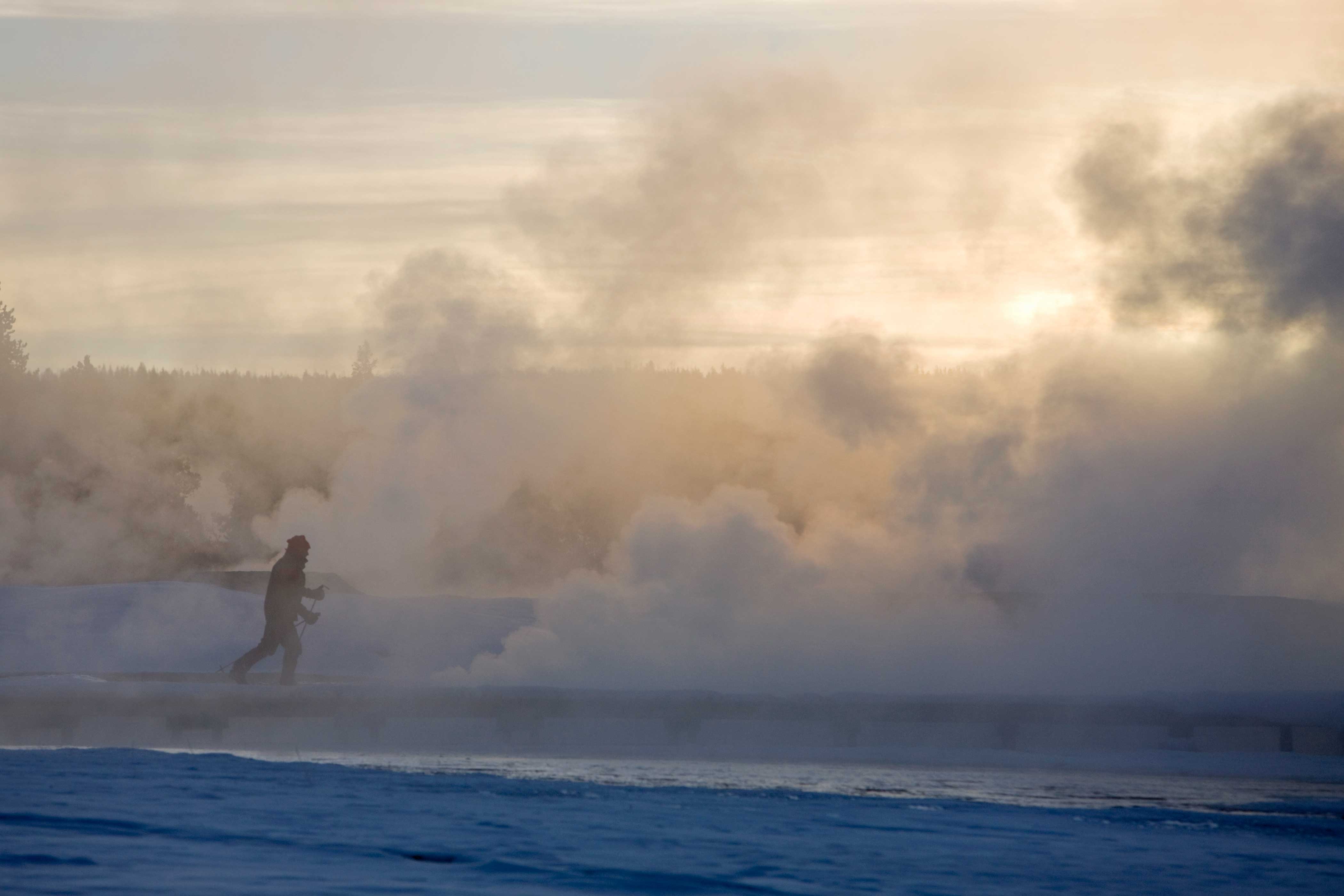 For an unforgettable winter experience, explore the Grand Canyon on skis! This full-day tour begins with a two-hour snowcoach ride to the Grand Canyon area, with opportunities to spot wildlife along the way. Participants will then follow a guide on skis along the Canyon rim, with views of the Upper and Lower Falls of the Grand Canyon and the Yellowstone River. In total, the tour covers up to six miles on skis, and is best for skiers with some experience. Tours include bag deli lunches. Make sure to pack extra snacks, water, hats, and gloves, and dress in layers. Ski tours are available from mid-December to the first of March. Book your Grand Canyon Ski Tour here.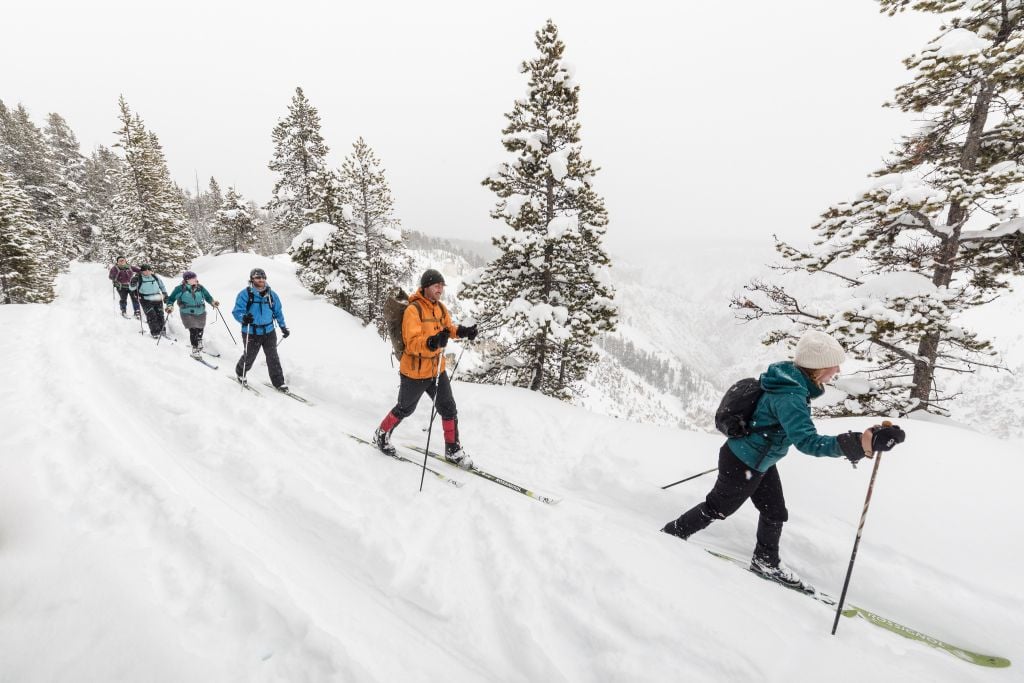 If you prefer to ski on your own, cross-country ski equipment is available for rent at the Bear Den Ski Shop. A number of the trails in the park are groomed for classic stride as well as skate skiing. In addition, ski shuttles are available (for a fee) in the Old Faithful and Mammoth areas that drop visitors off at popular ski locations like Fairy Falls Trail, Indian Creek, Lone Star, and more. Check on daily ski trail conditions before heading out at the ski shop or online.
Winter Walks in Yellowstone
Yellowstone is a year-round destination, and winter walks on the boardwalks afford opportunities to see thermal features, wildlife, and dramatic snow-covered landscapes from a unique perspective. With fewer visitors during the winter months, the park is yours to explore, and a simple morning walk can be a magical excursion.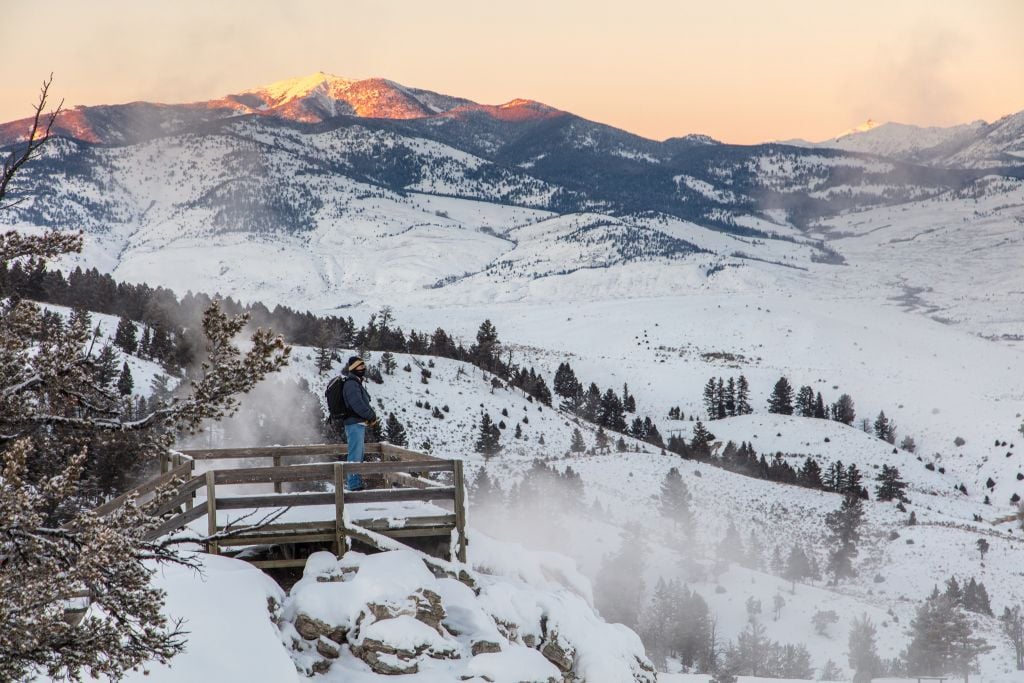 A crisp winter day in Yellowstone makes for perfect conditions to cross the Continental Divide on a snowcoach! This guided afternoon tour heads south from Snow Lodge and bypasses the West Thumb Geyser Basin before crossing the Continental Divide for a walk along the West Thumb Geyser Basin, taking in sights such as Abyss Pool, Black Pool, the Fishing Cone, and Lakeshore Geyser. The tour returns to Old Faithful for lunch. Book the Across the Great Divide tour here – it's available from mid-December through early March.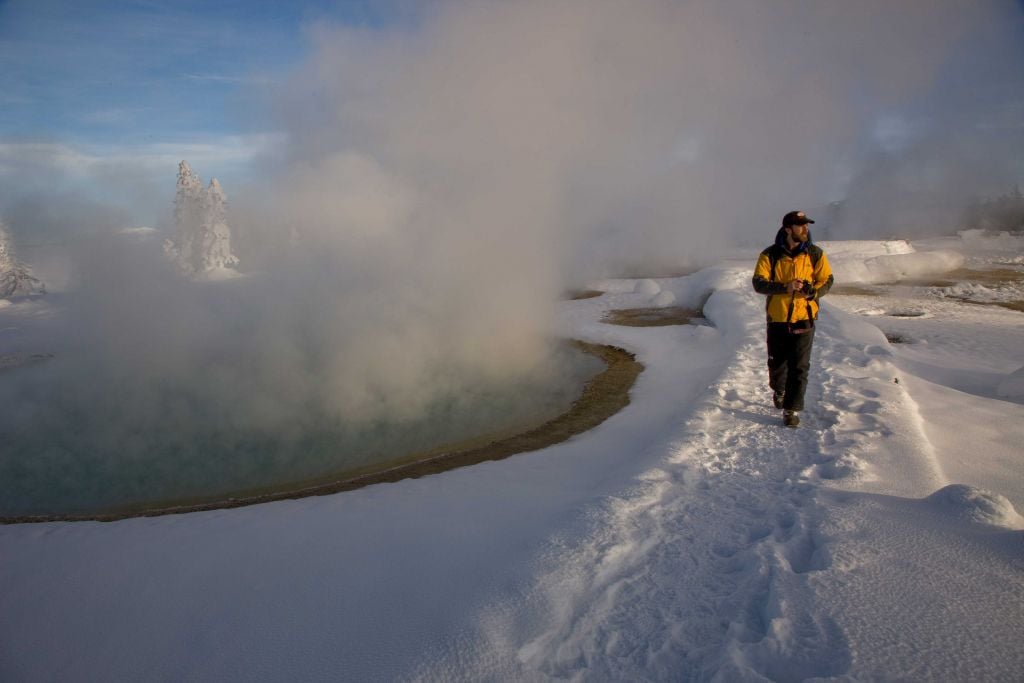 Walks in the winter are usually on snow-packed trails. It's important to wear boots with excellent traction and consider renting or bringing additional traction like Yaktraks. We also rent hiking poles for additional support. For ideas on where to head out for a walk on your own, visit the Albright or Old Faithful Visitor Centers.
Ice-Skating in Yellowstone
Want to stick close to the lodge but still get some fresh air and exercise? No problem! Ice skating rinks adjacent to Old Faithful Snow Lodge and Mammoth Hot Springs Hotel are open daily on a weather-dependent basis. For guests, skates are free to rent from the lodge's front desk. Spend an hour or two circling the rink, then curl up by the fireplace with a steamy cup of coffee or hot chocolate – the perfect way to enjoy a frosty afternoon at Yellowstone!
No matter how you like to stay active during the snowy months, Yellowstone National Park is the perfect place to combine fresh air and fitness this winter!
For more travel experiences to Beautiful Places on Earth™ available from Xanterra Travel Collection® and its affiliated properties, visit xanterra.com/explore.

Want to experience Yellowstone in-depth? See what makes Yellowstone National Park a great place to work for a season or longer!
---