How to Find the Best Rates in Yellowstone
Best Rates on Yellowstone Lodging
Sure, a visit to Yellowstone National Park is often considered as "priceless." But travel to the world's first national park can be a significant investment of time and money. Much of the time investment likely involves planning and evaluating the many variables associated with the trip, including modes of travel, available vacation time, personal interests and price.
In Yellowstone, there are over 2,300 rooms in the park when everything is open. The room types range from very basic (with shared bathrooms) to historically elegant. Prices range as widely as the room types, from around $100/night to over $600/ night, with suites drawing a higher rate still. We also manage four campgrounds and an RV Park. While rates don't fluctuate in the high-demand campgrounds, they offer another economical option for experiencing Yellowstone from the inside out.
So how does one get the best rates in Yellowstone? We offer the following suggestions.
Book Direct!
There are many online reservation services and travel agencies that can book rooms in the park, but some charge a service charge in addition to the cost of the rooms and related services. We have a reservations call center and online reservations tool on our website. When guests book directly with us, they pay no extra fees and work with an agent who is knowledgeable about Yellowstone National Park. The agents can provide guidance on trip planning, but should also know when the lowest rates might be available. Give us a call at 307-344-7311! Or you can access the same room inventory by booking online through our website. By using the flexible calendar option for searching, on the calendar you'll see the lowest rates available for any given property on any given day, along with any other available rates and room types.
Consider the Non-Peak Season for Visiting
Rates are highest during high-demand, or peak periods when all the lodging and campgrounds are open and running at full capacity. Park roads in Yellowstone begin to open in late-April and stay open through November. Hotels open and close for the season on staggered schedules with the peak season typically June-August. Early and late season demand is much lower than peak, and rates are lower as well. In fact, rates at some hotels can be 30%-50% less than peak season rates during lower demand times. This can mean a savings of hundreds of dollars off a typical stay. Early and late season also tends to be one of the best times to spot wildlife and experience a quieter park!
Be Flexible
Having some flexibility in dates can potentially allow guests to find lower rates during their visit. Since rates are driven by demand, they may vary within a single week, even during busier times. It's not unusual for one day to have lower demand sandwiched between many high-occupancy days.
Lodges and room types are another way to be flexible. As mentioned, basic accommodations cost less. Geyser-side rooms in the Old Faithful area are the most popular and will cost more than those on the parking lot side. Since most visitors are spending their time out of their rooms exploring the park, room type and location might not be as critical. If you're in the park, you're still giving yourself a 24-hour in-park experience, even if the bathroom and shower is down the hall.
Subscribe to Receive Yellowstone Email Offers and Updates!
It's not unusual for us to offer special promotions when we see a period of lower demand for rooms. Sometimes these promotions are only offered to our subscribers. In addition to lodging discounts, we regularly promote special product offers available through our online gift shop. Our e-newsletters also typically include interesting updates and articles about Yellowstone. Whether you're interested in great Yellowstone content, or simply looking for deals, you might consider subscribing.
Regardless of what rate you pay, staying inside the park is a special opportunity. The experience of walking out the front door to grazing elk or bison, or perhaps enjoying a short walk to erupting geysers or the largest alpine lake above 7,000 feet elevation is something that can only happen in Yellowstone. There is great value in being in Yellowstone for any reason and at any price.
---
Looking for tips when making reservations in Yellowstone? Here's an infographic guide on The Dos and Don'ts of Yellowstone lodge reservations.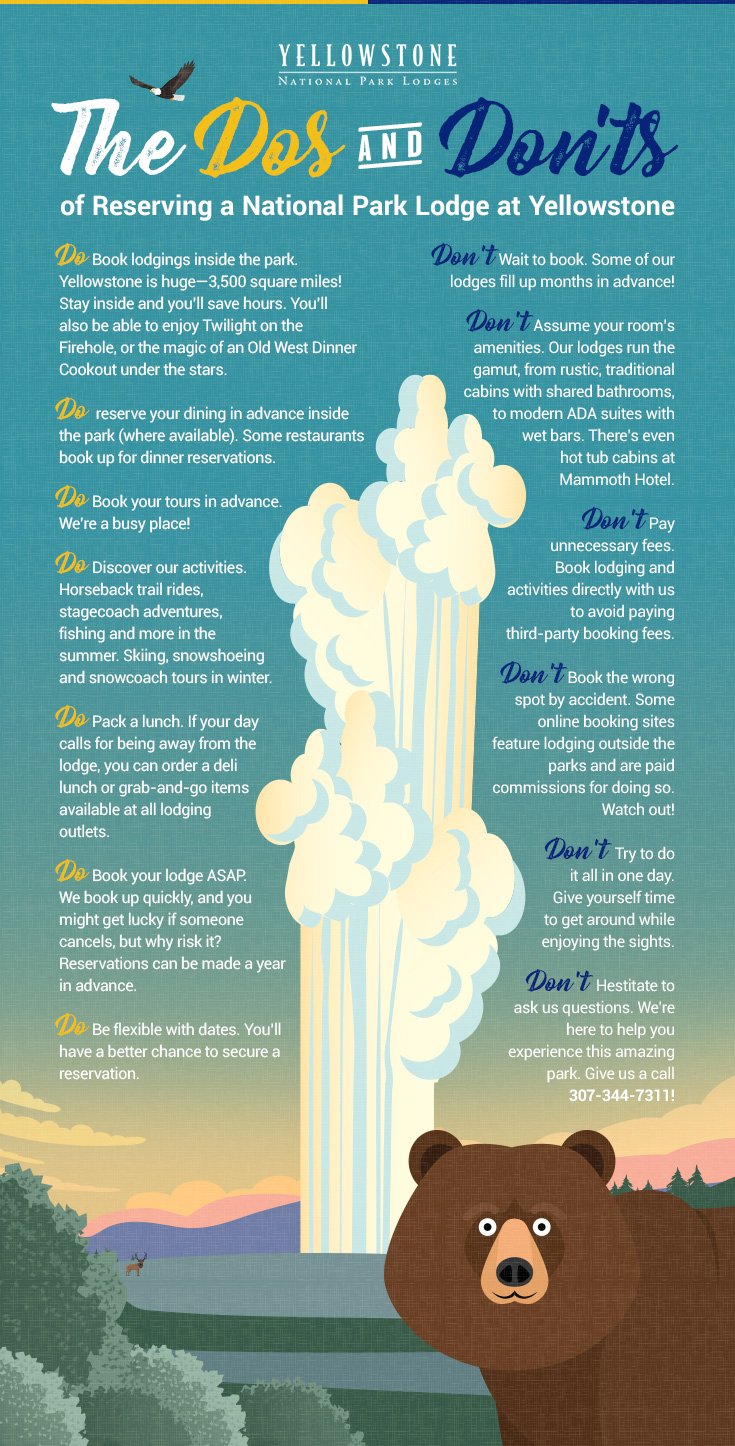 For more travel experiences to Beautiful Places on Earth™ available from Xanterra Travel Collection® and its affiliated properties, visit xanterra.com.

Want to experience Yellowstone in-depth? See what makes Yellowstone National Park a great place to work for a season or longer!
---