Why Stay Nearby, When You Can Stay in Yellowstone?
Lodges in Yellowstone
Lodging and accommodations in Yellowstone National Park aren't just places to stay, they are monuments to a long-standing ideal that special places should be set aside, preserved for future generations. Staying in Yellowstone is the best way for visitors to experience everything the park has to offer. With nine lodging facilities offering over 2,000 rooms, accommodations in Yellowstone National Park are plentiful for those wishing to experience the national park in its summertime glory. From the most famous lodging facility in a national park—the Old Faithful Inn—to the ol' western rustic cabins of Roosevelt Lodge, guests will find an incredible variety of places to bunker down for the night.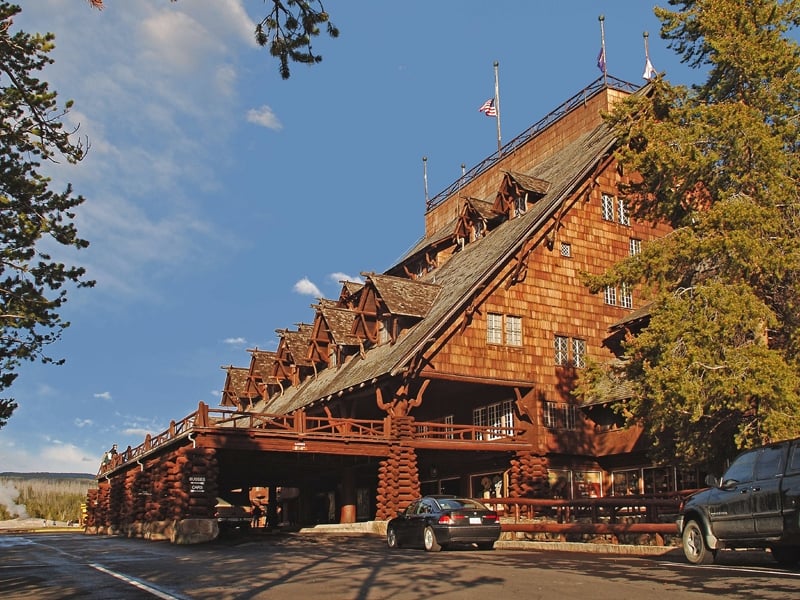 Once you arrive in Yellowstone, you'll never want to leave—and since you'll be staying in the park you won't have to! By not wasting time commuting into the park, you'll have more time to explore 3,500 square miles of Yellowstone wilderness, from mountains and forests to colorful hot springs, mudpots, and geysers. You'll have more time to spend enjoying park activities both on land and on water.  And once the day-trippers have left, the park remains for the in-park lodgers—your own private Yellowstone!
Here's why staying in Yellowstone, rather than nearby, can help you make the most of your park visit this summer:
Wake up to Wildlife
Don't spend your morning driving to Yellowstone, wake up to wildlife instead. Dawn is the best time to search out the wild animals in Yellowstone; this is when the park's wildlife is most active. Yellowstone is home to more free-roaming wildlife than almost anywhere else in the Continental U.S. Visitors have the opportunity to see varied species of animals: gray wolves, bison, bears, otters, bald eagles, deer, elk, moose, ravens, foxes, raccoons, squirrels and many more. Lamar Valley in Yellowstone's Northern Range is one of the best places for spotting wildlife. Its broad vistas provide great opportunities to spot wildlife grazing along the Lamar River and on the open hillsides. If the wildlife is lying low, the spectacular scenery is sure to please!
Yellowstone is at Your Doorstep
Not only will you be able to cut out the commute to spend more of your time enjoying park activities, but you'll also beat the majority of the visitors. The boardwalks and trails of the park's major attractions are less used in the early mornings and in the evenings after all of the day-trippers have gone. By staying in Yellowstone you'll get a 24/7 park experience, sort of a behind the scenes pass.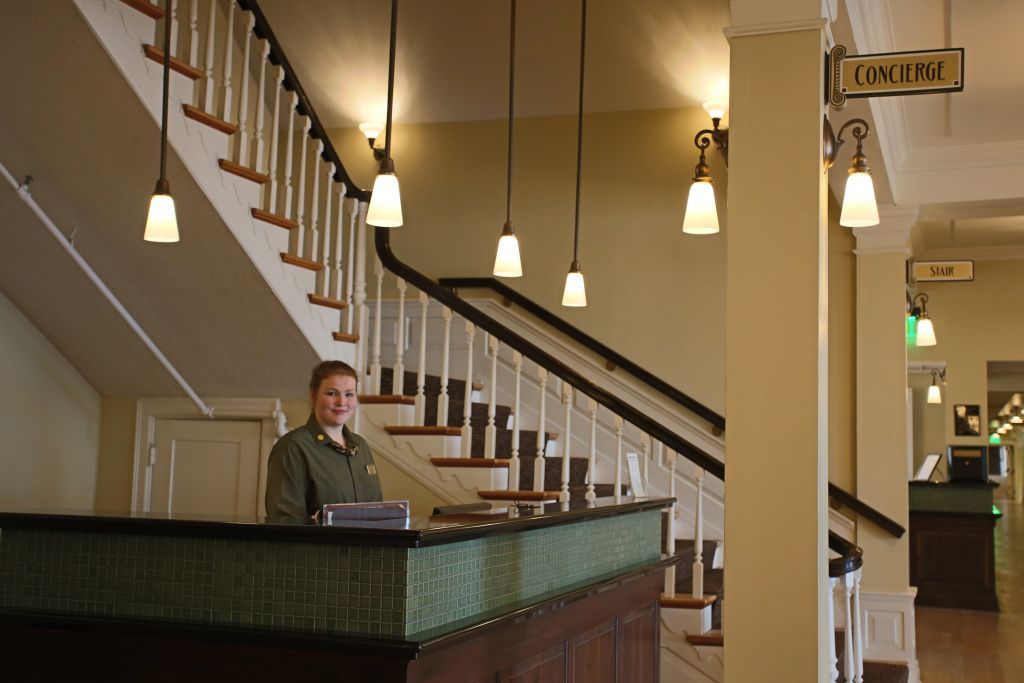 Yellowstone National Park Lodges' (Xanterra) staff live in Yellowstone
Knowledgeable staff can help make the most of your Yellowstone experience; Xanterra's in-park operations are staffed with people who live in the park. You'll be able to access insider tips and tricks on the best times and places in the park to visit. And with easy access to park tours and activities, combined with friendly staff, you'll have an advantage over most visitors to Yellowstone. So next time you are ordering food in one of our dining facilities or buying a gift at one of our retail shops, be sure to ask the staff for their insider tips.
Stargazing
Far from the city lights, you can look up to the night sky and see the Milky Way in all of its glory, the heavens filled with constellations, glittering stars beyond count and even comprehension.
Stargazing is a unique experience often only enjoyed by those who lodge within Yellowstone. Since the park focuses on minimizing light pollution, you won't have to go too far from any developed area or lodge to find a truly dark location from which to enjoy "the show."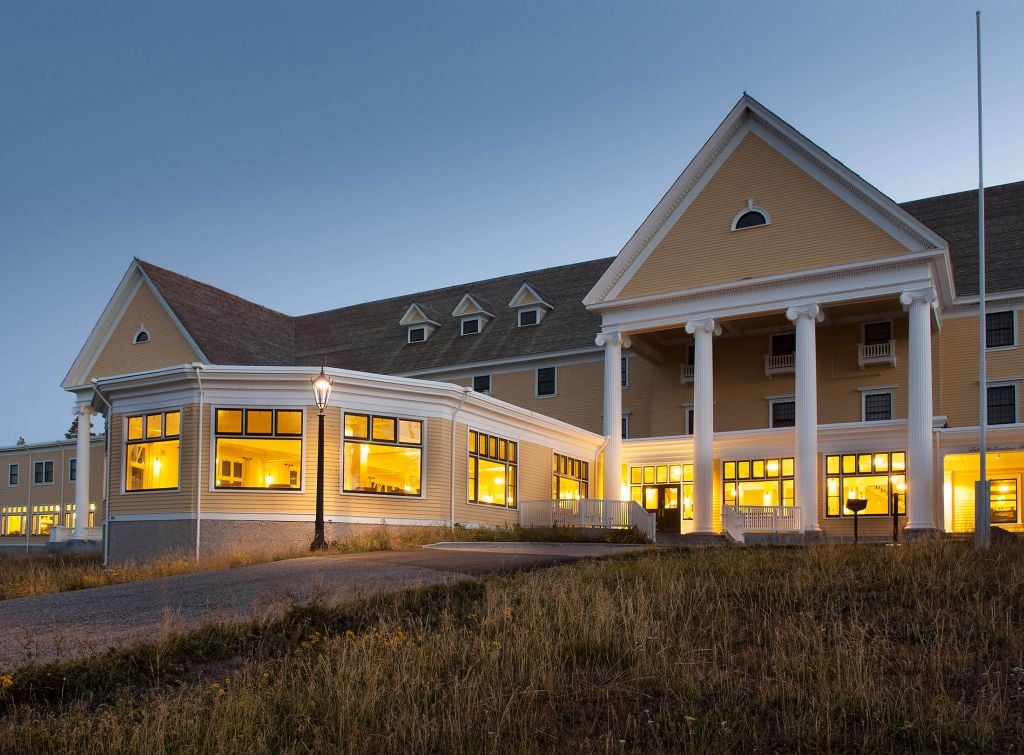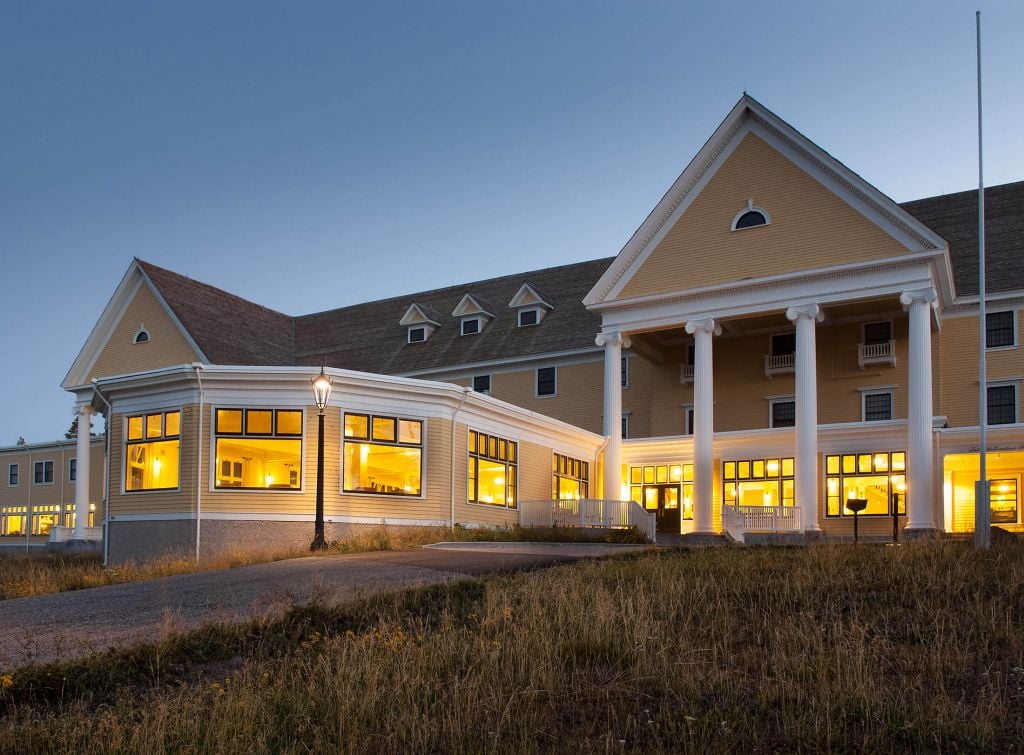 Sleep in an American Icon
In these fast-moving times, reinvention and making room for the 'new' has become a way of life, but with Yellowstone National Park Lodges you're able to be sleeping in history—with modern conveniences, of course.
In 2016, the Lake Yellowstone Hotel & Cabins celebrated its 125th anniversary; listed on the National Register of Historic Places, Lake Hotel first opened its doors to guests in 1891. In June 2014, the hotel went through an extensive interior renovation to restore it back to its Colonial Revival style.
Designed by architect Robert C. Reamer and opened to the public in June 1904, Old Faithful Inn is one of Yellowstone's most famous lodging facilities. It was constructed from local logs and stones and is considered to be the iconic symbol of rustic architecture in national parks.
Roosevelt Lodge Cabins were built in 1920 near an area favored by President Theodore Roosevelt in Yellowstone's Tower Falls. Grant Village was built in 1984 and named after former President Ulysses S. Grant, who signed Yellowstone into law on March 1, 1872, making Yellowstone, the world's first national park.
There's no need to look for lodging near Yellowstone Park when you can stay inside our Yellowstone lodges.
For more travel experiences to Beautiful Places on Earth™ available from Xanterra Travel Collection® and its affiliated properties, visit xanterra.com.

Want to experience Yellowstone in depth? See what makes Yellowstone National Park a great place to work for a season or longer!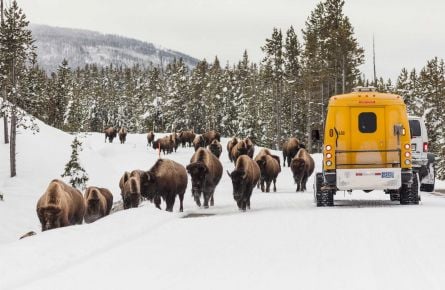 Old Faithful Winter Expedition Package
This five-night Lodging & Learning package provides a moderately active and in-depth learning experience that includes the comforts of our facilities and services with the knowledgeable instructors from the Yellowstone Forever Institute.
Read More
Winter Wolf Discovery Package
As one of our most popular winter Lodging & Learning packages, this may be your best chance to see and learn about these magnificent creatures in their natural habitat.
Read More
---