How to Hygge in Yellowstone
Hygge in Yellowstone
If you haven't heard of the Danish term hygge (pronounced "hoo-guh"), you're going to want to. And then you're going to want to go out and do whatever you can to cultivate it in your own life, at home and beyond. The closest English translation is "cozy" but in Denmark, it means so much more. Comfort, warmth, closeness to friends and family. Imagine thick warm socks, sheepskin rugs, and a warm cup of coffee. The soft glow of candlelight, the crackle of a fireplace, and gathering around a table for a meal and a laugh.
And what, you might be asking, does hygge have to do with Yellowstone National Park? Well, winter doesn't roll gently into Denmark—it's cold, the days are short, the season is long, and it's often dark. And yet, Danes routinely rank among the happiest people in the world. Why? Hygge. The Danish art of coziness is not restricted to winter, but it sure does make it more enjoyable. Most visitors join us in summer, but they're really missing out. Winter is a magical wonderland in Yellowstone. Here are some lessons we can all learn from the people of Denmark.
Get Cozy
We've got cozy spaces inside when the temperature drops outside. In the winter season, accommodations are limited to our winter lodges. Mammoth Hot Springs & Cabins, the only visitor accommodations in Yellowstone accessible by automobile, is the perfect hub for snowy adventures, and full of hygge: overstuffed chairs, a stone fireplace, and cabins with hot tubs. At night, enjoy a warm drink from the new bar in the Mammoth Map Room to the sounds of live piano. Or find your hygge at the Old Faithful Snow Lodge & Cabins, a snowy haven in the heart of Yellowstone. Located in the park's interior, the Snow Lodge is only accessible by Yellowstone snowcoaches. Rustic and warm, isolated and inviting, the Snow Lodge is a truly unique experience. Enjoy the charm of heavy timber beams, rustic wood furniture, and cozy beds equipped with comfy blankets. Warm up by a bonfire outdoors or lounge with a hot drink by the fire inside while listening to live music at night. Stay in the main lodge or a quaint, cozy cabin, with the famed Old Faithful geyser a short walk away.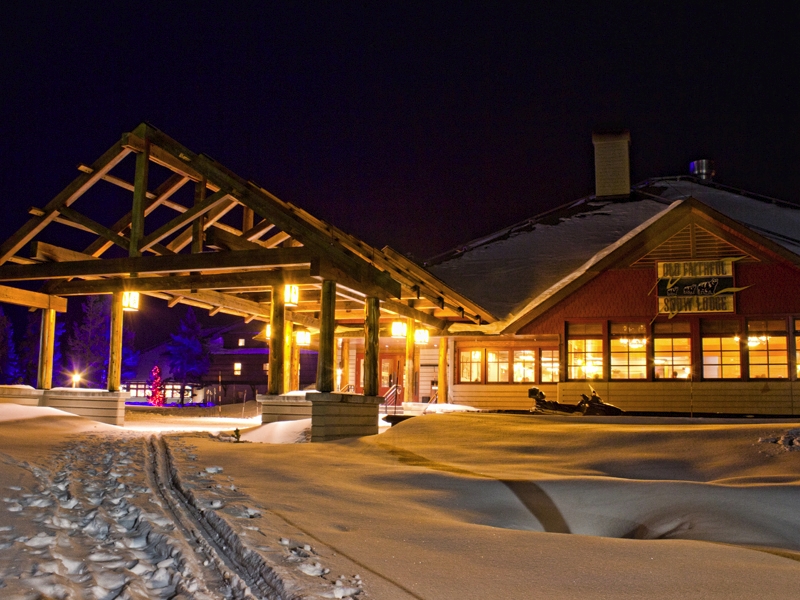 Get Nourished
Nothing says cozy and comfortable like a good meal shared around a table. The Mammoth Hot Springs Hotel Dining Room and the Obsidian Dining Room at the Old Faithful Snow Lodge offer creative menus of local and sustainably produced food and drinks. Fill your bellies first thing in the morning with a full plate of comfort food: Montana Milling Oatmeal, Huckleberry Pancakes, or Biscuits and Sausage Gravy. Later in the day, enjoy a Bison Burger, a hot bowl of soup, or Montana Family Ranches Beef Meatloaf. When the day turns to night, grab some comfy chairs in front of the large fireplace and a Bourbon cream and coffee or hot chocolate and share memories of the day with friends and family at the Firehole Lounge.
But hygge is not something that only takes place indoors. Appreciating the outdoors and experiencing nature is just as much a part of hygge as curling up by a fire. Hygge not only helps Danes tolerate winter, but really enjoy it. There's an old saying: "There's no such thing as bad weather, only bad clothes." Temperatures typically range from zero to 20°F during the day and often drop to sub-zero at night, plus the wind chill. So pack your warm jacket, fuzzy socks, cozy scarves (so very hygge!). Dress in layers, and don't forget your winter boots. You've got a snow-filled playground to explore!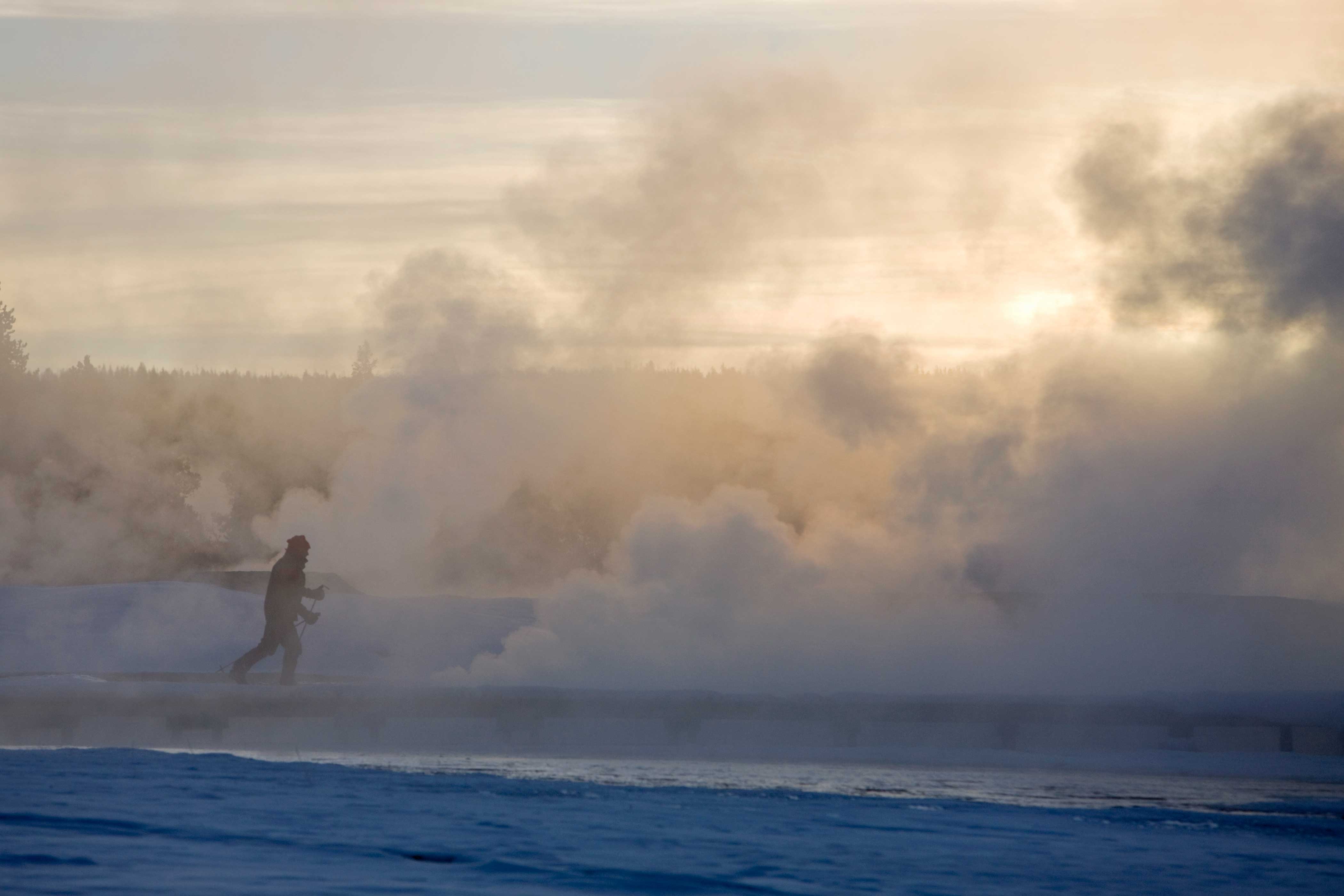 Get Outside
Take a modern day sleigh ride in a warm snowcoach to view a herd of elk. Glide through the silence of the backcountry cross-country skiing past steaming geysers. Go wolf watching in Lamar Valley. Snowshoe miles of trails that lead past frosty woods and bubbling hot springs poking up through the snow-covered landscape. Grab a pair of ice-skates and enjoy a skate under the stars and lights at night. Reserve a hot tub with a cabin in Mammoth Hot Springs for a relaxing soak.
And then there's nightfall. Yellowstone puts on a dazzling display of constellations, planets, and a mesmerizing amount of stars. Take our Steam, Stars and Winter Soundscapes, a two-hour evening adventure by heated snowcoach (hot chocolate in hand, of course), to experience the magic of winter nights in Yellowstone. Hear the geysers, witness the brilliant night sky, and maybe even spot an icicle-covered bison.
Snowcovered boardwalks, icy waterfalls, a trail of bison trekking through deep snow. Yellowstone in winter is quiet, serene, completely magical. And full of hygge. Yellowstone park is so hygge, it's as though the Danes had discovered it themselves. Most people want to escape from the snow. Yellowstone makes you want to escape to it. Embrace hygge, the season, the joys of winter, and have a hyggelig time on a winter trip to Yellowstone National Park – an otherworldly experience that's good for the soul.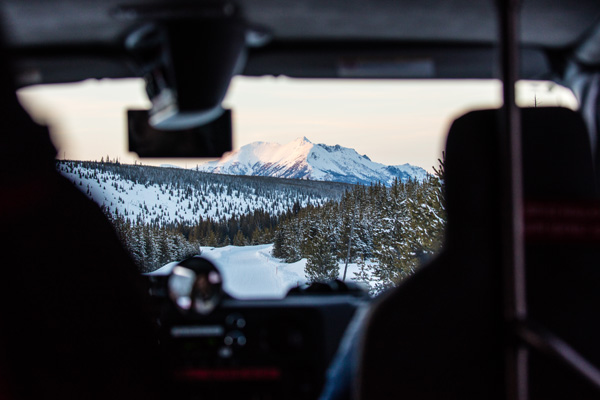 For more travel experiences to Beautiful Places on Earth™ available from Xanterra Travel Collection® and its affiliated properties, visit xanterra.com/explore.

Want to experience Yellowstone in-depth? See what makes Yellowstone National Park a great place to work for a season or longer!
---