Exchanging TikTok for the Wilderness
Re-Connect in Yellowstone
The downsides of digital life are well known, especially for young people: lack of interpersonal communication, social isolation, and obsession with digital devices. Indeed, today's 8- to 12-year-olds spend an average of five and a half hours a day on screens and consuming media. That rate climbs to six-to-nine hours a day for teens.
The result? Digital and social media have displaced the face-to-face time that young people once had with friends, which diminishes their interpersonal interaction and communication skills. They simply aren't socializing in person.
Enter the national parks, such as iconic Yellowstone, which can serve as a valuable antidote to this digital addiction and actually improve our connection to others. With its spectacular scenery, large public spaces, communal dining rooms, group sightseeing tours, and limited access to digital connectivity, Yellowstone is the perfect place to connect in real life with family and friends — and make new ones. By walking on the wild side, we can re-learn the art of socializing.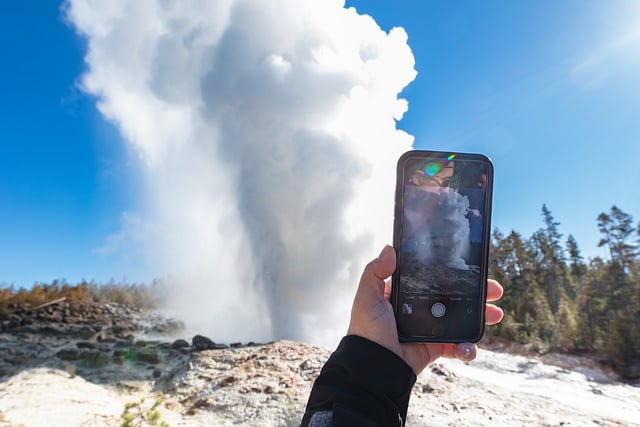 Limited Digital Connectivity
Start with the fact that digital connectivity within the parks is not widespread. In Yellowstone, cellphone service is limited and can be overwhelmed by the number of users during the busy summer season. Free but limited internet service is only available to hotel guests at Mammoth Hot Springs Hotel, Canyon Lodge, Lake Lodge, Lake Yellowstone Hotel, Old Faithful Lodge, and Old Faithful Snow Lodge. Meanwhile, other historic hotels like the iconic Old Faithful Inn and Roosevelt Lodge, along with all campgrounds, have no service.
As wireless connectivity spreads into almost every corner of modern life, the parks remain one of the few technology-free refuges.
So how does a park like Yellowstone encourage us to communicate with others? "Parks are a shared experience," says park historian Alfred Runte, author of National Parks: The American Experience and an adviser to the Ken Burns PBS documentary, "The National Parks: America's Best Idea."
"When we meet people [from elsewhere], no matter where you're from, you already have something in common," explains Runte. "That's what kids are missing out on, those shared experiences. They're not communicating the same way as 25 years ago. They're all stuck on these devices and screens."
The Value of Nature
Wanting to share is especially true when you're in one of the most gorgeous places on the planet — full of astonishing wildlife, unique geologic formations, and stunning landscapes. When you're standing in awe, open-mouthed, at such gobsmacking beauty, it's hard not to want to connect with those near you. Yellowstone's iconic Old Faithful geyser, for example, which erupts up to 180 feet in height, can even trump Instagram and become a natural ice breaker.
"It's like being in an art gallery and seeing the Mona Lisa or a Picasso," says Runte. "The parks are our cultural icons and become topics of conversation and national pride. You have to talk about it and share those wonders with someone." What an inspiring way to detach from electronics and enjoy nature at its best, while striking up a conversation with someone nearby.
Time in nature not only encourages respecting the earth but also builds stronger emotional connections and improves relationship skills. It offers a great opportunity to invite someone to explore with you or to start a conversation with a knowledgeable park ranger or fellow visitor on a group tour. Such tours are inherently social. "People go to dinner afterward and continue the conversation after the tour and even during nighttime star gazing. The interaction is critical," says Runte.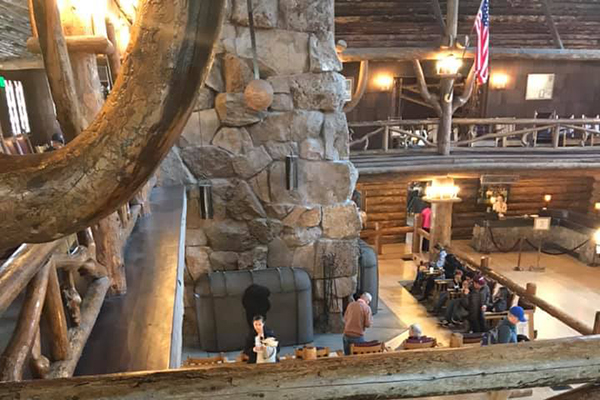 Fewer Inhibitions
Inhibitions naturally fall away in the great outdoors. "You're all in the same boat, having the same experience," explains Runte. "I remember a time when I was in the park, I just opened up and started talking to someone I didn't know. It was more natural in the park. She talked about how fabulous the Old Faithful Inn was."
In fact, the architecture of many park lodges is conducive to sharing. Gathering around a roaring fire in the historic stone fireplace in the Old Faithful Inn, for example, just naturally invites camaraderie with friends, family, and even strangers. "The early designers made these very generous lobbies," say Runte. "The space was designed for socializing. You naturally start asking people questions and start to find what you have in common. Kids have not learned to do that; they don't have the skill set to do that without distractions." But remove those distractions and they're likelier to engage socially. Similarly, communal dining spaces, such as Yellowstone's Canyon Lodge Eatery, invite social interaction with those you don't know.
The great naturalist John Muir, considered the father of the National Park System, understood the value of national parks in helping people unplug from the world. "Break clear away, once in a while," he reportedly said in 1915, "and climb a mountain or spend a week in the woods." As we turn to a national park for a much-needed digital detox, it's hard to argue with that.
Written by: Veronica Stoddart
Award-winning travel editor and writer Veronica Stoddart is the former travel editor of USA TODAY. She has written for dozens of publications and websites.
---