The New Canyon Lodges
Canyon Lodge Yellowstone
The final two lodges in the Canyon lodging redevelopment project were finished in 2016.  The project started in 2014 in an effort to build accommodations that would complement the "Mission 66" and rustic architectural styles of the area, be long-lasting, and reduce the environmental impacts during construction and later in their operation.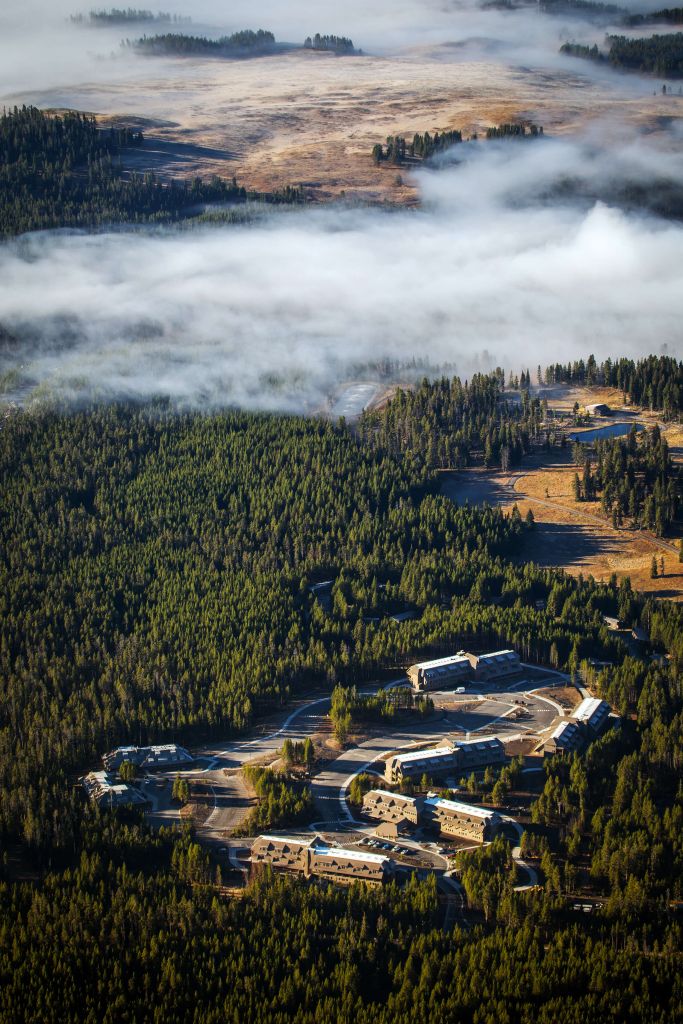 With 409 rooms in the new buildings, plus accommodations in two smaller, '90s-era lodges, and 100 remaining Western Cabins built in the '60s, Canyon Lodge & Cabins is the largest single property in Yellowstone. Located on the east side of the park near the Grand Canyon of the Yellowstone River, the site's earlier incarnation was a product of Mission 66, a parks-wide program in the 1950s and '60s to modernize and expand visitor facilities in time for the National Park Service's 50th anniversary in 1966. Mission 66 brought mid-century modern design to the national parks, a departure from the traditional rustic architecture of the past.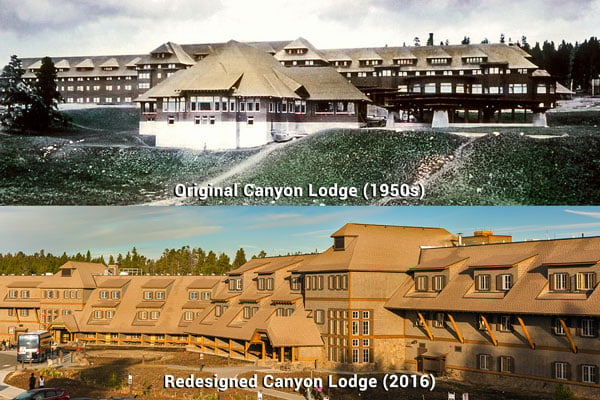 But that was then and this is now. Fifty years after Mission 66, some of Yellowstone's most historic structures, like the 1900s-era Old Faithful Inn and the Lake Yellowstone Hotel, remain treasured icons. But others, most notably hundreds of Mission 66 cabins in the park's Canyon Village, had not stood the test of time. The cabins served visitors well for the past five decades and greatly outlasted their intended life spans. The new lodges complement the Cascade Lodge which opened in 1993 and Dunraven Lodge which was completed in 1998.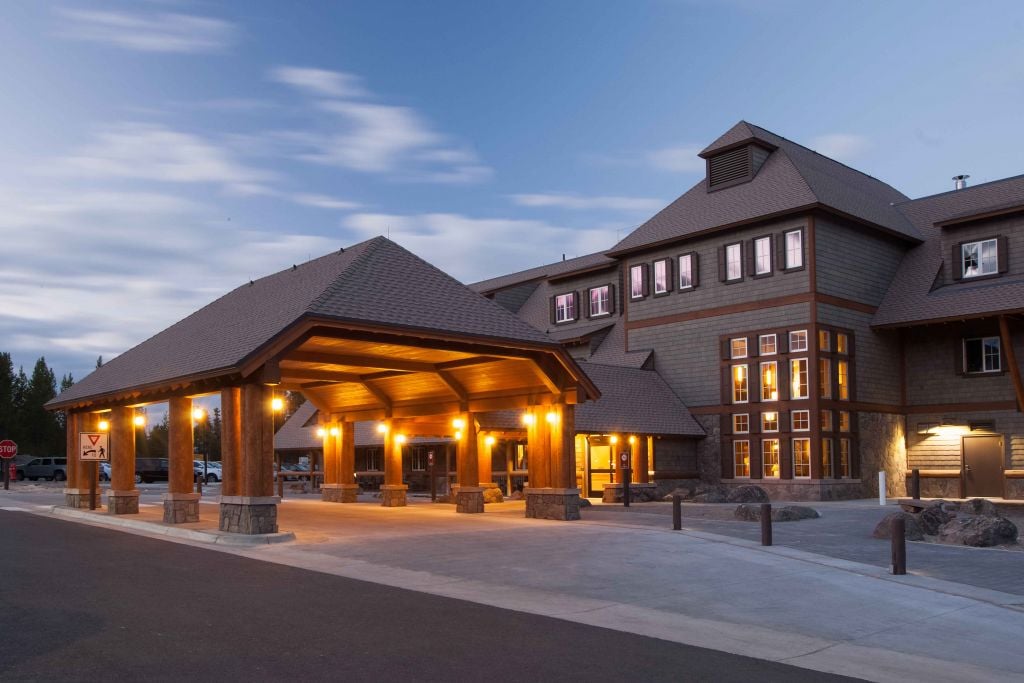 Now, the rustic-chic surroundings include a floor-to-ceiling stone fireplace in the lobby, a handsome log-rail staircase, and airy, jewel-toned Mission-style guest rooms. Less apparent is the array of eco-friendly innovations. The new lodges feature a number of sustainable elements: high-performance windows, automated "smart switches" in rooms for reduced energy usage, LED lighting, low-flow fixtures and toilets, plumbing fixtures featuring recycled content, and countertops, windowsills, picnic tables, and benches made of recycled fly ash (a byproduct of coal burning) and recycled glass (much of it sourced from the park).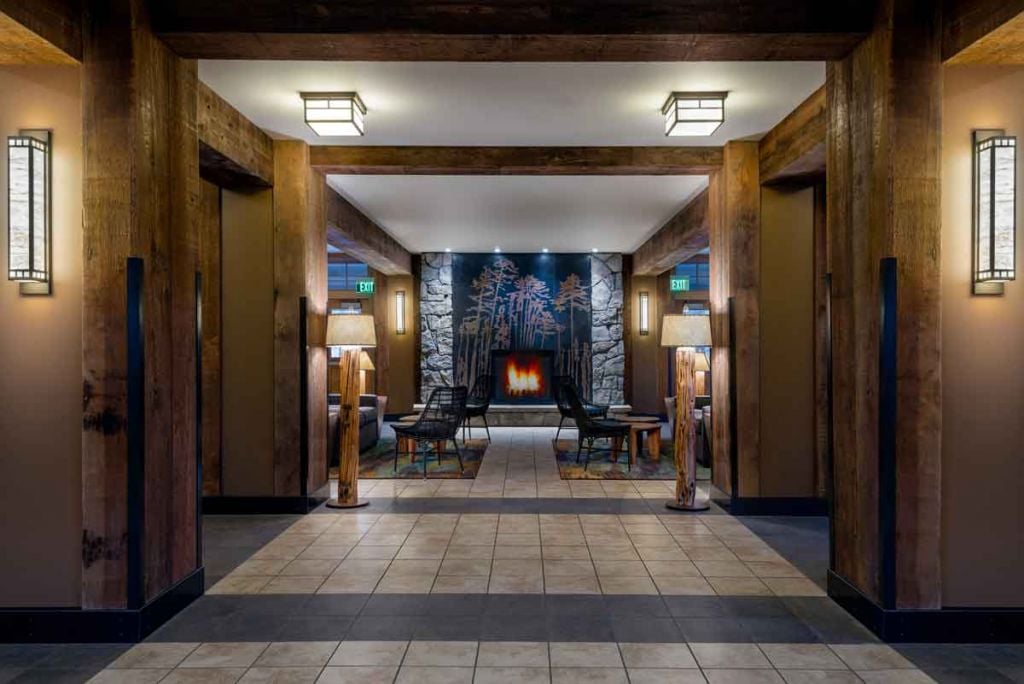 As for the blue-gray wainscoting, coat racks, and other trim? It's hewn from regional lodgepole pines that were killed by mountain pine beetles, giving new life to diseased wood. (Fun fact: The wood's distinctive hue is from a fungus carried by the insect.) Four of Canyon's new lodges received LEED (Leadership in Energy and Environmental Design) Gold certification and Silver-level certification for a fifth lodge, from the U.S. Green Building Council.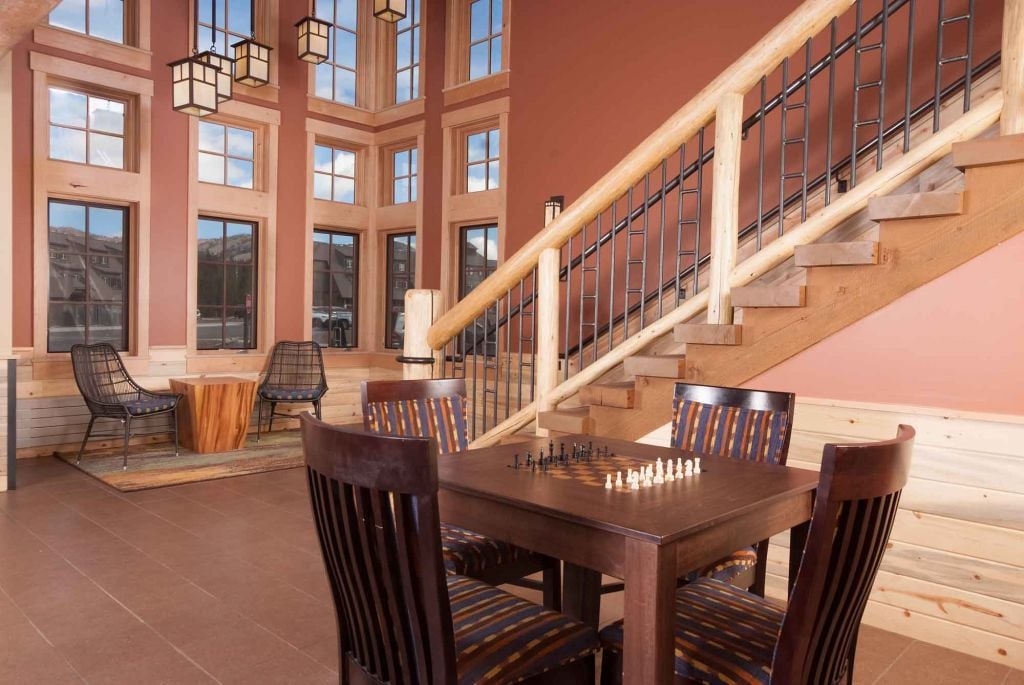 "The goal was to minimize the environmental impact by reducing the footprint," explains Dylan Hoffman, Director of Sustainability for Yellowstone National Park Lodges, which is managed by the Xanterra Travel Collection®. "We took it from a village of multi-unit cabins with cars parked outside, to five three-story lodges. It densifies the (living) area, opening space for wildlife to return."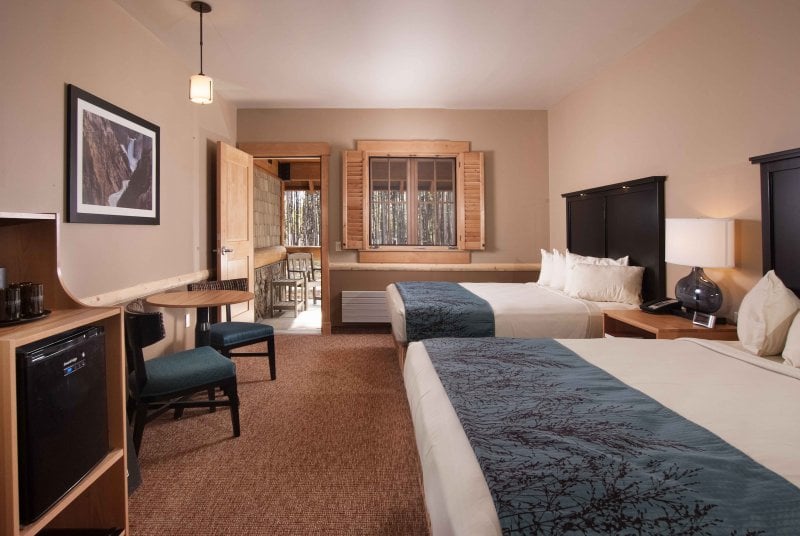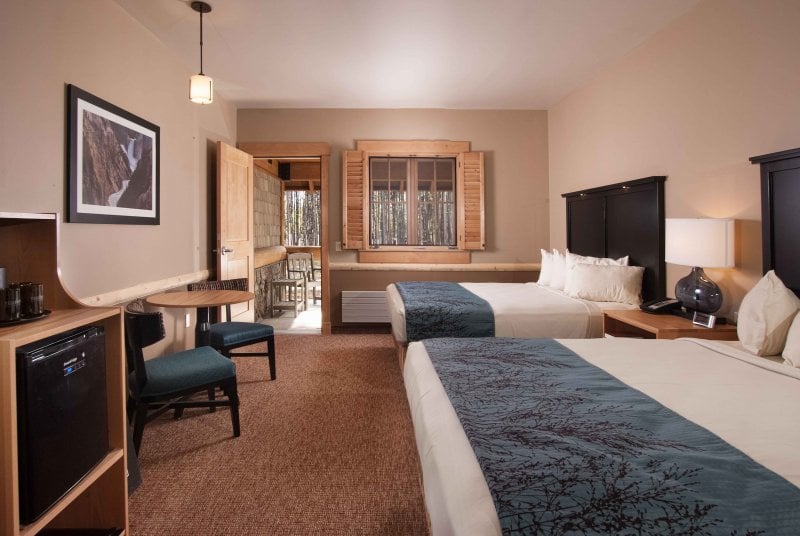 Rooms range from two-bedroom suites with private deck and wet bar, to smaller, third-floor rooms. These smaller rooms lack bathtubs (they have showers) and mini-refrigerators but are a great option for value-minded travelers.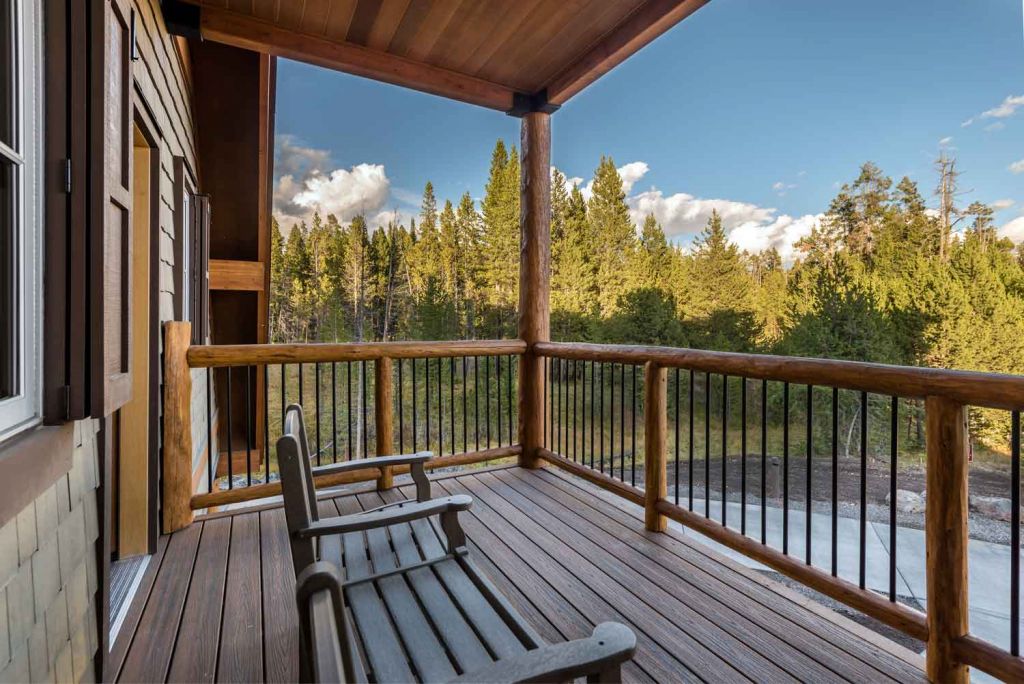 Because the village receives large amounts of snow each winter, a modular building process was employed, where much of the building construction was performed off-site in Boise, Idaho. Each module was then trucked to the Canyon area, with interior paint, carpet, tile, lighting and bathroom fixtures already completed within each module. Once delivered, final assembly and finishing took place onsite.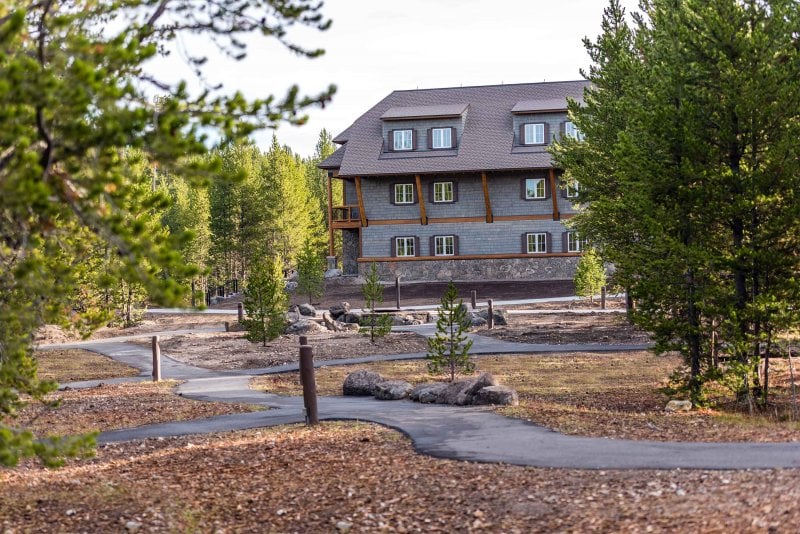 In addition to the lodges, the project designed pathways to encourage strolling and cycling make the area more biker- and hiker-friendly. A massive fire pit surrounded by recycled-glass benches encourages outdoor socializing.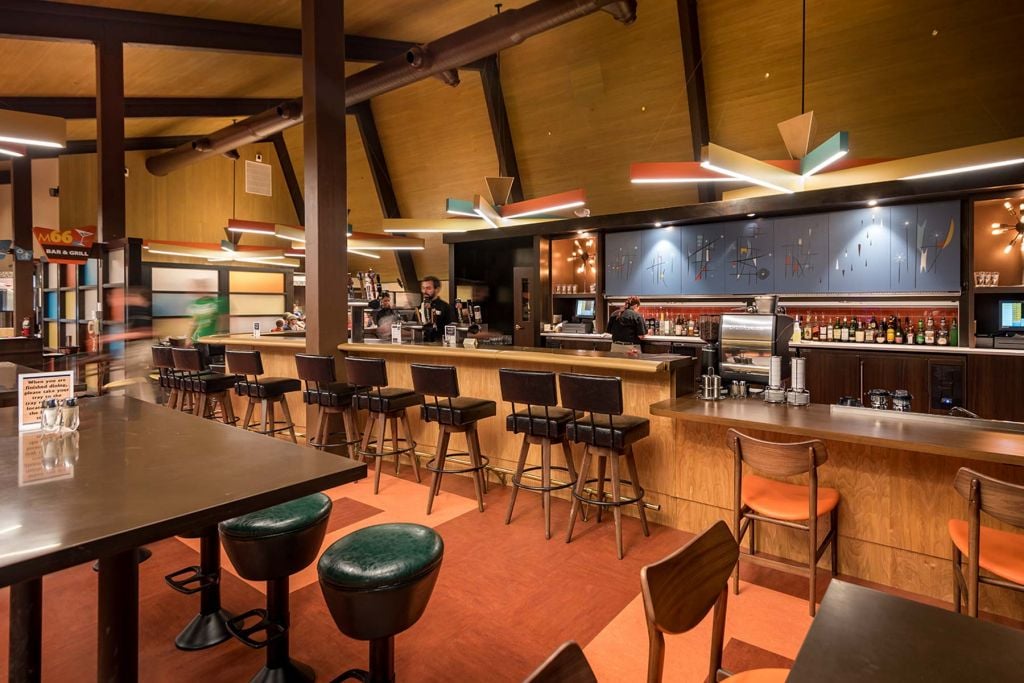 And though 300-plus of the '60s-era cabins were demolished to make way for the new 21st-century aesthetic, Canyon Village's Mission 66 restaurant and gift shop survive. In the eatery, the original two-sided fireplace with its distinctive copper hood remains. So do the fun and funky starburst light fixtures, newly painted tangerine, blue, and green.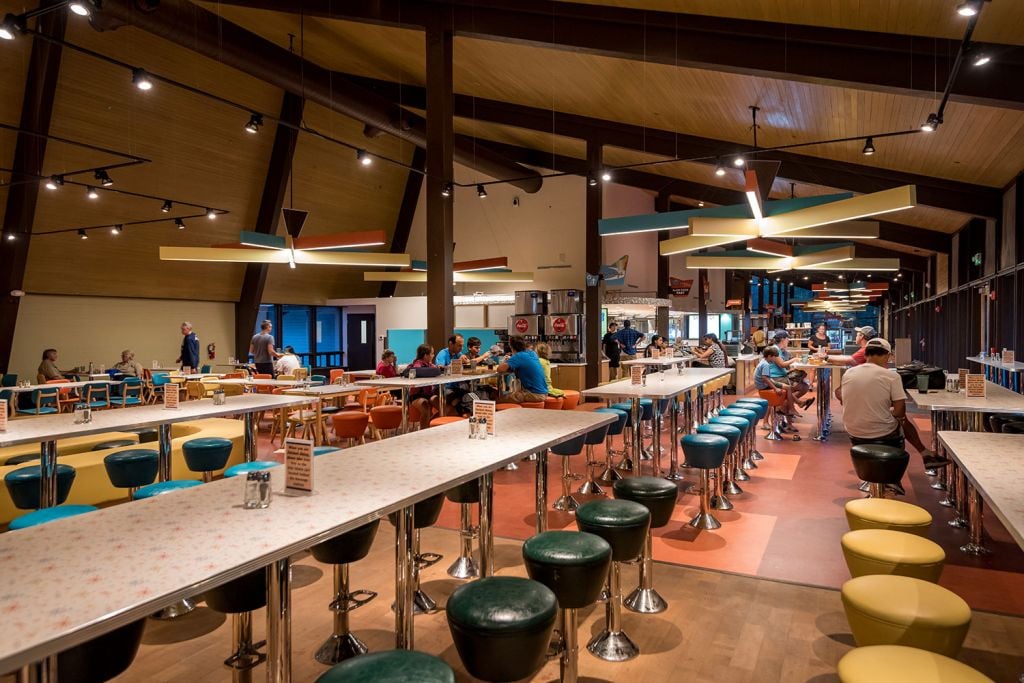 The sprawling, reconfigured dining space embraces '60s style with burnt orange, turquoise, and earth-tones decor. Grab-and-go flatbreads and other quick fare can be had at the Falls Café on one side of the building. The Canyon Lodge Eatery, consisting of Fresh Woks and Slow Food Fast, offers made-to-order bowls, plates, and stews. The full-service M66 Bar & Grill (reservations required) completes the dining options with house-made soups, entrée salads, and local specialties like wild game meatloaf and sautéed trout. Such locally sourced food is all part of the sustainable and renewable approach that is the hallmark of the new lodges.
The new Canyon Lodges were mentioned by New York Times Travel as one of the Top 5 Hotels for Eco-Conscious Travelers. For more information about the room types and amenities, click here.
Contributors to this article include Jayne Clark.
For more travel experiences to Beautiful Places on Earth™ available from Xanterra Travel Collection® and its affiliated properties, visit xanterra.com/explore.

Want to experience Yellowstone in-depth? See what makes Yellowstone National Park a great place to work for a season or longer!
---