Tips for a Drama-Free Yellowstone Vacation With Kids [Infographic]
Yellowstone With Kids
Yellowstone National Park is a perfect family-friendly vacation destination. Kids will love exploring Yellowstone's trails and lakeshores, spotting wild animals, and marveling at the geysers and hot springs in the park, while Mom and Dad delight in capturing memories that will last forever.
If it's your first time visiting Yellowstone with kids, we have a few tips to share that will make your trip easier and more fun for the whole family.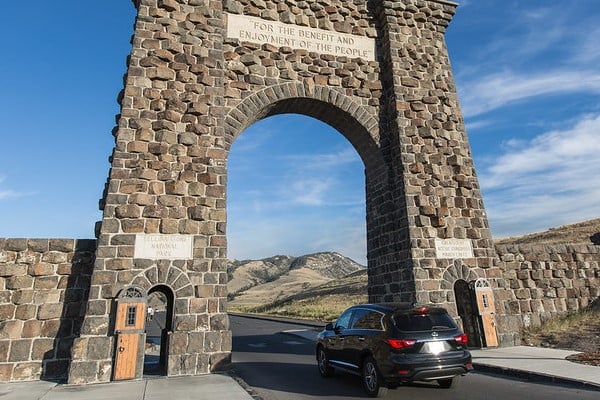 There's going to be a lot of driving, so plan accordingly! Yellowstone is huge – 3,000 square miles, in fact – and it can take a couple of hours of driving to get from one attraction to another. There's plenty to look at, from breathtaking scenery to wildlife, but keep in mind you'll be spending a lot of time in the car. Luckily, there are plenty of ways to enjoy and experience the park as you traverse it. Make frequent stops to give kids the chance to walk trails, take pictures, or draw things they see. Encourage kids to keep a journal of their park experience, or pick up books about Yellowstone in the visitor center bookstores or park gift shops for them to read during long stretches in the car.
Grab a Wildlife Scavenger Hunt Sheet
As you enter the park, ask the ranger at the station for a kids' wildlife scavenger hunt sheet and turn your sightseeing into a game! (This can also help you pass some of the long hours in the car, too.)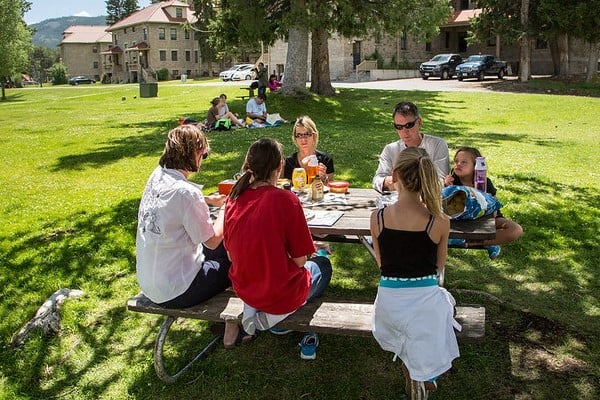 Pack Snacks and Lunches
On that note, be sure to pack snacks and lunches. With so much space between food service stations, you won't always be able to hop out of the car to grab some trail mix and bottled water. If you have room in your vehicle, fill a cooler with lunches and snacks and enjoy your meals at some of the well-marked picnic spots. There are plenty of places to buy ice and water supplies. Deli lunches and to-go food can be purchased at the park's restaurants, snack shops, and delis.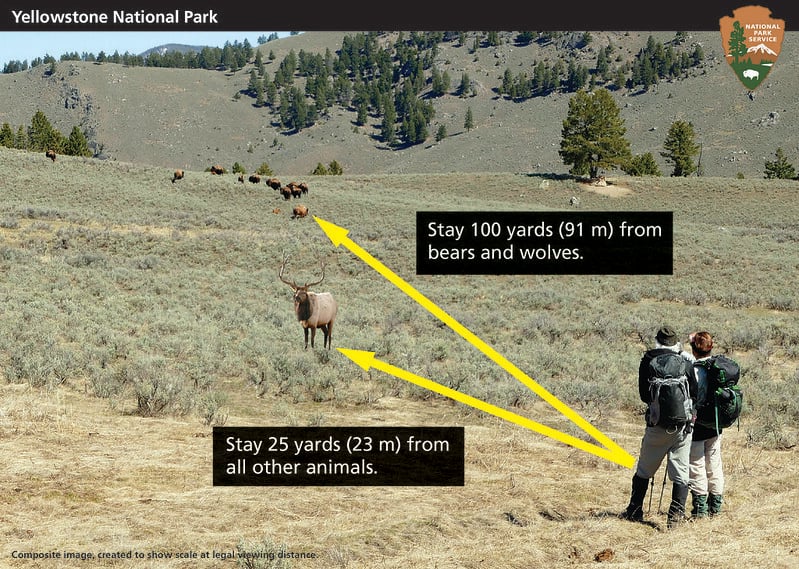 Establish Basic Safety Rules
Kids have a tendency to want to get as close as they can to animals. Of course, when those animals are wild, this isn't a safe option. Make sure your kids keep a safe distance from any animals you spot during your exploration. National Park Service rules recommend staying at least 25 yards from most animals (elk, bison, moose, coyotes, etc.) and 100 yards from bears and wolves. A good rule for your kids is to stay on the path and not run ahead – everybody sticks together!
Go Off the Grid
Remember that you're going off the grid. In Yellowstone, there's no TV, radio, and limited wifi and cell service (wireless internet is available for a fee at select lodging facilities), so kids should be prepared for what will likely be a drastic change from their everyday lives. But there are plenty of ways to keep busy! Kids can use their smartphones or tablets in different ways, such as taking photos to create photo collage souvenirs or collecting video clips to make a movie of their adventure. In the evenings, you can play board games in the lobbies of historic lodges like the Mammoth Hotel, Old Faithful Inn, and Lake Lodge, or attend the evening Ranger programs, most of which are free.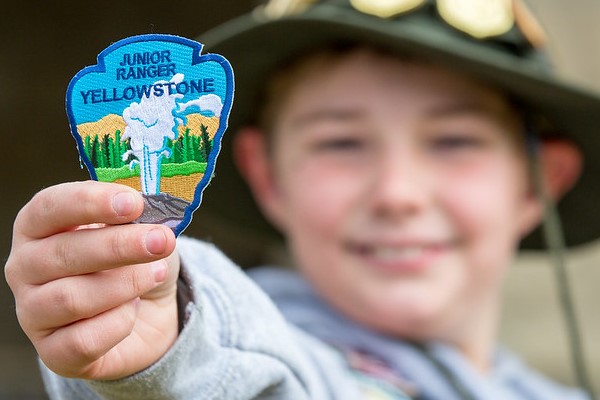 Check out the Junior Ranger program
Designed for kids ages 4 and up, the self-guided Junior Ranger Program is a great way to introduce kids to the natural wonders of Yellowstone. Booklets are available for just $3, and upon completing the age-appropriate activities listed inside the booklet, participants will receive an official Yellowstone Junior Ranger patch that's modeled after the National Park Service patch.
Give the Young Scientist Program a Try
Suited for kids age 5 and up, the Young Scientist program encourages kids to explore both the visitor centers and the park itself to solve age-appropriate science mysteries. Program booklets can be purchased for $5 at the Canyon Visitor Education Center or Old Faithful Visitor Center. Participants who complete the program's requirements will receive either a patch (ages 5-13) or a keychain (ages 14+).
If your kids are 3 or younger, bring a stroller. Little legs get tired quickly and with so much ground to cover, you might not make it very far down the trail before you hear, "I'm tiiiiiired!" Err on the side of caution and bring a stroller along.
Looking for a day-by-day itinerary? Check out our 3 Ideal Days for Families in Yellowstone Itinerary.
---
Here are a few tips to keep the kids busy (and the parents sane!) while you visit the world's first national park.


For more travel experiences to Beautiful Places on Earth™ available from Xanterra Travel Collection and its affiliated properties, visit xanterra.com/explore.

Want to experience Yellowstone in-depth? See what makes Yellowstone National Park a great place to work for a season or longer!
---