Winter Rejuvenation in Yellowstone
Rest & Relaxation in Yellowstone
Goodness knows we all could use a little rest and relaxation these days. What you might not know is that winter in Yellowstone National Park is celebrated for its silence and solitude. Ask any local and they'll say it's one of their favorite times of the year. It's the perfect place to start the year off right with some R&R. Explore some of the many ways you can get revitalized this winter in the world's first national park:
Calm and Connected to Nature
Breathe in that fresh mountain air. Stand in the steam of a hot spring or geyser. Listen to the sound of bubbling thermal features. Yellowstone is a multisensory experience and in winter that experience is intimate and amplified. With 2.2-million acres of geysers, hot springs, fumaroles and mud pots, a dizzying array of wildlife, and a vast and diverse landscape, you'll be rewarded with an experience like no place else on Earth.  For the ultimate ticket to ride through some of the world's most extraordinary landscapes, hop on the latest incarnation of Yellowstone's snowcoaches the ultimate 21st-century sleigh.  Discover the magic of winter in our first national park.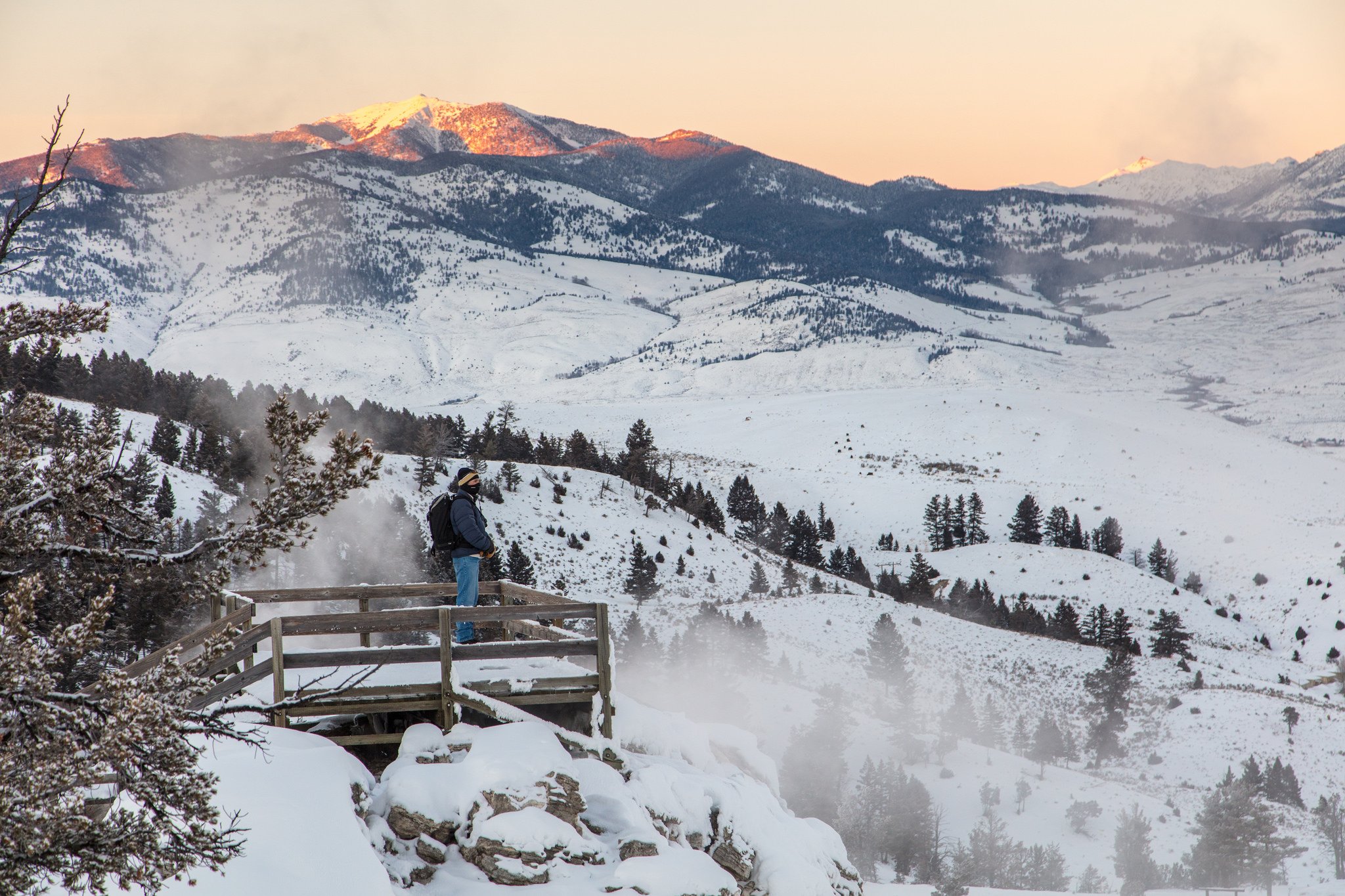 Let it Go in the Snow
As noted in the wisdom of the song's lyrics, "the cold never bothered me anyway," there's no better place to "Let it Go" then playing outside in the snow in Yellowstone.  Whether you want to ski on the many groomed ski trails in the park, go your own way on snowshoes, or enjoy the ice rink and outdoor fire at Mammoth Hotel, winter provides sensational activities for some fun and fitness in the great outdoors.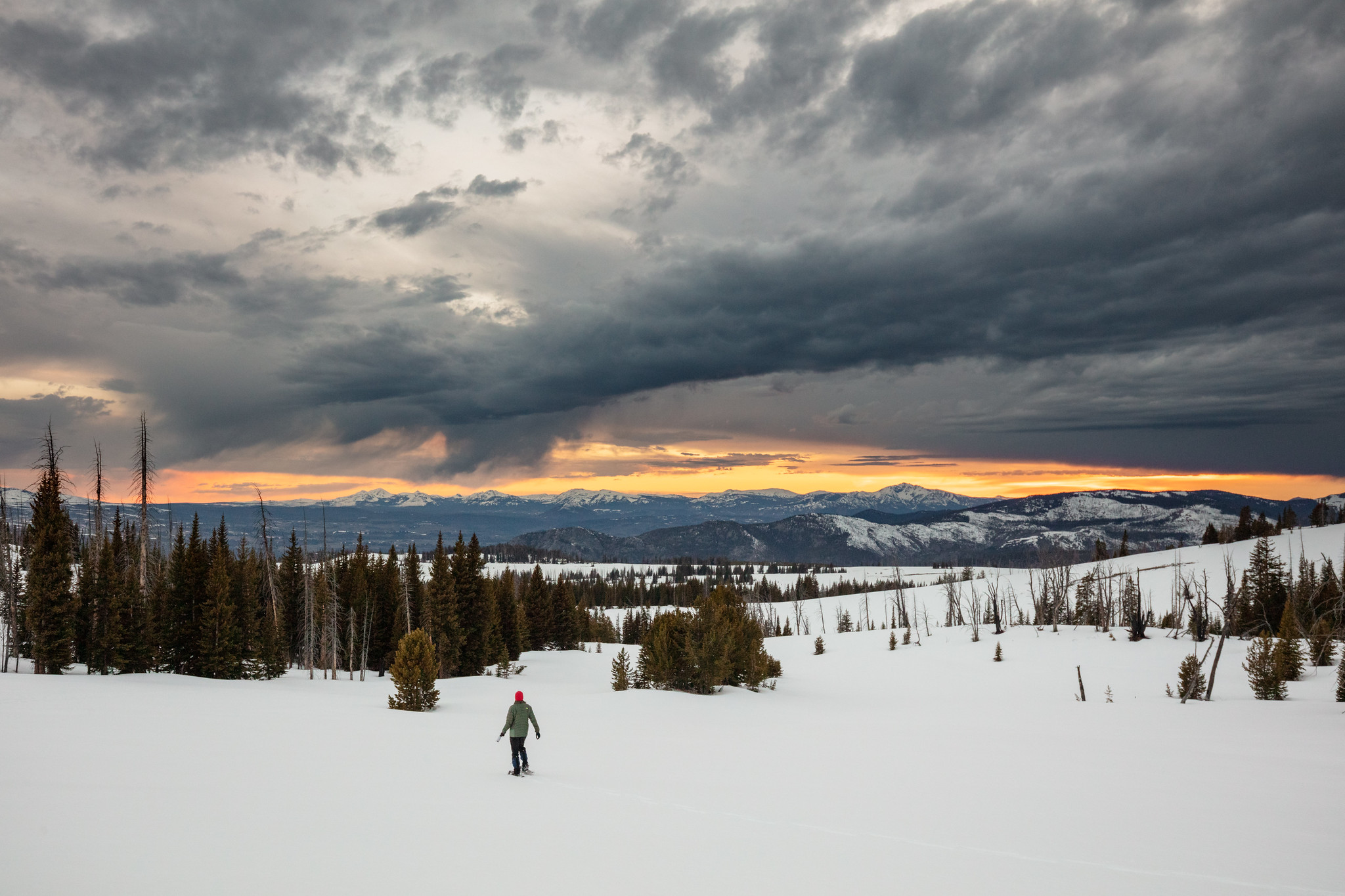 Revitalize Safely
As a company that has operated for over 150 years in some of the most beautiful places on earth, we take pride in every aspect of our operations to deliver an unforgettable experience to our guests. You can revitalize safely knowing that we evaluate every aspect of our operation and take steps to strengthen employee and guest safety. It is simply Second Nature to how we operate. Learn more about our Health & Safety program and what we are doing.
Serene Soaks
Nothing like soaking on a winter day to loosen up your worries. One of the best-kept secrets in Yellowstone winter accommodations is the Hot Tub cabins at the Mammoth Hotel. Enjoy your own private hot tub while staying inside the park!
Please note, the Mammoth Hotel is closed for the 2022/23 winter season but you can book for winter 2023/24 starting 12 months in advance.
If you're looking to relax in some natural geothermal water, check out Yellowstone Hot Springs. Located outside the park, the outdoor pools are a 10 minutes drive north of the park, and are a great setting to rest and recharge.
Cozy Cocktails and Comfort Food
After a day exploring the park, enjoy a delicious meal and a special cocktail to keep you warm. Slide into the Firehole Lounge at Old Faithful Snow Lodge for an apre-geyser gazing drink or enjoy an afternoon espresso or hot cocoa in the Map Room at Mammoth Hot Springs Hotel.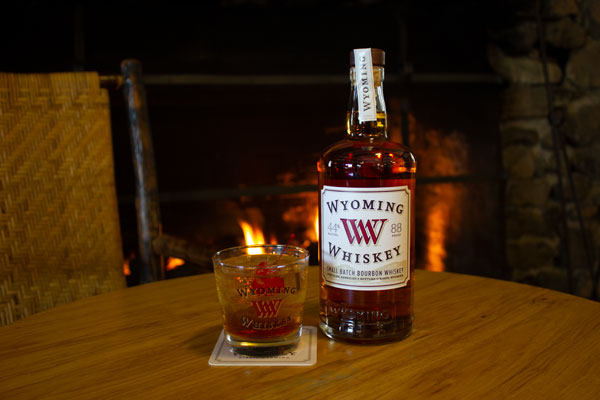 Unwind by the Alpenglow
The perks of being so far north in winter include the long sunsets and sunrises. Often times these unveil a vibrant display of colors set against the beautiful mountains and landscape of Yellowstone. Even better, recent studies have highlighted a connection between watching a sunset and improved well-being. Kick back and relax while you watch the purple mountain majesty.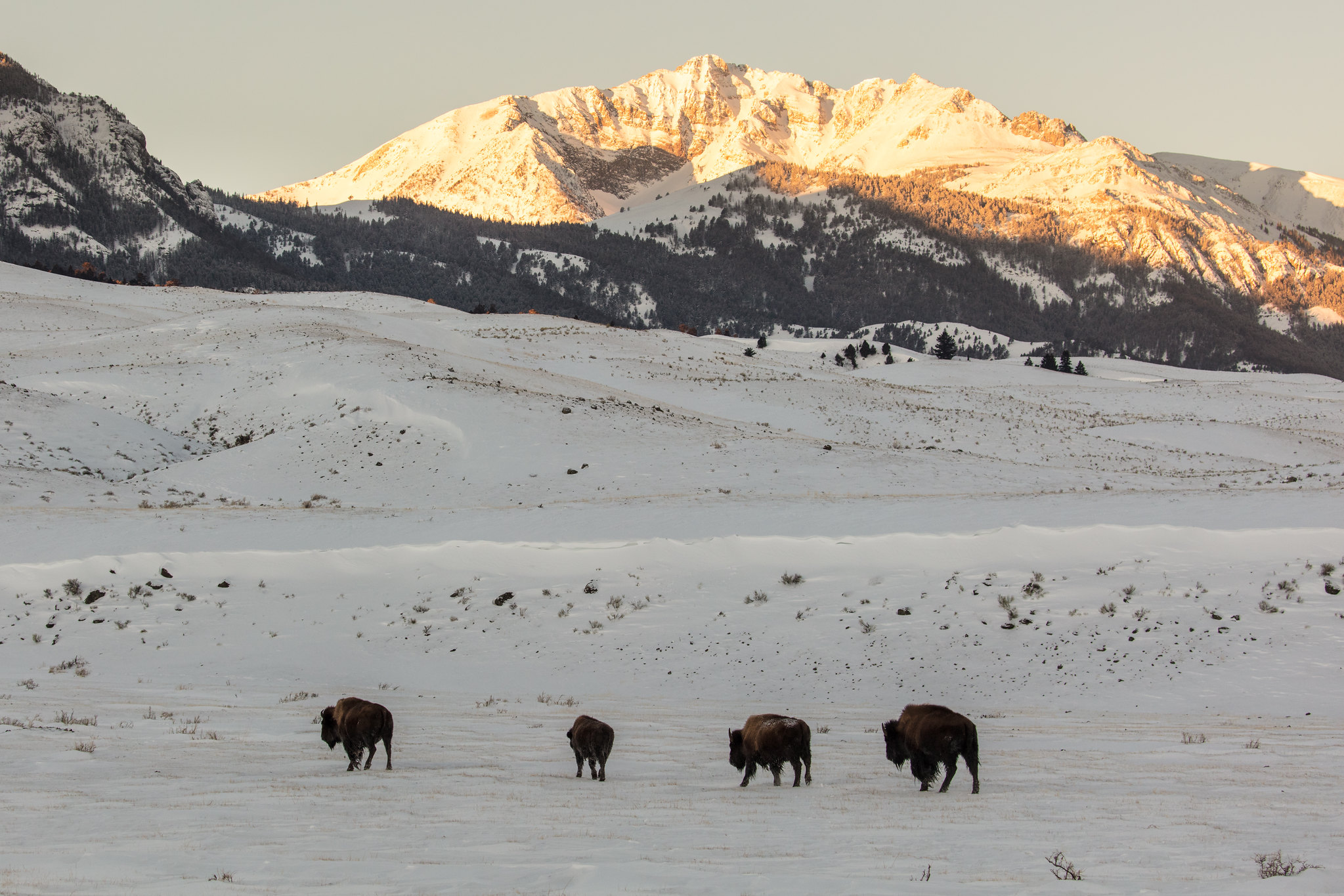 Serenaded by Wolves
Listening to the sound of wolves howling is an unforgettable and profound experience. Winter is your best chance to see and hear these magnificent creatures in their natural habitat.  Yellowstone, with at least 99 wolves living in 10 packs, rates as one of the best places in the world to see these animals. Although wolves roam throughout Yellowstone, Lamar Valley and the Northern Range's open vistas provide good viewing. The contrast between the wolves' thick gray or black coats and the snow-covered meadows and hillsides make spotting the wolves easier than in summer.  For those wanting an in-depth experience, consider joining our popular Winter Wolf Discovery in partnership with the Yellowstone Forever Institute.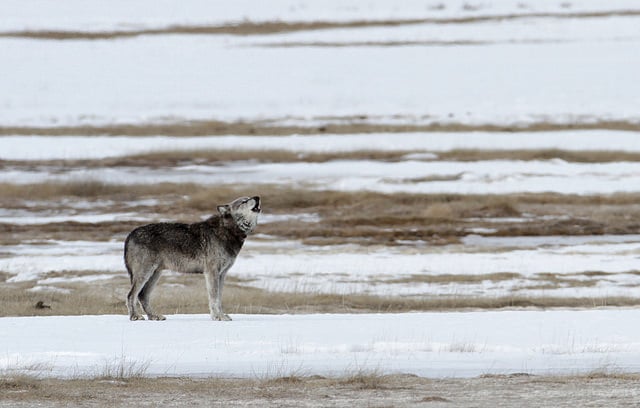 Relax at Home with Yellowstone
If you can't join us for a visit this winter, why not treat yourself to some Yellowstone from the comfort of your own home? Take time in the New Year for some rest and relaxation: Yellowstone style. Stay in and get cozy with a pair of Yellowstone socks and a super soft fleece throw, perfect for a cold winter day. Stay hydrated with goat's milk soap and lotionmade in Montana by Windrift Hill. The soft scent will keep your skin soft and your mind at ease!
Put your mind to rest and take some time to hit the trail and enjoy some outdoor time. Plan your next adventure to the park with the Yellowstone Expedition Guide, which includes top attractions, hiking information, and a guided audio trip for your drive through the park. Get trail-ready with a Yellowstone t-shirt or a versatile bandana or hat.
Prefer something more relaxing? Then spend some time working on a puzzle that depicts your favorite scenes and wildlife from Yellowstone. Get creative with an adult coloring book that includes iconic animals and geysers from the world's first national park!
For more travel experiences to Beautiful Places on Earth™ available from Xanterra Travel Collection® and its affiliated properties, visit xanterra.com.

Want to experience Yellowstone in-depth? See what makes Yellowstone National Park a great place to work for a season or longer!
---