Yellowstone Holiday Gift Guide
Yellowstone National Park is truly a national treasure. A wonderland of spectacular landscapes, diverse wildlife, and other-worldly geological features, this beloved park has captured the hearts and minds of people from across the country and around the world for decades. But also, it's the kind of place that makes a lasting impression and stays with you forever. Whether you're planning an upcoming trip or remembering your last one. Whether you're a Yellowstone enthusiast or a first-time adventurer. Whether you've never been to Yellowstone or you come every year, here are some gift ideas to capture the hearts and minds of all the loved ones on your list.
Shop the Gift Guide online now!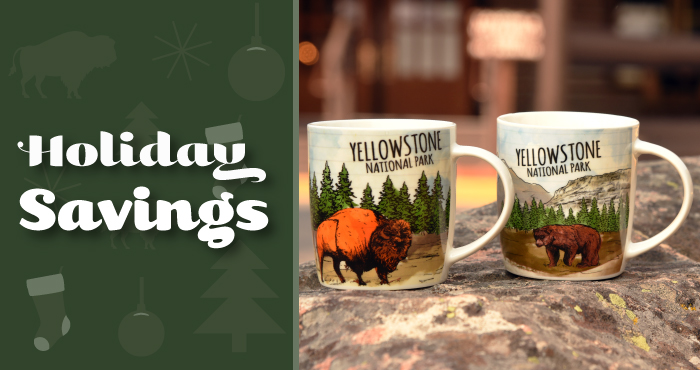 Who doesn't like a good deal?  Take advantage of great savings while checking off gifts for your list. Get a Yellowstone Mug for only $9.99 or get 2 for $14.99, mix and match for a perfect set!  For the wine lovers on your list these 150th Anniversary Stemless Wine Glasses are a great deal at 4 for $30 (Reg. $9.99).  Don't miss out on this great Bison Family Fleece Throw or Sherpa Backed Yellowstone Throw that makes a perfect gift for anyone who loves Yellowstone and are only $34.99 with any purchase of $60 or more!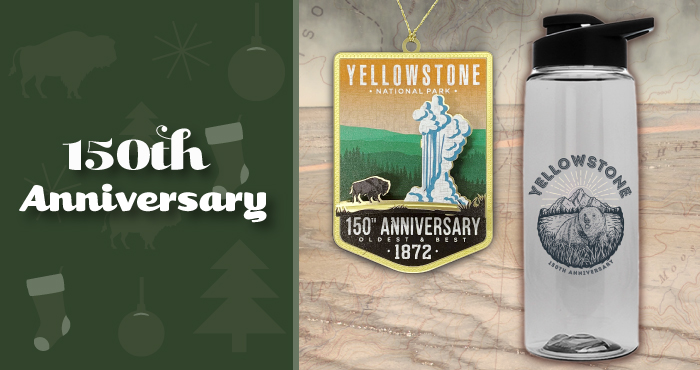 2022 marks the 150th Anniversary of Yellowstone National Park. Celebrate this momentous occasion with the perfect gift. Trim the tree with a USA made commemorative Anniversary Ornament for extra holiday cheer. Instead of a traditional gift bag, why not use a Recycled Tote Bag instead?  Perfect for gift giving and as reusable bag on the next trip to the store!  Stay hydrated with a 150th Anniversary Water Bottle, which is perfect for those hitting the trail or on the go.  For those who prefer to wear their souvenirs, a 150th Cap or a 150th T-Shirt would make a jolly good gift!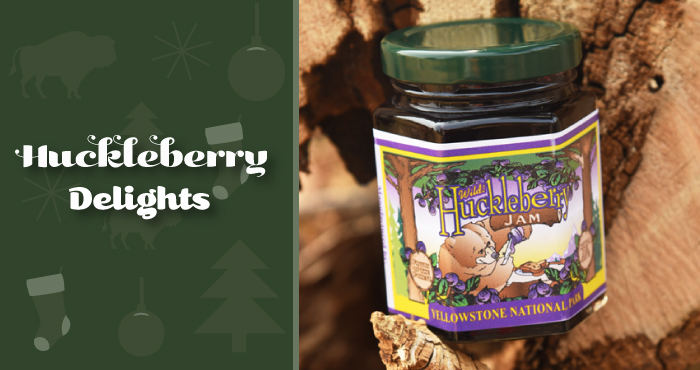 Huckleberries are plump and sweet and tart. They resist cultivation and must be handpicked in the wild, and visitors to Yellowstone National Park eat them up. This year pick some favorite huckleberry treats for everyone on your list.  Give them an extra special breakfast with the Huckleberry Breakfast Gift Pack, Made in Montana and full of flavor! Don't forget to stock up on Yellowstone's favorite topping, Huckleberry Jam. This special flavor is packed into an 8 oz jar and makes an excellent addition to toast, biscuits, or even a hamburger! If you are looking for the best of everything, the Huckleberry Crate Trio is what you have been craving! This special gift includes huckleberry tea, honey, and jam for the perfect combo!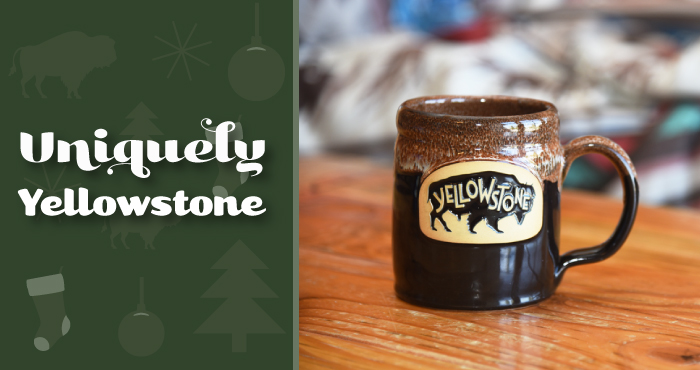 Yellowstone is full of unique discoveries and so are the gifts! Make every day special with a handmade Bison Mug from Deneen pottery. Cocktail hour calling? If you have a drink lover on your list, then look no further than this 150th Anniversary Limited Edition Bourbon Set  This lead crystal set includes 2 glasses and a decanter all boasting an anniversary logo. Get ready for the new year with a Tom Murphy 2023 Wall Calendar featuring photographs from the award-winning photographer. For the artist on your list, this one of kind Heart Spring Bowl is hand made in Montana with fused glass and inspired by the thermal pools of Yellowstone!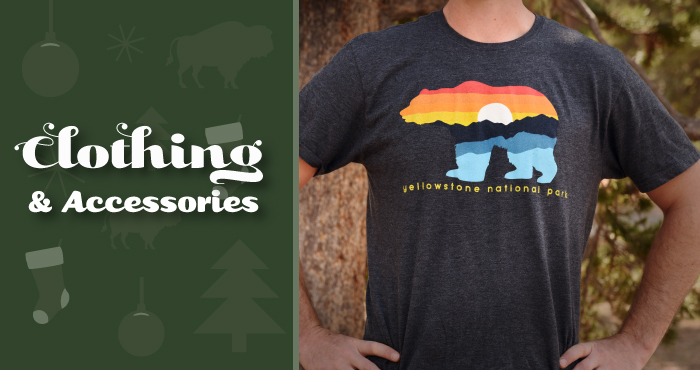 Dress for Yellowstone success with clothing and accessories from your favorite national park!  This Mountain Bear T-Shirt has a vibrant design and is perfect for everyday wear. Pair it with a Smokey Bear Trucker Cap to encourage campfire safety, because only you can prevent forest fires!  If you are looking for a shirt with an artistic twist, this Van Gogh Ladies Long Sleeve T-Shirt features swirling skies behind an iconic Old Faithful design. For the person wanting some color in their wardrobe, a pair of Buffalo Dot Socks might be just what they are looking for! Don't forget to deck the kids out in their favorite Yellowstone Youth Apparel this year so they can proudly wear memories from their favorite trip!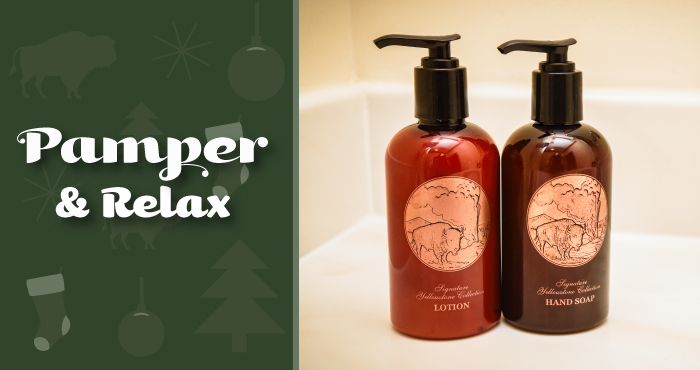 Protect your skin from days spent enjoying the great outdoors with our moisturizing line of products in the Yellowstone Signature Collection. These exclusive products have a green tea and lemongrass scent and are made with extracts and essential oils to keep skin feeling smooth and healthy. Don't forget to pair it with a 4 pack of Bear Soaps!  Draw up an evening bath and relax with a Bath Bomb or Salt Soak to unwind from spending the day on the trail. Enjoy the rich scent of Montana Huckleberry Goat Milk Soap, made in Montana by Windrift Farms.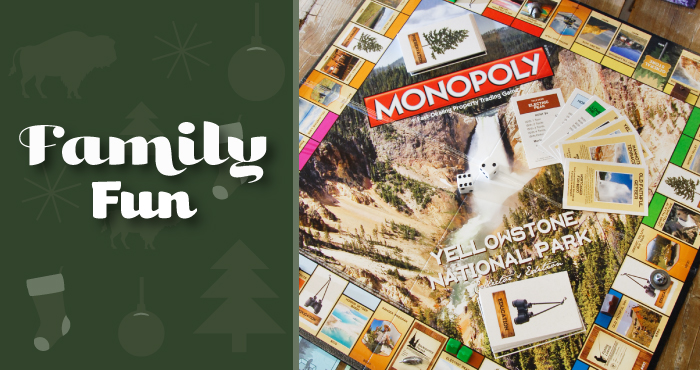 Do you know someone that loves a good game or two?  Well who needs Park Place and Boardwalk when you can have the Old Faithful Inn and Mammoth Hot Springs? With Yellowstone National Park Monopoly, you can tour, hike, and learn your way around the board, accumulating iconic Yellowstone landmarks as you go.  Ready to get creative? These Building Blocks are a fun way to piece things together and have your very own wildlife animal or Smokey Bear. Grab a book and make story time extra special with a tale from Yellowstone. Christmas in Yellowstone  is sure to put you in the  holiday spirit with a heartwarming holiday message featuring Yellowstone wildlife. Kids can learn about wildlife and animal scat with Who Pooped in the Park? an illustrated children's book that follows one family's adventures through Yellowstone- watch where you step!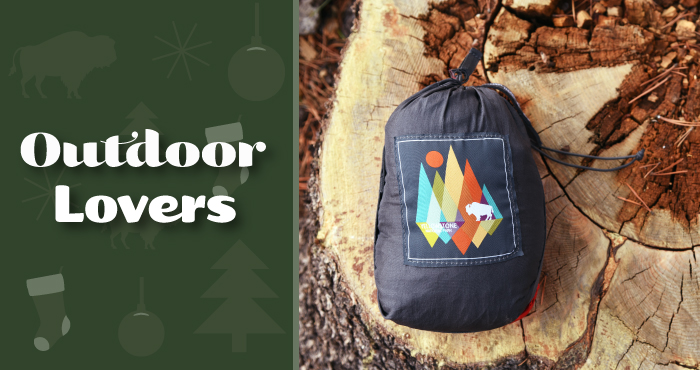 Looking for a gift for someone who loves the great outdoors? Hit the trail with gifts from Yellowstone! For some relaxing time at the campsite, this Yellowstone Eno Double Nest Hammock might just do the trick. Small and compact to easily put in your pack, this hammock has enough room for 2 people and is made with high tenacity nylon taffeta to make it lightweight, yet strong and durable.  Speaking of small and compact, this Foldable Backpack is exactly that. Folding into it's own compartment to approximately 8″w x 6″ h, this pack is perfect to take on any trip so you can have your backpack handy whenever the trail calls your name.  Don't overlook the simplicity of a Preserve and Protect Bandana. This super soft bandana is made by United in Blue and can be worn as headwear, around your neck, or in so many other ways!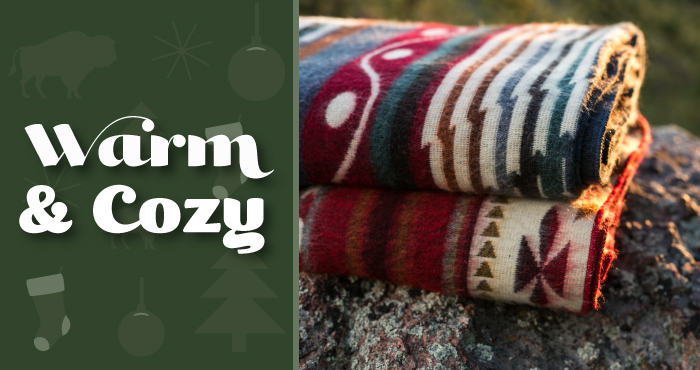 Keep everyone on your list cozy and filled with comfort this winter. Know someone that loves to cuddle?  Get them cozy with a blanket like this Sumaco Wave Blanket from Ecuadane. This blanket is crafted in Otavalo, Ecuador and is considered an "everywhere blanket," perfect for staying at home or for taking on the go.  Snuggle up in a comforting sweater, like this Micro Plush 1/4 Zip, sure to keep you toasty warm on the cool winter days. For the younger ones in your life, this is one wild animal they're allowed to get close to: a soft and fun Wolf Pom Pom Hat is perfect for taking on a child's next adventure and is on sale for only $10.97!
Now you and your loved ones are all set for the grand adventure to come or the one you already had. Keep Yellowstone with you forever, until the next time!
Shop the Gift Guide online now!
---