11 Yellowstone Photography Tips
Yellowstone Photography Tips
Packed with stunning scenery, captivating wildlife, and incredible natural wonders, Yellowstone National Park is a dream destination for both professional and amateur photographers. No matter which part of the park you are touring, photo ops are around every corner. Share them on your Instagram feed or decorate your home or office with your framed prints for the ultimate one-of-a-kind park souvenir – no matter what you choose to do with the Yellowstone National Park photos you take, they'll be treasured and enjoyed for years to come.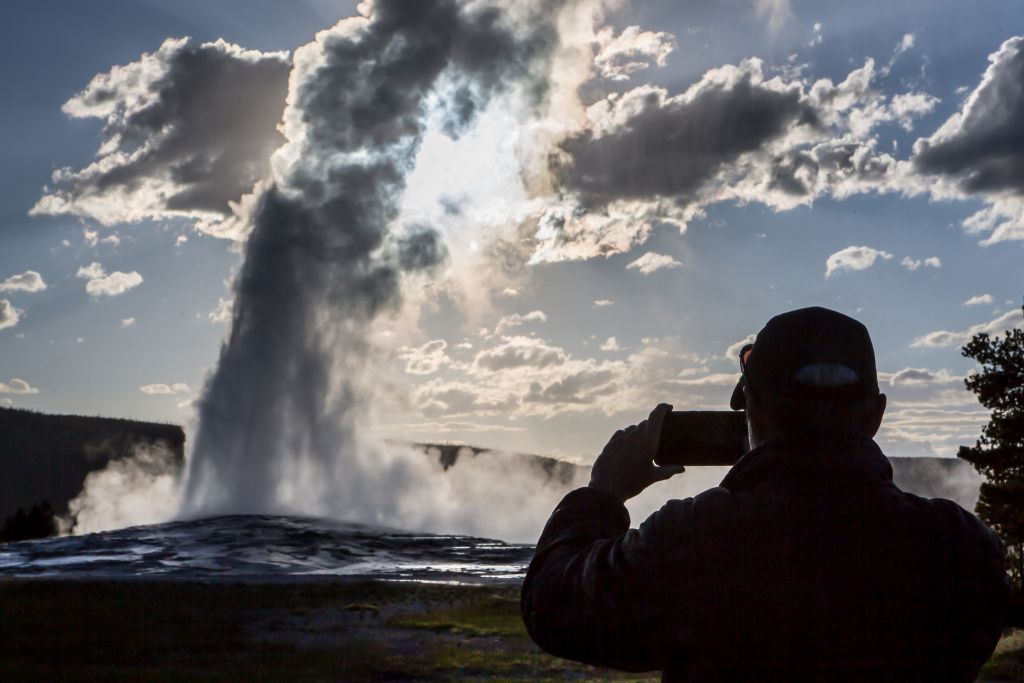 Put your camera to good use during your Yellowstone National Park vacation with these helpful amateur photographer tips. Wondering where to go and what to photograph? Check out these National Park Service photography tips on how to get great photos of Grand Prismatic, Lower Falls of the Yellowstone River, Old Faithful, and more.
Sign up for a Photo Safari
Perfect for amateur shutterbugs and avid photographers alike, the Yellowstone Photo Safari tour is a fantastic way to see some of the park's top photo ops while learning helpful photography tips from an expert. From now through early fall, daily photo safari tours depart from both the Lake Hotel and Old Faithful Inn. Participants will enjoy a tour that's tailored to the group's interest, skill levels, and equipment, so if you've only brought your smartphone, don't worry! You'll learn how to use your gear to capture the very best  Yellowstone National Park images during this five-hour tour, which covers wildlife-rich areas and/or breathtaking scenery in the park, depending on where the best opportunities are available.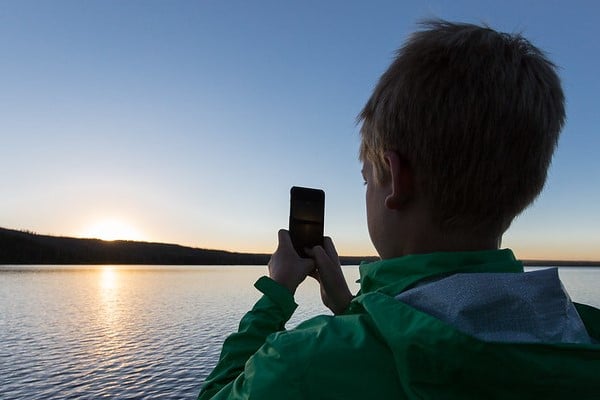 Get an Early Start
If you're hoping to capture some wildlife for your photo album, getting an early morning start is key (one of the reasons our Photo Safaris set out so early in the morning!) Animals are most active early in the day, and the morning light can be spectacular, so skip sleeping in and head out shortly after dawn for your best chance of snapping some great wildlife shots. Bonus: You'll also be able to capture a spectacular Yellowstone sunrise!
Don't Forget About the "Golden Hour"
As the sun gets low in the sky at the end of the day, the park will be bathed in a warm, golden glow and the sky appears more saturated with color. Photographers call this the "golden hour" and there's a reason it's a preferred time of day for shooting everything from portraits to landscapes.
Framing
Experiment with framing your subjects in different ways. Remember the "rule of thirds" – rather than centering your subject in the middle of a photo, try placing them slightly off-center for a different, more interesting perspective.
If you're photographing people, keep your back to the sun. This will help you to avoid situations where your subjects are dark silhouettes against a bright background. Try to shoot so that people are lit from the side to minimize squinting into direct sunlight.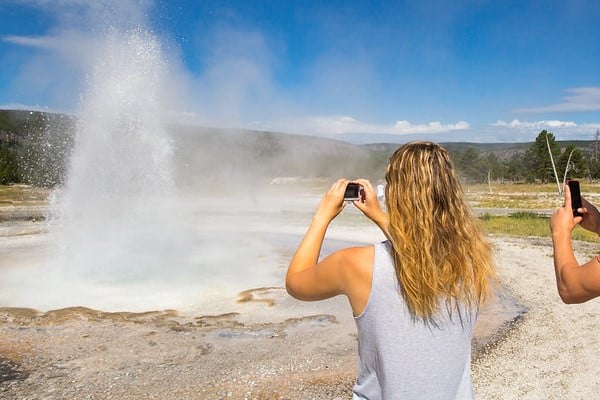 Consider a Polarizing Filter
Polarizing camera filters can help reduce the glare from bodies of water, darken skies, and adjust the balance of light in a photo. Many nature photographers use polarizing filters to capture brilliant outdoor images. If you're using Instagram to edit your photos of Yellowstone National Park, Valencia is an ideal filter for replicating the look of a polarizer.
Mix in Some Black-and-White Shots
Sure, Yellowstone's landscape is packed with vibrant colors, but sometimes a black-and-white photo can have a dramatic, artistic effect. Try mixing some monochromatic photos into your collection.
Take too many photos!
Experiment with different filters, angles, and zooms. Once you're reviewing your Yellowstone National Park pictures later, you might be surprised at some of the excellent shots you've captured by accident!
Keep your Distance
While it might be tempting to attempt a close-up shot of some of Yellowstone's wildlife, be sure to stay a safe distance from any animals you encounter. Stay at least 100 yards from bears and wolves and at least 25 yards from other large animals. When viewing any wildlife along roads, use pullouts for extra safety and to avoid blocking traffic.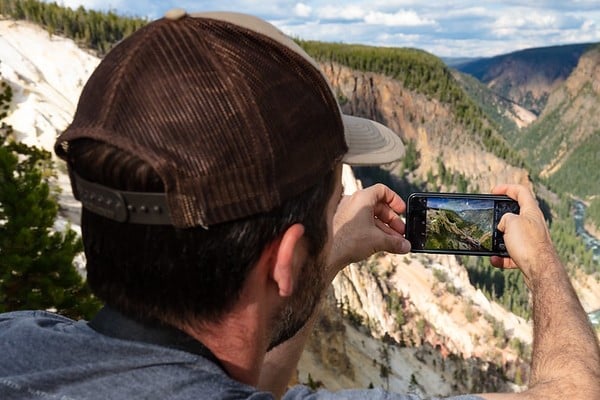 Don't Forget to be Present
In the quest for the perfect photo, it's easy to spend your entire day at Yellowstone looking at the park from behind a lens, but don't forget to put your camera down from time to time to fully experience the special moments as well.
Protect Your Gear
Consider investing in a sturdy, protective case or a waterproof cover for your camera or phone. It's not uncommon for the weather to change frequently in Yellowstone, especially in the summer. Surprise rain showers can pop up at any given time.
Tag the Shots!
If you care to share any shots via Instagram or Twitter, please tag @ynplodges. We love to share your photos across our social media channels (Facebook, Instagram, and TikTok).
For more travel experiences to Beautiful Places on Earth™ available from Xanterra Travel Collection® and its affiliated properties, visit xanterra.com.

Want to experience Yellowstone in-depth? See what makes Yellowstone National Park a great place to work for a season or longer!
---