Higher Learning in Yellowstone: Park Internships
Yellowstone Internships
Yellowstone National Park Lodges operates 9 lodges with over 2,000 guest rooms and cabins across 6 different villages within the park. With that comes plenty of opportunities for students who are seeking experience in the hospitality industry. Our Lodging Hospitality Internship program allows students to integrate classroom learning with 'real life' application in the workforce, gain valuable experience, and professionally network with members of park management and subject matter experts.
Goals & Benefits
Coming through an Internship Program allows students to gain hands-on experience working within the Hospitality and/or Tourism industry that complements classroom learning. Our main goal for the Lodging Hospitality Internship program is to allow interns to experience different roles within lodging, while providing additional internship benefits through classes, networking and mentorship opportunities, and professional growth activities. For many, this helps in their decision-making process; guiding them toward a specific department or function may be more interested in pursuing in the future. In addition, they develop practical and managerial skills in the workplace and establish professional contacts for future employment opportunities.
Noel Mayes, Director of Lodging, shares "our internship program provides participants the remarkable opportunity to receive first-class instruction and experience while also having the time of their life in Yellowstone. Significant investment of resources has gone into creating an experience that balances time with experts and leaders from Human Resources to Sustainability to Operations with fun experiences that you can only have in Yellowstone. If you want to learn about hotel finance in the morning and then go fishing on a company-sponsored charter on Lake Yellowstone in the afternoon, then this is the place for you! Participants exit the program with a broad understanding of our operation and the industry in general, and are well equipped to take their first step into a management role post-graduation."
All positions in our Internship Program are paid and work ~40 hours/week. In-park room and board is provided by Xanterra and paid via a bi-weekly payroll deduction. During the 10-week program, interns rotate between a front desk position as well as a housekeeping position to gain a better understanding of how each team operates both individually as well as together. These roles allow interns to experience both guest facing and non-guest facing positions. Interns also participate in site visits to other locations in the park to see how their own operation is run differently and/or similarly to others around the park. Xanterra operates throughout the 2.2 million acre park and each location offers it own set of unique experiences.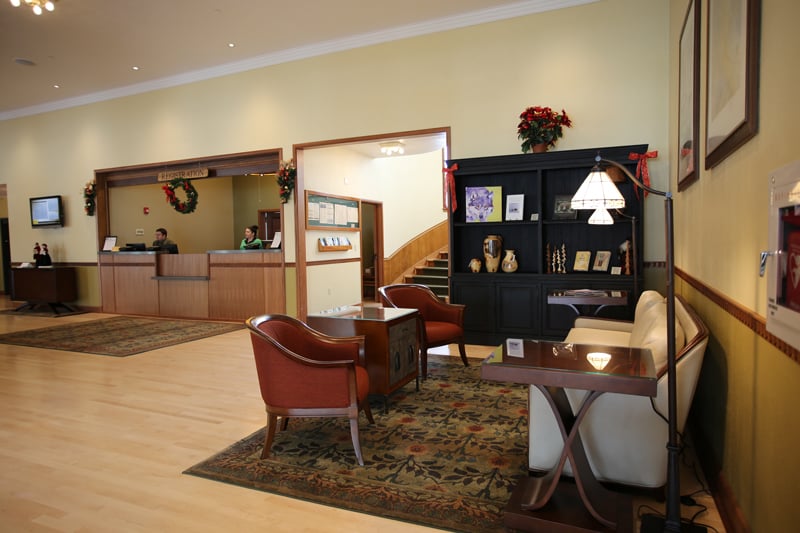 For Yellowstone National Park Lodges, students who participate in the Lodging Hospitality Internship Program stand out as candidates for management development opportunities. One of the program requirements includes participation in management-level training courses offered by our Learning and Development team.
FAQs
Kailey was a hospitality intern at Mammoth Hot Springs and Lake Lodge/Lake Hotel in the summer of 2022. She is majoring in communication design and minoring in creative writing. She shares the following FAQs from her own experiences.
What is Xanterra's hospitality internship?
The hospitality internship is a selective program home to 10 interns each season. This 10 week program consists of 5 weeks at the front desk (working as a Guest Service Agent) and 5 weeks in housekeeping working a different job each week (Porter, Room Attendant, Inspector, Laundry Service Agent and Linen Truck Driver). This unique program allows you to experience 6 different roles under the lodging umbrella in just 10 weeks. In addition, interns have the unique privilege to shadow upper management. I personally shadowed 4 managers while in Yellowstone and worked closely with the marketing team on projects like this blog post. If you are considering a job in hospitality management, this is the internship for you!

Why is it the best job in the park? 
Intern days! One day each week, of the 5 days we work each week, consists of an intern day. Intern days can vary from Finance 101 classes with Lodging Director Noel Mayes to site tours of the Old Faithful Inn. Intern days can also look like horseback riding at Roosevelt, whitewater rafting in Gardiner, warehouse trips, and shadowing in a field of interest. I have personally loved intern days because they have been a great way to connect with the interns and work in small settings with upper management.

What was the 2022 season like?
The 2022 season was like no other. My season started at Mammoth and ended at Lake due to the unprecedented flooding that took out the roads between Mammoth and Gardiner and Roosevelt and the North-East entrance in mid-June. You can read more about that experience here. Despite this relocation, I have had the most memorable, (and cliche I know) life-changing experiences working and living in the park. I had the opportunity to hike, camp, fish, and make lifelong friendships and memories along the way.
Hear from other interns like Kailey on what their experience was like (including a couple who are now full-time employees!)
Apply for an Internship
---