5 Must-Do Adventures at Yellowstone
At Yellowstone National Park, there's no shortage of adventure to be had. Whether you sign up for a guided tour with a knowledgeable park professional or choose to experience Yellowstone on your own, there's plenty to experience and discover! In fact, you may have a hard time choosing what to do during your visit.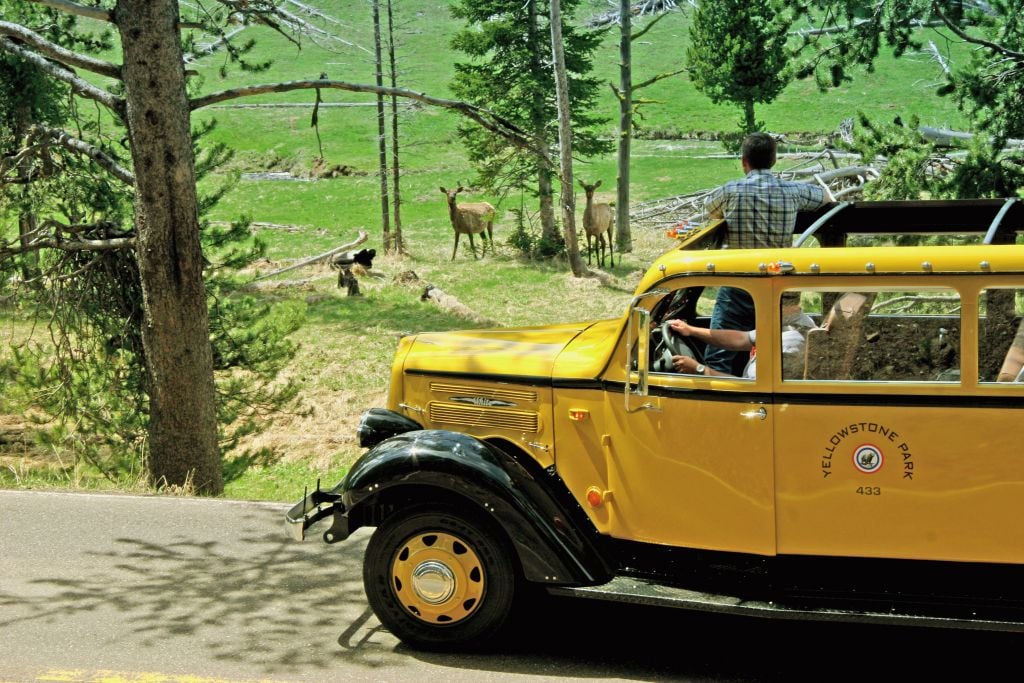 To help you out, we're sharing five of our favorite "must-do" experiences.
1. Discover Yellowstone by horseback. Saddle up and explore one of Yellowstone's scenic trails. Choose a one- or two-hour ride on either the Roosevelt or Canyon trails. From atop your trusty mount, you'll see stunning park views and breathtaking scenery. Horseback rides are available June through September (Roosevelt) and June through August (Canyon). Get all the details here. You can even combine a ride with an Old West dinner cookout!
2. Wake up to wildlife. In the early morning, the animals of Yellowstone National Park are most active, and visitors are likely to spot plenty of critters. The Wake Up to Wildlife tour departs at dawn for Lamar Valley, where expansive views provide the best opportunities to spot all kinds of wild animals. Board the Historic Yellow Bus, where you can enjoy muffins and juice, and get your day started on an exciting note! The early bird gets the worm…or bear, or antelope. See tour details here.
3. Set sail for adventure. Exploring Yellowstone on land is great, but don't forget about the opportunities to have fun on the water too. Rent a 40hp, 18-foot motorboat for an hour or the entire day! Spend an afternoon cruising around or go fishing – whatever floats your boat. Boats are rented to groups of 2-6 people during the June-September season. Check out the rental details.
4. Explore the largest body of water in Yellowstone Park. During a one-hour Scenicruise tour aboard the Lake Queen, you can spot eagles, osprey, and other waterfowl, and maybe even elk or bison! You'll also see the remains of the SS E.C. Waters, an abandoned steamship near the shore of Stevenson Island, and hear all about the interesting character who had the ship built.
5. Experience a full day of park touring! The Yellowstone in a Day tour travels the park's Grand Loop, with stops at the Fountain Paint Pots, Old Faithful Geyser and Old Faithful inn, the Upper and Lower Falls of the Grand Canyon of the Yellowstone, Canyon Village, and other spots along the way. Keep your eyes peeled for wildlife! This tour is also a great introduction to the park, providing an excellent overview of Yellowstone's highlights.
For more travel experiences to Beautiful Places on Earth™ available from Xanterra Travel Collection and its affiliated properties, visit xanterra.com/explore.

Want to experience Yellowstone in-depth? See what makes Yellowstone National Park a great place to work for a season or longer!
---