Between the Rock and the Hard Place
Yellowstone Rocks
Each year countless travelers explore Yellowstone National Park. But just what is it that makes this place so hot?
Magma. A subterranean supervolcano makes Yellowstone a geological standout
Had you been wandering around Yellowstone 2.1 million years ago, you would have witnessed one of history's most extraordinary volcanic eruptions. When successive eruptions 1.2 million and 640,000 years ago emptied the contents of the magma chambers, the visible volcano 'deflated' and the 34-mile-by-45-mile Yellowstone Caldera was formed. Still, a huge reservoir of magma remains beneath the surface and it is this subterranean "supervolcano" that makes Yellowstone one of the planet's most geologically dynamic areas.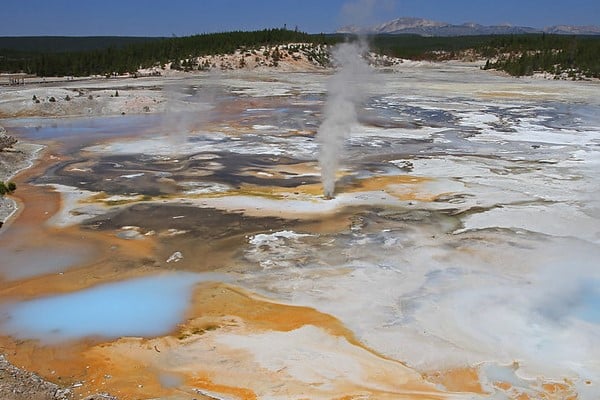 To explain how its magma is still affecting Yellowstone's 2.2 million acres, Rick Hoeninghausen, Xanterra's Director of Marketing, says: "Today, the magma chamber super heats water that generates geysers, hot springs, and so on."
He also offers a unique metaphor about the caldera that was formed long ago. "As a pie's filling heats up, so does the pressure beneath the crust," he explains. "If one neglects to slit the pie crust, when baking the heat and pressure will build up and the pie filling will break through and boil out from the crust. The crust then collapses  into where the filling once was, forming a crater or, in a geologic comparison, a caldera."
That means even as you are photographing waterfalls, sailing on Yellowstone Lake, or gazing across billions of miles of the Milky Way in the clear evening sky, beneath your feet is a bubbling, percolating, and quite active collection of more than 10,000 hydrothermal features, including the world's largest concentration of geysers. And while there's no forecast of a "super-eruption" in the next several thousand years, the vast web of geothermal activity suggests exploring the park with an eye on safety.
"Waters can be boiling or very acidic, so the immediate danger is getting too close," advises Hoeninghausen. "Surfaces around hot springs and other geothermal features can be very thin. If a visitor leaves a boardwalk or designated trail and somehow ends up in the water, they can be seriously injured or killed."
Seeing is Believing
In contrast with the geological rioting taking place underground, on the surface you'll be witness to one of the nation's most visually spectacular landscapes. Hoeninghausen offers a few tips on how to enjoy the best of his "hometown."
"Everyone should visit the Upper Geyser Basin, which is the home of Old Faithful," he advises. "And they also need to see the Grand Canyon of the Yellowstone where there is a waterfall twice as tall as Niagara. And be sure to visit the Mammoth Hot Springs Terraces near the original Fort Yellowstone. Before we became a national park, that's where troops were once stationed to deal with poachers, vandals, and stagecoach robbers."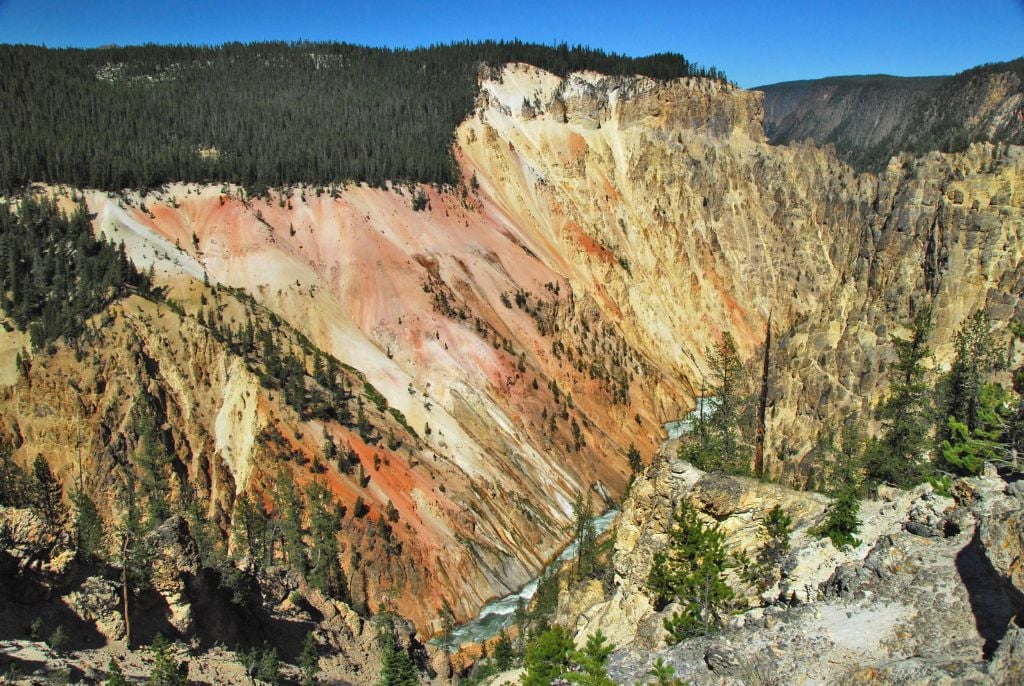 Also on the must-see short list is tranquil Yellowstone Lake, a favorite spot for boating and fishing. After casting a line for cutthroat trout and non-native lake trout, you can explore more than 140 miles of shoreline along the largest North American lake above 7,000 feet. It's a photographer's dream with photo ops unwinding around every bend.
For wildlife viewing, Hoeninghausen points to the northern region of Yellowstone where elk and bison herds gather and where there's always a chance you'll spy black bears and grizzly bears, bald eagles and golden eagles, coyotes, fox, big horns, pronghorns, waterfowl, and moose.
"Yellowstone is home to more free-roaming wildlife than anywhere else in the lower 48 states," he notes. "And once wolves were reintroduced to the park in 1995 and 1996, the park again had all of the mammals that Native Americans found here thousands of years ago."
Then at the end of the day when the lights are down and the stars are up, turn off every switch and tune into the world around you. In the darkness, you may hear the call of owls, the howl of coyotes, and the bugle of an elk. Never pausing, even in the darkness, is the gurgling, hissing, steamy breath of the geyser basins.
Day or night, Yellowstone is a place that will speak to you.
Specializing in American travel, Gary McKechnie is the author of National Geographic's USA 101, Ten Best of Everything: National Parks, and Great American Motorcycle Tours. He lectures on American travel and history aboard the ships of the Cunard, Seabourn, and Silversea lines.
For more travel experiences to Beautiful Places on Earth™ available from Xanterra Travel Collection and its affiliated properties, visit xanterra.com/explore.

Want to experience Yellowstone in depth? See what makes Yellowstone National Park a great place to work for a season or longer!
---