Insider Tips for Enjoying Yellowstone in Winter
Winter Tips
Winter is Yellowstone National Park's quietest season. But that doesn't mean there isn't plenty going on. In fact, many a full-time area resident will tell you winter is the best time to visit.
Some of the best wildlife and geyser viewing and photography opportunities are in the dead of winter, when the snow-white landscape provides the contrast that makes animals and thermal wonders appear even more dramatic.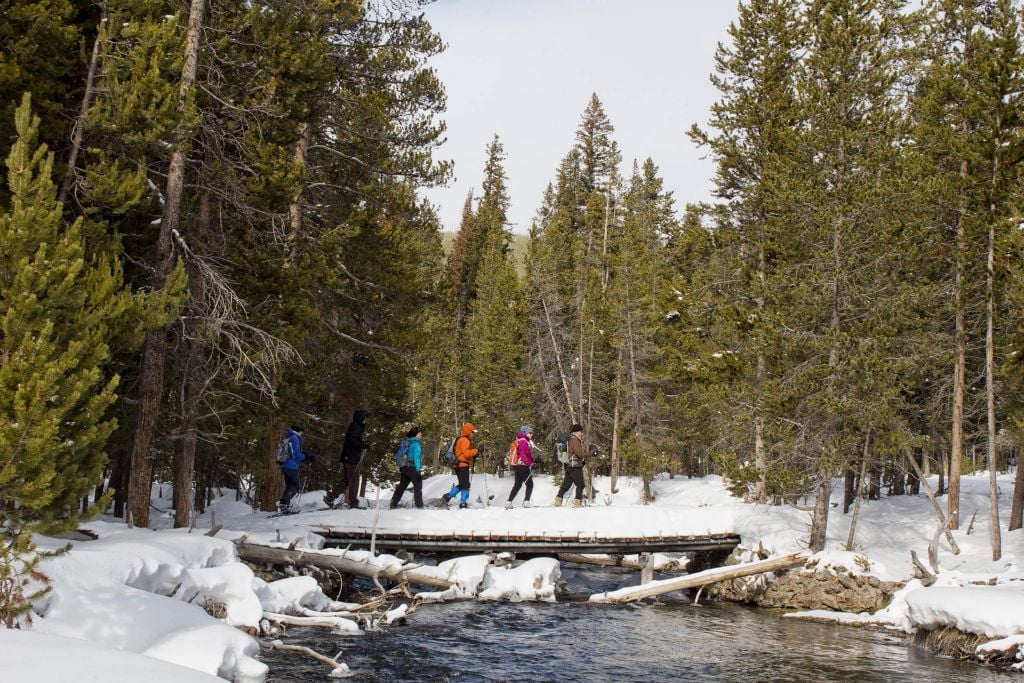 Two classic park lodges — Old Faithful Snow Lodge and Mammoth Hot Springs Hotel , about 50 miles apart — remain open from mid-December to early March to accommodate winter guests.
And, starting in mid-December, a plethora of fun activities cater to all kinds of visitors. If you want to get out in nature, you can strap on snowshoes or cross-country skis, or take a whirl around an ice rink. If lower-key pursuits are more your speed, try wildlife watching from the comfort and warmth of a snowcoach. Or simply cozy up with a good book in front of a lodge fireplace.
Here are some tips for getting the most out of this often overlooked and underrated season in America's first national park:
Winter Wildlife Watching
Yes, bears take to their dens for a long winter's nap, but other Yellowstone denizens are up and about. Moreover, they can be easier to spot, thanks to their heightened contrast against a blanket of pristine snow. Plus, their frozen footprints make animals easier to track.
Tips:
A premier viewing spot is Lamar Valley in the park's northern region. You'll also find serious wolf watchers here along the roadsides behind powerful spotting scopes. Watch for bison herds trudging through the unfettered landscape, their breath steamy in the frigid air. Bison often convene near the park's thermal features for an impromptu steam bath.
As in other seasons, wildlife is most active at dawn and dusk.
Stay at least 25 yards away from bison, elk, and pronghorn, and 100 yards or more from wolves and bears. (During warm winters, bears have been spotted as early as February.)
Most park roads close to regular traffic during the winter (usually from early November to early April). If you do drive outside the park or on the one park road that's open to private vehicles from the north entrance in Gardiner, MT, through the Northern Range of Yellowstone to Cooke City, MT, make certain your vehicle is equipped for winter conditions. And slow down: Bison and other wildlife often take to the pavement.
It's easy to go car-free in winter. Snowcoaches shuttle visitors between Old Faithful Snow Lodge and Mammoth Hot Springs and venture into territory beyond on guided adventures. We also offer bus transportation in the winter from Bozeman International Airport (BZN).
Pack essentials, such as binoculars; a foam-rubber mat to stand on and prevent the cold from penetrating your soles; a thermos filled with a hot beverage; and food to fuel your wanderings.
Photo Safaris
Yellowstone's dramatic landscapes become all the more breathtaking against winter's icy backdrop, when the muted light brings an ethereal quality to photos.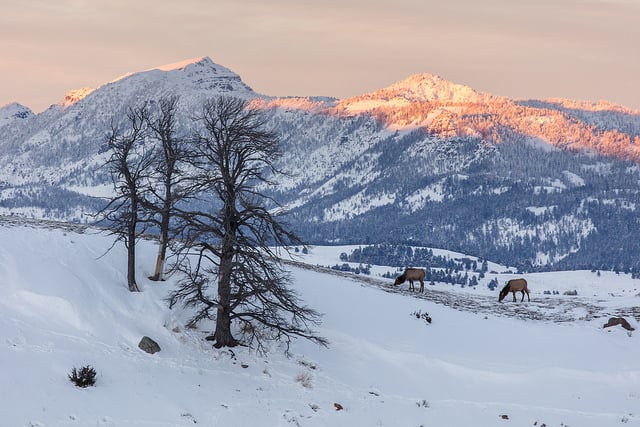 Tips:
The pros get out early to take advantage of the morning's dramatic light.
Leave the details to the experts by booking an all-day Winter Photo Safari from Old Faithful Snow Lodge that goes along the Firehole and Madison River corridors. Instruction and lunch are part of the tour.
Dress in layers and wear warm boots with thick soles. Consider wearing thin, rubber-tipped gloves while shooting and slip a pair of mittens over them afterward.
Keep your camera cold and your batteries warm. If your camera is warm the lens will fog up when cold air hits it. Batteries drain more rapidly in cold weather, so tuck extras (along with mobile devices) in a pocket or other warm place.
Protect your camera lens when visiting geyser basins; silica in thermal features bonds to glass and plastic.
Snowshoeing
The simple, yet efficient, snowshoe enables you to glide effortlessly over untrodden paths without getting mired in snow. It's a wonderful way to experience off-the-beaten-path spots. A bonus: it's easy. If you can walk, you can snowshoe.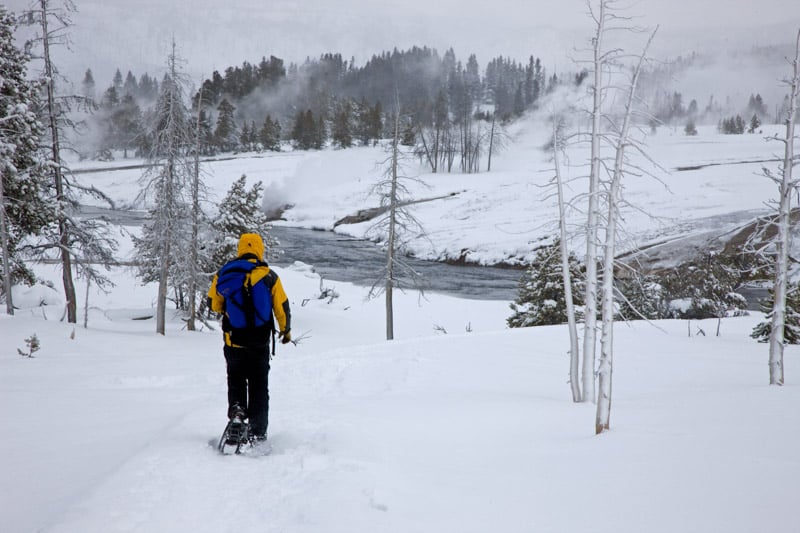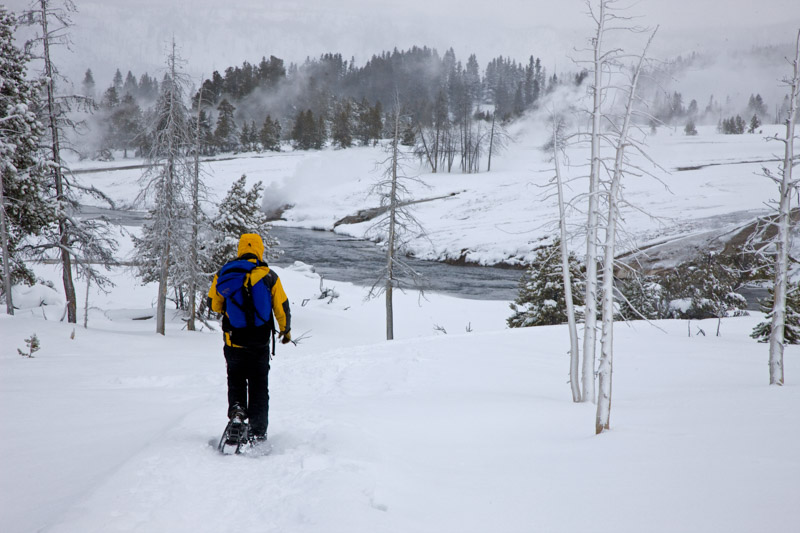 Tips:
Join like-minded souls on an Old Faithful Snowshoe Tour. The three-hour trek maintains an easy pace on mostly flat terrain, and ventures into forested wonderlands and along the Firehole River. Or rent a pair of snowshoes at Mammoth Hotel or Old Faithful Snow Lodge and go it on your own or with a ranger-led hike.
Dress in layers so you can shed outerwear as you warm up. Moisture-wicking fabrics such as silk, wool, and some synthetics, are best.
Bring plenty of water.
Gators — waterproof leggings worn over the lower pant legs — prevent snow from getting into your boots. You can even rent a pair in the park.
Sunscreen — even on cloudy days — is essential. So are sunglasses.
Protect your phone by tucking it into a waterproof case that allows you to take pictures through the plastic.
Carry a foam rubber pad to sit on.
Follow proper trail etiquette and only snowshoe on dedicated  paths. Do not break or walk on cross-country ski tracks.
Skiing
With a variety of groomed ski trails for all ability levels, Yellowstone is a paradise for cross-country aficionados.
You can download helpful National Park Service maps online, but before setting out, check-in at the Bear Den Ski Shop at Mammoth Hot Springs Hotel or Old Faithful Snow Lodge for current conditions. The shops rent ski gear and you can even book a lesson.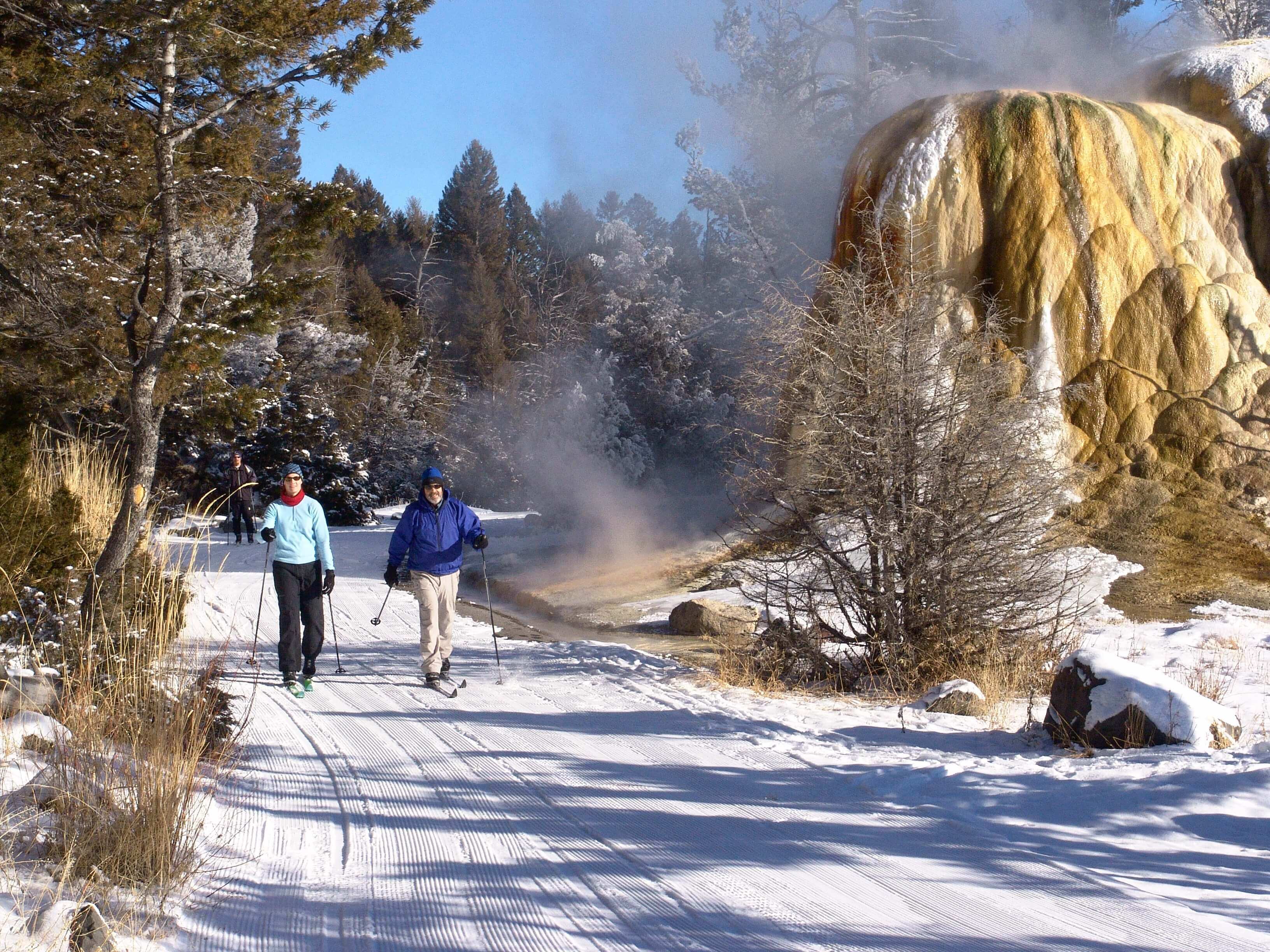 Tips:
Geyser Gazing
These geothermal dynamos appear even more stunning in winter. Ice formations on nearby trees and manmade structures add to the otherworldly setting. You can even get a sauna effect by standing in their steamy wake. (Remember to protect your camera and glass lenses from the spray.)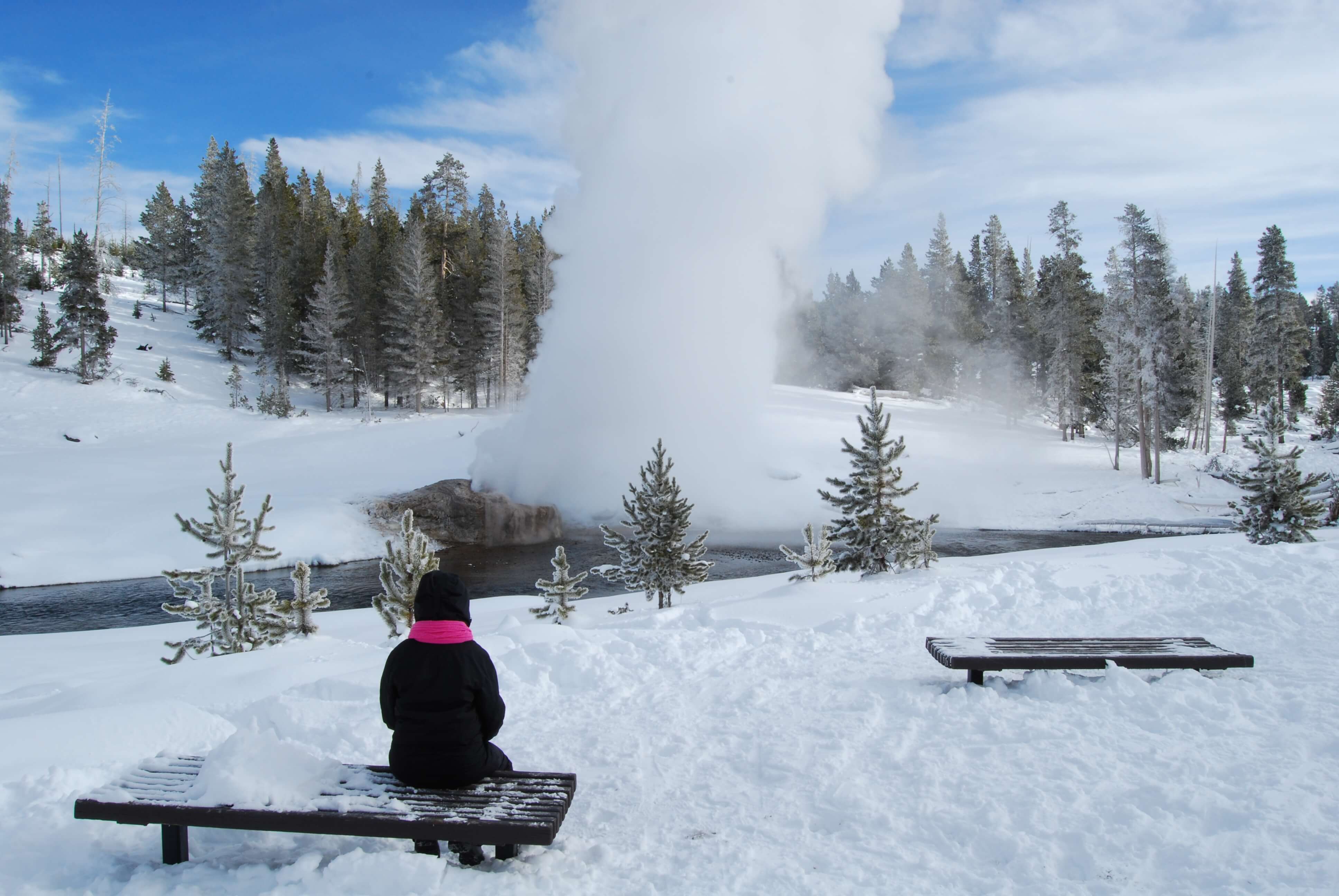 Tips:
Check with the NPS for updated predictions for when eruptions are expected.
Bring a pad to sit on while you wait for the show.
Ice Skating
Yellowstone has two outdoor rinks — at Old Faithful Snow Lodge and Mammoth Hot Springs Hotel.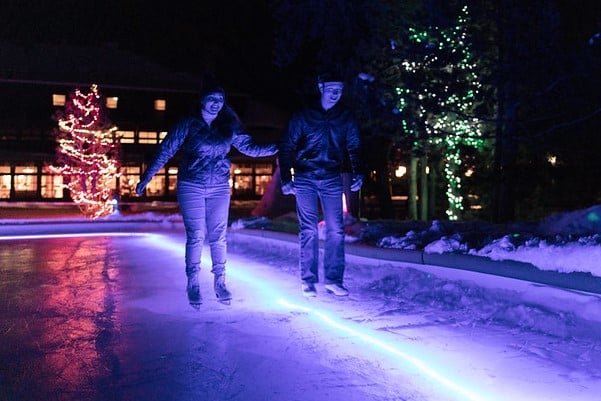 Tips:
Ice time is free, and if you're a hotel guest, skates are complimentary.
Work up an appetite for dinner by taking an evening whirl around a lighted rink.
Snowcoach Touring
Sit back and enjoy the ride as an expert takes the wheel in one of the park's specially equipped snowcoaches. The drivers know the lay of the land and are on the lookout for wildlife and other features you might miss on your own.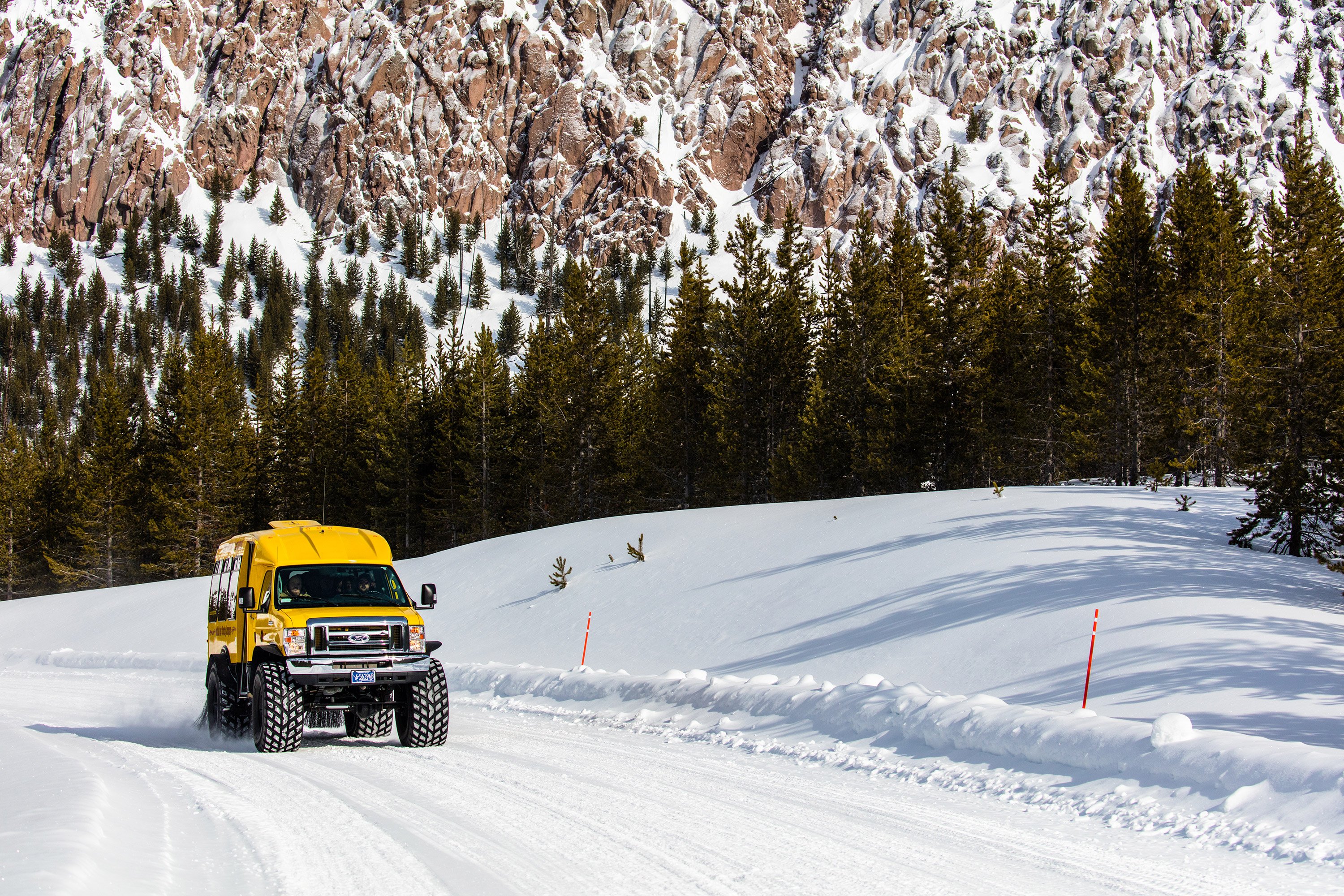 Tips:
Bring your camera. The coaches' panoramic windows are photo-friendly.
Pack a small bag with snacks, drinks, and other essentials.
---
Washington, DC-based freelance writer Jayne Clark has been a travel reporter at USA TODAY and several other daily newspapers.
20171130
For A World of Unforgettable Experiences® available from Xanterra Travel Collection® and our sister companies, visit xanterra.com.

Want to experience Yellowstone in-depth? See what makes Yellowstone National Park a great place to work for a season or longer!
---