Where to Stay in Yellowstone
Whether you want to camp, connect with history, play cowboy, or get cozy in a cabin, Yellowstone has it. You can also sleep where a couple of U.S. presidents did. Here's a guide to the various lodging options in Yellowstone National Park.
Icons
In a park as iconic as Yellowstone, its iconic properties aren't all courtesy of Mother Nature. Historic architecture holds its own against the stunning natural landscape. Take the coveted rooms at the 120-year-old Old Faithful Inn, for example. Visitors make reservations up to a year in advance so they can marvel at its seven-story lobby, which has a fireplace and an 82-foot tall chimney made from 500 tons of rhyolite.  The Inn is credited as the inspiration for rustic national park architecture.
Near the Tower Fall area, at Roosevelt Lodge, the smallest property in the park with only 80 cabins, the iconic experience is sitting in a rocking chair on the front porch of the main lodge, which was built in 1920. "As hard as it is to get a cabin at Roosevelt Lodge, it's harder to get a rocking chair," says Rick Hoeninghausen, the sales and marketing director for Yellowstone National Park Lodges and, in 1987, the manager at Roosevelt.
Opened in 1891 near Yellowstone Lake, the Colonial Revival-style Lake Yellowstone Hotel isn't only the oldest operating lodge in Yellowstone but also in any U.S. national park. Designated a National Historic Landmark in 2015, it features distinctive massive white columns at the entrance while located on the shore of Yellowstone Lake.
At the park's north entrance, Mammoth Hot Springs Hotel, one of only two properties in the park open in both winter and summer, is home to the Map Room. Here you can see a map of the U.S. made from 15 different species of wood from nine countries. This hotel is also iconic for the herd of elk that often graze just out its front door.
Hidden Gems
While the park's most popular properties require serious advance planning, some lodges and cabins are less well-known and more easily booked. Did you know, for example, that there are three places to stay at Old Faithful? The historic Old Faithful Inn gets all the attention, but also within walking distance of Yellowstone's most famous geyser are Old Faithful Snow Lodge, built in 1999 and open in summer and winter, and Old Faithful Lodge Cabins.
Maybe because it's the southernmost lodging in Yellowstone, Grant Village is sometimes overlooked. Home to 300 rooms divided equally among six buildings, Grant Village is usually the last area to book up. For visitors who want to explore both Yellowstone and Grand Teton National Park, Grant's location is ideal; the northern entrance of Grand Teton National Park is only a 30-minute drive away.
Presidential
While nine U.S. presidents have visited Yellowstone, there's only one presidential suite in the park, at Lake Yellowstone Hotel. This two-bedroom suite with partial views of Yellowstone Lake hosted President Calvin Coolidge in 1927.  Jimmy Carter also visited and stayed in a lake-side room.  Although Lake Hotel was extensively renovated in the early 2010s, one thing that wasn't touched was Carter's signature on the wall of its employee pub. When he and Rosalynn stayed there in 1993, employees opened the pub early just for Carter's party. As thanks, he autographed the wall.
Old Faithful Inn has also been popular with presidents and their families: President Harding and his wife stayed here in 1923, Coolidge and his wife and son did on their 1927 vacation to the park, and, more recently, First Lady Laura Bush stayed at this iconic inn in 2002.
Although Roosevelt Lodge is named after President Theodore Roosevelt, he never stayed there; he did, however, camp nearby during his 1903 visit to the park. Want to follow presidential footsteps even further? Go fishing. Both Coolidge and Carter hired guides to take them angling in the park.
Rustic
Want to stay in a simple, downhome cabin in Yellowstone? Old Faithful Lodge Cabins includes a log-and-stone main lodge built in the 1920s and now home to a bakery and cafeteria-style food court, surrounded by 96 cabins for guests, 62 of which have private bathrooms (the other cabins share communal bathrooms and showers).
At Lake Lodge Cabins, within walking distance from Yellowstone Lake, 183 cabins cluster around a historic log lodge. Settle into one of the rocking chairs on the lodge's front porch and lose yourself in inspiring views of the lake.
Near Tower Fall and the Lamar Valley Roosevelt Lodge's 80 cabins come with cowboy spirit, including a corral from which you go horseback riding, the opportunity to ride in a historic stagecoach and an Old West dinner cookout.
Sleep Under the Stars
 If you want to go even more rustic, Yellowstone's 12 campgrounds boast more than 2,000 sites. In summer, whether camping in an RV or a tent, all of these require advance reservations. Five — Fishing Bridge (the park's only campground with electricity and hot running water), Bridge Bay, Canyon, Grant Village, and Madison — are run by and reserved through Yellowstone National Park Lodges. The other seven campgrounds —Norris, Tower Fall, Slough Creek, Pebble Creek, Mammoth, Indian Creek, and Lewis Lake — are reserved via recreation.gov and offer a more intimate and less amenity-rich camping experience (think vault toilets and fewer than 100 campsites).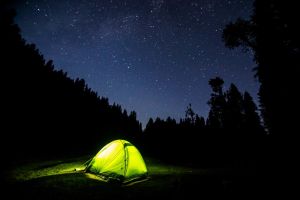 New and Improved
Over the last decade, more than $350 million has been invested in refurbishing existing lodges and building new ones in Yellowstone. It took three years and $30 million to remodel Mammoth Hot Springs Hotel, which is one of only two properties in Yellowstone open in both summer and winter. Built in 1911 and added on to in 1936, it was remodeled in 2017, with the shared bathrooms and clanking radiators replaced with historically accurate wood finishes and larger rooms (each of which now has its own bathroom).
In 2014, the historic Lake Yellowstone Hotel underwent a multi-million-dollar interior renovation to all its guest rooms, dining room, bar, and public spaces, as well as a redesigned deli.
Canyon Village is home to Yellowstone's five newest lodges — Washburn, Rhyolite, Hayden, Chittenden, and Moran — giving this area the most accommodations in the park with more than 500 rooms and cabins. All of these were built between 2014 and 2016 and four earned LEED (Leadership in Energy and Environmental Design) Gold certification from the U.S. Green Building Council. (The fifth earned Silver.)
RVers have the Fishing Bridge Recreational Vehicle Park, which reopened in May 2022 after a three-year renovation. Fishing Bridge now has sites for RVs up to 95 feet long and water, sewer, and electric hook-ups to each of its 310 sites.
Old Faithful Lodge Cabins include 39 cabins that were recently completely refurbished. Sixty-six of the 186 historic Lake Lodge Cabins are currently being refurbished and slated to be completed by the fall of 2023.
Written by: Dina Mishev, editor-in-chief of Jackson Hole magazine.
For A World of Unforgettable Experiences® available from Xanterra Travel Collection® and our sister companies, visit xanterra.com.

Want to experience Yellowstone in-depth? See what makes Yellowstone National Park a great place to work for a season or longer!
---