Romance in the 'Stone
It's a tale as old as time: one person meets another, things click, sparks fly and a romance is born.
Being in the right place at the right time is one of the most important aspects of finding love, and Yellowstone National Park has proved to be that right place for many couples over the years.
Working in Yellowstone also can play a huge role in finding "the one". There have been many stories of couples who came together during their time working a single season, and bonded over their mutual love of the park.
So whether they met on a trip, fell in love working together or strengthened their bond in the park, here are a few of the many stories about romance in the 'stone.
Elise and Cody Lockner
It was 2003 when Elise first found herself working in Yellowstone. With the encouragement of a friend, she took a job as a room attendant at the Old Faithful Lodge, but her hard work quickly earned her a promotion to the porter position.
It was her love of adventuring that kept bringing her back to the park, where fate would bring her together with her future husband.
Cody wouldn't arrive in the park until 2007, but the two met and became fast friends.
"Cody was a Pub tender and I was the Housekeeping Manager," Elise explained of their meeting. "I would come to the pub after the softball games and get a pizza or a cheesy pretzel, and he was always working those days. That is how our friendship started and how we realized there was more there than just friendship."
The pair began dating the following year in 2008. As an avid lover of exciting experiences, Elise says going on Yellowstone adventures with Cody really helped them get to know one another.
"I didn't start becoming an avid hiker until Cody and I started dating," Elise elaborated.  "You learn a lot about the other person when you are going on adventures together. Hiking is one of the adventures that helped us to be supportive with each other. Sometimes, when you're hiking and you're just not feeling it, it helped to have that person help you get to the top. Since we spend as much time outside as we can while working in the park, those experiences, whether it be hiking, camping, kayaking have also taught us to be more patient and communicative with each other."
And all of those journeys led them to a proposal in 2013.
It was Elise's favorite Yellowstone holiday: Christmas, and the pair were working together in Canyon Village. Once she got off work, Elise and Cody went back to their dorm so they could exchange Christmas gifts: one of their beloved traditions together.
"I was opening my presents sitting on the bed and he was kneeling on the floor next to the bed seeming very nervous," Elise recalled. "I opened all my presents, and then went through the stocking, finding gummi bears, some socks – typical stocking stuffers, and then I found a wrapped box at the bottom of the stocking. He was looking at me with this sort of worried/nervous look on his face and he hadn't said anything for about five minutes. I unwrapped the box and knew what it was right away. I lunged at him to give him a hug and he asked me when we were hugging to marry him. Of course, I said yes."
Now happily married, Elise and Cody still work together year-round in the park as location managers at Old Faithful. She also said she never pictured Yellowstone National Park would be where she would find the love of her life.
"I am not a girl that plans her whole life out, so meeting the one person that I want to go on all my adventures with was very unexpected," she concluded.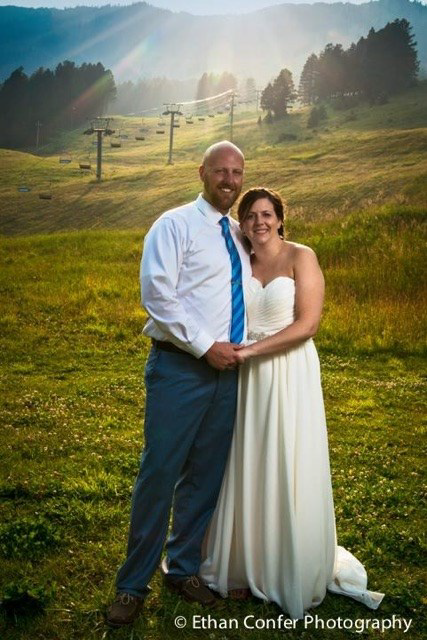 Betty and Woody Martyn
During the winter season of 1992, Betty Martyn worked the front desk at the Mammoth Hotel when she noticed a young man about her age who worked as a dispatcher– seemed to like spending time around the front desk as well.
"On New Year's Eve, we officially started dating at a party at the Two Bit Saloon in Gardiner; it was very, very romantic," Betty joked.
The next few years the couple dated while working in the park together, and in 1997 they got married.
Both Betty and Woody grew up worlds apart, but fate played a role in bringing them both to Yellowstone to close the gap.
"We like to say that I had to come here from Florida and he had to come here from New York, because otherwise, how else would we have met?" Betty asked. "We have enjoyed so many outdoor adventures together, especially in Yellowstone."
When asked if she ever expected to meet "the one" while working in the park, she responded with "absolutely not," but recalled a joke a good friend used to quip to her.
"One of my friends back in Florida said, 'you know what, Betty? Someday, I think you're just gonna come around a tree and there he's gonna be,'" she laughed.
It may have been a front desk instead of a tree, but Betty and Woody have lived and loved working in this park for 27 and 33 years, respectively. The irony is that both of them had originally intended to only work a single summer in the park. Both now work year-round for Xanterra.

Yellowstone may be one of the country's most isolated places, but it's certainly no stranger to love. The magic of Yellowstone has been bringing couples together since its birth in 1872, and that magic still lives on today.
These two couples are only a few examples of many more before them, and many more after them.
Karley Nugent graduated from the University of Louisiana at Lafayette with a major in journalism and a minor in English. During the summer of 2015, she worked as a Senior Guest Service Agent (GSA) at Lake Lodge in Yellowstone National Park. Nugent is a photographer, avid hiker and lover of all things Yellowstone, especially the Grand Canyon of the Yellowstone (look for her at Artist Point).
Join Our Team
---