Essential Bear Safety in Yellowstone National Park, WY
Yellowstone Bear Safety
Whether you're heading to Yellowstone National Park to go hiking, fishing, wildlife viewing, or simply to take photographs, it is critical that you carry bear spray (and know how to use it!) if you're exploring beyond the developed areas. The engaging National Park Service campaign, A Bear Doesn't Care, encourages Park visitors to carry bear spray and to get educated on bear safety.
Recent data collected by park researchers revealed that only 28% of visitors to Yellowstone's backcountry carry bear spray – a product that is more than 90% effective in stopping an aggressive bear. It's the most effective deterrent when combined with other best practices – being alert, hiking in groups of three or more, and not running if you encounter a bear.
You'll find the posters in retail outlets, ads in magazines, and images on social media that include local celebrities carrying bear spray while recreating in Yellowstone. The campaign features our long-term employee and winterkeeper, Steve Fuller, and the Yellowstone Association Executive Director and bear attack survivor, Jeff Brown – along with other celebrities– sharing the message that bear spray is essential for safety in bear country.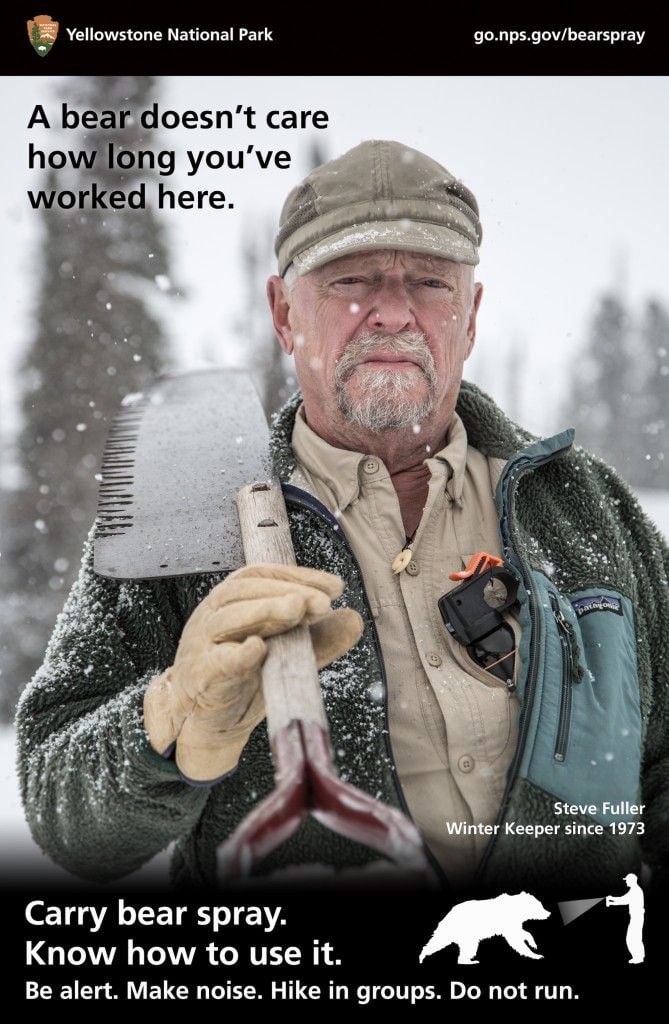 For more than 40 years, Fuller has cared for our lodges in the Canyon Village area while pursuing his photography. He is among only a handful of folks who remain year-round in the interior of Yellowstone. During the winter he maintains infrastructure and removes deep snow from the rooftops of hundreds of cabins and lodging facilities.
The campaign poster of Fuller features his image with the words, "A bear doesn't care how long you've worked here."
On the campaign poster of Brown, his image is featured above the words, "A bear doesn't care if you know what to expect." In 1986, before bear spray was available, Brown was attacked by a grizzly in Glacier National Park. On Brown's poster, his sleeve is rolled up to reveal a long maul scar.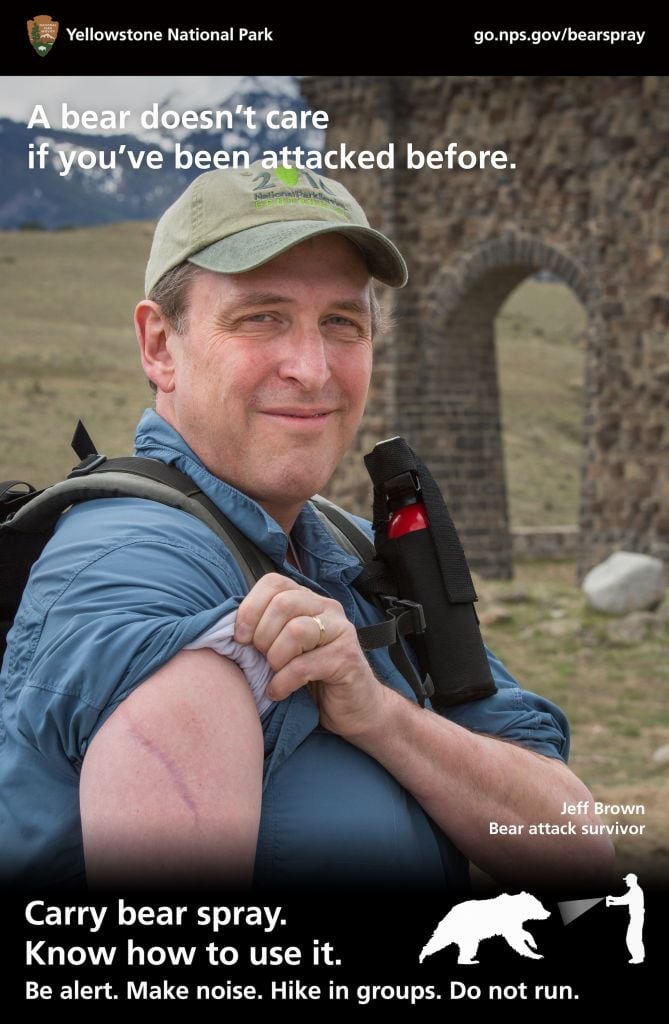 Campaign posters are available to view or download here.
Keep in mind that by carrying bear spray you are not only protecting yourself and your companions, but also contributing to bear conservation in Yellowstone by reducing potential bear-human conflicts. Just carrying bear spray doesn't make you immune from bear encounters either. The first line of protection is always your own appropriate behavior.
Learn how to use bear spray: Demonstrations are conducted by Park employees at Yellowstone visitor centers throughout the summer months. You can also watch a video and learn about how to use bear spray on Yellowstone National Park's website.
Where to get bear spray: You can now rent bear spray in Yellowstone. Bear spray rental kiosks are located in Gardiner, West Yellowstone, and Canyon Village. Be aware if you purchase the spray and are flying home, it cannot be checked, carried on, or shipped USPS. To recycle bear spray, stop by any hotel front desk, ranger station, camping store, or visitor center to learn more.
For more travel experiences to Beautiful Places on Earth™ available from Xanterra Travel Collection® and its affiliated properties, visit xanterra.com/explore.

Want to experience Yellowstone in-depth? See what makes Yellowstone National Park a great place to work for a season or longer!
---