How to Travel Sustainably: 12 Tips
Sustainability at Yellowstone
At Yellowstone National Park, we're proud of our sustainability efforts. As a visitor, you can help too! Sustainable travel is all about making simple choices to lessen any negative impact on your destination. So for those heading to Yellowstone, we've put together a list of sustainable travel tips to help make your visit to Yellowstone an eco and park-friendly experience.
Pass on Plastic
Help divert waste from landfills by packing a BPA-free reusable water bottle you can refill at water bottle filling stations throughout the park. Disposable plastic drink bottles are very hard on the environment, both in terms of their manufacturing process and their disposal in landfills. By bringing, or purchasing, a reusable water bottle you're making a huge sustainable impact. There are water bottle filling stations located throughout the park.
Our first water filling station eliminated the equivalent of 110,000 single-use disposable bottles in just two years. We have even gone so far as to remove all plastic bottled water from our operations and are only selling canned water now. That eliminates another 250,000 plastic bottles a year from the landfill.
Know Where to Toss Your Trash
In our guest rooms, lobbies, and throughout the park, you'll find waste stations where you can sort your waste into recyclables and compostables. This sorting process helps us divert over 60% of solid waste from the landfill annually and we can do even better with your help!
This Yellowstone Eco Map is a helpful guide to finding sustainable services and resources that are available in the park.
Don't be a Drip
Water is a precious commodity, especially in Yellowstone. Short showers, instead of baths, can save up to 10 gallons of water per person. Turning off the shower between the lather and rinse can save even more. Same goes when brushing teeth. Don't run the water while you're brushing, just when you're ready to rinse.
You can save even more water by reusing your towels each day, versus asking for new towels each day of your stay. If it's hanging, we'll leave it for you to reuse.
Pop Quiz: Is Yellowstone home to more bison or towels?
Answer: Towels! We stock 24,237 guest towels and about 4,000 bison live in the park. (And bison prefer to air dry.)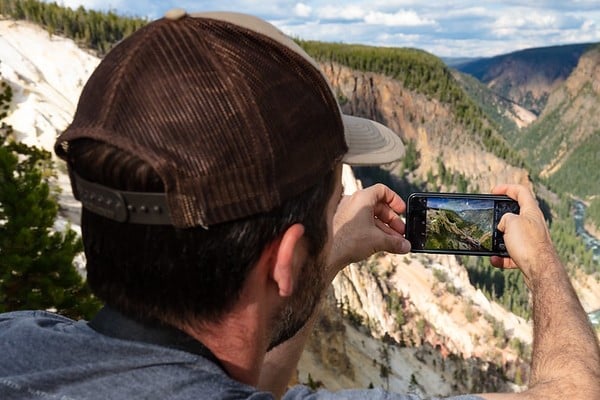 Take Nothing but Pictures
Yellowstone is packed with stunning scenery, captivating wildlife, and some of the world's most incredible natural wonders. The park is a dream destination for professional and amateur photographers alike. So, take as many photos as you like, but make sure that is all you take with you. Never remove anything from its natural setting, and always stay on the marked trails and walkways to avoid harming natural resources (and yourself).
And always practice safe selfies. Seriously, it's important to keep a safe distance from the park's wildlife, getting too close is very dangerous for both the visitor and the animal. Stay at least 100 yards (91 m) between you and bears and wolves. Stay 25 yards (23 m) away from all other animals. You should always be aware of your surroundings, never have your back facing towards animals and if an animal moves closer to you, move away and give them space. If an animal notices you and changes its behavior, you're too close! As well, you should always be aware of your surroundings and never have your back towards wild animals
Everyone who visits Yellowstone should be familiar with these safety regulations.
Leave Nothing but Footprints
Take bio-based plastic or paper bags with you to store your trash and try to pick up any garbage you see along the way. We all have to do our part to keep the outdoors beautiful! It can also help to protect wildlife that might eat or get tangled in the garbage.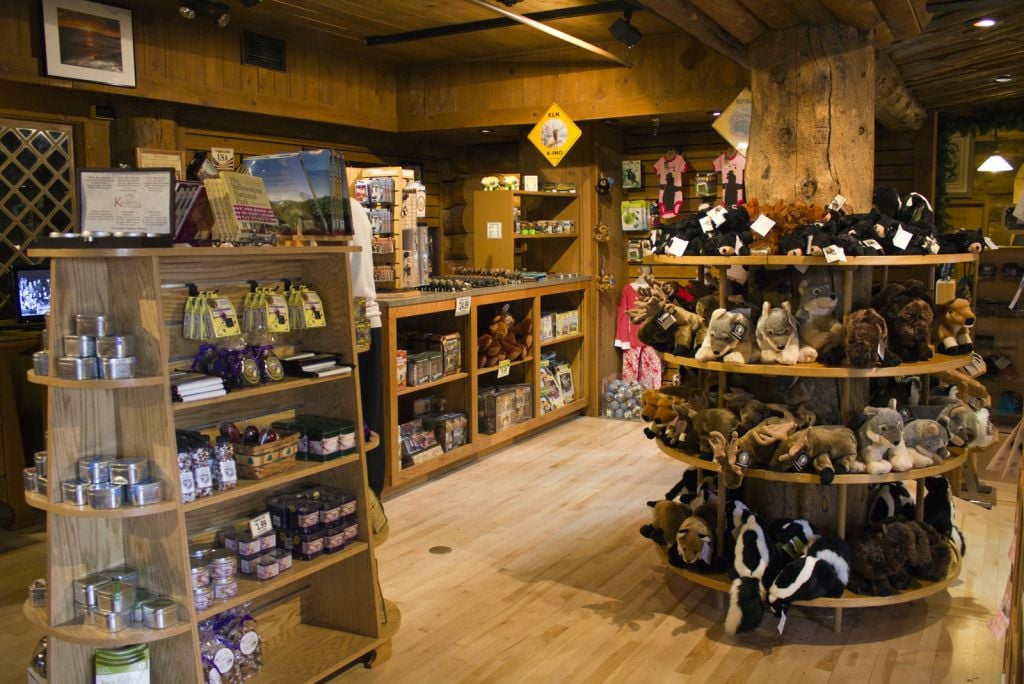 Give the Gift of Green
If you're planning on going shopping or picking up a few souvenirs from the Yellowstone area, take a reusable bag with you. Consider purchasing environmentally friendly merchandise, such as items made locally or regionally, from recycled or sustainable materials, and reusable products.
Chow Down
Fresh, local and sustainable cuisine tastes great, is better for you and the environment, and we serve it up in our in-park restaurants. In fact, about 60% of the food items we purchase are considered sustainable, and our goal is to increase that to 75% by 2025! But it's not just the food that matters. For example, our Mammoth Hotel Dining Room is the first 4-Star Green Restaurant Association certified restaurant in a National Park.
Don't be an Animal
Respect Yellowstone's wildlife—the park's wildlife has survived for thousands of years by living naturally on the bounty that this in-tact ecosystem provides them. They don't need chips or cookies to get by. Feeding wildlife (even birds and squirrels) is unhealthy for them, can eliminate their fear of people, and contribute to dangerous interactions with humans.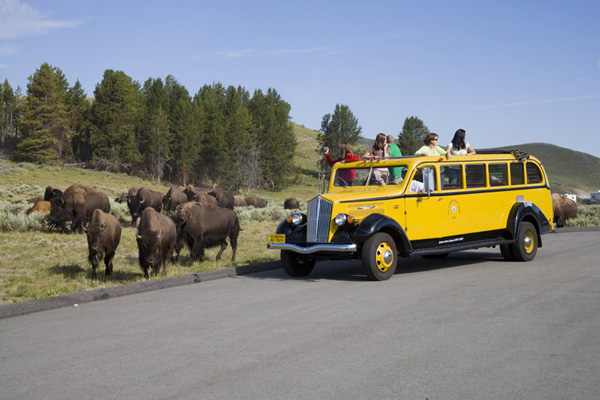 Leave the Driving to Us
Once you're in the park try to walk or bike as much as possible. Bike rentals are available at the Old Faithful Snow Lodge, and bike shop staff can help to provide you with expert guidance as to the best places to explore by bike, based on your interests and abilities.
Instead of driving your own car, consider taking part in a guided tour. It's more eco-friendly, and our knowledgeable park guides will turn the drive into an enjoyable and informative experience.
Avoid Idle Time
Every year in the US, idling motor vehicles costs Americans about $2.9 billion and generates 14.6 million tons of carbon dioxide. If you anticipate being parked for more than 10 seconds, (or are stuck in a wildlife jam or road construction) turn off your engine to save fuel, reduce maintenance, reduce emissions, and save money.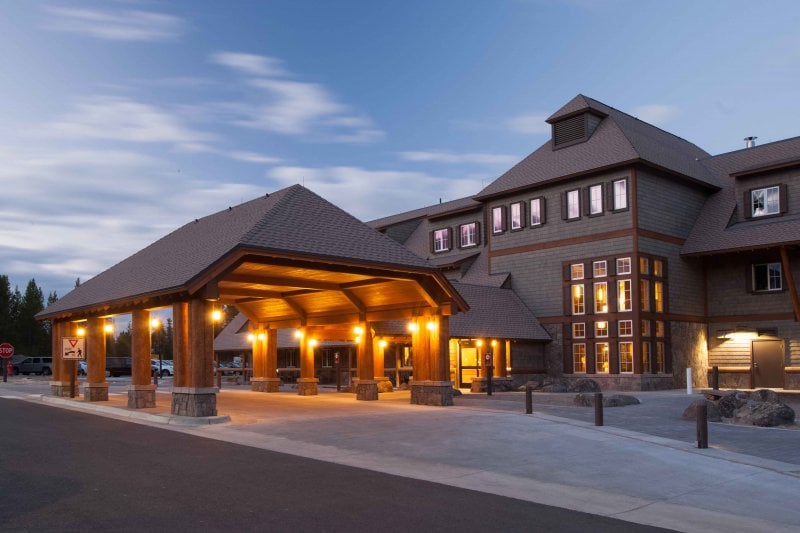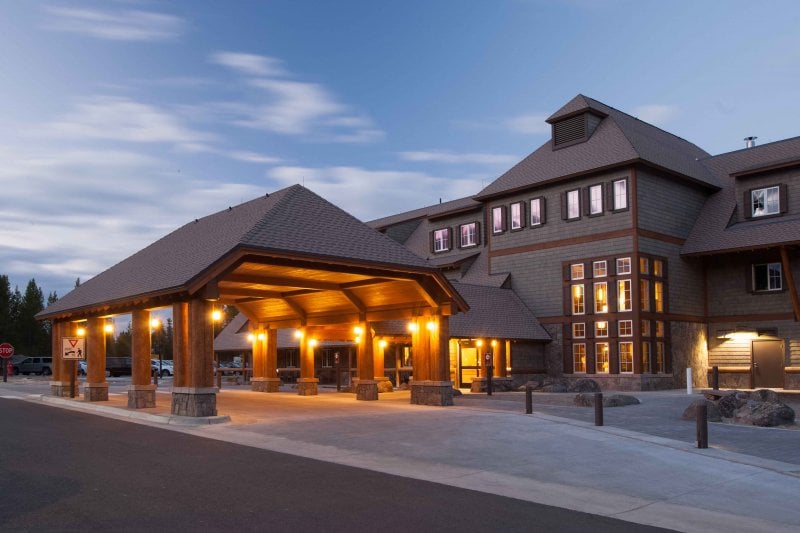 Sleep on it
The lodges at Canyon Village have received the United States Green Building Council's Leadership in Energy and Environmental Design (LEED) Gold and Silver certifications. They feature recycled or renewable materials, are energy efficient, and used building processes that eliminate waste. They were also named one of the 5 Hotels for the Eco-Conscious Traveler by the NY Times.
By incorporating these tips into your Yellowstone visit, collectively, we can make a huge difference in the protection of the land and incredible natural resources in the Yellowstone region for future generations!
For more travel experiences to Beautiful Places on Earth™ available from Xanterra Travel Collection® and its affiliated properties, visit xanterra.com/explore.

Want to experience Yellowstone in-depth? See what makes Yellowstone National Park a great place to work for a season or longer!
---