Water Lover's Guide to Yellowstone
Hit the Water in Yellowstone
Yellowstone National Park may be best known for its abundant wildlife and spectacular geothermal displays. But it also boasts plenty of recreational outlets off terra firma. From world-class fishing to scenic cruises, Yellowstone Lake has it all.
Situated at 7,733 feet (2,357 m) above sea level, Yellowstone Lake is the largest high elevation lake (above 7,000 feet / 2,134 m) in North America. It is roughly 20 miles (32.2 km) long and 14 miles (22.5 km) wide, with 141 miles (227 km) of shoreline and a surface area of 132 square miles (342 km2). The lake usually thaws in late May or early June. Yellowstone Lake remains cold year-round, with an average water temperature of 41°F (5°C). Because of the extremely cold water, swimming is not recommended. Yellowstone Lake has the largest population of wild cutthroat trout in North America.  [1]
Visitors seeking a water-based experience need only head to Yellowstone Lake. The massive, crystal blue beauty sports 141 miles of lodgepole pine-studded shoreline. Action central is Bridge Bay Marina, just three miles south of the park's historic Lake Hotel.
"A lot of people don't know we're here because we're tucked back away from the road," says Marina Manager Crystal Cassidy.
Though the water is a tad nippy for swimming, the marina offers a number of ways to experience the lake for a couple of hours, an entire day, or longer. They include: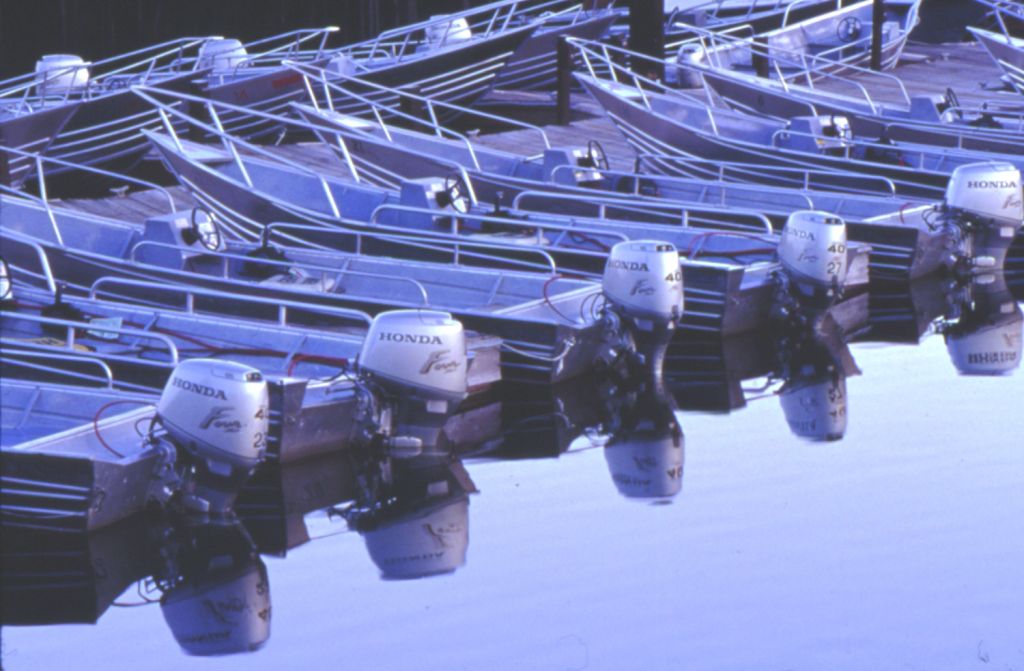 Rent a Boat
Enjoy the lake on your own with a rental boat. If you think Yellowstone Lake is beautiful from the shoreline, you'll really love being out on it. Rent a 40 hp/18ft motorboat for fishing, exploring and just plain fun. (Rental boat passengers must be at least 2 years old.)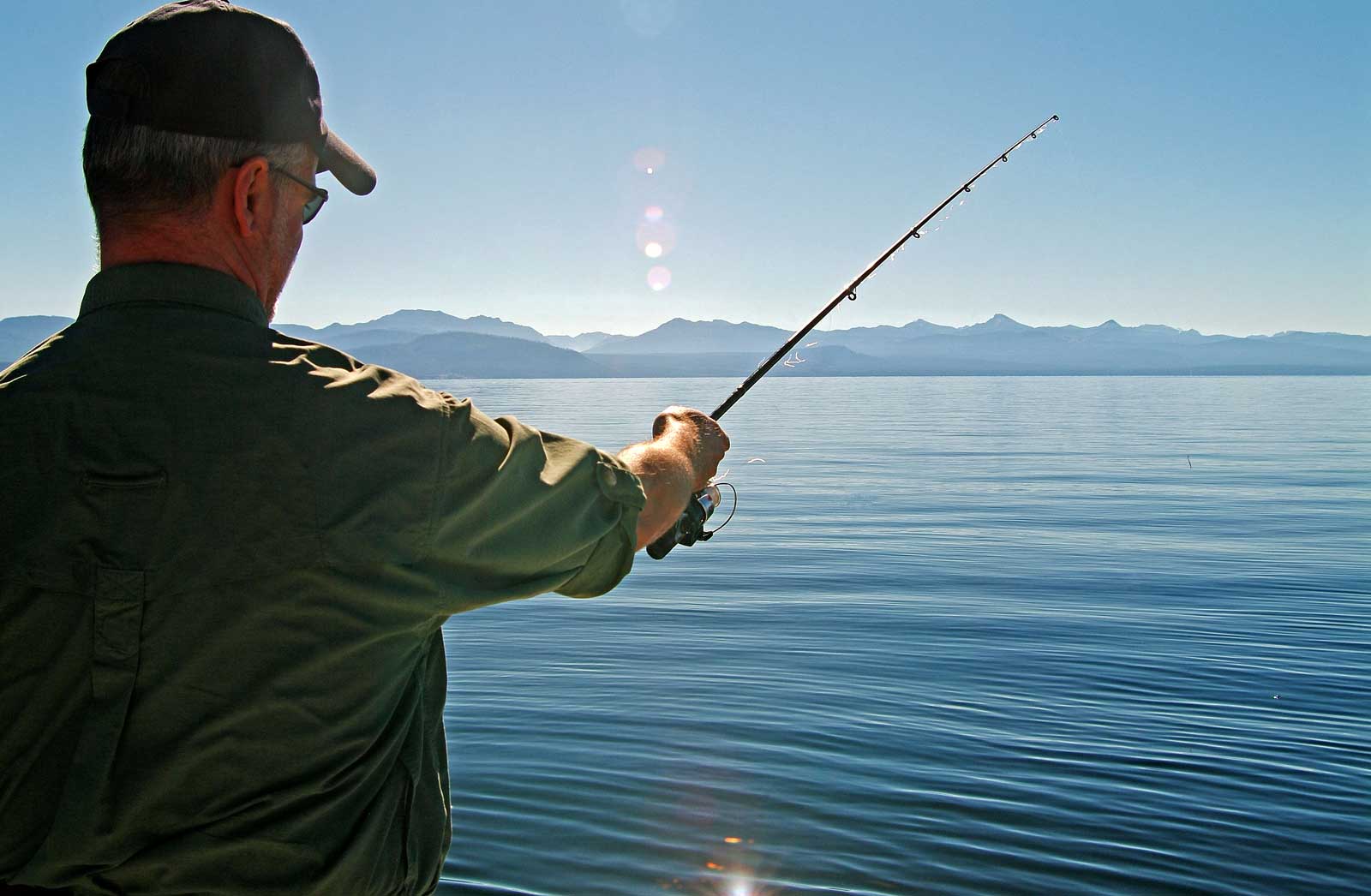 Go Fishing
The fishing in Yellowstone is regarded as some of the nation's best. At Yellowstone Lake, there's a catch-and-release rule for cutthroat trout. But you can catch as many non-native lake trout as you like, due to efforts to eradicate the exotic invasive species.
No experience is needed. "We get a lot of people who are trying it for the first time," says Cassidy. However, you will need a Yellowstone-specific fishing permit, available in the park.
Guided fishing charters (two-hour minimum) accommodate up to six people. Equipment is provided and your guide will even clean your catch. If you prefer to go out on the lake on your own, you can rent an outboard motorboat, but in this case, you must bring your own fishing equipment as none is available for rent in the park. Alternatively, you can fish on your own in Yellowstone's blue-ribbon fishing streams, though special regulations apply.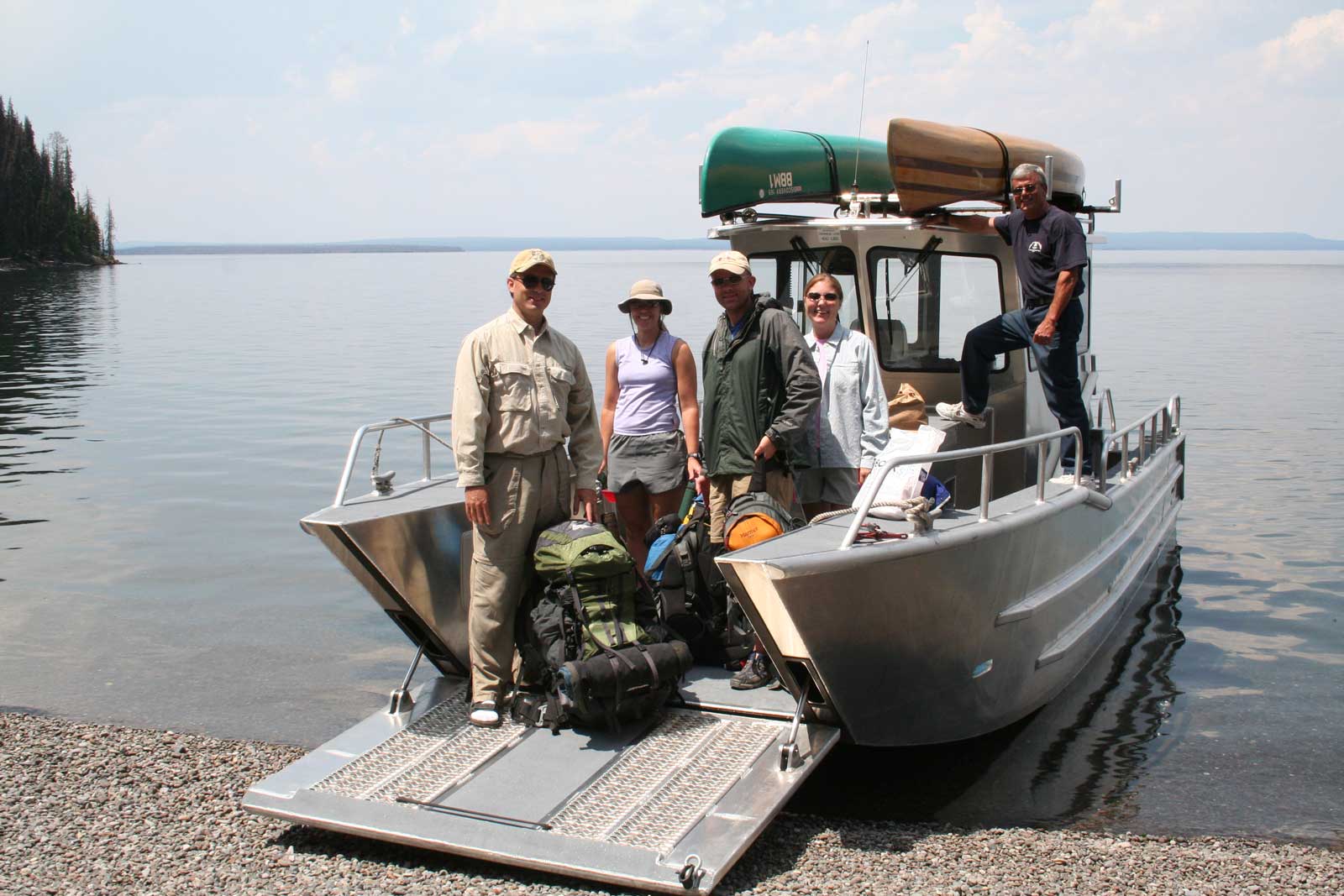 Shuttle to the Backcountry
For the truly adventurous, Xanterra runs a backcountry shuttle that ferries up to six passengers across the lake to some of the most remote spots in the Lower 48. A choice of five drop-off points is offered and you can even bring your own kayak on board. In addition, canoes are available for rent only with backcountry boat service so you can explore on your own after being dropped off by the shuttle.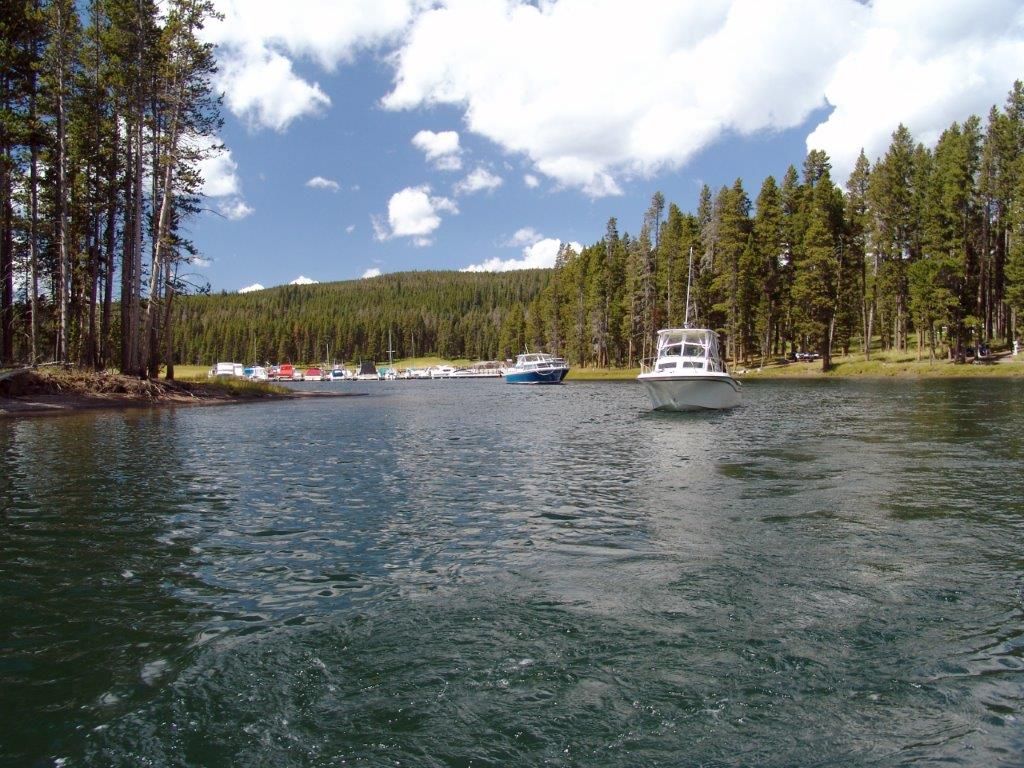 Rent a Dockslip
If you have your own boat,  and want the convenience of having it available whenever you're ready for a Yellowstone Lake experience, consider renting a dock slip at the Bridge Bay Marina. Choose from nightly, monthly, and full-season boat slip rentals. Boats up to 40 feet in length can be accommodated. There is non-ethanol gas sales and access to a sewage dump station.
Bridge Bay Marina offers non-ethanol gasoline and access to a free sewage dump station. Private boats require a permit from the National Park Service and an aquatic invasive species inspection prior to entering the water.
 Take A Scenic Cruise [Not offered in 2020]
The 41-passenger Lake Queen II plies the water on one-hour narrated tours. The route offers splendid views of the waterfront Lake Hotel. Built in 1891, it's the park's oldest lodging and, arguably, its most elegant. Also on the itinerary is Stevenson Island, where, if water levels cooperate, the wreckage of the steamship E.C. Waters is visible. In the early 1900s, the boat (licensed to carry 609 people) ferried passengers from stagecoaches to the Lake Hotel. But when the owner lost his operating permit, he abandoned the vessel near the island. In 1921, it broke loose from its moorings and ran aground, cracking the hull and causing it to sink.
Bird life, including eagles, can be seen on and around the island. Bison sometimes make their way there via winter ice. And bears have been known to swim to the spot.
The Lake Queen II is covered and (if necessary) heated, making it a good option on bad-weather days.
Park denizens recommend having an early dinner at the Lake Hotel before boarding the boat for an early evening cruise. Depending on the time of year, you'll be treated to a sunset over the lake.
Tours depart from 9 a.m. to 7 p.m. daily. National Park Service rangers narrate the first three outings of the day. Later tours are conducted by our highly knowledgeable guides.
Washington, DC-based freelance writer Jayne Clark has been a travel reporter at USA TODAY and several other daily newspapers.
For more travel experiences to Beautiful Places on Earth™ available from Xanterra Travel Collection® and its affiliated properties, visit xanterra.com/explore.

Want to experience Yellowstone in-depth? See what makes Yellowstone National Park a great place to work for a season or longer!
[1] https://www.nps.gov/yell/learn/nature/yellowstone-lake.htm
---