5 Myths About Yellowstone
yellowstone myths
As the country's first national park, Yellowstone has an almost mythical status in the American psyche. But myth and misconception often go hand in hand. We set the record straight on some common misconceptions about Yellowstone.
Myth #1: The park's bison are gentle creatures and pose no threat to humans.
Google "Yellowstone bison attack" and you'll find plenty of accounts of clueless visitors being gored, tossed or chased by these 1,400-pound creatures (bulls can even reach 2,000 pounds!). Bison are unpredictable and can sprint three times faster than humans. National Park Service rangers advise onlookers to stay at least 25 yards away from bison, and 100 yards from bears and wolves. Though they may appear docile, all Yellowstone's animal inhabitants are truly wild.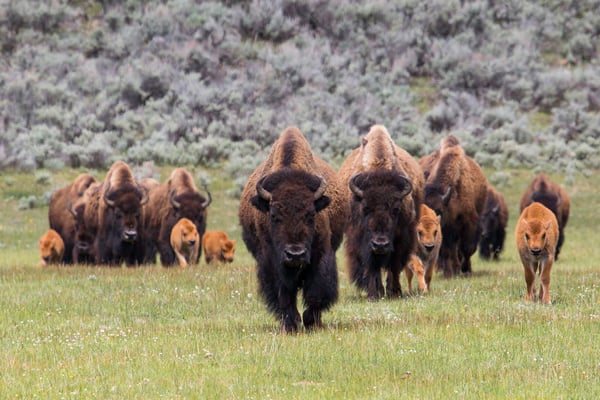 Myth #2: Yellowstone is closed in winter.
Not only is the park open for two and a half months of the winter, this "secret season" is a fabulous time to visit. Yes, it's snowy. Yes, it's cold. And yes, many of the park's roads are closed to private vehicles. But that's part of the attraction. Two lodges, Old Faithful Snow Lodge and the newly renovated Mammoth Hot Springs Hotel, are open for business from mid-December to early March. Winter activities, from cross-country skiing to ice skating, abound. Photography and wildlife watching are supreme. And a variety of tours in specially designed snowcoaches will keep you toasty and engaged.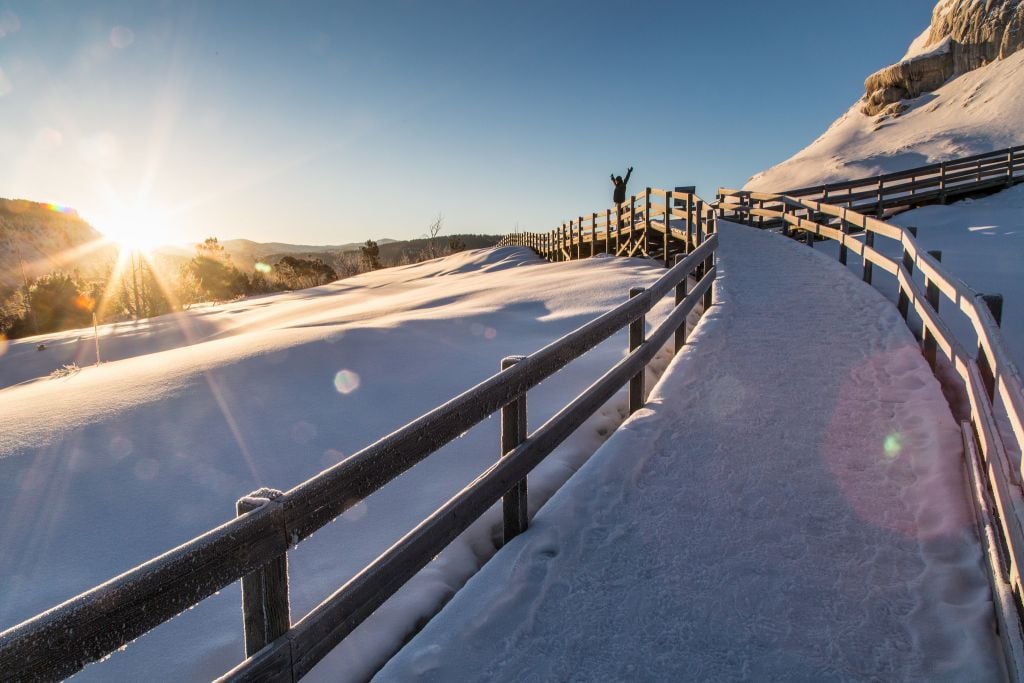 Myth #3: If you haven't booked a room up to a year in advance, you're out of luck.
Staying inside the park not only heightens the Yellowstone experience but given its vastness — 3,500 square miles! — it makes logistical sense. It's true that the park's most iconic lodges, like Old Faithful Inn and Roosevelt Lodge, fill up fast. But with more than 2,000 rooms in nine lodges within the park, chances are you'll find a place to lay your head, even without a lot of advance notice. May and June, and mid-August to mid-October aren't as busy as peak summer, July to mid-August. Beginning April 2022, the booking window for advance reservations will change to a 13-month rolling calendar. Specifically, on the 5th of each month, we'll begin accepting reservations for the same entire month of the following year.  And remember, cancellations do happen. So it's worth checking the booking website for updates.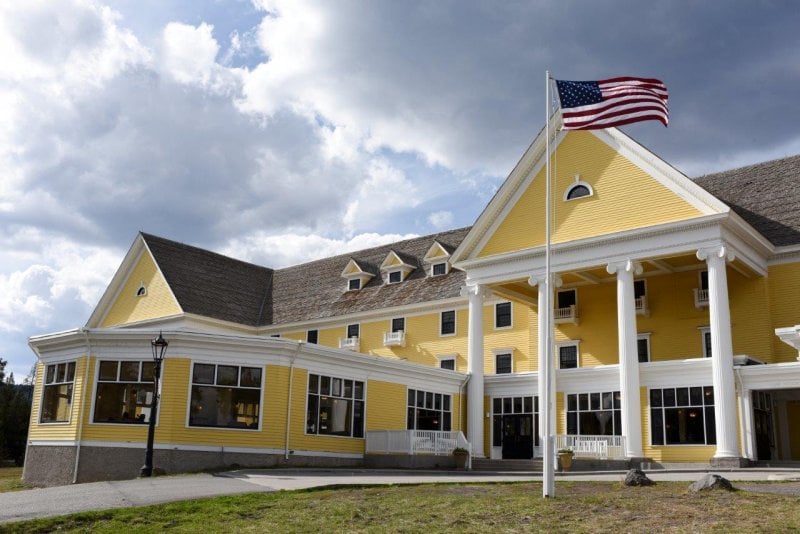 Myth #4: Old Faithful Inn is haunted.
Every grand historic hotel worth its salt has a ghost story. And this gabled lodgepole pine beauty has several. The most enduring is that of a headless bride wandering in the area of the Crow's Nest, where orchestras once played, her head tucked under her arm. A 1980s-era inn assistant manager admitted in a newspaper article that he had made up the story. "People always come in here and are always expecting a ghost story," he told the Deseret News in 1991.  "I made up that story about the woman without a head. I've heard people tell it back to me who I've never met, so it's made the rounds."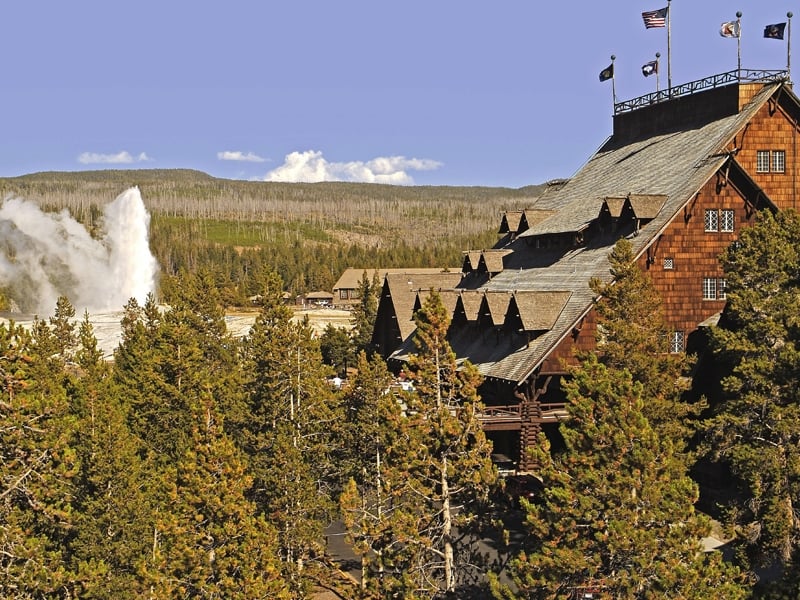 Myth #5: The idea for creating the first national park was dreamed up by early explorers sitting around a campfire.
Yellowstone's so-called "creation myth" has it that the Washburn party, a group of early explorers, sat one night in 1870 at the confluence of two rivers under the cliffs of the Madison plateau. Marveling at the ethereal beauty of their surroundings, they declared the area should be designated a national park. Historians who have pored over the explorers' diaries and other documents find no evidence of that. Still, members of the group were later instrumental in saving the region from being transferred to private ownership. In 1872, Yellowstone became the nation's first national park.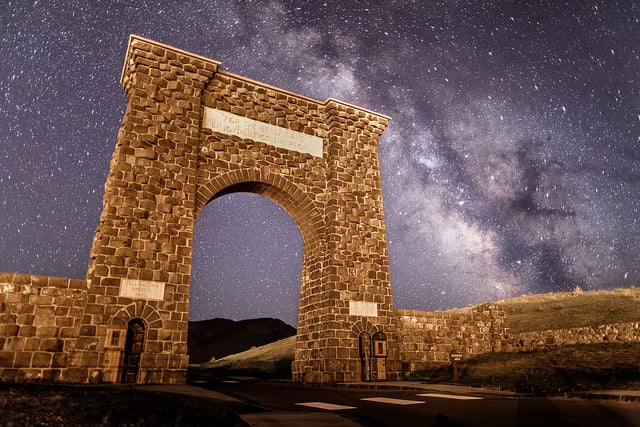 Washington, DC-based freelance writer Jayne Clark has been a travel reporter at USA TODAY and several other daily newspapers.
For more travel experiences to Beautiful Places on Earth™ available from Xanterra Travel Collection® and its affiliated properties, visit xanterra.com/explore.

Want to experience Yellowstone in depth? See what makes Yellowstone National Park a great place to work for a season or longer!
---