Recreating Responsibly in Yellowstone
#RecreateResponsibly
Five elements provide the foundation for the physical world: earth, water, fire, air, and space. Coming to Yellowstone National Park exposes visitors to all of those elements. Take inspiration from these building blocks of life and use them to have a memorable and safe vacation in Yellowstone.
Earth
Yellowstone is one of the country's most car-friendly national parks, with 310 miles (499 km) of paved roads in the park. Most of the biggest attractions can be seen from one of the park's two loop roads: the Lower Loop (96 miles) and the Upper Loop (142 miles).
Between the wildlife, elevation changes, construction, and fluctuating weather, it is crucial to follow the rules of the road. Number one is to drive cautiously and defensively. Follow the posted speed limits and keep an eye out for dangers in the road (like bison, elk, bears, or wolves). If you do see something worth stopping for, don't stop in the road. Use designated pullouts to avoid blocking traffic and damaging vegetation. Similarly, use a pullout if traveling slower than the speed limit and vehicles are stacking up behind you.
Yellowstone is also full of hiking opportunities with more than 15 miles (24 km) of boardwalk and 1,000 miles (1,609 km) of hiking trails. When leaving the car and walking the boardwalks or trails, make sure to stay on designated pathways. They are in place to keep visitors safe and protect wildlife habitats and the delicate landscape. Pay particular attention to closures. At various times throughout the year, a trail or area may be closed for safety reasons or resource protection. If traveling with a pet, be sure to always keep it leashed and know where it is allowed (and not allowed) to go.

Water
There are 290 waterfalls, 600 lakes and ponds, 1,000 rivers and streams, and more than 10,000 hydrothermal features in Yellowstone. All park thermal features can be classified as "look, don't touch." Not only are Yellowstone's hydrothermal features extremely hot, but many of them are also acidic. The lakes and rivers are cold and fast, and most are not suitable for swimming.
If water-based activities are on the agenda, be sure to "Clean, Drain, Dry." Following these steps before coming into the park or moving from one body of water to another will significantly minimize the risk of spreading aquatic invasive species.  An aquatic invasive species inspection is required if planning to use your own boat or angler float tube in Yellowstone.
Fire
Nature's cycle of burns and new growth is essential to the health and diversity of the Greater Yellowstone Ecosystem. For instance, cones produced by lodgepole pines, which make up nearly 80 percent of the park's forests, only release seeds when extremely high temperatures melt the resin sealing them.
Approximately 78% of fires are caused by lightning, and 22% are human-caused during fire season (July to the end of September[1]). No matter the time of year, it is always a good idea to practice fire safety. Before starting a fire, make sure to be aware of any fire restrictions or bans in the area. When starting a fire, be sure to use pre-existing fire rings and never leave a fire unattended. When done, take the time to put out the campfire completely. All these steps are critical to helping prevent wildfires.
Air
Clean air and clear views are one of the hallmarks of a national park vacation. Yellowstone and Grand Teton National Parks are among the 156 national parks and wilderness areas designated by The Clean Air Act Amendments of 1977 as Class I areas, requiring the most stringent air-quality protection within and around their boundaries[2].
Help keep Yellowstone pristine by practicing Leave No Trace principles. When recreating outdoors, there may not be access to trash cans or restrooms and waste will need to be disposed of properly, i.e., "Pack it in, Pack it out." This includes recycling and garbage as well as human and pet waste. Developed areas in the park offer bear-resistant receptacles for both trash and recycling. Bins for recycling and composting are located in our guest rooms, lobbies, and public areas. Remember, it is still considered feeding an animal if it can access food that is not stored correctly. Store food, garbage, or smelly items in a locked vehicle with windows rolled up, hard-sided camper, bear canister or bear box.
Space
Although Yellowstone has 2.2 million acres to enjoy, more than 2 million acres are managed as wilderness. The majority of the 4 million-plus yearly visitors to the park tend to concentrate in developed areas. This means that lodging and camping accommodations or parking at overlooks and trailheads may be full. When planning out an itinerary, have some alternate options in case of overcrowding. Check out our tips for some lesser-known experiences. It's always helpful to know before you go and have a plan, stay flexible in case last-minute changes impact an itinerary. Remember to pack your patience and be kind to park employees and other visitors; we are all here to enjoy the wonders of Yellowstone!
Just as humans desire space when recreating, so too do wildlife. Park regulations require everyone to stay at least 100 yards away from bears and wolves and at least 25 yards away from all other wildlife. When observing wildlife, use a telephoto lens, a spotting scope, or a pair of binoculars.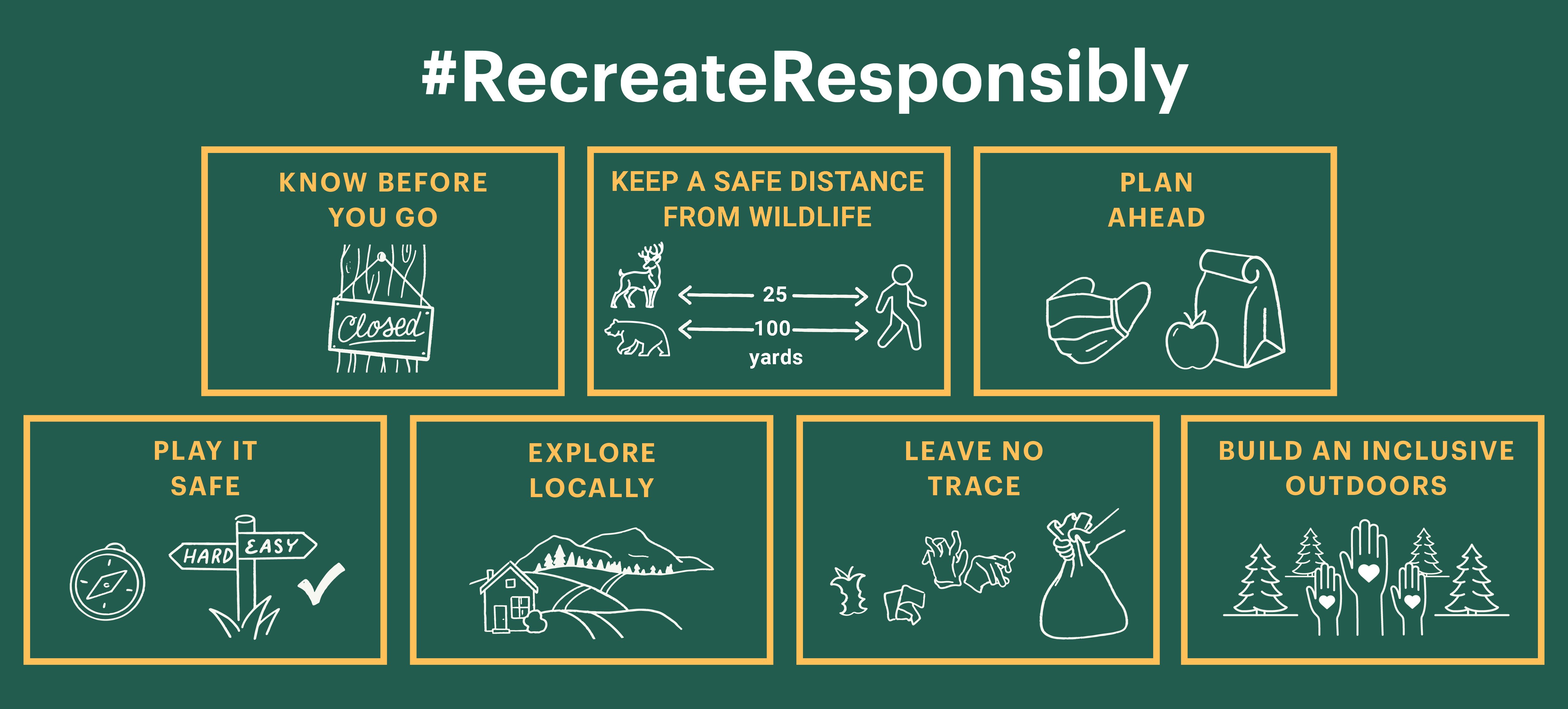 Exposure to the five elements is an essential part of any outdoor recreation vacation. Navigating all of them responsibly and safely will ensure that wildlife, hydrothermal features, and other park resources will remain "unimpaired for the enjoyment of future generations."
Learn more:
For A World of Unforgettable Experiences® available from Xanterra Travel Collection® and our sister companies, visit xanterra.com.

Want to experience Yellowstone in-depth? See what makes Yellowstone National Park a great place to work for a season or longer!
[1] https://www.nps.gov/yell/learn/nature/fire.htm
---