Romantic Spots in Yellowstone
romantic yellowstone vacation
Many of us know Yellowstone National Park as an iconic spot for family vacations. But fewer might recognize that it's also an ideal place for a romantic getaway — even in winter. Or maybe especially in winter.
That's when the pace slows. The snow cover imposes a hush on the boundless landscape. And horizon-hugging sunsets and sunrises are even more spectacular.
Here are some suggestions for a memorable getaway for just the two of you.
Take an Evening Spin Around an Ice Rink
Mammoth Hot Springs Hotel and Old Faithful Snow Lodge — the two hotels that remain open during Yellowstone's mid-December to early March winter season — both have outdoor ice rinks. There's no charge to use them and guests even get free skate rentals. Take a whirl under the stars, then retreat inside for a steamy mug of hot chocolate (or something stronger) and snuggle in front of a roaring fire.
Glide into the Backcountry
Yellowstone is a marvelous spot for cross-country skiing, with trails for every skill level.  You won't even have to tote your own equipment to the park, since ski rentals are available at both Mammoth and Old Faithful. Pack a lunch and a thermos of hot drinks, then set off on one of the frequent shuttles departing from Mammoth Hot Springs to the Indian Creek cross country ski trails. Another shuttle ferries skiers from Old Faithful Snow Lodge. Nearby is the Lone Star Geyser Trail, a serene, five-mile round-trip route that hugs the Firehole River. It's possible you'll see Lone Star geyser erupt once you arrive at the end of the trail — and maybe not another soul, making it a perfect private moment à deux.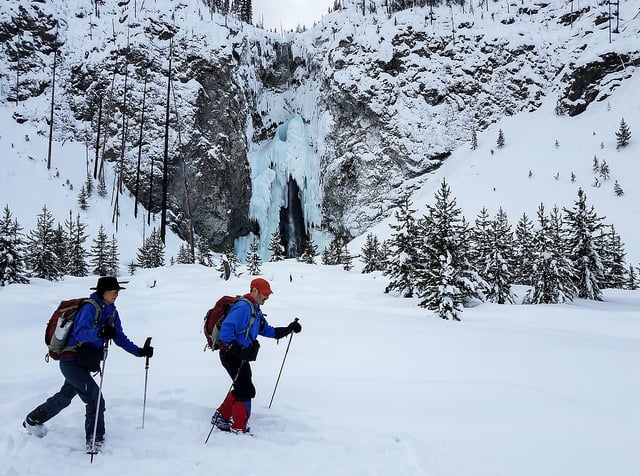 Stargaze from Atop a Travertine Terrace
Here's how one early visitor characterized the series of hot springs that cascade down a travertine hill a stone's throw from Mammoth Hot Springs Hotel: "No human architect ever designed such intricate fountains as these. The water trickles over the edges from one to another, blending them together with the effect of a frozen waterfall." After sunset, bundle up and take a stroll, hand-in-hand, along the boardwalks that wind among eye-popping geothermal features. Keep in mind that that the terraces are about a mile uphill from the hotel so be sure you're in good shape and bring a flashlight. But on clear moonlit nights — even those with half or quarter moons — the snow's reflection adds additional illumination to make the view of Old Faithful geyser magical. The only thing more dazzling is the sky full of shimmering stars, especially on clear moonless nights, with no light or air pollution to impair the view.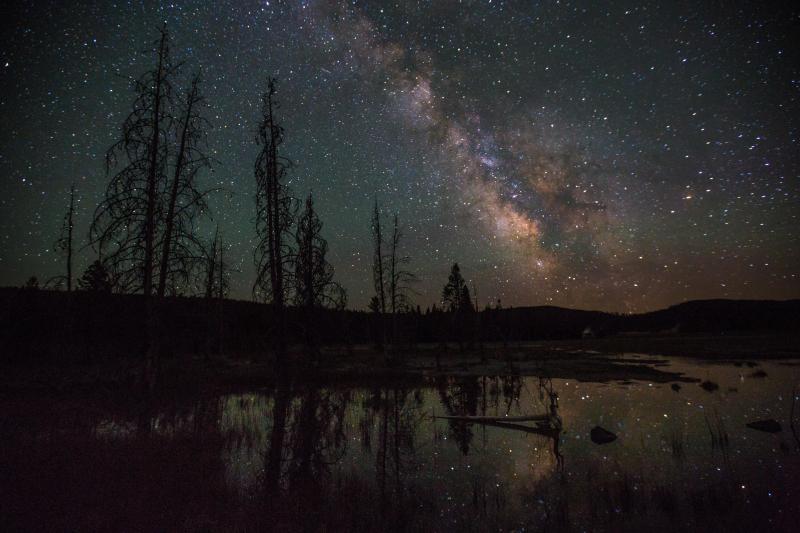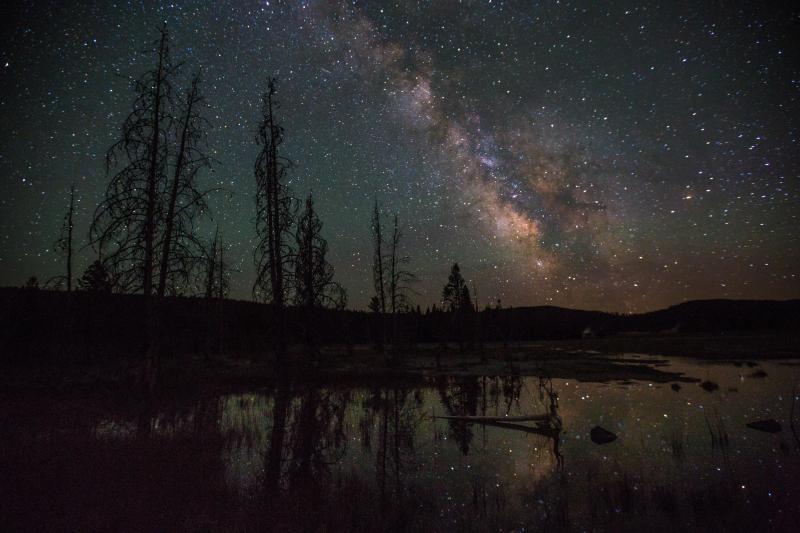 Warm-up near a Bonfire
What could be more romantic than a roaring bonfire? Enjoy the after-dark fires at both Old Faithful and Mammoth Hot Springs Hotel for a special moment under the stars. If you prefer to cozy up indoors, both hotels offer indoor fireplaces with comfortable seating. Warm-up even more with a hot beverage from the Firehole Lounge at Old Faithful or the Map Room bar in Mammoth.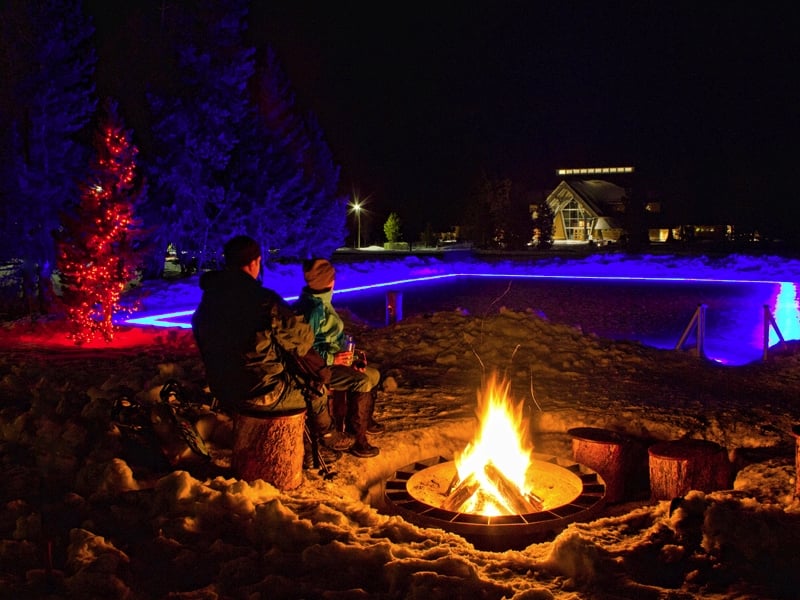 Check into the Historic Lake Yellowstone Hotel
The Colonial Revival lakefront beauty is arguably the most romantic of the park's lodgings. But it's only open from mid-May to early October. So book it now as a Valentine's Day gift for a summer visit, when you can sit in front of a panoramic window in its gracious Sun Room, order a drink, and watch the sunset with your honey. Or cuddle on a lakeshore bench in front of the hotel. Afterward, enjoy a meal in its elegant dining room. Locally sourced fare includes bison tenderloin from Montana and trout from Idaho. A tinkling piano or a string quartet enhances the ambiance during the summer.
The recent renovations of the public spaces at the Mammoth Hotel have contributed to an indoor atmosphere somewhat like the Lake Hotel Sun Room.  A new bar, new furnishings, and nightly live piano music make this a great place to spend time with a sweetheart after a day of exploration. If you're in the mood for some games, checkers and chess boards and pieces are available for a friendly competition.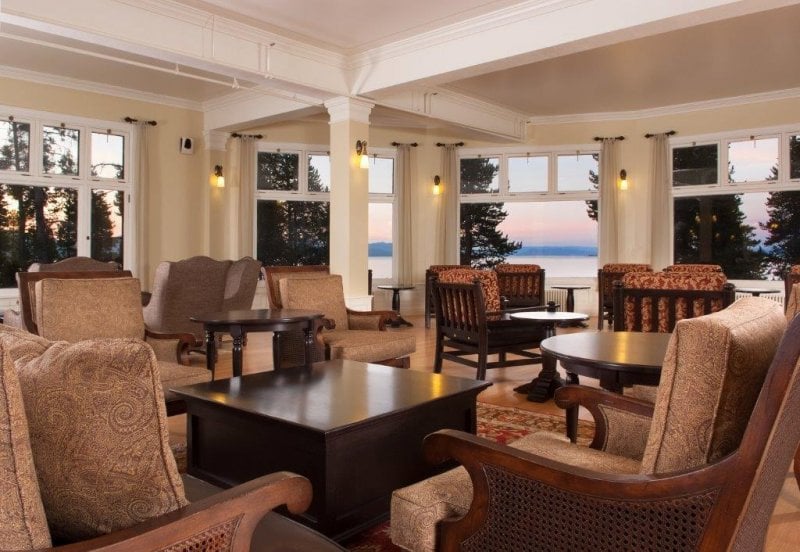 Get off the Beaten Path
Access to the interior of the park is restricted to oversnow travel from December to March. Getting off the beaten path in winter is as simple as strapping on a pair of trusty snowshoes (for rent at Mammoth and Old Faithful) and setting off into virgin territory. You'll likely have it all to yourselves. While Yellowstone does offer several miles of groomed trails, all unplowed roads and trails are open to cross-country skiing and snowshoeing. If you want a truly private experience, one of the snowcoaches can even be rented for private tours. Build your own custom winter adventure through Yellowstone National Park. Whether you prefer a leisurely morning, geyser gazing, wildlife watching, or skiing we can help you and your significant other create the perfect day.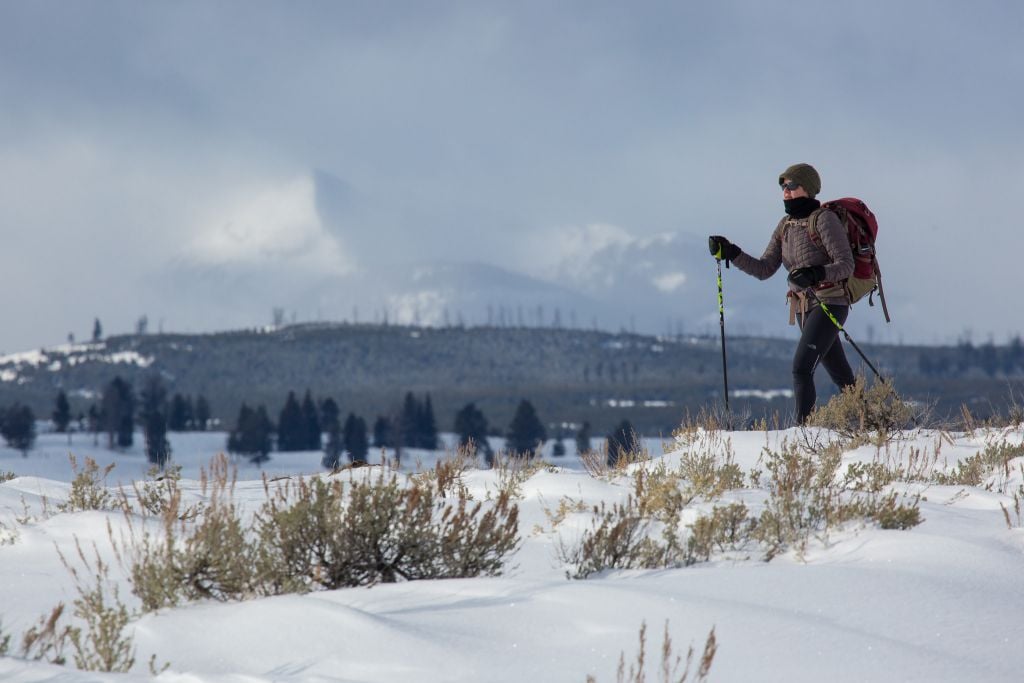 Washington, DC-based freelance writer Jayne Clark has been a travel reporter at USA TODAY and several other daily newspapers.
For more travel experiences to Beautiful Places on Earth™ available from Xanterra Travel Collection® and its affiliated properties, visit xanterra.com/explore.

Want to experience Yellowstone in-depth? See what makes Yellowstone Natioanl Park a great place to work for a season or longer!
---