3 Days in Yellowstone
With more than 3,500 square miles to cover, as well as countless breathtaking natural wonders and one-of-a-kind experiences, exploring Yellowstone National Park in its entirety in three days is an impossible feat. But with a little planning, 3 days in Yellowstone can be memorable and exciting, allowing you to pack a few days full of incredible sights and unforgettable discoveries. Here's how to make the most of your time in Yellowstone National Park if you've got three days to spend with us.
Spend a day…DISCOVERING THE HIGHLIGHTS
Yellowstone in a Day Tour (Full Day)  
The best way to discover Yellowstone when you're short on time? Sign up for the Yellowstone In A Day tour! Available during the spring, summer, and fall months, Yellowstone in a Day is a comprehensive, full-day adventure that covers the entire 142-mile Grand Loop Road, with stops at key locations along the way.
Don't forget to set your alarm, because this tour heads out to make the most of the day! Yellowstone in a Day tours depart bright and early from both Mammoth and Old Faithful Inn, so they're great choices regardless of whether you're staying in the northern or southern region of the park. Participants will see the legendary Old Faithful geyser, the magnificent Lake Yellowstone Hotel, the awe-inspiring Upper and Lower Falls of the Grand Canyon of the Yellowstone, Canyon Village, Mammoth Hot Springs, the colorful Fountain Paint Pots, and other stops as time permits. (Insider tip: if you decide to check out Old Faithful on your own, go early to enjoy the very best views before large groups arrive.)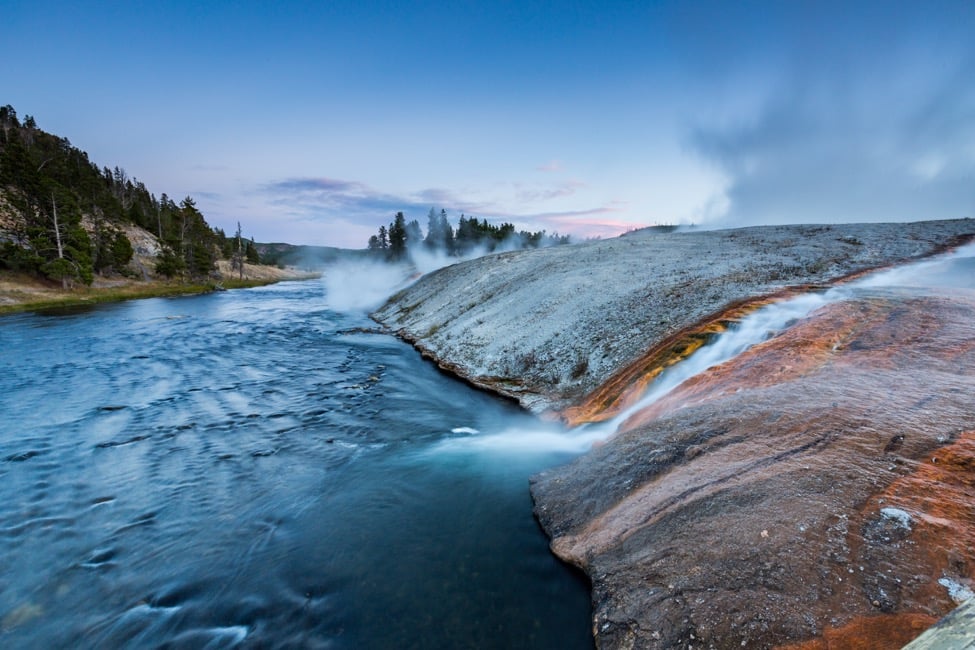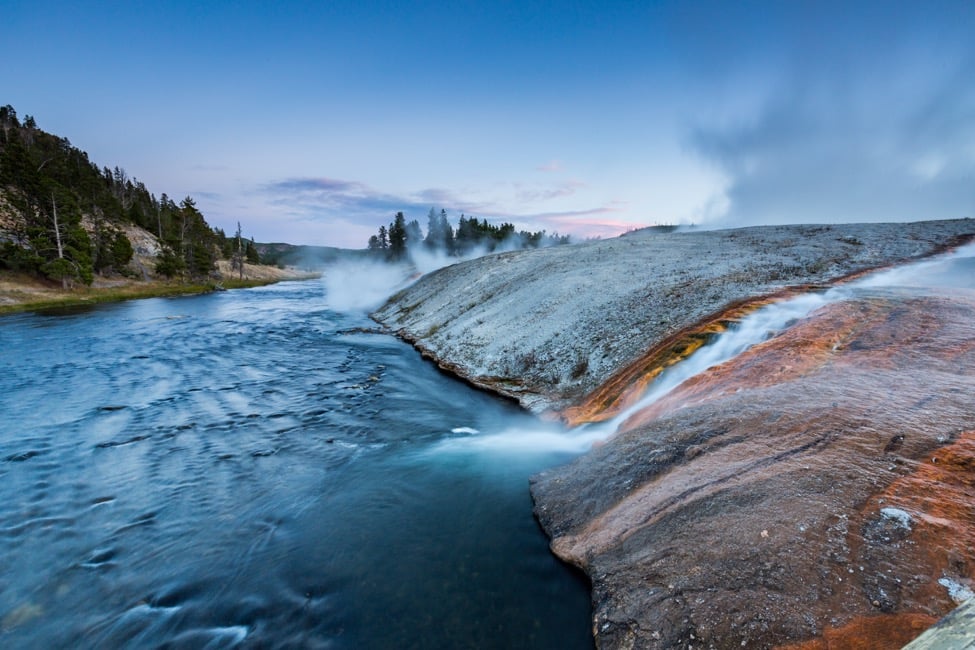 Your guide and driver will keep you informed along the way, and if you look closely, you might even manage to spot some wildlife! The Yellowstone in a Day Tour is recommended by guests as a "best first-day activity". And it's not just for quick visitors either: people who are visiting Yellowstone for longer durations enjoy the Yellowstone in a Day tour as a way to choose how to spend the rest of their vacation time based on what bits of the tour captured their interest the most.
Once your tour returns at 6:00 p.m., chances are you'll have worked up a healthy appetite! For guests staying at Mammoth Hotel, the Mammoth Hotel Dining Room serves locally sourced fare (think bison sliders, wild game meatballs, or mini trout tacos) in a casual setting overlooking the parade ground of the original Fort Yellowstone. You might even see grazing elk or bison from your dinner table!
Or refuel in the cozy, intimate Bear Pit Lounge at Old Faithful Inn, where etched glass panels inspired by the original wooden Bear Pit Murals create a warm and welcoming setting for a reflective chat at the end of the day. Full-service dining is also available in the Inn's restaurant.
But don't stay up too late – you've got a big day (and possibly an early start) tomorrow!
Spend a day…DISCOVERING WILDLIFE
Elk, bison, bighorn sheep, wolves – there are plenty of critters roaming the park that you'll want to see. The greatest concentration of wildlife resides within the Northern Range of Yellowstone, which includes Lamar Valley in the northeast corner of Yellowstone. In general, animals are most active during the early morning and early evening hours, which is why our guided tours take place during those time frames. And since you're operating on limited time, take the guesswork out of the best places to spot our wildlife by signing up for a guided tour.
If you're staying at Mammoth Hotel, Roosevelt Lodge, or Canyon Lodge, sign up for the Wake Up to Wildlife Tour and rest easy knowing you're in good hands! Yellowstone's expert tour guides are always in the know about where the park's animals are most likely to be hanging out.
Wake Up to Wildlife tours depart early – as early as 6:15 a.m. – so you'll want to make sure that alarm is set, but we promise it'll be worth it! Your tour group will board the Historic Yellow Bus, head for Lamar Valley, where wide, sweeping views allow for plenty of wildlife-spotting opportunities. Don't forget your camera! You'll return to your pickup point in time for lunch.
If you're not staying in the northern region of the park, consider the Picture Perfect Photo Safari tour. Departing bright and early from Lake Hotel and Old Faithful, you'll spend the morning touring wildlife-rich areas in the southern half of Yellowstone – and learning how to take postcard-worthy photos while you're at it.
Fuel Up
Casual fare is on the lunch menu at Yellowstone. Check out Canyon Lodge Eatery, where you can customize stir-fry or pasta dishes with fresh, sustainably sourced ingredients. End on a sweet note with a scoop of Montana-made Big Dipper ice cream at the Canyon Lodge Ice Creamery. Kick back at Roosevelt Lodge, located near one of Theodore Roosevelt's favorite spots in the park, with a distinctive Old West feel. Or pop into the Terrace Grill at Mammoth or the Old Faithful Geyser Grill for quick bites, like burgers, salads, and sandwiches.
Get In the Saddle
After lunch, why not explore Yellowstone the way they did centuries ago – on horseback? Daily organized horseback rides provide a fun and unique way to experience Yellowstone. Pick a starting point: Roosevelt, for a ride that provides gorgeous views of Pleasant Valley and Hellroaring Mountain, or Canyon, an easy ride through a series of open meadows and wooded areas. With a laid-back pace, these rides are ideal for beginner to experienced riders aged eight and up.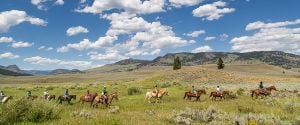 Old West Dinner Cookout
Now that you've got a taste for life in the saddle, why not keep the cowboy spirit alive and head out on an Old West-style cookout? Ride on horseback to Pleasant Valley or hitch a ride in a covered wagon if you're feeling a little saddle sore. Enjoy a feast fit for a cowboy: hot camp coffee (brewed over a campfire), beef steaks, signature Roosevelt baked beans, potato salad, and more, all served with a side of live cowboy music.
An Evening With the Animals
Perhaps you're staying in one of the lodges in the southern region of the park, maybe you're just not an early bird, or your alarm didn't go off in the morning (it happens!). An Evening Wildlife Encounter might be a good bet for you. These tours, which depart from Mammoth and Canyon late in the afternoon, are four hours long and are great for catching wildlife on the move during the early evening hours, another peak time of day when animals tend to be active.
Spend a day…EXPLORING YELLOWSTONE LAKE
Scenicruise Tour 
You've had a chance to discover Yellowstone on land. Today, it's time to check out the wet and wild side of the park! The largest body of water in the park is Yellowstone Lake, which offers fantastic fishing, sailing, and recreation opportunities. Located in the southern half of the park, it's easily accessed from Canyon Village and Old Faithful, but it's also worth making the trek from northern accommodations like Mammoth and Roosevelt, too.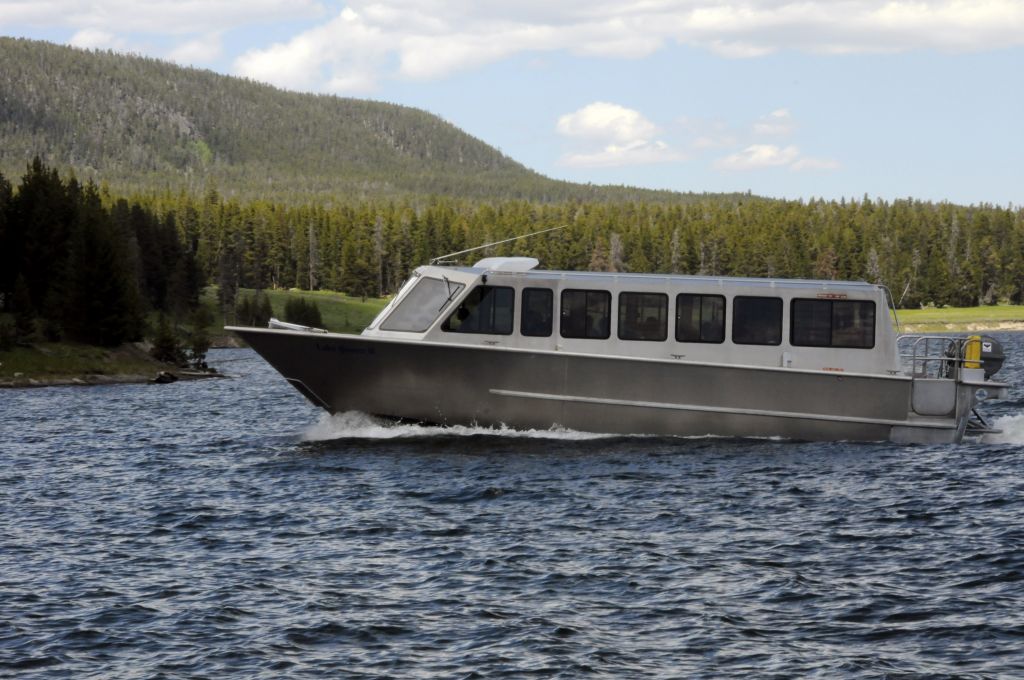 A Scenicruise tour is a perfect introduction to Yellowstone Lake. This one-hour guided boat tour departs from Bridge Bay Marina and sails around Stevenson Island. Passengers will catch a glimpse of the remains of the SS E.C. Waters, an ill-fated steamship from the early 1900s, and hear the story of the ship's very colorful captain and untimely demise. You may spot eagles, ospreys, and other waterfowl – maybe even an elk or a bison!
Reel In a Big One 
Yellowstone Lake is renowned for its fishing. If you're an experienced boater or comfortable wielding a pair of oars, Bridge Bay Marina offers outboard rental boats. Pick up a boxed lunch and head out on the water for a few hours of rest, relaxation, and reeling in the catch of the day. Or simply rent a rowboat and enjoy a leisurely jaunt in the waters closer to the marina, checking out the views from the water.  Charter boats, with a knowledgeable captain and fishing gear, can be reserved for fishing or sightseeing.
Unwind in Style
From the moment you arrive at the front steps of the Lake Yellowstone Hotel, flanked by those iconic white columns, you'll feel like you've traveled back to a simpler, more refined time. Yellowstone National Park's most gracious property, and a National Historic Landmark, has been making guests feel at home for more than 125 years, and it's worth a visit!
In the evening, check out the postcard-perfect views of Yellowstone Lake from the Sun Room as a string quartet plays a soothing melody in the background. Celebrate your Yellowstone adventure by savoring an exceptional dinner, such as sustainably-sourced trout, bison tenderloin, or Montana natural lamb, or sip on an expertly crafted cocktail as you soak up the stunning architecture and rich history that's present in every room of this grand establishment.
From Old West cookouts to fine dining, from a thrilling morning spotting bison and elk to a tranquil afternoon on the lake: there's no question that Yellowstone National Park is full of extremes. And with our three-day Yellowstone itinerary, you'll be able to experience the very best of what Yellowstone has to offer! Get started planning your Yellowstone trip itinerary.