FAQ: Everything You Need to Know About Visiting Yellowstone
Yellowstone Reservations
If you're planning your first trip to Yellowstone National Park, you probably have some questions. Good news: we've got the answers! To help make your Yellowstone adventure planning easier, we've collected the most frequently asked questions received by our reservation agents. Where to stay, what to do, how to book: here's what people are asking about visiting Yellowstone.
First-time Yellowstone Visitors
Q: Where and how long should I stay if it is my first time coming to the park?
A: For first-timers, a three-day visit is the recommended minimum for exploring Yellowstone and seeing the highlights of the park. Check out our three-day itinerary to learn how to maximize your time at Yellowstone!
Where you stay depends on what you are looking for. Canyon Village is an ideal location for first-time Yellowstone visitors. It's centrally located, so it's easy for visitors to explore different areas of the park. It's also the largest sustainable lodging in the park. Lake Yellowstone Hotel is classic and elegant on the shore of Yellowstone Lake. If you love wildlife, Mammoth Hot Springs is located in the Northern Range which is a hub for elk, bison, bear, and wolf activity. If you're a geyser gazer, the Old Faithful Snow Lodge, Old Faithful Lodge, and Old Faithful Inn and prime locations. For a rustic, quiet atmosphere stay at the Roosevelt Lodge, Grant Village, or Lake Lodge.
Q: What can I do to see and/or experience as much of the park as possible?
A: Signing up for one of the guided tour options is a great way to discover Yellowstone's highlights and get a good introduction to what the park has to offer. Try the Yellowstone in a Day tour or Circle of Fire tour. Experience the flavor of the Old West with a dinner cookout, or tour the park on horseback or via Scenicruise tour for a more immersive experience.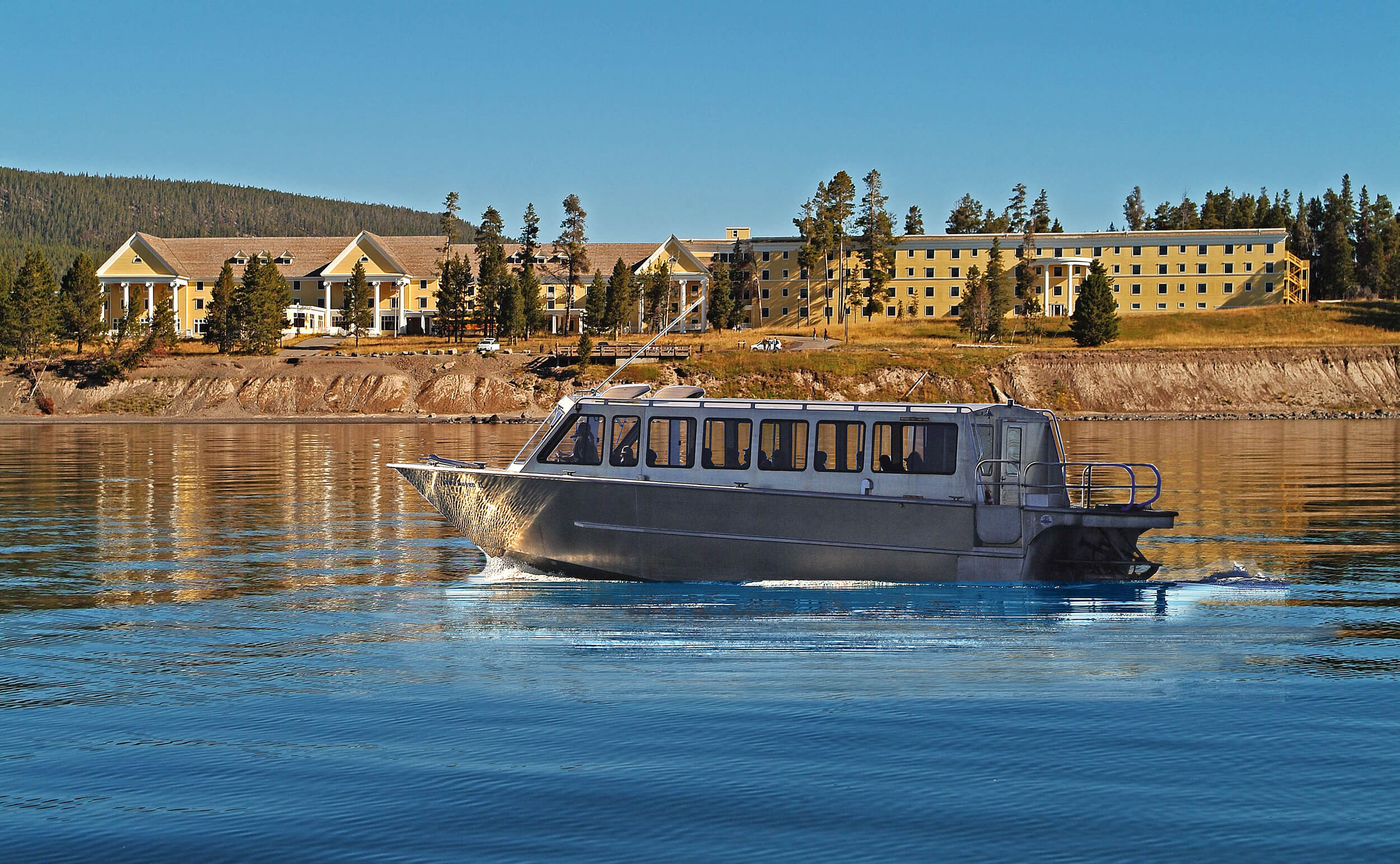 Booking a Yellowstone Visit
Q: What is your availability in summer? When is the best time to book?
A: Make your reservation early! Beginning April 2022, the booking window for advance reservations will change to a 13-month rolling calendar. Specifically, on the 5th of each month, we'll begin accepting reservations for the same entire month of the following year.  To ensure you're able to reserve your preferred dates and location, it's best to call when reservations open, since popular lodges are often fully booked up to a year in advance. Click here for Yellowstone campground reservations.
If you're not a planner, don't fret – if you're flexible with your dates and locations you might be able to find something last minute. In addition, cancellations do happen, so check back online frequently and maybe you'll get lucky!
Things to Do in Yellowstone
Q: What are the top hikes in Yellowstone?
A: Yellowstone is criss-crossed with hiking trails to suit all athletic abilities. Whether you're looking for a short, easy jaunt or more exhilarating terrain and longer excursions, you'll want to pack your hiking boots when you visit Yellowstone! To discover the best hiking trails in the park, sign up for the Trails Through Yellowstone package, which includes four days of hiking and wildlife viewing. You'll cover up to eight miles per day and climb up to 1,500 feet on dirt trails, so this package is great for hikers with some experience.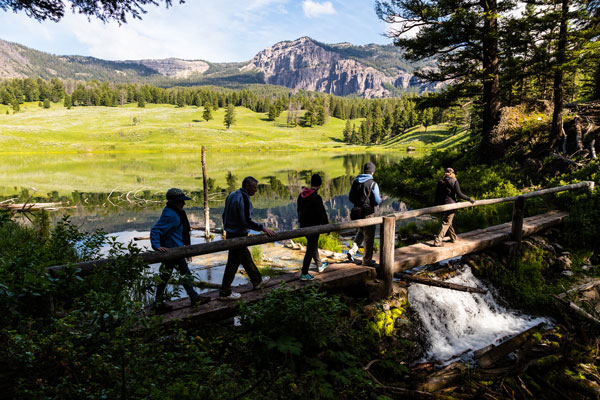 Prefer a shorter hike? If you're staying in the Mammoth Hot Springs area, popular hikes include the Terraces and Wraith Falls. Guests staying near Old Faithful can try the Upper Geyser Basin hike, Lone Star Geyser Trail (an easy, 4.8 mile round-trip hike), or Observation Point, a steep but short 1-mile climb. There are many trails around the North and South Rims for visitors who are staying in Canyon Village, offering stunning Grand Canyon views. For other hike recommendations, check out our 12 Awesome Day Hikes Infographic.
Q: What else is there to see besides geysers?
A: Yellowstone is much more than Old Faithful! Check out the wildlife, see gorgeous views of the Grand Canyon, or explore the picturesque Yellowstone Lake area. Yellowstone can be explored on foot, by car, by bike, on skis, on snowshoes – there are endless ways to discover the park. Embark on a guided tour or explore on your own. No matter what kind of adventure you're seeking, you'll find it at Yellowstone National Park. There's even plenty to discover indoors, too, with our historic hotels and lodges. For some ideas on what to see, check out our infographic: What to See While Visiting Yellowstone.
Q: What's the best time/place to see wildlife, particularly bears and wolves?
A: Animals tend to be most active during the very early morning hours, late in the evening, and overnight. A good rule of thumb is to look for wildlife when you'd rather be heading to bed, or want to stay in bed – dusk and dawn. The best areas to see wildlife include Lamar Valley and Hayden Valley, but animals do tend to roam, and you never know where they'll turn up next! For some tips on spotting wildlife in Yellowstone, read our Where the Wild Things Are Infographic.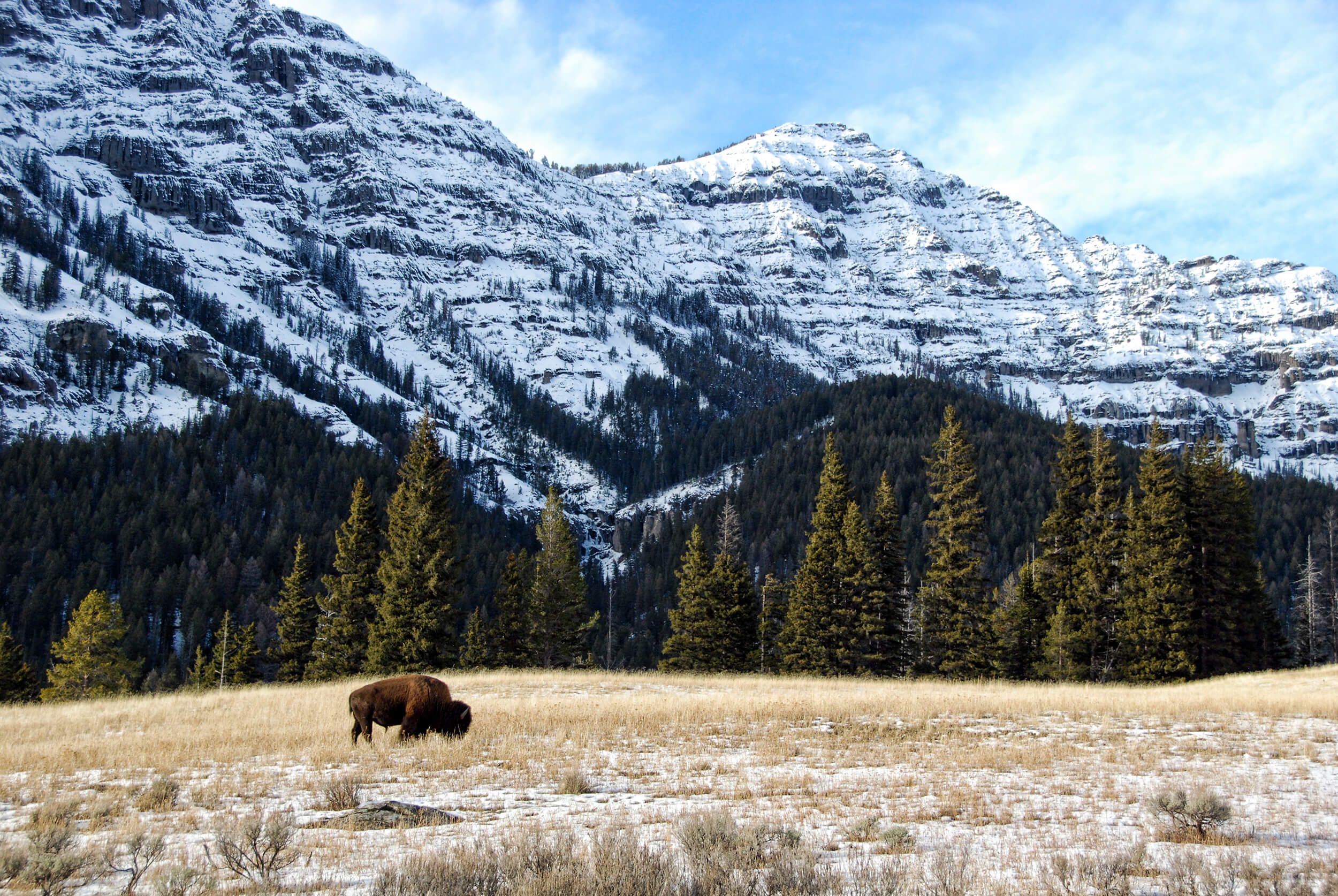 Yellowstone's Natural Wonders
Q: Are there any hot springs we can swim or soak in?
A: The hot springs in Yellowstone are not only fragile – they can be deadly. For the protection of these delicate natural features as well as the health and safety of our visitors, swimming or soaking in hot springs is not allowed. However, there are two hot springs that are legal to soak in since they flow in rivers, visitors can swim or soak in Boiling River and Firehole River. Note these are often very busy and parking can be very challenging. Outside the park there are a number of developed hot springs you can soak in: Chico Hot Springs, Bozeman Hot Springs, and Norris Hot Springs are all within a couple hours of the park.
Q: When does Old Faithful erupt?
A: You can see Old Faithful erupt approximately every 90 minutes (+/- 10 minutes). The National Park Services website publishes an eruption schedule for the Upper Geyser Basin's most predictable geysers. You can also follow @GeyserNPS on Twitter to see the timing of upcoming eruptions.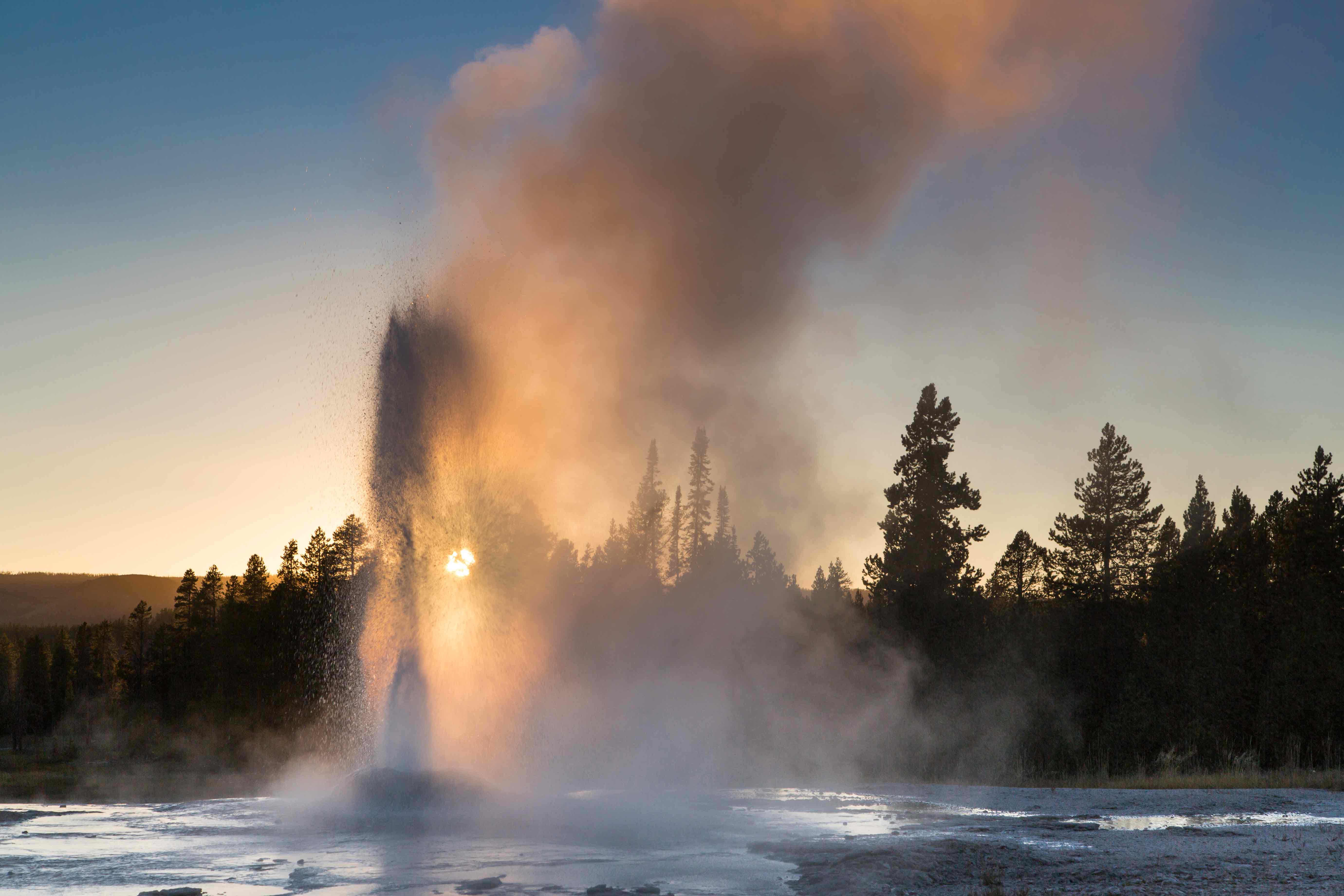 We hope we've answered your questions about visiting Yellowstone! Give us a call at 307 344 7311 or email us with any additional questions or to book your Yellowstone getaway today, or simply make your reservations online. We can't wait to welcome you to the park!
For more travel experiences to Beautiful Places on Earth™ available from Xanterra Travel Collection® and its affiliated properties, visit xanterra.com/explore.

Want to experience Yellowstone in-depth? See what makes Yellowstone National Park a great place to work for a season or longer!
---