FAQ: Everything You Need to Know About Visiting Yellowstone in Winter
Yellowstone Winter Reservations
You probably have some questions if you're planning your first winter trip to Yellowstone National Park. Good news: we've got the answers! To help make your Yellowstone winter adventure planning easier, we've collected the most frequently asked questions received by our reservation agents. Where to stay, what to do, how to book: here's what people are asking about visiting Yellowstone in winter.
First-time Yellowstone Visitors
Q: Why should I visit in winter?

A: Winter in Yellowstone delivers a more intimate experience, fascinating snowy landscapes, and frosty animals. Geyser basins are magical when influenced by cold temperatures, becoming what one might call canvases of fire and ice. The winter experience also offers incredible photography, skiing, snowshoeing, and wildlife watching.
Q: How do I get around the park?
A: The road from the North Entrance to the Northeast Entrance is open to automobiles all year. In winter, all other roads and entrances are closed to automobile traffic and only accessible by over-snow transportation. Yellowstone's snowcoaches travel over groomed snow-covered roads-the same roads you'd drive yourself in the summer! The snowcoaches are driven by our seasoned guides so every mile, regardless of destination, is a guided tour of Yellowstone's extraordinary winter scenery. Round-trip snowcoach transportation is available daily between Mammoth Hotel and Old Faithful Snow Lodge.
We also offer a daily winter shuttle from the Bozeman Airport to/from Mammoth Hot Springs Hotel to allow our guests to avoid the expense of renting a vehicle while allowing our experienced drivers to handle the winter roads.
Q: Where should I stay if it is my first time coming to the park?
A: Where you stay depends on what you are looking for. If you love wildlife, Mammoth Hot Springs Hotel is located in the Northern Range-a hub for elk, bison, and wolf activity. If you love geysers, Old Faithful Snow Lodge is located in the heart of Yellowstone, a hub of hydrothermal activity. Remember, over-snow transportation is required to reach the Old Faithful Snow Lodge in winter.
Q: What can I do to see and/or experience as much of the park as possible?
A: A range of tours and skier shuttles depart daily from Mammoth and Snow Lodge. Experience the Grand Canyon of the Yellowstone by ski, snowshoe, or snowcoach. Venture out to Norris Geyser Basin, West Thumb Geyser Basin, or the Firehole Basin. Looking to stay a bit closer to your lodging? Ski and snowshoe trails are accessible right out the door. If that's not enough, outdoor skating rinks with complimentary skates for guests are just outside the lobbies of both Mammoth Hotel and Old Faithful Snow Lodge.
The gift shops make for great browsing and house the Bear Den Ski Shop, where cross country ski and snowshoe rentals, lessons, and tours are available.
Fuel your adventures with food from the Mammoth Hotel and Old Faithful Snow Lodge. Both locations serve breakfast, lunch, and dinner throughout the winter season. Reservations are required for dinner only and can be made 60 days before arrival. Guests with hotel reservations will be sent a link to make dinner reservations.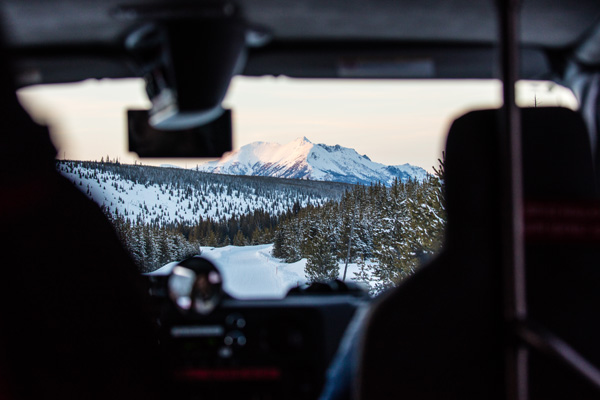 Booking a Yellowstone Visit
Q: What is your availability in winter? When is the best time to book?
A: Winter is typically a slower time of the year and reservations can be made with less advance notice (in comparison to summer). That being said, if you are looking to come during the holidays, it's best to book your reservations early.
Winter reservations are on a 13-month calendar for reservations. That means on the 5th of each month, we'll begin accepting reservations for the same entire month of the following year. So all December reservations dates will open December 5th of the previous year.
Things to Do in Yellowstone
Q: What if I'm new to cross-country skiing?
A: No problem, there are a number of trails that are great for beginners in the park! Cross-country skiing is a fun, easy, and safe way to explore Yellowstone that is a good activity for every age and skill level. Our Bear Den Ski Shops can provide lessons and rentals. Items can be rented a la carte or as part of a package (skis, boots, poles, and gaiters). Sorry, we do not take advanced reservations for gear.
Q: What are the top ski trails in Yellowstone?
A: Yellowstone offers miles of ski trails to suit all levels. Whether you're looking for a short, easy jaunt or more thrilling terrain and longer excursions, you'll want to hit the trail when you visit Yellowstone!
Popular ski trails in the Mammoth Hot Springs area include the Upper Terrace Loop Trail and the Indian Creek Loop (skier shuttle required). You can also venture further afield to trails around the Tower area or further northeast towards Cooke City. At Old Faithful, a number of trails are machine groomed and ideal for beginners. Near the Snow Lodge there are a few practice loops that follow summer roads. In addition to the Upper Geyser Basin Trail, the ski shop to Morning Glory pool is groomed (but often has bare patches due to thermal heat). More advanced skiers can venture up to Mallard Lake or get a ski shuttle to Divide/Spring Creek. For other ski recommendations, check out our blog.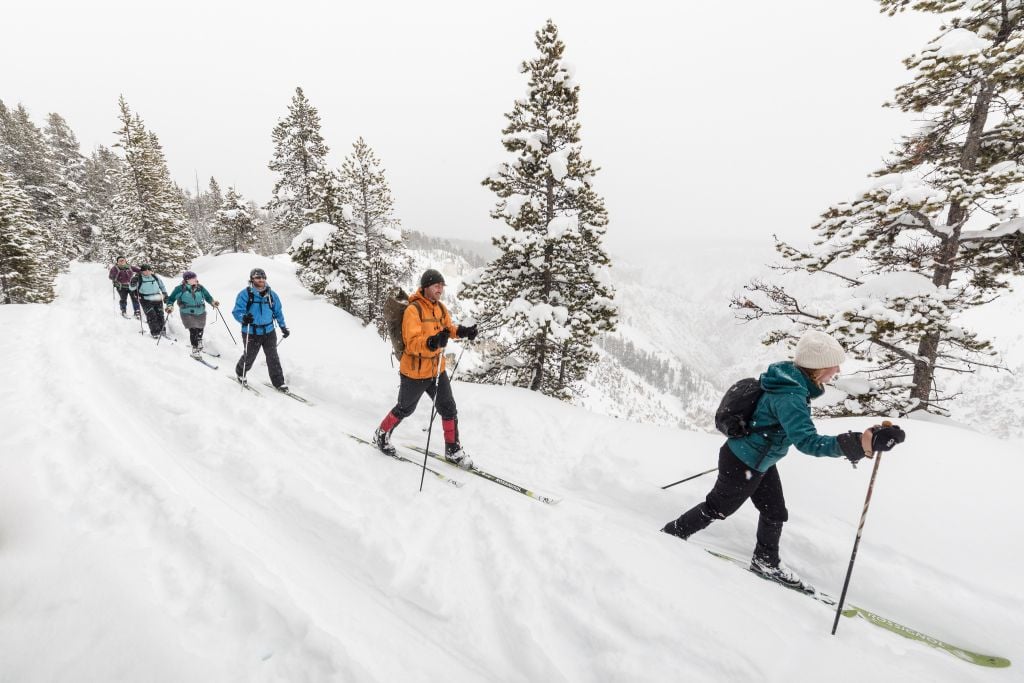 Q: What are the top snowshoe trails?
A: Most groomed ski trails are also available to snowshoers. Practice proper trail etiquette by not snowshoeing or walking directly on ski tracks. If you're looking for a dedicated snowshoe trail, at Old Faithful, the Observation Point Loop is a 2.0 mile (3.2 km) snowshoe-only trail that treats visitors to unobstructed views of the Upper Geyser Basin and the Firehole River.
Q: What packages are available?
A: Let us take over your itinerary with one of our popular winter packages. The Old Faithful Winter Expedition Package is a five-night package that provides a moderately active and in-depth learning experience that includes the comforts of our facilities and services with knowledgeable instructors from the Yellowstone Forever Institute. Cuddle up with your honey on our Couples Winter Package that consists of a 5-night guided park exploration. Also available is the Frosty Fun Package, which is perfect for those value-conscious guests who want to explore the park on their schedules.
Q: What's the best time/place to see wildlife, particularly wolves?
A: The best area to see wolves is Lamar Valley in the north, but animals tend to roam, and you never know where they'll turn up next! Check out our Winter Wolf Discovery Package, one of our most popular winter Lodging & Learning packages, to see and learn about these magnificent creatures in their natural habitat. Or hop on our early morning tour Wake Up to Wildlife departing Mammoth Hotel daily.
Yellowstone's Natural Wonders
Q: Are there any hot springs we can swim or soak in?
A: The hot springs in Yellowstone are not only fragile – they can be deadly. For the protection of these delicate natural features as well as the health and safety of our visitors, swimming or soaking in hot springs is not allowed. Outside the park, there are a number of developed hot springs you can soak in: Yellowstone Hot Springs, Chico Hot Springs, Bozeman Hot Springs, and Norris Hot Springs are all within a couple hours of the park.
Weather
Q: What is the weather like in winter?
A: Just like other parts of the world, the winter weather in Yellowstone can take unexpected turns. But temperatures typically range from zero to 20°F during the day and often drop to sub-zero at night. Factor in the wind chill and nighttime in the park can indeed be brutal. Record lows of minus 66°F have occurred! It gets so cold at times that the near-boiling water from Old Faithful and other geysers freezes in mid-air, falling to the ground as ice pellets. The park rangers call the phenomenon "geyser rain." Snowfall averages out to 150 inches per year.
Q: How should I dress?
A: Layers of fleece and wool (NOT cotton) are essential pieces. Gloves, scarves, and boots should all be heavy-duty and water-resistant/waterproof. In addition to being cold, the climate in Yellowstone is also very dry, so don't forget to pack sunscreen along with heavy-duty lip balm and hand and body lotions to counteract the dry air. If you are taking a snowcoach down to Old Faithful Snow Lodge for an overnight stay, you are limited to two pieces of luggage plus a small carry-on and a pair of cross-country skis or snowshoes.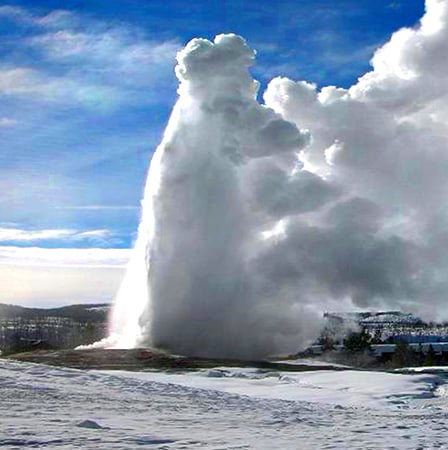 We hope we've answered your questions about visiting Yellowstone! Give us a call at (307) 344-7311 with any additional questions or to book your Yellowstone getaway today, or simply make your reservations online. We can't wait to welcome you to the park!
For A World of Unforgettable Experiences® available from Xanterra Travel Collection® and our sister companies, visit xanterra.com.

Want to experience Yellowstone in-depth? See what makes Yellowstone National Park a great place to work for a season or longer!
---