Experience Winter in Yellowstone
Winter in Yellowstone delivers a more intimate experience, fascinating snowy landscapes, and frosty animals.  Geyser basins are magical when influenced by cold temperatures, becoming what one might call, canvases of fire and ice. The winter experience also offers incredible photography, skiing, snowshoeing and wildlife watching. Explore the winter experience through our lodging, snowcoach tours, skiing and snowshoeing, packages, and snowcoach transportation.
LODGING
Old Faithful Snow Lodge
The only in-park lodging in the winter, the Old Faithful Snow Lodge will keep you plenty warm and comfortable when it's time to be inside. You can tell by its name; the Snow Lodge was built to be an inviting home base from which to launch adventures deeper into the park's interior. Nestled in the Upper Geyser Basin, the Snow Lodge is only accessible in winter via over-snow transportation.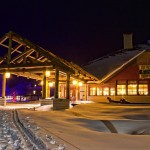 Mammoth Hot Springs Hotel (closed due to renovations)
The Mammoth Hot Springs Hotel, the other in-park winter lodging, will be closed the next two winters for renovations. While it's closed we recommend staying nearby in Gardiner, MT (only 5 miles north of Mammoth) to have convienant access to Yellowstone's Northern Range. The road from Gardiner through Lamar Valley is plowed in the winter, making it that much easier to experience the great wildlife watching and scenery in this incredible area of the park. For more information on lodging, restaurants and other winter services in Gardiner, please visit yellowstonewinter.org.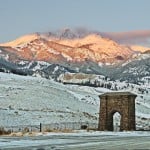 TOURS
Winter in Yellowstone brings new adventures, and new challenges. To make sure our guests can explore the park all year round, many Yellowstone tours are available via Snowcoach. Our heated Snowcoaches will transport guests throughout the park, enabling all Yellowstone guests to view the unique winter landscape.
Tours from Old Faithful
SKIING & SNOWSHOEING
Get out in the fresh air and explore Yellowstone. Winter provides an entirely different experience in the park and it is not to be missed. Whether you're practicing your triple axle on the Snow Lodge skating rink, or observing a pack of bison while skiing the fairy falls trail, Yellowstone can help create a winter adventure for you to create a truly memorable vacation.
SNOWCOACH TRANSPORTATION
Since roads are snow covered, our snowcoaches provide comfortable transportation and tours within the park and can be booked with your lodging. Round-trip snowcoach transportation is available daily from Mammoth to Old Faithful Snow Lodge.
Your #WinterinWonderland Moments